Dive in to Unearth the Eco-friendly Secret of Sunset Strolly Home Gardens!
Hey there, green thumbs and nature enthusiasts! Ever found yourself marveling at a glorious sunset, strolling through your home garden, and wondering if your little patch of paradise is more than just easy on the eyes? Spoiler alert: it is! Get ready for a roller coaster of information, inspiration, and some good ol' fashioned storytelling.
Intro: We're All in This Together
Let's start with a stroll down memory lane. Imagine it's summer, and you're a kiddo again, with dirt-streaked cheeks, a wide-brimmed hat, and a mischievous smile, all set to conquer that lush, green home garden. Remember the smell of the wet earth, the rustle of leaves, and the joy of your first successful harvest?
Those were the days, weren't they? Little did we know then that, aside from the joy they brought, those home gardens were also playing a sneaky game of hero – a game we've only recently begun to understand fully.
The Magic of Home Gardens
Yep, you heard it right! Your home garden is a secret superhero for our planet. But, how exactly is a bunch of plants in your backyard saving the world? Well, grab a cup of joe, and let's get to the nitty-gritty.
1. Carbon Capture: Nature's Superpower You see, plants are like nature's vacuums, sucking up carbon dioxide (CO2) and releasing oxygen back into the air. The trees, shrubs, and plants in your home garden absorb CO2, thus reducing greenhouse gases and combatting climate change [1]. Plus, let's not forget the whole making-oxygen thing, which is kind of essential for us humans.
2. Ecosystem Support: The Butterfly Effect Home gardens are mini-ecosystems. They're a sanctuary for birds, bees, butterflies, and a host of critters that help pollinate plants and control pests [2]. In fact, your home garden can play a crucial role in local biodiversity.
3. Water Conservation: Every Drop Counts Properly managed home gardens can be a boon for water conservation. Use of mulch, native plants, and smart irrigation can drastically reduce water usage [3]. Moreover, home gardens help manage stormwater runoff, acting as a natural filter for rainwater.
4. Mental Health Perks: Green is the New Zen Last but definitely not least, home gardens are amazing for your mental health [4]. They provide a tranquil escape, reduce stress, and increase physical activity. A healthier you means less strain on healthcare resources.
All Aboard the Sunset Strolly
So, what's the secret of the Sunset Strolly home garden? Well, the secret is you! It's about embracing the joy of gardening, knowing that each plant you nurture is a step towards a healthier planet.
Think about it: every flower, every bush, every tiny green sprout is an ally in the fight against climate change. And there's no better feeling than knowing you're making a difference while doing something you love.
Spreading the Green: Take Your Home Garden to the Next Level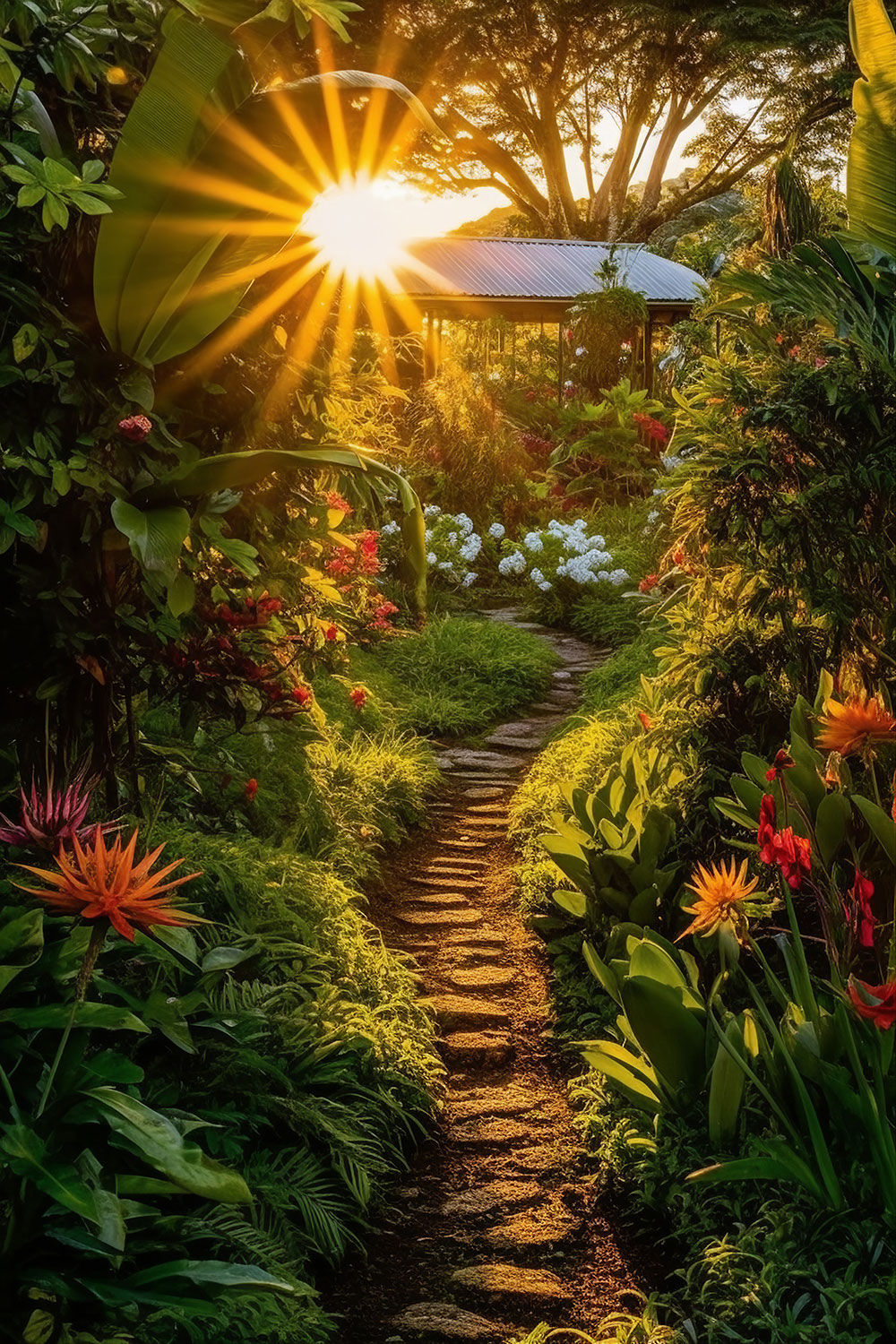 Y'all ready to take a deeper dive? Great! Let's chat about how you can make your Sunset Strolly home garden even more eco-friendly.
5. Composting: Waste Not, Want Not
If you're not already composting, now's the perfect time to start! Composting turns your kitchen scraps into nutrient-rich soil that's perfect for your plants [5]. Plus, it reduces the amount of organic waste going to landfills, cutting down on methane emissions.
6. Go Native: Embrace Local Flora
Native plants are the bees' knees when it comes to eco-friendly gardening. They're adapted to local climates, so they need less water and care than exotic species [6]. Plus, they provide essential habitat for local wildlife.
7. Organic Pest Control: The Circle of Life
Ditch the chemical pesticides and opt for organic pest control. Certain plants naturally deter pests, while other methods use beneficial bugs or birds to keep pests in check [7]. It's the circle of life, Sunset Strolly style!
8. Rainwater Harvesting: Catch Every Drop
Install a rain barrel to collect and store rainwater for your garden [8]. It's a win-win situation – you'll save on your water bill, and your garden gets a natural source of H2O.
A Change is Gonna Come
Transforming your Sunset Strolly home garden into an eco-friendly powerhouse won't happen overnight, but every step you take is a victory for our planet. So get out there and plant a tree, install a bird bath, start a compost pile. Every little bit counts!
Expanding the Green Footprint: Practical Ways to Greenify Your Life Beyond the Garden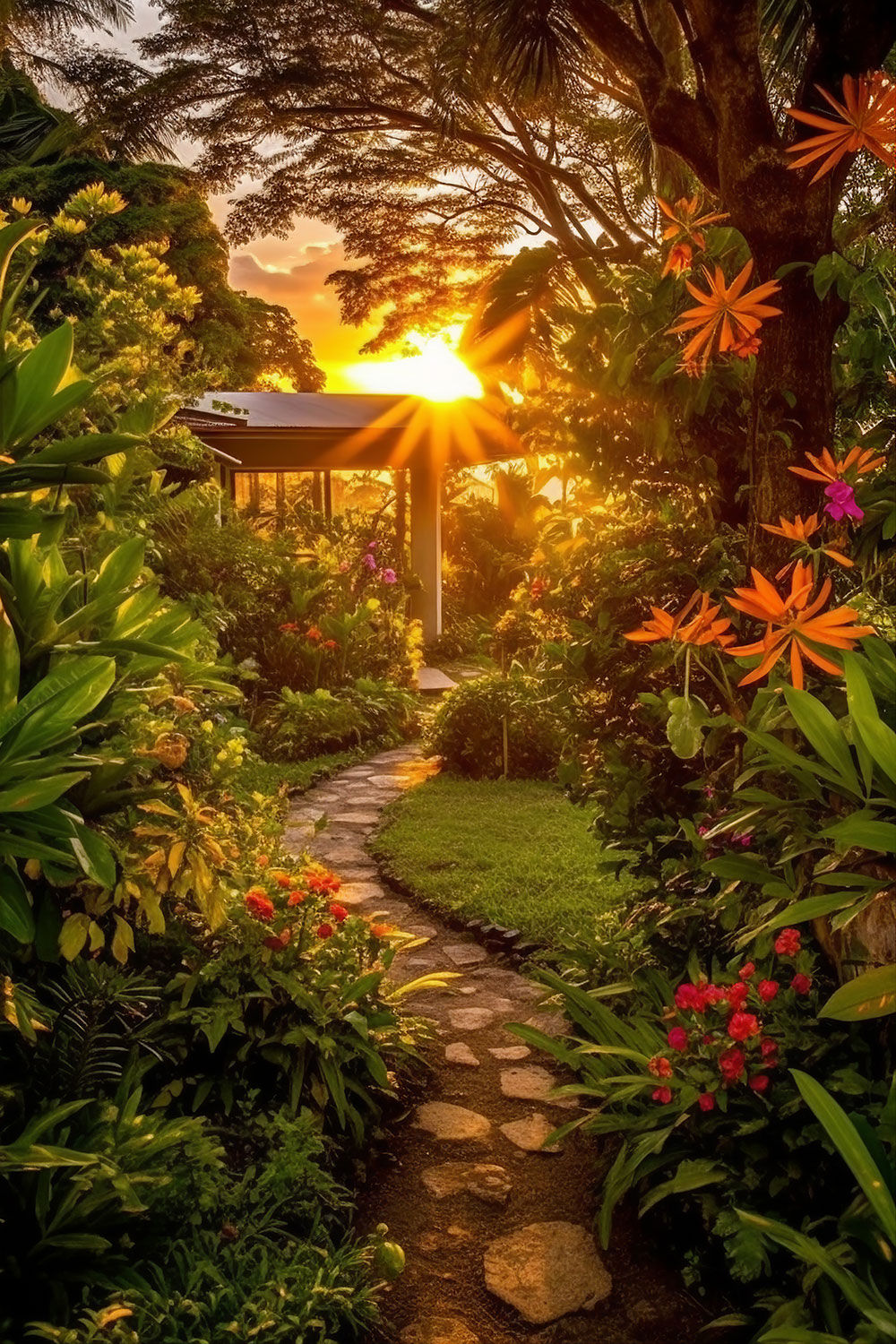 Alright, folks, let's take things up a notch. Your Sunset Strolly home garden is doing its part for Mother Earth, but what about the rest of your life? Ready to embrace some changes? Let's hit the road!
In the Kitchen: From Garden to Table
Your garden produces delicious, fresh produce, so let's use it! Cooking at home not only saves you cash but also reduces the environmental impact of food transportation. Plus, it's a chance to show off your culinary skills. Try recipes that star your garden harvest, and watch your friends go green with envy.
On the Move: Green Commuting
You've heard it a million times, but we're gonna say it again: ditch the car and walk, bike, or take public transport whenever possible. Not only will you reduce your carbon footprint, but you'll also sneak in some exercise. Double win!
In the Market: Shop Sustainably
Keep an eye out for local, sustainably-produced goods when you hit the stores. They've traveled fewer miles to reach you, reducing their carbon footprint. Plus, you're supporting local businesses. Can't beat that, can you?
At Work: Embrace Telecommuting
If your job allows it, consider working from home a couple of days a week. You'll save on commuting costs and reduce emissions. Plus, you get to work in your PJs – score!
Conclusion:
Dig In! So, are Sunset Strolly Home Gardens good for the environment? Heck yeah, they are! They're more than just a source of fresh veggies and a peaceful sanctuary – they're a sustainable, earth-friendly choice.
Are you ready to be a part of the green revolution? Grab your gloves, your favorite gardening tools, and let's dig in!
FAQs:
Are home gardens good for the environment?

Yes, home gardens play a vital role in absorbing carbon dioxide, supporting local ecosystems, conserving water, and promoting mental health.

How do home gardens contribute to carbon capture?

Plants in home gardens absorb CO2 from the air, thus reducing greenhouse gases and helping mitigate climate change.
Footnotes
Carbon Sequestration in Urban Landscapes ↩
Gardens as habitats for pollinators ↩
The benefits of gardening on mental health ↩
Using Native Plants in the Landscape ↩