While rocks are the foundation of your garden, plants can enhance its visual appeal, adding vibrant color and texture. This article will guide you on how to incorporate plants into your rock garden effectively.
Benefits of Incorporating Plants in Your Rock Garden
Incorporating plants in your rock garden creates a balance between the hard, static nature of rocks and the soft, dynamic characteristics of plants. Moreover, plants can lend a splash of color, add visual interest, and contribute to the overall biodiversity in your garden.
The Role of Plants in Rock Gardens
Plants play crucial roles in rock gardens. They can soften the harsh appearance of rocks, fill gaps, and add color. Additionally, plants can help prevent soil erosion around the rocks.
Can rock and plants place together in the garden?
Absolutely, rocks and plants can indeed coexist in a garden and create an extraordinary aesthetic when done right. Let's chat about the pros and cons of having them together:
Pros:
Visual Appeal: Combining rocks and plants can create a unique and beautiful garden landscape. The contrast between the sturdy, timeless rocks and the soft, ever-changing plants can be truly eye-catching. It's a great way to give your garden a unique personality!
Low Maintenance: Generally, rock gardens are lower maintenance than traditional gardens. They don't need as much watering, and rocks can help keep weeds at bay. Plus, rocks don't need pruning or fertilizing!
Microclimates: Rocks can create interesting microclimates in your garden. They retain heat, which can create warmer spots for those sun-loving plants. Plus, they can provide shade and cooler areas for plants that prefer less sun.
Erosion Control: Rocks can help prevent soil erosion, especially on slopes or in areas where water tends to run off. This means you're not only creating a beautiful garden but also protecting the soil!
Cons:
Plant Selection: Not all plants are suitable for a rock garden. You'll need to select plants that can tolerate the specific conditions of your rock garden, such as drier soil or higher heat levels. This might limit your plant choices.
Rock Placement: Properly placing rocks can be tricky. They need to look natural and blend seamlessly with your plants. Too many rocks, or rocks that are poorly placed, can overwhelm your garden and overshadow your plants.
Moving Rocks: Rocks can be heavy. If you decide you want to change your garden layout, moving rocks around can be a bit of a workout!
Potential for Overheating: While rocks can create beneficial microclimates, they can also become too hot in direct sunlight. This can lead to overheated plants, especially those that prefer cooler conditions.
So, it's a bit of a balance, but combining rocks and plants can absolutely create a stunning, low-maintenance garden. As with most things in gardening, the key is understanding the needs and preferences of your plants, and being willing to experiment and learn as you go. Happy gardening!
Choosing the Right Plants for Your Rock Garden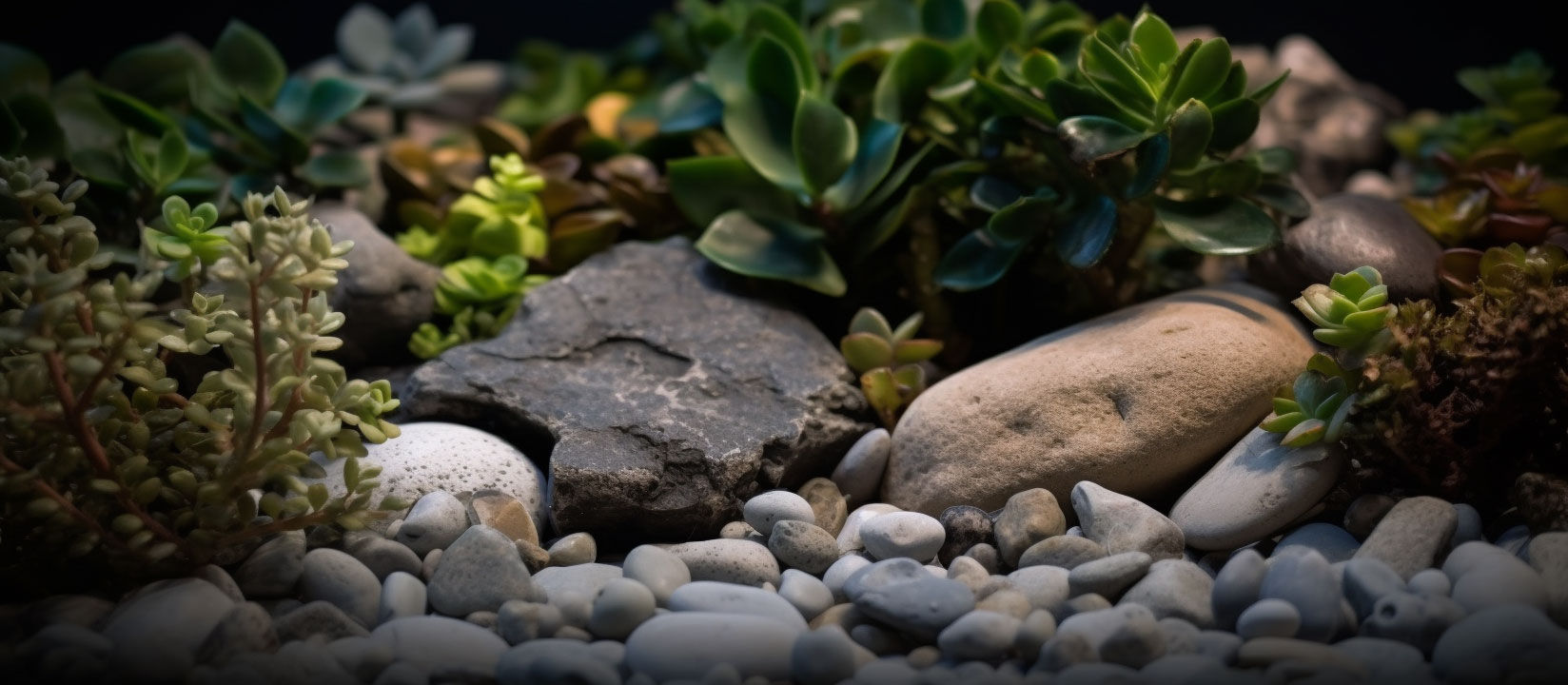 The plants you choose for your rock garden should be suitable for your climate, soil, and sunlight availability. Here are some types of plants commonly used in rock gardens:
1. Alpine Plants
Alpine plants are well-suited to rock gardens due to their origin in mountainous regions. They are hardy, low-growing, and often have vibrant blooms.
2. Succulents
Succulents like cacti or sempervivum bring a variety of textures and shapes into a rock garden. They are also drought-tolerant, requiring minimal maintenance.
3. Ground Covers
Ground cover plants like creeping thyme and sedum can fill in gaps between rocks and help prevent weeds.
4. Small Shrubs and Trees
Small shrubs and trees like dwarf conifers can serve as focal points in a rock garden, adding height and structure.
Let get start Arranging Plants in Your Rock Garden
When arranging plants, consider their growth habits and needs. Place taller plants at the back or in the center of a circular garden and smaller ones towards the front. Group plants with similar light and water needs together.
Let's start with plant sizes. You know how when you're taking a group photo, you'd arrange everyone by their height to ensure a clear view of everyone? It's quite similar for your rock garden! Your taller plants, those ones that stretch towards the sun, they're your back row or they can play a central role if you're dealing with a circular layout.
This is because they serve as a dramatic backdrop or centerpiece that catches the eye, without overshadowing the other players. Then your smaller plants, which are akin to ground covers or compact bushes, they'd be up front. This arrangement ensures that each plant gets its fair share of limelight, creating a layered, well-balanced view of your rock garden.
Now, moving onto another key aspect – light and water requirements. You wouldn't want to pair a sun-loving cactus with a shade-craving fern, would you? Or group a drought-tolerant succulent with a moisture-loving moss? It just wouldn't work! Grouping plants with similar needs together is not only beneficial for the plants themselves, but it also makes garden maintenance so much easier for you.
When you group plants with the same light and water needs together, you create specific micro-environments in your rock garden. This means that when you're watering or positioning your garden for sunlight, you'll know exactly what each area needs. That way, each plant gets its happy place and you avoid any accidental plant mishaps!
So, to sum up: think about plant heights and sizes for positioning, and group together those plants with similar light and water needs. This thoughtful approach will not only make your rock garden aesthetically pleasing but will also keep your plants healthy and thriving. And let's be honest, isn't that the dream of every gardener?
Below, you may find some planning tips growing plants in rock garden:
Identifying the Area: First, let's find the perfect spot for your rock garden. Ideally, you'd want an area that receives plenty of sunlight. However, if that's not possible, don't worry! We can always choose plants that thrive in the shade.
Designing the Layout: Now, let's get a bit artistic. How about envisioning your rock garden layout? It can be a simple rectangular plot, a semi-circle, or even a free-form design if you're feeling adventurous. Just remember to plan for a variety of heights and depths to add interest.
Picking the Rocks: Next, it's time to pick your rocks. Yes, you heard right! Your rock garden needs, well, rocks. Big ones, small ones, perhaps even some quirky-shaped ones. They'll add structure and texture to your garden.
Choosing Your Plants: Here's where the fun begins. When selecting plants, think about the conditions they'll be living in. If your garden is sun-drenched, go for sun-loving plants. If it's more on the shady side, then shade-tolerant plants are your best friends. And don't forget to consider their watering needs!
Arranging Your Plants: Remember our chat about arranging plants by their size? Here's where that comes into play. Start with your taller plants, placing them either at the back or in the center, depending on your layout. Then bring in your medium-sized plants, and finally, your smaller ones up front.
Grouping by Needs: This is where we make sure our plant neighbors get along. Group your plants not just by their size, but also by their light and water needs. It's all about creating harmonious microclimates within your rock garden.
Planting Time: Now, roll up your sleeves, it's time to get those plants in the ground! Start from the back and work your way to the front. Don't forget to water them in well once they're planted.
Adding the Finishing Touches: Lastly, let's place those rocks we picked earlier. They'll work as great natural borders between different plant groups. Plus, they'll add that 'rock garden' touch that we're aiming for.
That's it! With this plan, you should be well on your way to arranging a rock garden that not only looks amazing, but is also easy to maintain. Remember, gardening is all about experimenting, so don't be afraid to try new things and make adjustments as you go. Happy gardening!
Maintenance Tips for Rock Gardens with Plants
While rock gardens are relatively low maintenance, some care is necessary. Water plants according to their needs, prune as necessary to maintain shape, and weed regularly to keep your garden looking its best.
Rock gardens may be low-maintenance, but like all good things in life, they do need a bit of love and care to shine. Let's dive into some top tips for keeping your rock garden in tip-top shape.
Watering Wisely: When it comes to watering, think of your plants as individuals with their own thirst levels. Some plants in your rock garden may love a good soak, while others might prefer staying on the dry side. So, make sure you water according to each plant's needs. After all, you wouldn't offer a cactus a drink as often as you would a fern, right?
Pruning with Purpose: Pruning is a bit like giving your plants a nice haircut. It helps maintain their shape and promotes healthier growth. Plus, it keeps your garden looking neat and tidy. But remember, every plant has its own 'haircut' preferences – some like a trim more often, some less. Do a bit of research to understand the best pruning practices for each type of plant in your garden.
Weeding Well: Weeds – the uninvited guests of the garden world! Even in rock gardens, you'll need to weed regularly to keep things looking their best. Weeds not only affect the look of your garden, but they can also steal vital nutrients and water from your plants. Regular weeding helps to ensure your plants aren't battling it out with weeds for resources.
Monitoring for Pests and Diseases: Keep an eye out for any unwelcome visitors that might harm your plants. Pests and diseases can sneak up without much warning, so it's important to check your plants regularly. If you spot anything suspicious, like chewed leaves or unusual spots, address it quickly. Your plants will thank you for it!
Feeding the Soil: Don't forget about the soil! It's what feeds your plants, after all. Every once in a while, consider adding compost or a suitable plant feed to enrich the soil. This ensures your plants get the nutrients they need to grow strong and healthy.
Winter Care: If your garden gets a good frost during winter, some plants may need a bit of extra protection. Consider adding a layer of mulch around sensitive plants to help protect them from the cold.
So, there you have it – maintaining a rock garden isn't too tough, but these steps will make a world of difference. Remember, gardening is as much about the journey as it is about the results, so take your time, enjoy the process, and you'll have a rock garden that's the envy of all your neighbors!
Conclusion
Incorporating plants into your rock garden enhances its beauty and creates a balanced, natural look. Choose a mix of alpine plants, succulents, ground covers, and small shrubs to bring your rock garden to life.
FAQs
How often should I water the plants in my rock garden?

This depends on the type of plants you have. Many rock garden plants are drought-tolerant and require minimal watering. Always research each plant's needs to ensure proper care.