Gardening is a wonderful activity that offers numerous benefits for people of all walks of life. It's an engaging pastime that connects us with nature, nourishes our mental well-being, and helps maintain our physical health.
But for people living with disabilities, gardening can present a unique set of challenges. That's where guide dogs come into play.
In this article, we'll delve into how you, even with a disability, can relish the joy and rewards of gardening with the help of your guide dog.
How can people with disabilities enjoy the benefits of gardening with a guide dog?
Gardening with a guide dog can be a rewarding and life-enhancing experience. This not only can it enhance your independence, but it can also provide you with a sense of achievement and satisfaction from cultivating plants.
A well-trained guide dog can assist you with tasks such as identifying plant locations, navigating around your garden, or fetching tools, making the process smoother and more enjoyable.
Here are some specific ways that a guide dog can help people with disabilities enjoy gardening:
Identifying plant locations for your guide dog
Navigating your guide dog around the garden
Trained them with the right Fetching tools
Providing companionship during gardening
If you are a person with a disability who is interested in gardening with a guide dog, there are a few things you can do to get started:
Find a local gardening club or organization with people disabilities who are interested in gardening
Start from a small area
Gardening with a Guide Dog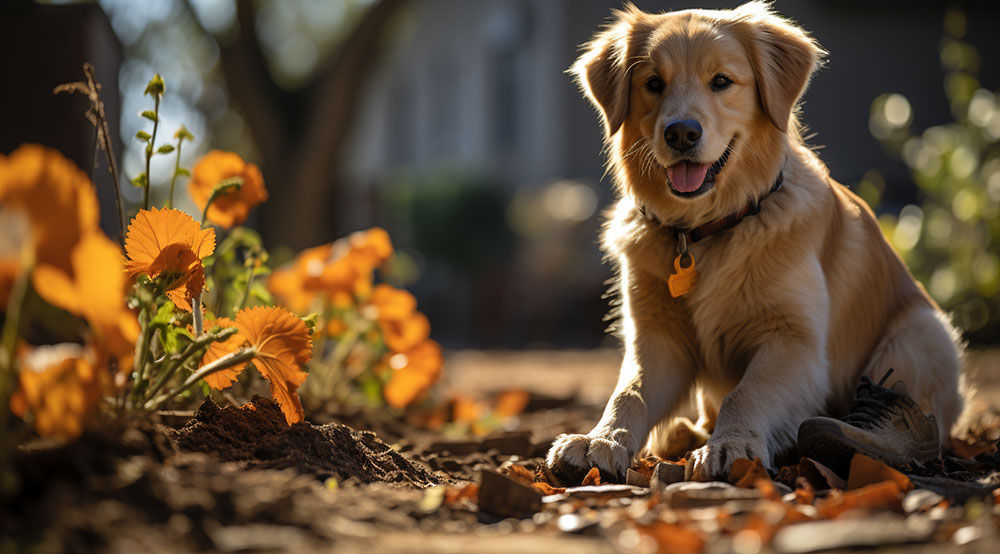 1. How to choose the right tools and techniques for gardening with a guide dog.
To enjoy gardening with your guide dog, it is essential to choose the right tools and techniques. Opt for lightweight, ergonomically designed tools that are easy to handle and less likely to cause strain.
Raised garden beds, vertical gardening, and container gardening can be beneficial by bringing the plants to your level.
It's also helpful to mark your tools and different plant species with tactile or scent identifiers to assist your guide dog in fetching them for you.
Some good suggestion:
Consider your needs. What are your physical and visual limitations? What are your goals for gardening?
Use adaptive tools. There are many tools available to make gardening easier for people with disabilities.
Simplify your tasks. If you have difficulty with mobility, focus on container gardening or raised beds.
Get help from others. Don't be afraid to ask for help from friends, family, or volunteers.
Be creative. There are many ways to garden, so find what works best for you.
Here are some specific tools and techniques that can be helpful for gardening with a guide dog:
Long-handled tools: They can help you reach plants without bending or stooping.
Tools with soft grips: They can be easier to hold for people with hand tremors or other dexterity problems.
Talking gardening tools: They can tell you what the tool is and what it is used for.
Raised beds: They are easier to access and maintain than traditional gardens.
Braille labels: They can be placed on plants or tools to help people identify them.
With a little planning and effort, you can choose the right tools and techniques for gardening with a guide dog. This will help you enjoy the benefits of gardening even if you have a disability.
2. How to train your guide dog to help you garden.
Train your guide dog to help you garden by starting small, using positive reinforcement, and being consistent.
Some common question you may want to ask:
What are the basic commands I need to teach my dog?
How do I integrate these commands into my gardening activities?
How do I reward my dog for successful actions?
How long will it take to train my dog to help me with the garden?
What are some tips for training my dog in a safe and effective way?
6 tips to help you:
Start small and be patient. Don't try to teach your dog too much at once. Start with simple commands and gradually work your way up to more complex tasks.
Use positive reinforcement. When your dog does something correctly, be sure to reward them with a treat or praise. This will help them associate good behavior with positive consequences.
Be consistent. It is important to be consistent with your training. If you are inconsistent, your dog will become confused and may not learn the commands as well.
Use specific tools or plants as the object for the commands "fetch," "drop," or "find."
Gradually integrate these commands into your gardening activities.
Reward your dog with treats and praise for successful actions.
With a little patience and consistency, you can train your guide dog to be a valuable gardening companion.
3. Safety tips for gardening with a guide dog.
Safety is paramount when gardening with a guide dog. Keep tools out of reach when not in use. The most important thing is to be aware of the potential hazards in your garden and to take steps to mitigate them.
Train your dog to walk on paths and not on flower beds to avoid damaging plants or injuring themselves.
Some of the potential hazards for guide dogs in the garden include:
Sharp objects, such as tools or garden implements
Chemicals, such as fertilizers or pesticides
Poisonous plants
Animals, such as snakes or rodents
To keep your guide dog safe while gardening, you can take the following steps:
Be aware of your surroundings and watch for potential hazards.
Keep your dog on a leash or in a fenced area.
Teach your dog basic commands, such as "stay" and "come."
Use tools and chemicals with care and follow all safety precautions.
Be aware of the signs of poisoning or injury and seek veterinary attention immediately if necessary.
Always read the labels of all tools and chemicals before using them.
Follow all safety precautions on the labels.
Store tools and chemicals in a safe place out of reach of your dog.
Wash your hands thoroughly after using tools and chemicals.
By following these safety tips, you can help to ensure that your guide dog has a safe and enjoyable experience gardening with you.
Benefits of Gardening for People with Disabilities
Gardening can offer remarkable benefits:
Physical benefits
Gardening can help improve your balance, coordination, and strength. Activities like digging, planting, and pruning enhance motor skills and provide a gentle workout.
Mental health benefits
Gardening is a natural stress reliever. It can help reduce your anxiety and depression, fostering a sense of tranquility and mindfulness.
Social benefits
Gardening opens opportunities for you to connect with others – whether it's sharing your produce, exchanging gardening tips, or simply enjoying the beauty of nature together.
Environmental benefits
By gardening, you contribute to reducing pollution and conserving water. It fosters an appreciation for our environment and the role we play in its preservation.
Final Thoughts
Embracing gardening as a person with disabilities, with the assistance of your guide dog, can bring immense satisfaction and numerous benefits. It's an opportunity to connect with nature, enhance physical and mental health, socialize, and contribute to environmental sustainability.
Now, it's time to turn words into action. Grab your tools, leash up your guide dog, and step out into your garden. The joy of gardening awaits you. No matter your ability, you can cultivate growth – in plants, in your guide dog, and most importantly, in yourself. Happy gardening!