INTRODUCTION: WHY VERTICAL GARDENING IS A GAME CHANGER
Have you ever dreamt of having your own lush green oasis but lacking the space for a traditional garden?
Vertical gardens are your solution! Not only do they make the most of limited space, but they also offer numerous environmental, health, and aesthetic benefits.
In this article, we'll explore the wonders of vertical gardening and guide you through 7 easy steps to create your very own thriving green paradise. Your urban sanctuary is just a few steps away!
1. UNDERSTANDING THE BENEFITS OF VERTICAL GARDENS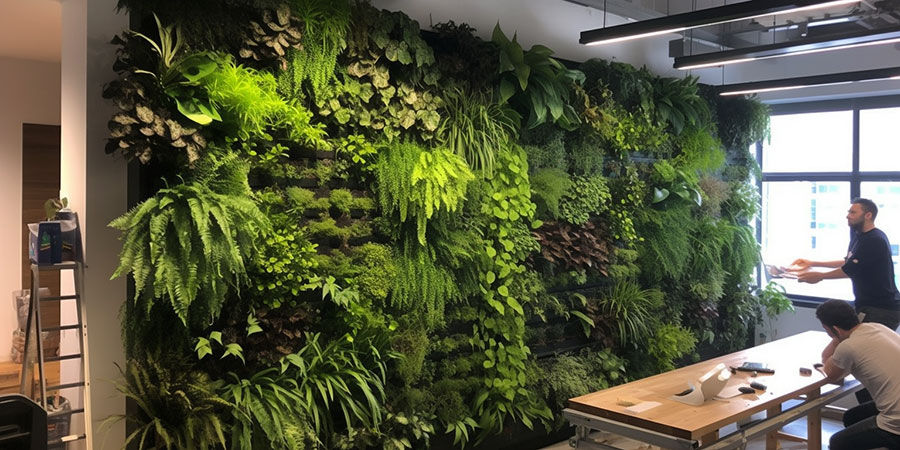 Space-saving solution: Vertical gardens are perfect for small spaces, such as balconies, patios, or even indoor walls. They allow you to grow a variety of plants in a limited area, maximizing your gardening potential.
Improved air quality: Plants act as natural air purifiers, removing pollutants and releasing oxygen. According to a NASA study, some plants can remove up to 87% of volatile organic compounds (VOCs) in just 24 hours!
Reduced stress and enhanced well-being: Numerous studies have shown that being surrounded by greenery can lower stress levels and improve mental health. Dr. Roger S. Ulrich found that just looking at a garden can reduce stress and promote healing.
Aesthetic appeal: Vertical gardens can transform bland walls into eye-catching, vibrant displays. They're a great way to improve the appearance of your home or office.
2. CHOOSING THE RIGHT LOCATION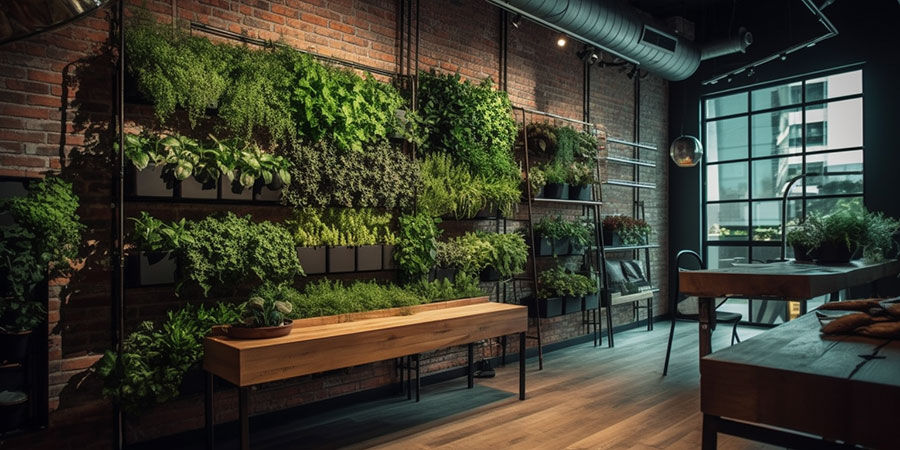 Before diving into the world of vertical gardening, it's crucial to choose the right location for your garden. Consider factors like:
Light exposure: Different plants have different light requirements, so select a spot that provides the right amount of sunlight for your chosen plants.
Watering access: Make sure you can easily water your vertical garden without causing a mess.
Weight capacity: Ensure that the wall or structure you plan to use can support the weight of your garden, including plants, soil, and containers.
3. SELECTING THE PERFECT PLANTS
The success of your vertical garden depends on choosing the right plants. Some popular options for vertical gardens include:
Succulents: These low-maintenance plants require minimal watering and are perfect for vertical gardens.
Ferns: With their lush foliage, ferns can create a tropical feel in your vertical garden.
Herbs: Vertical gardens are an excellent way to grow your own culinary herbs, such as basil, parsley, and mint.
Edible plants: Growing your own fruits and vegetables is possible even in small spaces with vertical gardens.
4. CHOOSING A VERTICAL GARDEN SYSTEM
There are several vertical garden systems to choose from, including:
DIY systems: You can create your own vertical garden using repurposed materials like pallets, gutters, or wooden crates.
Modular systems: Pre-made, customizable systems are available, allowing you to create a unique design with ease.
Living walls: These advanced systems use a built-in irrigation system and can support a wide variety of plants.
5. PREPARING YOUR GARDEN CONTAINERS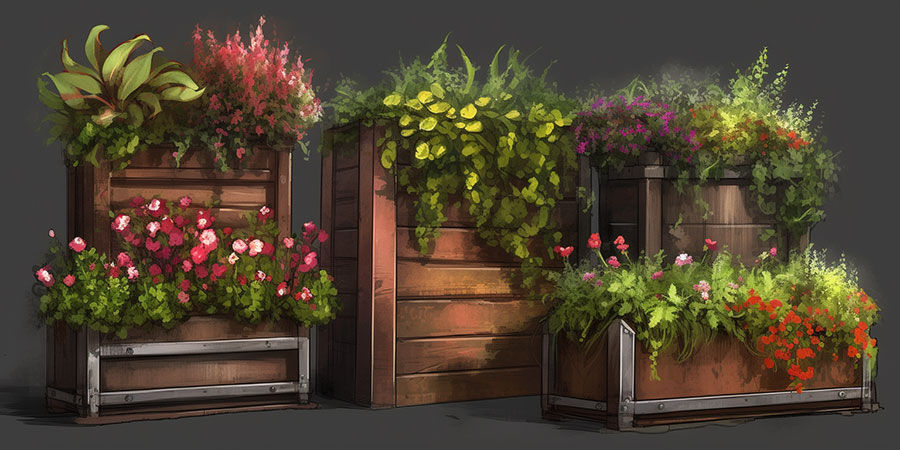 Once you've chosen a vertical garden system, it's time to prepare your containers. Make sure to use high-quality potting soil, and consider adding organic matter or slow-release fertilizer to provide essential nutrients.
6. PLANTING AND MAINTAINING YOUR VERTICAL GARDEN
Plant your chosen plants in the containers and arrange them on your vertical garden system. Ensure proper drainage and water your plants as needed, taking into account their specific requirements. Regularly check for pests and diseases, and prune your plants to maintain a neat appearance and encourage healthy growth.
7. ENJOYING THE FRUITS OF YOUR LABOR
With your vertical garden in place, you can now enjoy the fruits of your labor! Revel in the beauty and serenity of your green oasis, and reap the benefits of improved air quality, stress reduction, and a healthier, happier environment.
ADDITIONAL TIPS FOR A SUCCESSFUL VERTICAL GARDEN
To ensure the long-term success of your vertical garden, consider the following tips:
ROTATE YOUR PLANTS
Some plants may receive more sunlight than others, depending on their location within the vertical garden. To ensure all your plants get adequate light, consider rotating them every few weeks. This will promote even growth and maintain the garden's overall appearance.
USE A DRIP IRRIGATION SYSTEM
Watering a vertical garden can be challenging, especially if it's located on a wall. A drip irrigation system can help evenly distribute water to all your plants and prevent over-watering. Additionally, these systems can be automated, saving you time and effort.
ADD SUPPORT STRUCTURES
Some plants may require additional support to grow vertically. Consider using trellises, stakes, or netting to guide and support the growth of climbing plants, such as vines or vegetables like tomatoes and beans.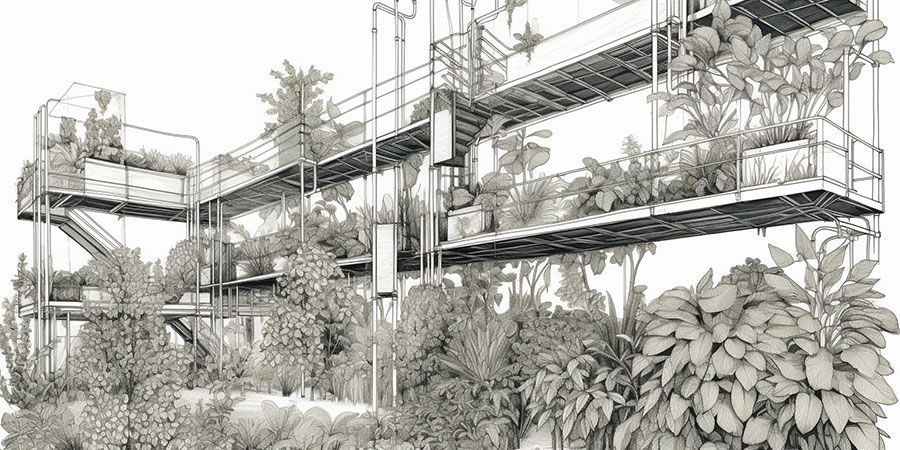 PRUNE REGULARLY
Regular pruning not only maintains the appearance of your vertical garden but also promotes healthy plant growth. Remove dead or damaged leaves and branches to prevent the spread of diseases and allow for better air circulation.
MONITOR PESTS AND DISEASES
Regularly inspect your vertical garden for signs of pests and diseases. Catching issues early on can help prevent extensive damage and keep your plants healthy. Use organic pest control methods, such as introducing beneficial insects or using natural deterrents, to maintain a healthy garden ecosystem.
REFRESH THE SOIL
Over time, the soil in your vertical garden containers may become compacted or depleted of nutrients. Periodically replace or refresh the soil to ensure your plants receive the nutrients they need to thrive.
With these additional tips, you can ensure the long-term success and beauty of your vertical garden. Embrace the vertical gardening revolution and experience the joy of cultivating your own green oasis, even in the smallest of spaces!
EXPANDING YOUR VERTICAL GARDEN: EXPERIMENT AND EXPLORE
Once you've mastered the basics of vertical gardening, you may want to expand your green oasis and try new ideas. Here are some ways to further enhance your vertical garden:
INCORPORATE ARTISTIC ELEMENTS
Your vertical garden can be both a thriving ecosystem and a work of art. Add decorative elements, such as colorful pots or creative plant arrangements, to create a visually appealing garden. You can also use different textures and plant types to add depth and interest.
GROW A VERTICAL GARDEN INDOORS
Don't limit yourself to outdoor spaces – vertical gardens can be grown indoors, too! Create a living wall in your living room or office to enjoy the benefits of greenery all year round. Just be sure to choose plants that thrive in indoor conditions, such as low-light and humidity levels.
EXPERIMENT WITH HYDROPONICS
If you're looking for a soil-free solution, consider trying hydroponics in your vertical garden. Hydroponic systems deliver water and nutrients directly to the plants' roots, allowing them to grow faster and healthier. This method can also help prevent soil-borne diseases and pests.
CREATE THEMED GARDENS
Explore the idea of creating themed vertical gardens to showcase your favorite plants or gardening interests. For example, you can create a vertical herb garden for your culinary adventures, a succulent garden for low-maintenance greenery, or a flowering garden for a stunning display of colors.
BUILD A GREEN PRIVACY SCREEN
Use your vertical garden to create a natural privacy screen or divider in your outdoor living space. Plant tall, dense plants to form a lush barrier that can provide both privacy and a sense of tranquility.
TRY NEW PLANT VARIETIES
Don't be afraid to experiment with new plant varieties in your vertical garden. Try growing unusual or exotic plants to add variety and excitement to your garden. Remember to research their specific requirements and ensure they're suitable for your chosen location and climate.
By exploring new ideas and expanding your vertical garden, you can create a truly unique and personalized green oasis. Embrace your creativity and enjoy the endless possibilities that vertical gardening offers.
CONCLUSION: EMBRACE THE VERTICAL GARDEN REVOLUTION
Vertical gardens are a game changer for urban dwellers, allowing you to transform any space into a lush, thriving oasis.
By following these 7 easy steps, you can create a stunning vertical garden that offers numerous environmental, health, and aesthetic benefits.
So, what are you waiting for? Dive into the world of vertical gardening and experience the joy and satisfaction of cultivating your own green paradise!
FAQs:
What is a vertical garden?

A vertical garden is a gardening method that allows you to grow plants vertically, making the most of limited space. It's perfect for small outdoor areas like balconies and patios, or even indoor walls.

How do I choose the right plants for my vertical garden?

Consider factors such as light exposure, water requirements, and the overall aesthetic you want to achieve. Some popular options include succulents, ferns, herbs, and edible plants.