Home Gardens: The Ultimate Game Changer
Uncover the Secrets of This Sustainable Solution and Why Your Backyard Might Just Save the Planet
Howdy folks! Ever considered that your home garden could be a super-hero, fighting against stormwater runoff and water pollution? Sounds a tad far-fetched, huh? Let me reel you into this captivating tale of how Mother Nature, right in our backyards, is saving the day!
Stormwater Runoff: The Invisible Culprit
Imagine this – it's a Sunday afternoon, and you're enjoying the rhythmic patter of rain on your windowpane. Little do you know, there's an unseen environmental villain at work: stormwater runoff. As the rainwater cascades over rooftops and driveways, it picks up pollutants like pesticides, fertilizers, and oil, carrying them into our waterways and harming the aquatic life. Pretty heavy stuff, right? But here comes the good news: your home garden is ready to fight back!
Enter the Hero: Your Home Garden
Ready for a twist in the tale? Picture your home garden as an environmental warrior. Plants, soil, and mulch together act like a sponge, absorbing and filtering the runoff. This reduces the amount of polluted water reaching our streams and rivers. In fact, according to the University of Maryland Extension, a well-designed garden can absorb up to 30% more water than a traditional lawn [1]. Ain't that something?
Creating a Stormwater-Friendly Garden: Top Tips
Now that we've got your interest, you're probably wondering how you can transform your garden into a stormwater superstar. Here's how you can get your hands dirty:
Go Native: Native plants have deep roots which can absorb more water and are more resilient to local weather conditions.
Create Rain Gardens: Rain gardens are shallow, vegetated basins that collect, absorb, and filter stormwater. These are not just functional, but a feast for the eyes too.
Mulch It: Organic mulch like wood chips helps the soil retain moisture and prevents erosion.
Install Rain Barrels: Rain barrels collect and store rainwater from your roof that can be used for watering plants.
Remember, even small changes can make a big difference!
The Water Pollution Problem: Connecting the Dots
But wait, there's more to the story! When you reduce stormwater runoff, you're also tackling water pollution head-on. That's right, you're scoring a two-for-one environmental victory. As the National Resources Defense Council highlights, untreated stormwater runoff is a leading source of water pollution [2]. So by creating a garden that combats stormwater runoff, you're also fighting water pollution. Talk about a win-win!
The Power of Permeable Surfaces
Gosh, we've been so absorbed in the wonders of plants, we almost overlooked another champion of stormwater management: permeable surfaces! I mean, who wouldn't get excited about a little asphalt and concrete?
Now you're probably scratching your head, thinking, "Aren't those the culprits that cause stormwater runoff in the first place?" You're not wrong, buddy. But hang tight because we're talking about their eco-friendly cousins – permeable pavers and gravel.
Unlike traditional hardscapes, permeable surfaces allow water to pass through, reducing runoff. The EPA sings the praises of permeable pavements, stating they can effectively trap solids and filter pollutants from the water [3].
A Call to Action: Make the Switch to Sustainable Gardening
So, there you have it. Your garden, a battleground between environmental harm and heroism. And the hero, surprisingly, is you. By simply altering the way we garden, we have the power to dramatically reduce stormwater runoff and water pollution.
Now it's your turn to answer the call. Armed with these insights and tips, are you ready to turn your garden into a stormwater-fighting superhero?
The Sweet Rewards of Your Hard Work
Besides doing your part for the environment, there's another sweet perk to this – the unparalleled joy of nurturing life. Few things match the satisfaction of seeing a seed you planted sprout, grow, and blossom under your care. It's not just about creating a garden; it's about cultivating life and fostering an eco-system right at your doorstep. You're creating a haven for bees, butterflies, and birds, bringing a slice of wilderness to your home.
From Home Gardens to a Greener Planet
If we each took the time to make these changes in our home gardens, imagine the difference we could make. Picture a world with cleaner rivers, healthier aquatic life, and a balanced ecosystem.
Now that's not just gardening, folks. That's being a custodian of Mother Earth.
So, here's a shout-out to all you green thumbs and aspiring gardeners out there. Grab your gloves, pick up that spade, and let's dig into a greener future, one garden at a time!
The Role of Composting: Turn Your Trash into Treasure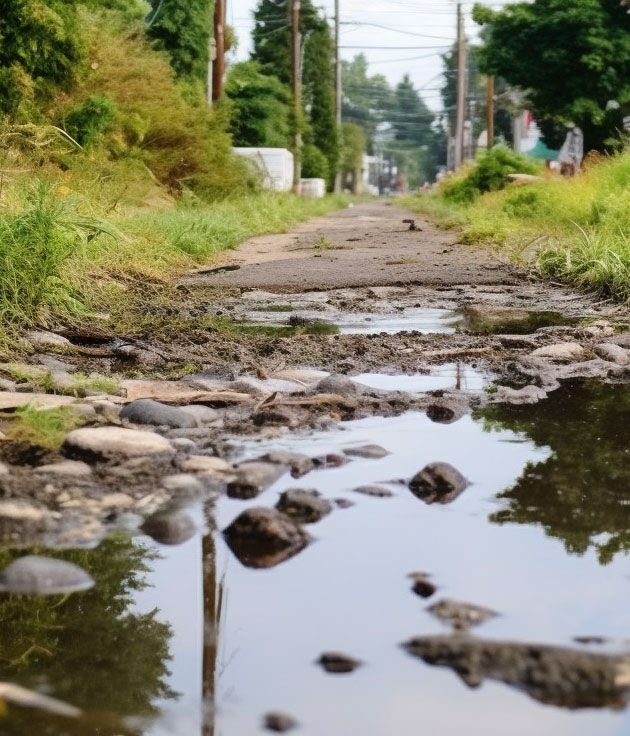 Let's switch gears for a moment and consider another friend in our gardening journey: compost. This humble pile of organic matter is another unlikely hero in our story, and boy, does it pack a punch! Not only does it enrich the soil and reduce the need for synthetic fertilizers, but it also improves soil absorption. Yep, you heard it right! According to the University of California, compost can increase the soil's ability to retain water and decrease runoff [4]. Just another reason to love our leftovers!
Let's Talk About Trees
Now, you'd probably be thinking, what's a conversation about gardens without mentioning our leafy friends, the trees? Besides offering shade, beauty, and a home for our feathered friends, trees are masters at managing stormwater.
Thanks to their extensive root system, trees soak up a significant amount of stormwater. In fact, a mature tree can absorb up to 100 gallons of water in a day [5]. Now that's a thirst we can appreciate!
Gardening with a Purpose: The Impact on You and the Community
As we wrap up our journey into the world of sustainable gardening, let's take a moment to reflect on the wider implications. This isn't just about creating an aesthetically pleasing space or even about personal satisfaction. It's about the broader benefits – for you, your community, and ultimately, our precious blue planet.
By choosing to garden sustainably, you're reducing water pollution, promoting biodiversity, and encouraging a healthier environment. But don't stop at your backyard! Spread the word, share the knowledge. Imagine if every neighborhood was bustling with eco-friendly gardens? That, my friend, is the power of collective action!
Stormwater Management: The Big Picture
In the grand scheme of things, our conversation about home gardens is just one piece of a much larger puzzle. Managing stormwater and reducing water pollution is a complex challenge requiring action at every level, from individuals to local communities to global initiatives. However, as we've explored, the beauty of home gardens is that they bring this large-scale environmental issue into a personal, tangible context. It's one of the few areas where the adage "think global, act local" can be applied so aptly and with such visible impact.
But don't let the broader complexity of the issue daunt you. Remember, your home garden is your very own patch of Earth that you can control and cultivate for the better. It's where eco-activism gets personal, and your actions genuinely do make a difference.
Beyond the Backyard: Extending Our Impact
As a final thought, I urge you not to stop at the edge of your property. Let's take this green wave beyond our backyards. Get involved in local initiatives that promote sustainable landscaping in public areas, encourage schools to adopt greener practices, and lobby local governments to consider sustainable urban planning.
After all, as the famous cultural anthropologist Margaret Mead once said, "Never doubt that a small group of thoughtful, committed citizens can change the world; indeed, it's the only thing that ever has."
Gardening for the Future
So there you have it, folks! Not only can your home garden add a splash of color and a breath of fresh air to your everyday life, it can also play a vital role in protecting our planet. And the best part? Anyone can join this green revolution. So what are you waiting for? Roll up your sleeves, grab a shovel, and let's make a difference, one garden at a time!
In Conclusion: Embrace Your Green Thumb
So what are you waiting for? It's time to get out there and make a difference. Remember, every garden matters, and every change, however small, counts. Your journey to sustainable gardening won't just help reduce stormwater runoff and water pollution – it will enrich your life and contribute to a more vibrant, healthier planet.
Happy gardening, folks!
FAQs:
How can home gardens reduce stormwater runoff and water pollution?

Home gardens, particularly those with native plants, rain gardens, and mulch, can absorb and filter stormwater runoff, thereby reducing water pollution.

What are some tips for creating a stormwater-friendly garden?

Planting native plants, creating rain gardens, using organic mulch, and installing rain barrels are effective ways to make your garden stormwater-friendly.
Footnotes
(University of Maryland Extension, 2020) ↩
(National Resources Defense Council, 2020) ↩
(Environmental Protection Agency, 2020) ↩
(University of California Agriculture and Natural Resources, 2020) ↩
(U.S. Department of Agriculture, 2020) ↩