Master the Art of High-Yield, Low Maintenance Gardening with Square Foot Gardening: Your Comprehensive Guide to Embrace Sustainable Living
Since the inception of the Square Foot Gardening method in the 1980s by Mel Bartholomew, this highly efficient and easy gardening technique has been transforming home gardening landscapes across the globe[1]. Today, we take a deeper dive into how you can start planning and growing your own thriving Square Foot Garden.
Imagine you're a novice gardener. You dream of a lush garden teeming with homegrown vegetables and brilliant flowers, yet the thought of handling a full-fledged garden sends a shiver down your spine. That's where Square Foot Gardening comes to the rescue!
The Magic of Square Foot Gardening
If you ask "Why Square Foot Gardening?", we'll tell you that it's all about optimizing space, reducing waste, and fostering sustainability. Picture this: a grid-based garden where each square foot houses a different plant variety. This garden needs 80% less space, 90% less water, and 100% less work than a traditional row garden[2]. Sound like magic? Welcome to the world of Square Foot Gardening!
Your First Step: Planning Your Square Foot Garden
The key to a successful Square Foot Garden lies in strategic planning. First, select a sunny location with good drainage. Next, sketch your garden layout, ensuring each grid is a 1′ x 1′ square[3]. The beauty of Square Foot Gardening lies in its versatility – you can have a small 4′ x 4′ garden or go for larger dimensions based on your space and needs.
now that we've wet your appetites with the why, let's dive into the how. First off, kudos for deciding to embark on this exciting journey of Square Foot Gardening. This ain't just about growing veggies; you're about to join a global movement promoting sustainability and healthy living!
Now, planning your Square Foot Garden might sound like a big deal, but trust me, it's as easy as pie when you know what you're doing. Let's break it down into some easy-to-follow steps.
1. The Perfect Spot: Choosing Your Garden's Location
Just like finding the ideal home, picking the perfect spot for your garden is pretty crucial, and here's why. Have you ever seen a sunflower tracking the sun across the sky? Or noticed how plants seem to 'reach' for light? That's because, like us humans, plants need their daily dose of sunshine to thrive.
So, you ask, "Where should I set up my garden?" Well, let's explore that in more detail.
Chasing the Sun
First things first, folks – let's talk sunlight. When it comes to gardens, sunny spots are prime real estate. Most vegetables love the sun and need a good six to eight hours of it each day to grow. Some plants, like tomatoes and peppers, are real sun-worshippers and need even more.
You might be wondering, "Why so much sun?" Well, through a process called photosynthesis, plants convert sunlight into food. Without enough light, they can't produce the energy they need to grow. So, if you want a bountiful harvest, make sure your garden spot is a sun-soaked one!
The Early Bird Gets the Worm
Not all sunlight is created equal. Morning sun, with its cooler, gentler rays, is particularly beneficial for plants. So, when choosing your garden location, try to pick a spot that gets plenty of morning light. This helps kick-start your plants' growth each day.
Drainage Drama
Let's move on to another crucial factor – drainage. It's a simple fact: plants don't like soggy feet. Too much water can cause the roots to rot, which is definitely not what you want.
When you're scoping out potential garden spots, keep an eye out for areas where water tends to collect. These are big no-nos for your garden. Instead, look for a location where the water seems to drain away nicely after a heavy rain.
If you're dealing with a flat yard or patio, don't fret. You can still ensure good drainage by raising your garden beds or using a well-draining soil mix.
Accessibility Matters
Finally, make sure your garden spot is easily accessible. You'll be visiting it quite often, to water, weed, and eventually harvest your crops. The last thing you want is to trek half a mile just to water your tomatoes!
2. Sketching Out Your Square Foot Garden
Alright, my fellow gardening enthusiasts, let's get those creative juices flowing! It's time to sketch out your Square Foot Garden layout. I know, I know, it might sound a bit daunting, especially if you haven't done this before. But trust me, it's going to be fun, and it's easier than you think. We're not talking about a Picasso masterpiece here; we're just drawing squares.
Understanding the Grid
So, how do we get started? First, you have to wrap your mind around the grid system. Picture your garden as a blank checkerboard, and each square is 1′ x 1′. That's right, just 12 inches by 12 inches. Easy peasy, right? This is the essence of Square Foot Gardening, and this grid system is going to be your roadmap for planting.
Map It Out
Next, grab a piece of paper and a pencil and start drawing squares. These squares represent the different sections of your garden. You can go for a small 4′ x 4′ layout that gives you 16 squares or a larger 6′ x 6′ layout with 36 squares. Remember, each square can host a different type of plant, which means you can have 16 or 36 varieties of plants in your garden. How cool is that?
Assign the Plants
Now, here comes the really fun part: deciding what to plant where. This is where your creativity truly shines. You can decide to plant herbs, flowers, veggies, or a mix of all three. The choice is yours. Just remember to take into consideration the growth habits and space requirements of each plant. For example, a tomato plant will need a whole square, but you can plant up to 16 carrots or radishes in another square.
Think Vertical
Here's a pro tip: don't forget about vertical space. Some plants, like tomatoes, beans, and cucumbers, love to climb. So, why not let them? You can easily add a trellis or a netting to the north side of your garden (so it doesn't shade the other plants), and let these climbers do their thing. This not only saves space but also helps keep the plants healthy and makes harvesting a breeze.
Plan for Succession
One last thing to consider when sketching your garden layout is succession planting. This means as soon as one crop is harvested, you plant another in its place. With this method, you can keep your garden productive throughout the season.
3. The Perfect Fit: Choosing the Right Size for Your Square Foot Garden (Well, Not Really)
Let me guess, when you hear the word 'garden', you're picturing a sprawling green space with rows upon rows of vegetables, right? Well, I'm here to tell you that size doesn't necessarily matter when it comes to Square Foot Gardening. This method is all about maximizing space, not necessarily having a ton of it. You'll be amazed at what you can accomplish in just a few square feet!
Size: Not a One-Size-Fits-All Approach
Square Foot Gardening is all about flexibility and adaptability. You've got a spacious backyard? Fantastic! Let's create a 12′ x 12′ garden and make Martha Stewart green with envy. Working with limited space, say, a balcony or a small patio? No worries! A 4′ x 4′ garden can yield a surprising amount of produce.
Big or Small, It's All About the Grid
The key to this whole system lies in the 1′ x 1′ grid. As long as you adhere to this rule, the overall size of your garden can be adjusted to fit your space and needs. This flexibility makes Square Foot Gardening a great choice for city dwellers with limited outdoor space. It's also a fantastic option for people with larger yards but limited time or mobility, as it minimizes maintenance and makes gardening more accessible.
The Beauty of Modularity
Here's another cool thing about Square Foot Gardening – it's modular. What does that mean? Simply put, you can start small and then expand as your confidence and enthusiasm grow. You can add more 1′ x 1′ squares, or even another 4′ x 4′ box, whenever you're ready. You're the master of your gardening universe, and you can grow it at your own pace.
Consider the Practical Aspects
However, when determining the size of your garden, do consider a few practical aspects. Firstly, make sure you can easily reach all parts of the garden without stepping on the soil. A reach of about 2 feet from any side is generally a good rule of thumb. That's why many Square Foot Gardens don't exceed 4′ in width.
Also, remember the bigger the garden, the more time and effort it will take to maintain. Consider how much time you have to devote to your garden and plan accordingly.
Make Room for Walkways
Lastly, don't forget about walkways. If you are planning a larger garden with multiple beds, make sure you leave enough room between them so you can easily move around without disturbing your plants.
4. The Green Thumb Roster: Planning Your Plant Selection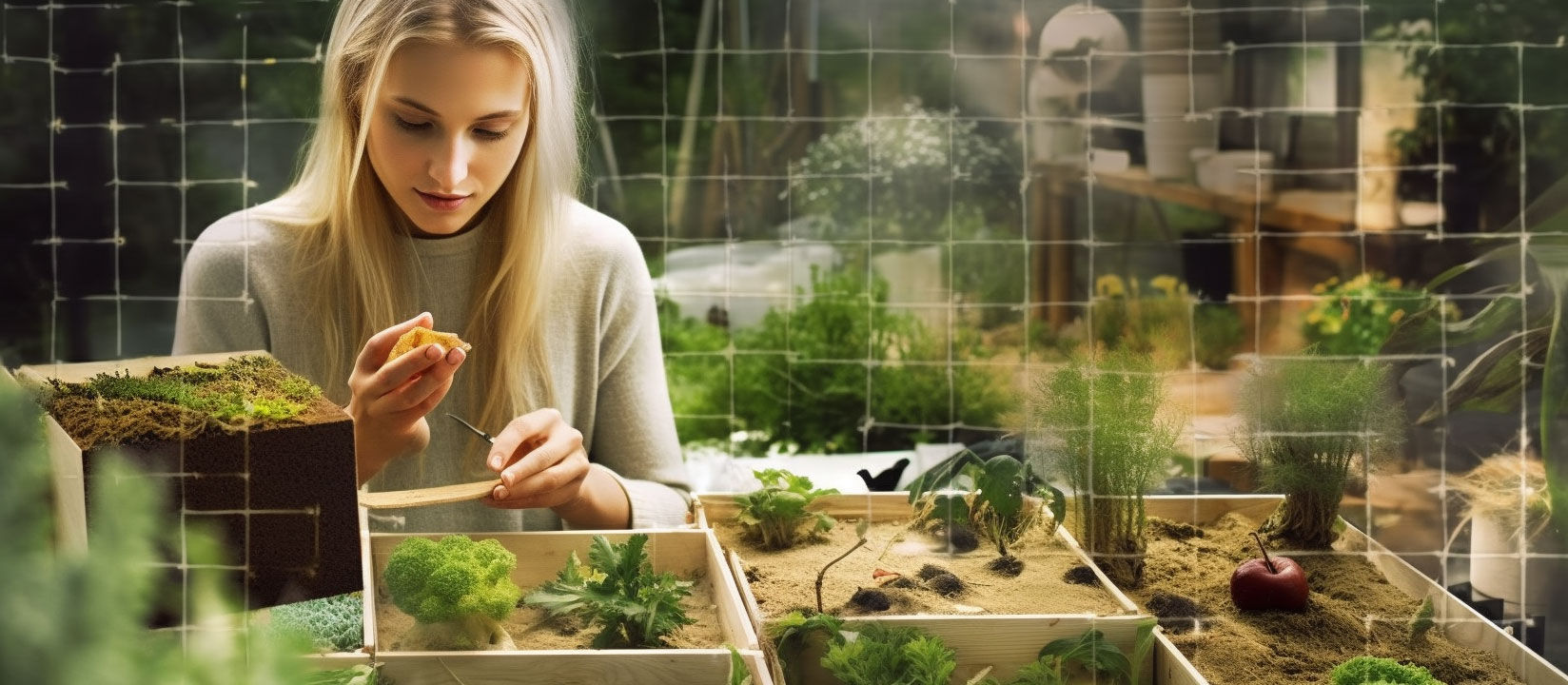 Well folks, now comes the fun part: deciding what to grow in your Square Foot Garden. You might be thinking, "Well, I'll just throw in a few seeds and see what happens." I hate to burst your bubble, but a successful garden needs a bit more planning than that. So, grab a cup of joe, sit back, and let's dive into how you can strategize the perfect plant lineup for your garden.
From Seed to Harvest: Planning Your Crop
Imagine you've got a buffet in front of you with all your favorite foods. Well, planning your Square Foot Garden is kind of like that, but instead of foods, you have a smorgasbord of veggies, herbs, and flowers to pick from. Dreamy, right?
Now, you can choose to grow anything from lettuce to tomatoes, from basil to zucchini. The world really is your oyster here. But, there's a catch: each square foot gets its own type of plant. So, in a 4′ x 4′ garden, you have 16 squares to fill with 16 different plant varieties.
How to Choose Your Plants
Here are a few things to keep in mind when making your plant selections:
Consider your eating habits: There's no point in growing beets if no one in your family eats them. Think about what veggies and herbs you use most often in your cooking. Also, consider growing some of your favorite flowers. They'll add color to your garden and attract beneficial insects.
Think about the season: Some plants thrive in the cool temperatures of spring and fall, while others need the warm summer sun. Make sure to choose plants that are appropriate for the current season.
Account for plant size: While it's true that each plant gets its own square foot, some plants may need more space. For instance, while you can fit 16 radishes in one square, a tomato plant will need a square all to itself.
Succession Planting for Continuous Harvest
Another technique to consider is succession planting. This method allows you to have a continuous harvest throughout the growing season. How does it work? As soon as you've harvested a crop from a square, you plant a new one in its place. This way, your garden is always productive, and you get the most out of your space.
Don't Forget the Pollinators
Last but not least, try to incorporate some flowers into your garden. They're not just pretty to look at; they also attract pollinators like bees and butterflies, which are crucial for vegetable production. Plus, some flowers, like marigolds and nasturtiums, can deter pests.
Planning your Square Foot Garden is like creating a vibrant, living mosaic of delicious veggies, fragrant herbs, and beautiful flowers. It's a bit of a balancing act, but with a little thought and planning, you can create a garden that's as diverse as it is productive.
5. Buddies in the Backyard: Consider Companion Planting
Let's chat about a concept that's been around since the dawn of agriculture but is making quite a comeback these days. It's called companion planting, and it's pretty much the botanical equivalent of a buddy movie.
Imagine the fun, dynamic duos in your garden – tomatoes with basil, carrots with onions.
Sounds intriguing, right?
What is Companion Planting?
Companion planting is an age-old practice that involves planting different crops in proximity for mutual benefit. In a nutshell, some plants play better together than others. They may help each other grow, fend off pests, or even enhance each other's flavor. And while it's not mandatory in Square Foot Gardening, it's worth considering if you're up for a little horticultural experimentation.
The Buddy System in the Garden
So, how does this whole plant camaraderie thing work?
Here are some examples of plant pals you might want to consider:
Tomatoes and Basil: These two are like the best of friends. Basil is said to repel pests that love to feast on tomato plants, and some gardeners swear that it even improves the flavor of the tomatoes.
Carrots and Onions: This is another classic pairing. Onions help deter carrot flies, a common pest that can ruin your carrot crop.
Beans and Corn: This pairing is straight out of Native American agricultural tradition, often referred to as the "Three Sisters" when squash is added into the mix. The beans fix nitrogen in the soil, benefiting the nitrogen-loving corn, while the corn provides a natural trellis for the beans to climb.
Marigolds and Just About Anything: Marigolds are fantastic companion plants. They're known to deter many common pests, so planting them around your garden can serve as a natural pest deterrent.
Better Together: The Benefits of Companion Planting
Companion planting brings many benefits to your Square Foot Garden:
Natural Pest Control: Some plants deter certain pests, reducing the need for chemical pesticides.
Improved Pollination: Planting a variety of crops close together can attract more pollinators, which can increase your yield.
Enhanced Soil Health: Some plants, like beans and peas, can fix nitrogen in the soil, improving its fertility for other plants.
Increased Productivity: By maximizing beneficial interactions between plants, you may be able to increase your overall yield.
It's amazing how nature works, isn't it? Just like us, plants can benefit from having the right neighbors. So, why not give companion planting a shot in your Square Foot Garden? It's a beautiful way to bring balance and harmony to your little piece of nature, and the rewards can be bountiful. Remember, folks, teamwork makes the dream work, even in the garden!
6. Time to Talk Tools
Alright, green thumbs, now that we've gotten the planning and planting down pat, it's time to talk tools. We all love gadgets, and while Square Foot Gardening doesn't require a fancy arsenal of equipment, there are a few trusty essentials you'll want in your gardening kit. So, let's check out what you'll need to become a bona fide square foot gardener.
The Trusty Trowel
This compact, handheld shovel is your go-to tool for all things planting. Whether you're digging holes for your seedlings or carefully scooping out soil, a good-quality trowel is a must-have. Opt for one with a sturdy, comfortable handle and a durable blade.
The Handy Hand Fork
Next up is the hand fork, the trowel's best buddy in your gardening toolkit. This little guy is perfect for loosening the soil, weeding, and aerating your garden squares. Look for one with strong, sharp tines and a comfortable grip.
The Protective Gloves
We all want to get our hands dirty, but there's a limit, right? A pair of durable, comfortable gardening gloves will keep your hands clean and protected. Look for gloves that are waterproof yet breathable, and make sure they fit well – you don't want them slipping off in the middle of planting!
The Watering Can
Remember, folks, plants need water, and while Mother Nature provides rainfall, she might need a little help from you, too. A watering can with a rose (the sprinkler-like part at the end) allows for a gentle shower that won't disturb your delicate seedlings. Consider the size of your garden when choosing a watering can – a larger garden may warrant a bigger can, while a smaller one may be best served with a more petite option.
Seeds or Seedlings
The stars of the show! Choose from a variety of seeds to grow, considering what you like to eat, the time of year, and your garden's conditions. If you're eager for a head start, consider buying seedlings from your local garden center.
Bonus Tools
While not necessary, there are a few additional tools that could come in handy:
Garden Twine and Stakes: These are useful for laying out your square foot grid and for staking tall or climbing plants.
Compost Bin: Since compost is a key ingredient in the soil mix for Square Foot Gardening, having a compost bin lets you create your own nutrient-rich compost at home.
Garden Kneeler or Stool: These can provide comfort and ease during long gardening sessions.
So there you have it, your comprehensive guide to planning your Square Foot Garden. Sounds pretty doable, right? Remember, planning is half the battle. Once you've got your garden mapped out, you're all set to start the exciting journey of Square Foot Gardening. And boy, are you in for a treat! Can't wait to hear about your first harvest!
Building a Thriving Square Foot Garden
Here, we'll share the story of an avid gardener, Jane. With Square Foot Gardening, Jane transformed her cramped urban balcony into a verdant oasis. How? She focused on building rich, fertile soil using Mel's Mix – a special blend of compost, peat moss, and vermiculite. This blend ensures good soil aeration, moisture retention, and nutrient balance[4], essential for plant growth.
Maximizing Harvest with Square Foot Gardening
With Square Foot Gardening, the harvest is bountiful. Take, for instance, a square foot of carrots. Traditional row gardening might yield about 16 carrots, while Square Foot Gardening can produce as many as 144 carrots[5]!
Now that's a significant increase in yield!
Final Thoughts
In conclusion, Square Foot Gardening is a game-changer. It's an innovative, sustainable approach to gardening that maximizes yield while minimizing space and effort. If you're keen on embarking on a greener lifestyle, there's no better time to start Square Foot Gardening than now!
FAQs:
What is Square Foot Gardening?

Square Foot Gardening is a high-yield, low maintenance gardening method. It involves dividing a growing area into small square sections to plant different crops.

Why is Square Foot Gardening effective?

Square Foot Gardening is effective because it uses space, water, and resources more efficiently than traditional row gardening. It can yield more harvest in less space.
Footnote
1) (Bartholomew, Mel. All New Square Foot Gardening, Second Edition. Cool Springs Press, 2013.) ↩
2) (Bartholomew, Mel. Square Foot Gardening with Kids. Cool Springs Press, 2014.) ↩
3) (Monterusso, Michael A., et al. "Evaluation of the 'Square Foot' Gardening Method for Small Space Vegetable Production." HortTechnology, vol. 15, no. 3, 2005, pp. 453-457.) ↩
4) (Bartholomew, Mel. Square Foot Gardening: Growing Perfect Vegetables. Cool Springs Press, 2017.) ↩
5) (Hylton, Mara. "Square Foot Gardening: A No-Till Method for Home Vegetable Gardens." Master's thesis, Kansas State University, 2013.) ↩