Introduction
Hey there! You've probably noticed the buzz around Artificial Intelligence, or AI, right? It's been popping up everywhere lately, from your smartphone to your smart home, and it's revolutionizing the tech world.
But let's get real for a second. This whole AI trend probably got you scratching your head, thinking, "Just what kind of AI jobs need a human touch?" Well, my friend, you've hit the jackpot! This article is all about that. So, buckle up and let's take a deep dive into this brave new world of AI. Ready? Let's roll!
Understanding AI
Alright, let's kick things off by deciphering this term "AI". What the heck is it, anyway?
What is AI?
Imagine your computer could think like you. It could make decisions, solve problems, recognize patterns, and even learn new things. That's pretty much what Artificial Intelligence is all about. It's like training a machine to mimic human smarts, but with turbocharged speed and accuracy. Cool, right?
How does AI work?
So, how does this AI magic happen? It's all about machine learning, baby. AI absorbs a ton of data like a sponge, learns from it, spots patterns, and then makes decisions based on what it's learned. Think of it like training a puppy. You give the little guy instructions and treats, and over time, he learns to fetch your slippers on command. Cute, and efficient!
AI and Employment
Hold on to your seats because this is where it gets really interesting. AI isn't just about replacing jobs. Nope, it's also playing a big role in creating new ones. Here's the scoop:
Job displacement by AI
Sure, AI is automating some jobs. Those routine, monotonous tasks? They're becoming AI's bread and butter. In fact, some folks reckon around a quarter of all jobs could be impacted by AI automation by 2030. Yikes, right? But, hold on. Remember, technological progress has always shaken up the job market. It's all part of the ride.
Job creation by AI
On the flip side, AI is also a job-creating machine! Yep, you heard it right. Because, think about it, someone needs to design, program, teach, and manage these super-smart systems, right? And guess who's perfect for those jobs? Yep, it's us humans.
Hang tight as we delve deeper into the human role in the AI world. Trust me, it's going to be a thrilling ride!
The Human Role in AI
So where do we humans fit into all of this high-tech AI stuff? Well, folks, we're right in the thick of it. Let's dive into the nitty-gritty.
Human intervention in AI training
You see, AI systems may be pretty smart, but they still need to learn their ABCs from somewhere. And guess who teaches them? That's right, it's us! Humans feed them data, organize it, set the learning parameters, and make sure the AI is picking up the right stuff.
Human oversight of AI
And let's not forget, while AI might have some serious brainpower, it's not infallible. Sometimes, it messes up. And who's there to catch those mistakes and fix 'em? Yep, you guessed it – we humans are the quality control.
AI complementing human work
And here's the cherry on top – in a lot of fields, AI isn't booting humans out of their jobs. Nope, it's actually lending a hand. By taking over the dull, repetitive tasks, AI frees us up to focus on the more complex, creative stuff. Kinda nice having a helper, right?
Alright, with all that in mind, let's get down to brass tacks. Here are 20 specific jobs where AI and humans are teaming up!
Top 20 AI Jobs Requiring Human Supervision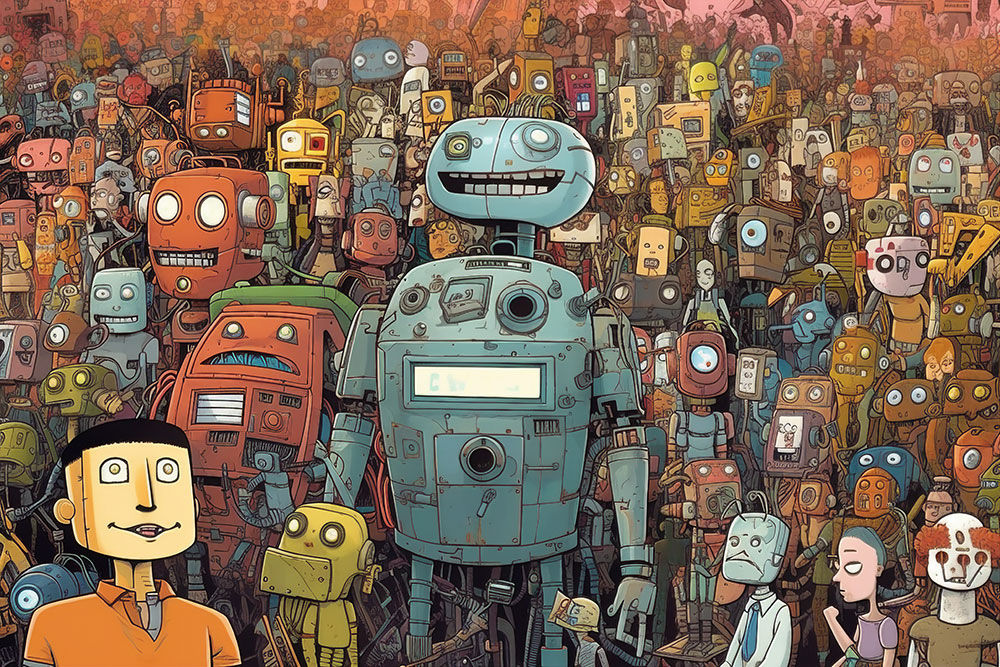 1) AI Translator: The Bridge Between Two Worlds
Picture this: You're an IT pro in a company that's decided to invest in AI technology. The problem? Not everyone in the company speaks the language of Python, TensorFlow, or algorithms. In fact, to most folks, it might as well be alien-speak. That's where an AI Translator comes in.
An AI Translator, sometimes also referred to as a Business Translator, is like an interpreter who "translates" the complex language of AI into plain English, allowing non-tech folks to understand what's going on. It's a pretty critical job, especially in companies aiming to integrate AI into their operations but are hindered by a significant tech-language barrier.
Take John, for example, a top-tier AI Translator. Johns has a rich background in both tech and business. He's comfortable talking about Python coding over lunch and discussing profit margins in the boardroom after.
John's day typically involves working closely with both the tech team and the non-tech staff. Let's say the tech team is developing a machine learning model to predict customer behaviors. The marketing team who will ultimately use this model may not understand the tech lingo involved.
This is where John steps in. He'll sit down with the tech team, get into the nitty-gritty of the model – the algorithms, the training, the data analysis – everything. He then takes that complex info and translates it into an easy-to-understand format for the marketing team. He doesn't just tell them what the model does; he explains how it can help them, how it affects their work, and what they need to do. And voila, the tech language barrier is no longer a hindrance!
As an AI Translator, human skills like empathy and understanding are just as crucial as technical skills. You're not just translating words; you're bridging a gap between people. You're ensuring everyone is on the same page, fostering better collaboration, and ultimately, driving your company's success.
So, if you're someone who loves coding and has a knack for languages, an AI Translator could be an exciting path for you. It's a role that combines the best of both worlds and plays an essential part in the integration of AI into the business world. Plus, who wouldn't want to be known as the AI "interpreter"? Talk about a cool job title!
2. Autonomous Vehicle Infrastructure Engineer
Autonomous Vehicles (AVs) are making waves in the transportation sector. But to ensure these vehicles operate safely and efficiently, we need an entire infrastructure system designed around them. That's where Autonomous Vehicle Infrastructure Engineers come in.
Let's look at Jessica, a seasoned Infrastructure Engineer. Jessica's job is to design and develop the necessary infrastructure for AVs. It involves everything from designing roads to signal systems to coordinating with city planners and government officials. AI can't replace Jessica, because her job requires a level of human decision-making, creativity, and negotiation skills that AI doesn't possess.
Moreover, Jessica works on the ethical and legal implications of AVs – questions like "How should an autonomous car behave in a situation where an accident is unavoidable?" AI can't handle these moral decisions – it's a uniquely human role.
3. AI-Based Traffic Management Analyst
In many cities, AI is used to optimize traffic flow by analyzing real-time traffic data and adjusting traffic light timings. But who analyzes these AI systems and ensures they're improving traffic, not making it worse? The AI-Based Traffic Management Analyst.
Take Mike, an AI-Based Traffic Management Analyst. Mike uses AI systems to monitor and manage traffic in real-time. But it's not just the AI running the show – Mike uses his understanding of local traffic patterns, city planning, and human behavior to interpret the data and make informed decisions. He's the one who steps in when there are unexpected traffic issues that the AI can't handle.
Mike also plays a role in improving the AI system. He provides feedback on its performance, identifies areas for improvement, and collaborates with AI developers to implement these changes.
These are two key roles in the transportation industry that, despite being heavily based on AI, still require significant human intervention. AI has revolutionized these jobs, but it can't replace the unique human abilities they require. From creativity and critical thinking to ethical decision-making, there's still plenty of room in the driver's seat for us humans!
4. Drone Delivery Coordinator
Drone deliveries are no longer a thing of science fiction, thanks to AI. Yet, for these high-flying delivery systems to function smoothly, we need human experts, like Drone Delivery Coordinators.
Meet Sam, a Drone Delivery Coordinator for a major e-commerce company. Sam supervises drone operations, ensuring packages get from point A to B safely and efficiently. Sure, AI algorithms plot the drone's route, but Sam's the one who reviews and authorizes the paths considering local regulations, weather conditions, and flight restrictions. And when unexpected situations arise, like a sudden storm or a mechanical issue, Sam's quick thinking is essential to navigate the situation. This human oversight and adaptability are something AI just can't replicate.
5. AI Logistics Specialist
AI is transforming logistics in the delivery sector, optimizing routes, predicting delivery times, and managing inventory. However, AI Logistics Specialists, like Lisa, are vital to this process.
Lisa utilizes AI to streamline the delivery process, but her expertise doesn't end there. She's the one analyzing AI-generated data, interpreting results, and making key business decisions. For example, if AI forecasts a spike in demand for a certain product, Lisa will be the one to ensure that the supply chain is prepared to meet this demand.
Moreover, Lisa works closely with other departments, communicating her findings, and helping them leverage AI solutions. This human touch – the ability to understand, apply, and communicate complex AI data – is a skill that AI can't replace.
In these delivery roles, humans and AI aren't competitors; they're teammates. AI provides the data and the tech, while humans offer the oversight, decision-making, and personal skills to apply these resources effectively. So, while AI is reshaping these roles, the human touch isn't going out of style any time soon!
6. Voice User Interface (VUI) Designer
VUI Designers play a critical role in creating the personalities and conversational styles of AI assistants like Alexa, Siri, and Google Assistant. They craft the interaction between the user and the AI in a way that's intuitive and user-friendly.
Picture Taylor, a VUI Designer working on a new AI assistant. Taylor uses her creativity and understanding of human conversation to design a voice interface that sounds natural and engaging. The assistant uses AI to understand and respond to voice commands, but it's Taylor's work that makes the interaction feel more like a chat with a friend rather than a command to a machine. Her human touch, her understanding of humor, slang, culture, and context, is what makes the AI assistant relatable.
7. Voice Data Analyst
A voice recognition system is only as good as the data it's trained on, and that's where Voice Data Analysts come in. They analyze the performance of voice AI systems and the data they generate to make improvements.
Take Benjamin, a Voice Data Analyst. Benjamin examines how well the AI understands and responds to user commands. He notes when the AI struggles – maybe it can't understand certain accents, or gets confused by background noise. Using this feedback, Benjamin works with the AI development team to refine the AI's algorithms and improve its performance.
In these roles, AI provides the tools, but it's the human expertise, creativity, and decision-making skills that bring the magic. The personal, human touch in the design and analysis process helps bridge the gap between machines and their human users. So don't worry, folks, there's plenty of room for us in the world of vocal AI!
8. AI Project Manager
AI Project Managers oversee the deployment of AI initiatives within public departments. They are responsible for leading the team, managing resources, and ensuring the project meets its objectives. Human leadership, strategic planning, and communication skills are key for this role. AI can help with various aspects of the project, but it cannot replace the human skills needed to lead and manage a team successfully.
These roles underscore the fact that while AI can automate and improve many processes, it cannot replace the human skills needed for critical thinking, decision-making, ethical judgments, and leadership. So, rest easy, folks. Humans aren't going anywhere in the world of AI jobs!
9. AI Healthcare Specialist
AI is making strides in diagnostics, patient care, and hospital management. But AI Healthcare Specialists, like Dr. Rachel, ensure these AI systems are effective and ethical.
As a doctor with a deep understanding of AI, Dr. Rachel uses AI tools to diagnose diseases, predict patient outcomes, and recommend treatments. But the AI isn't making these decisions alone. Dr. Rachel uses her medical knowledge to interpret the AI's results and make the final call.
She also ensures the AI is used ethically. For example, she reviews the AI's decisions for potential bias, ensuring that it treats all patients fairly.
10. AI-Based Robotic Surgical Assistant Technician
AI-based robotic surgical assistants have transformed surgery, enabling high precision procedures. But these robots don't run themselves – they need a human at the controls.
Meet Jordan, a technician who operates an AI-based robotic surgical assistant. Jordan has a medical background, understands the surgical procedure, and is trained to use the robot. During surgery, the robot assists, but Jordan is the one in control. If an unexpected situation arises, Jordan can swiftly and appropriately respond, something an AI alone couldn't manage.
AI has brought many advancements to healthcare, but human expertise, empathy, and decision-making skills remain indispensable. AI might be a powerful tool in medicine, but it's the human practitioners who wield this tool and make the critical decisions that can save lives. The blend of human expertise with AI capabilities is what truly drives healthcare forward!
11. AI-Assisted Telehealth Nurse
Telehealth has been a game changer in healthcare, and AI-assisted Telehealth Nurses are at the forefront of this transformation.
Imagine Nurse Michael, a seasoned telehealth nurse, using AI to monitor patient vitals remotely. Michael analyzes data sent from wearable devices and AI software to provide real-time healthcare to patients. But the AI can't replace Michael's years of nursing experience and human understanding. If the AI flags a sudden change in a patient's vitals, it's Michael's expert judgement that determines the urgency and the best course of action.
12. AI Nursing Informatics Specialist
AI Nursing Informatics Specialists are the bridge between nursing and technology. They are responsible for implementing and managing AI systems in nursing, while keeping patient care at the center of their work.
Consider Nurse Karen, an AI Nursing Informatics Specialist, who uses AI to streamline hospital procedures and improve patient outcomes. AI can generate patient reports and suggest treatments, but Karen uses her nursing experience to review these suggestions, ensuring they're suitable for each patient.
In both these roles, AI is an invaluable tool that aids in patient monitoring and care. But, it's the nurses who interpret the AI's data, make the key decisions, and provide the compassionate care that patients need. The combination of AI's efficiency and humans' empathy and judgement ensures quality care for patients in the nursing field. So, rest assured, in nursing, AI isn't replacing humans; it's working alongside us!
13. AI-Enhanced Photo Editor
AI has brought about tools that can enhance images, manage lighting, and even suggest edits. However, AI-Enhanced Photo Editors like Alex are essential in this process.
Alex uses AI tools to edit photos – removing unwanted elements, adjusting lighting and color, and more. The AI can do a lot, but it's Alex's creative vision that guides the process. Alex decides what mood the picture should convey, what story it should tell. His artistic eye and creative judgment shape the photo, using AI as a tool, not a replacement.
14. AI-Based Camera Systems Specialist
AI-Based Camera Systems are changing the game in photography. From AI that can predict the best moment to take a shot, to systems that can automatically adjust focus and lighting. But these systems still need a human touch, enter the AI-Based Camera Systems Specialist, like Mia.
Mia, a professional photographer, uses these AI tools to take the perfect shot. The AI assists, but it's Mia who decides the composition of the photo, the subject, and the right moment to click. Moreover, when the AI systems need tweaking or run into problems, Mia's the one who ensures they're functioning smoothly.
So, in photography, even though AI can assist, enhance, and simplify the process, the human touch of creativity, judgment, and emotional intelligence remains irreplaceable. Photographers like Alex and Mia are the true artists; the AI are merely their brushes and paints.
15. AI Psychologist
Think of Dr. Sam, a certified psychologist with a passion for tech. When he learned about the emerging field of AI Psychology, he couldn't resist making a career switch.
So, what a day in the life of Dr. Sam, the AI Psychologist? It's not your typical 9 to 5, I can tell you that!
Dr. Sam spends his days observing and analyzing AI behaviors. He's a bit like a detective, sleuthing out AI algorithms. He's got a big case on his hands: understanding how AI 'thinks' and why it acts the way it does.
For example, let's say there's a customer service AI that suddenly starts responding to clients' inquiries with unrelated answers. Not good for business, right? So, it's Dr. Sam to the rescue. He dives deep into the AI's algorithms, attempting to decipher where things went wrong. Is it a glitch? Is it the new data the AI's been fed? He's got to find out.
And once Dr. Sam pinpoints the problem; he's not done yet. Nope, he works closely with a team of AI developers to rectify the issue. He advises them on what changes need to be made to bring the AI back to normal.
But AI Psychology isn't just about fixing AI gone rogue. Dr. Sam also helps design AI systems that think and learn more effectively. He uses his understanding of human psychology to make AI more user-friendly and intuitive. So, when you're talking to an AI and it seems to 'get you,' you've got folks like Dr. Sam to thank!
In the end, being an AI Psychologist is all about bridging the gap between human minds and artificial intelligence. So, if you've got an interest in psychology and tech, this might be your dream job!
16. AI Ethicist
Next on our list is the AI Ethicist. This job is all about ensuring that AI technologies are developed and used responsibly.
Imagine Sarah, a seasoned AI Ethicist. She works at a leading tech company, helping them navigate the murky waters of AI ethics. This isn't a simple 9 to 5 gig. Sarah's got a heavy load on her shoulders!
Let's say the company is developing a new AI facial recognition system. It's Sarah's job to ensure that this technology respects privacy and doesn't promote bias or discrimination. She works closely with the developers, offering guidance on how to make the AI fair, transparent, and accountable.
She also helps draft company policies on AI use, ensuring they align with ethical standards and societal norms. It's a tough job, but someone's got to do it, and Sarah's just the person for it!
17. AI Data Privacy Officer
With the vast amounts of data that AI systems deal with, data privacy is a major concern. That's where AI Data Privacy Officers like Robert step in.
Robert's job is to ensure that all data used by the company's AI systems is handled safely and securely. He's constantly keeping tabs on changing data privacy laws and making sure the company is in compliance.
When there's a new AI project in the works, Robert works alongside the development team. He helps them understand what data they can use, how they can use it, and how to keep it secure. It's not just about following the law; it's about earning customers' trust!
Both Sarah and Robert play crucial roles in the AI field. They ensure that as AI systems become more powerful, they also remain ethical and safe. It's a perfect example of how human touch is needed in the world of AI. Because at the end of the day, AI should be used to serve us, not the other way around!
18. AI Bias Auditor
Let's meet Jamal, an AI Bias Auditor. His job revolves around ensuring AI systems are fair and unbiased. It's a vital role, especially considering how AI is increasingly used in decision-making processes, from hiring to loan approvals.
Bias in AI systems can lead to unfair outcomes and discrimination. That's where Jamal steps in. He meticulously examines AI algorithms and their outcomes, identifying and mitigating any biases. It's a job that needs a sharp eye, a strong sense of fairness, and a good understanding of both AI and societal biases.
For example, if a company's AI hiring tool seems to be favoring applicants of a certain age group, Jamal will be the one to detect this. He'll work with the AI developers, advising them on how to adjust the AI algorithms to ensure fair and unbiased hiring decisions.
Jamal's roles are examples of how vital human supervision is in the AI world. AI systems might be smart, but they still need the human touch to train them, guide them, and ensure they are fair and unbiased. We've come a long way in AI technology, but the need for the human element is far from over!
19. AI Customer Service Manager
Take a peek into the life of Rachel, an AI Customer Service Manager at a tech company. Her role involves overseeing AI chatbots and virtual assistants that handle customer service.
AI has revolutionized customer service with chatbots providing 24/7 assistance. But it's not always smooth sailing. Sometimes, customers have complex issues that a chatbot just can't handle. That's where Rachel steps in. She oversees the AI, steps in when needed, and ensures customers get the help they need.
For instance, let's say a customer has a complicated issue with their account. The AI chatbot, despite its best efforts, can't resolve it. Rachel will take over, handling the issue personally or assigning it to a human agent. She's like a safety net, ensuring no customer falls through the cracks!
20. AI Systems Engineer
Next up, meet Sam, an AI Systems Engineer. His job revolves around developing, implementing, and maintaining AI systems. It's like being a mechanic, but for AI!
Sam works with a variety of AI technologies, from machine learning models to AI software applications. He ensures they run smoothly and effectively. He's also the guy who gets called when an AI system crashes or behaves unpredictably.
One day, Sam might be optimizing a machine learning model to improve its accuracy. The next, he could be troubleshooting a software application that uses AI to automate data analysis. It's a role that requires technical expertise, problem-solving skills, and a whole lot of patience!
Rachel and Sam's roles highlight how, even as AI technologies become more advanced, there's still a need for human involvement. Whether it's ensuring excellent customer service or maintaining complex AI systems, the human touch remains essential in the AI world. Technology might be racing ahead, but it looks like we humans aren't out of the job just yet!
Conclusion
In conclusion, AI has undoubtedly brought remarkable advancements to various job sectors, revolutionizing the way we work and enhancing efficiency. It has the potential to smoothen and streamline human jobs, taking care of repetitive tasks, and providing valuable insights. However, it's important to remember that AI still requires human supervision and expertise to ensure ethical use, address biases, make critical decisions, and foster meaningful connections.
While the future holds endless possibilities for AI, the complete replacement of human jobs by AI is still a distant reality. The unique qualities possessed by humans, such as creativity, empathy, critical thinking, and complex problem-solving, cannot be replicated by machines alone. Our human touch remains essential in maintaining the balance between technological progress and human values.
Therefore, for individuals seeking to secure their careers in this ever-evolving landscape, now is the time to embrace the opportunities presented by AI. It's a call to action to upskill, reskill, and adapt to the changing job market. By combining our human skills with an understanding of AI technologies, we can position ourselves for success and make significant contributions to the evolving workforce.
So, let's embrace the possibilities, harness the power of AI, and seize the job opportunities available in this century. The future awaits, and it's time to make our mark in the era where humans and AI collaborate to shape a better world.
Still got questions? No worries, we've got you covered. Let's tackle some FAQs.
Frequently Asked Questions
And that's a wrap, folks! I hope you've enjoyed this deep dive into the world of AI and jobs. Got more questions? Keep 'em coming! And remember, as the world of AI continues to expand, so do the opportunities. It's an exciting time to be part of the tech industry.