Howdy! We've all had those moments, haven't we? You're sipping coffee on your porch, when suddenly, a flash of color catches your eye—a majestic bluebird flitting about your garden. There's something utterly calming about nature's little critters. So, what's the secret to attract wildlife into your garden? Stick around, and I'll spill the beans.
Ready to make your garden the go-to spot for local wildlife? Be sure to check out our comprehensive checklist above to help guide you through the process. Trust me, you and the critters will love the results!
Dive into The Magic of the Great Outdoors Right in Your Backyard
Picture this: you're lounging on your patio, with your favorite book in one hand and a glass of iced tea in the other. You hear a soft rustling—the scampering of a squirrel foraging for food, while vibrant butterflies dance around the flowers. Isn't this what garden dreams are made of?
Now, you might think, "Well, that sounds fantastic, but my garden's as popular as a ghost town." Don't worry, buddy, we're going to change that!
1. Plant Native
First things first, think local. Native plants are like the hometown heroes for your local birds, bees, and butterflies. They've co-evolved over centuries, and these critters just love 'em. Start by incorporating plants such as purple coneflowers, sunflowers, or wild roses—anything that's local to your area.
As per the U.S. Fish and Wildlife Service, gardens that imitate native habitats can replace at least some of the biodiversity loss caused by development [1]. It's like building a mini nature reserve right in your backyard!
2. Water – The Elixir of Life
All critters need a watering hole. A simple birdbath, a small pond, or even a shallow dish filled with pebbles and water can work wonders. Remember, if you're attracting birds, keep the water no more than 2-3 inches deep. And hey, if you've got room for a pond, you might even be visited by frogs and toads!
3. Food Glorious Food!
Feeders are a surefire way to attract all kinds of wildlife. Get yourself some bird feeders and fill them up with seeds, nuts, and suet. But don't forget about the insects and mammals. They're part of your garden community too! Try leaving small piles of leaves or wood for insects, and dish out fruits or corn for mammals like squirrels or hedgehogs.
4. Provide Some Shelter
Last but not least, create some homes. No, you don't need to break out the hammer and nails (unless you want to!). Simple things like birdhouses, bat boxes, and piles of rocks or logs can make cozy homes for wildlife. You could also let a part of your garden grow a bit wild to provide natural shelter.
So, there you have it. The secret's out! But remember, this isn't an overnight process. Be patient, and before you know it, your garden will be teeming with life.
Keeping It Wild and Safe
Hold your horses, partner! We've got a few more tips up our sleeve. Creating a wildlife-friendly garden isn't just about inviting animals over; it's also about ensuring their safety. After all, we want our furry and feathery guests to feel right at home!
1. No Room for Pesticides Here
Can you imagine walking into a restaurant only to find out the food's been laced with poison? Not a pretty picture, right? That's exactly how wildlife feels about pesticides. If you want a wildlife-friendly garden, it's time to ditch those harmful chemicals.
According to a study published in Nature Communications, widespread use of pesticides could lead to a 50% decrease in certain bird populations [2]. So, let's keep it organic and let nature do its thing. Trust me, you'll appreciate the humming of bees and the fluttering of butterflies even more!
2. Cats and Wildlife – A Tricky Situation
I know, I know. Your furball might be the sweetest creature on the planet, but to the birds and small mammals in your garden, it might be more of a predator. According to a study by The Smithsonian Conservation Biology Institute, domestic cats are responsible for the deaths of 2.4 billion birds each year in the U.S [3].
To keep the peace, try adding a bell to your cat's collar or limit their outdoor time to when wildlife is less active. Your garden friends will thank you!
3. Keep it Friendly for the Night Owls
Just like us humans, some wildlife prefers the nightlife. Install garden lights that are wildlife-friendly, and avoid those that can disorient nocturnal creatures. Use warm, shielded lights that direct the illumination downwards and consider motion sensors to save energy and lessen light pollution.
4. Winter Care
And hey, don't forget about the winter! Provide food and unfrozen water to attract winter wildlife. Many birds and animals will appreciate a reliable source of sustenance during those cold months.
Spread the Word and Watch the Magic Unfold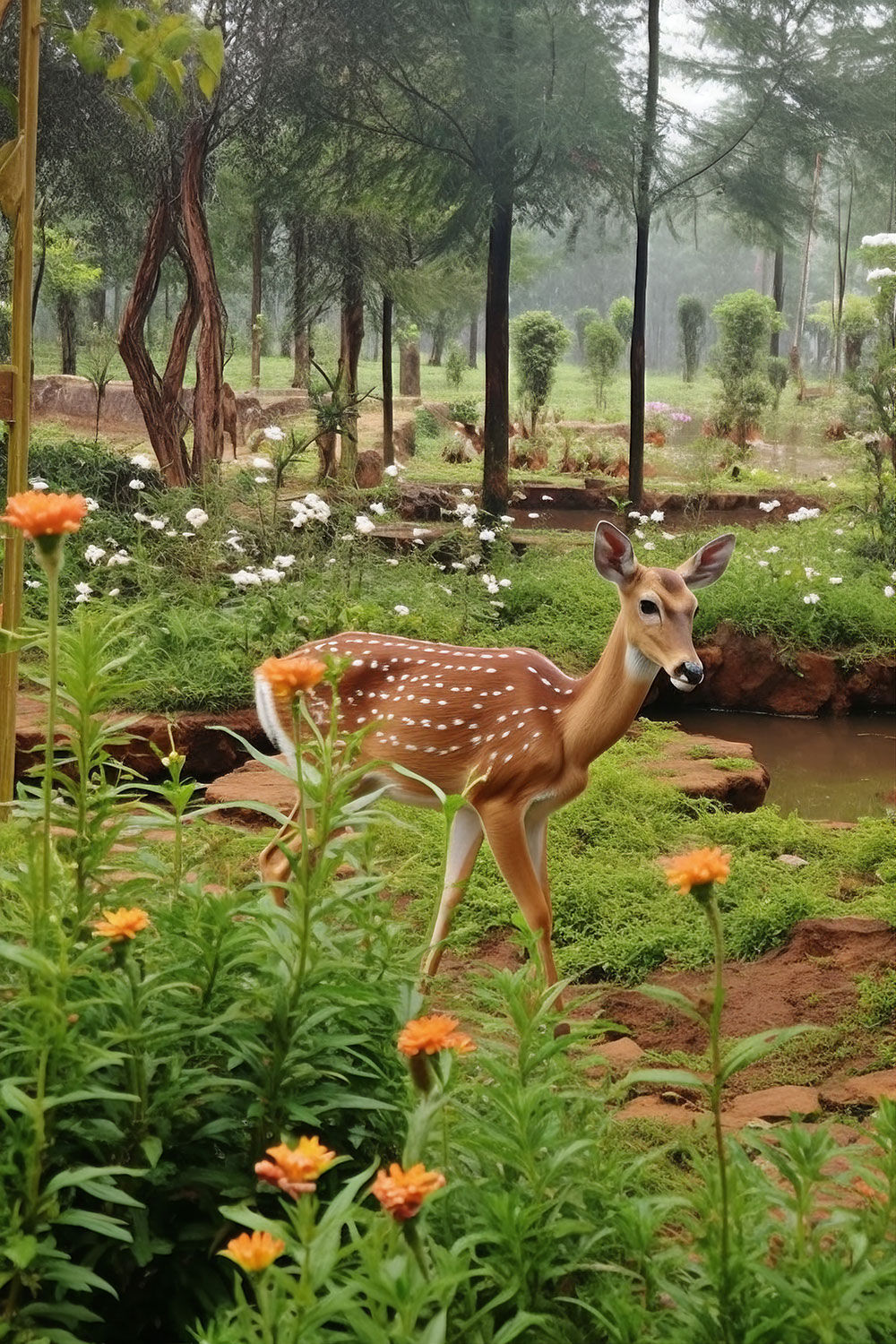 Well, howdy, we've been on quite a journey, haven't we? You're now all set to be the host with the most for your local wildlife. But before we call it a day, remember, this isn't just about your garden. This is about everyone's garden. We're all neighbors in this great big ecosystem.
1. Educate Your Neighbors
Why stop at your garden? Share the joy of a wildlife-friendly space with your neighbors. The more yards we can turn into wildlife havens, the bigger the corridor we create for our critter pals. It's all about connectivity!
According to a research by Cornell Lab of Ornithology, creating bird-friendly habitats in residential areas can help conserve bird populations [4]. So, the next time you're shooting the breeze with your neighbor, why not drop a hint or two about gardening for wildlife?
2. The Big Picture: You're Making a Difference
What you're doing here, buddy, is pretty darn special. Each plant you choose, every bird bath you set up, it all adds up. In your own backyard, you're making a stand for biodiversity. You're giving a helping hand to local wildlife and that's something to be proud of.
3. Celebrate Your Success
Let's not forget to celebrate our successes! When that first hummingbird hovers by your feeder, when you spot a butterfly sipping nectar from your flowers, take a moment to appreciate the magic. This is your handiwork, your contribution to the local wildlife. So, go on, give yourself a pat on the back!
Embracing the Adventure
Alright, partner! You've got the tools, the tips, and the drive to make your garden the talk of the town among the wildlife community. But let's not forget, this is more than a one-time rodeo. It's a living, breathing adventure that keeps on giving!
1. Observe and Adapt
Life's a dance, you learn as you go, right? The same goes for your wildlife-friendly garden. Watch how wildlife interacts with your garden. Are the birds flocking to one kind of feeder? Are the bees buzzing more about one type of flower? These little insights can help you make your garden even more welcoming.
In a report by the University of Bristol, observing wildlife's behavior can aid in adjusting and improving environments for them1. So, keep your eyes peeled, and your ears open!
2. Give It Time
Rome wasn't built in a day, and a wildlife garden isn't either. It may take time for local critters to discover your haven. But when they do, you'll see a garden bustling with activity. Patience is key, my friend!
3. Get the Family Involved
Remember, this is a hoot for the whole family! Kids can help pick out plants, build birdhouses, and they'll sure love spotting new wildlife visitors. It's a great way to teach them about nature and biodiversity.
4. Record Your Wildlife Sightings
Keep a record of the wildlife that visits your garden. It can be a wonderful way to track changes over time. Plus, it's a great conversation starter at the next neighborhood barbeque!
10 styles attract wildlife
Alright, buddy! You want to talk about upcycling your way to a wildlife haven? I'm all ears, and I've got some tricks up my sleeve. So, here are 10 best of all – recycled ways to attract more wildlife to your garden.
Let's get this show on the road!
1. DIY Bird Feeder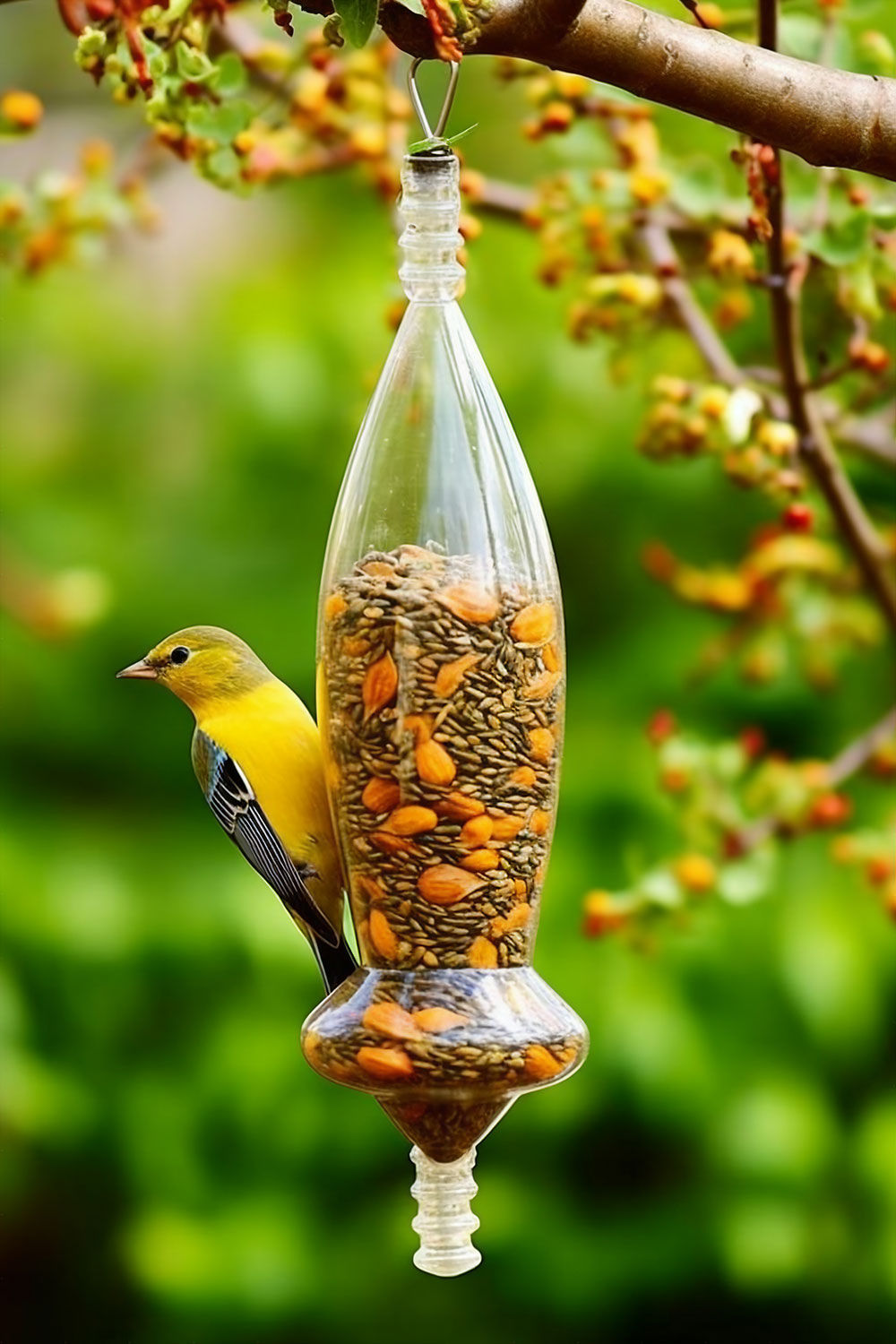 Grab an old plastic bottle, drill some holes in it, pop a wooden spoon through as a perch, and voila! You've got yourself a nifty bird feeder. Fill it up with birdseed, and you'll have some feathery friends visiting in no time.
How: To entice a variety of birds, offer a mix of seeds. Sunflower seeds are a crowd favorite, but you can also add millet, safflower, or thistle.
2. Homemade Bee Hotel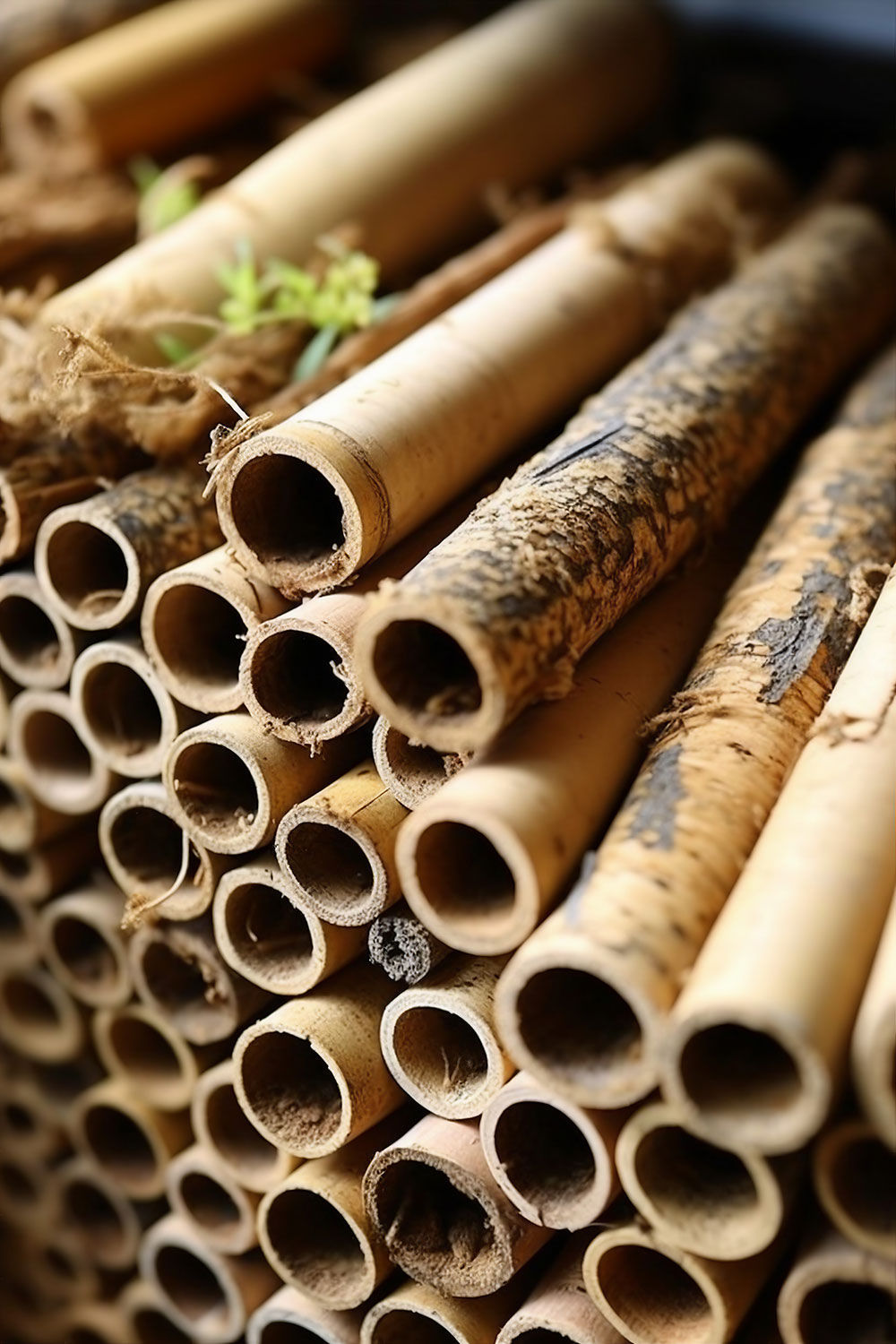 Those bamboo canes that have been gathering dust in your shed? They're perfect for a DIY bee hotel. Just bundle them up, secure them tightly, and hang them in a sunny spot. The solitary bees will thank you!
How: While not exactly food, planting wildflowers, herbs, and shrubs native to your area near your bee hotel will ensure bees have plenty of nectar and pollen to feast on.
3. Pallet Bug Hotel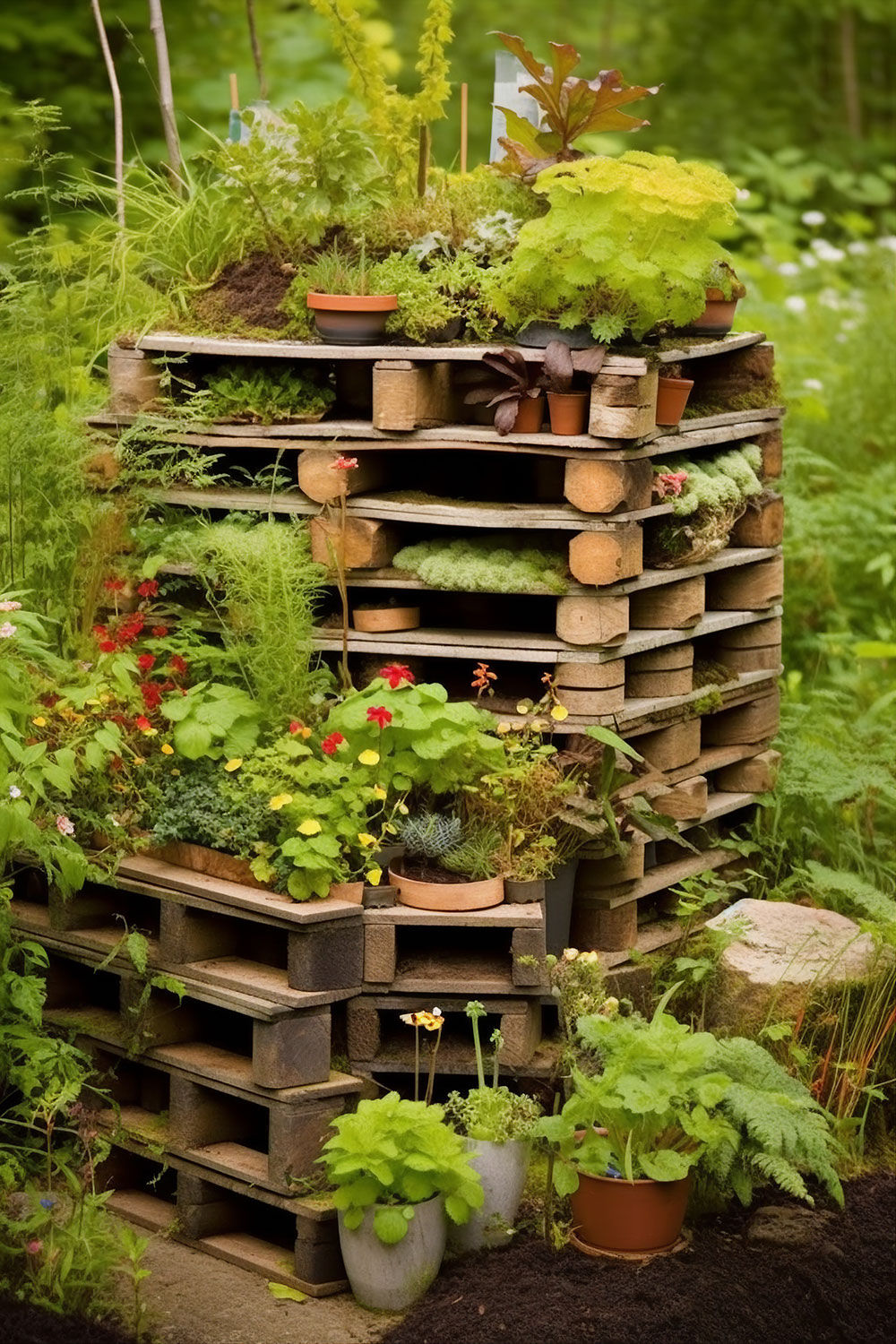 Take that old wooden pallet off your hands and turn it into a swanky bug hotel. Fill the gaps with straw, dead wood, and hollow bamboo canes. The creepy crawlies will be moving in faster than you can say "Bug's Life!"
How: Your bug hotel guests, like beetles and spiders, love feasting on smaller insects. So plant some flowering plants nearby to attract a delicious bug buffet.
4. Upcycled Bird Bath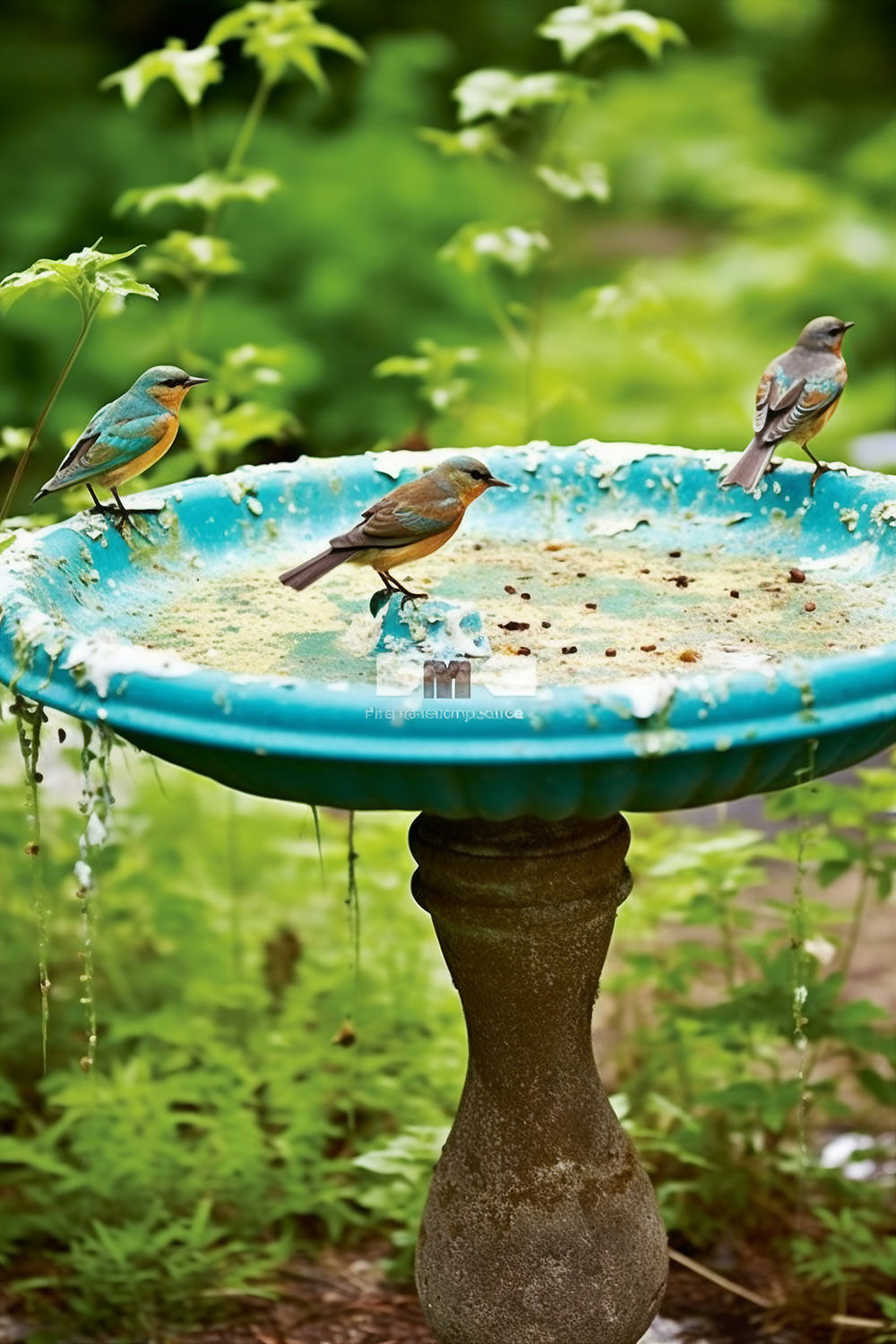 An old cake stand gathering dust? Or a weathered plant saucer? Time to turn it into a bird bath. Just ensure it's not too deep. Birds love a splashin' good time!
How: While birds mainly come to bathe, they also drink from birdbaths. Add a hanging feeder nearby with some suet or mealworms for a great bird-friendly setup.
5. Tin Can Flower Pots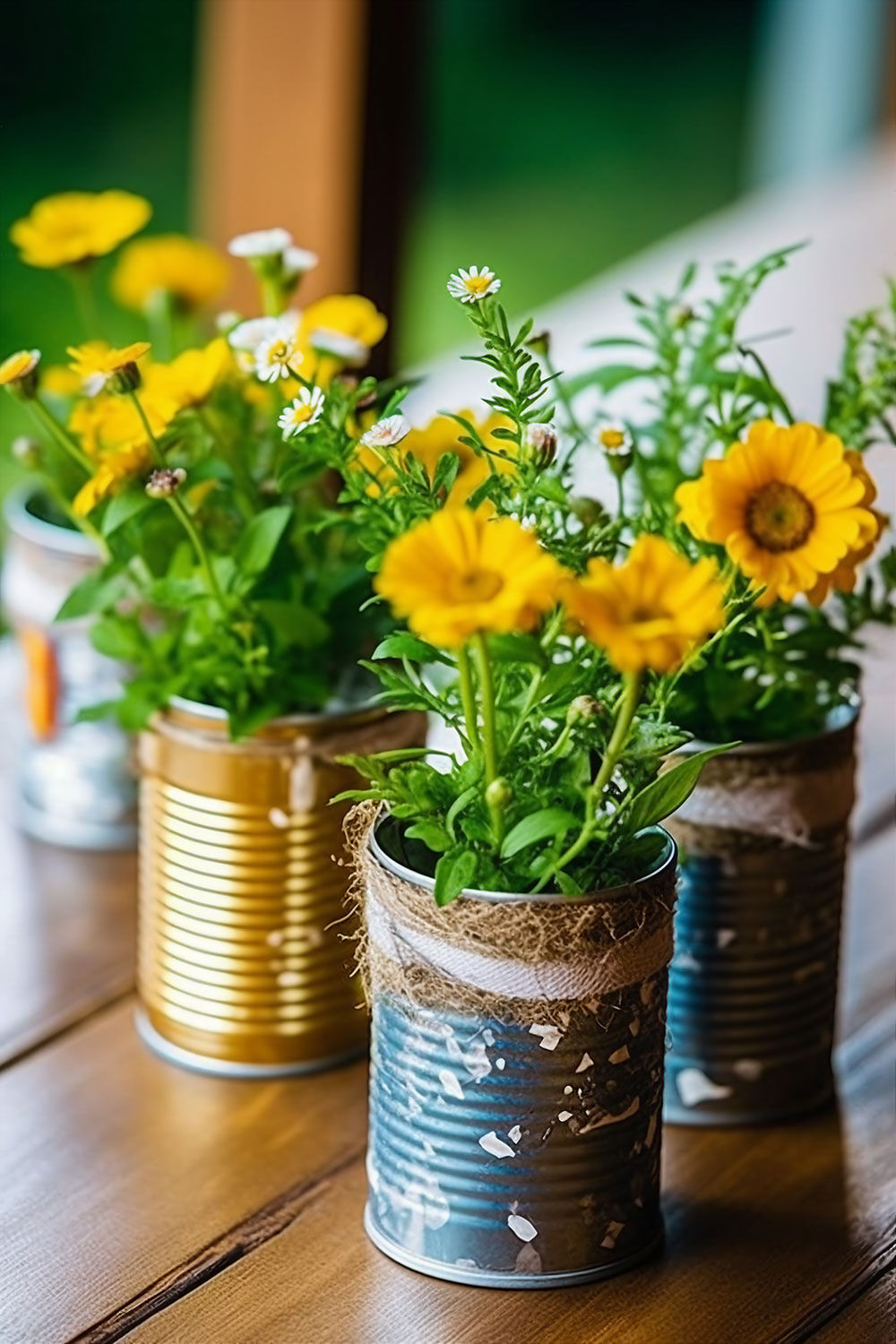 Give your old tin cans a new lease on life as flower pots. Perfect for planting native flowers that are sure to attract all kinds of buzzy bees and beautiful butterflies.
How: Plant nectar-rich flowers like lavender, honeysuckle, or butterfly bush to attract a host of pollinators like bees, butterflies, and hummingbirds.
6. Recycled Garden Pond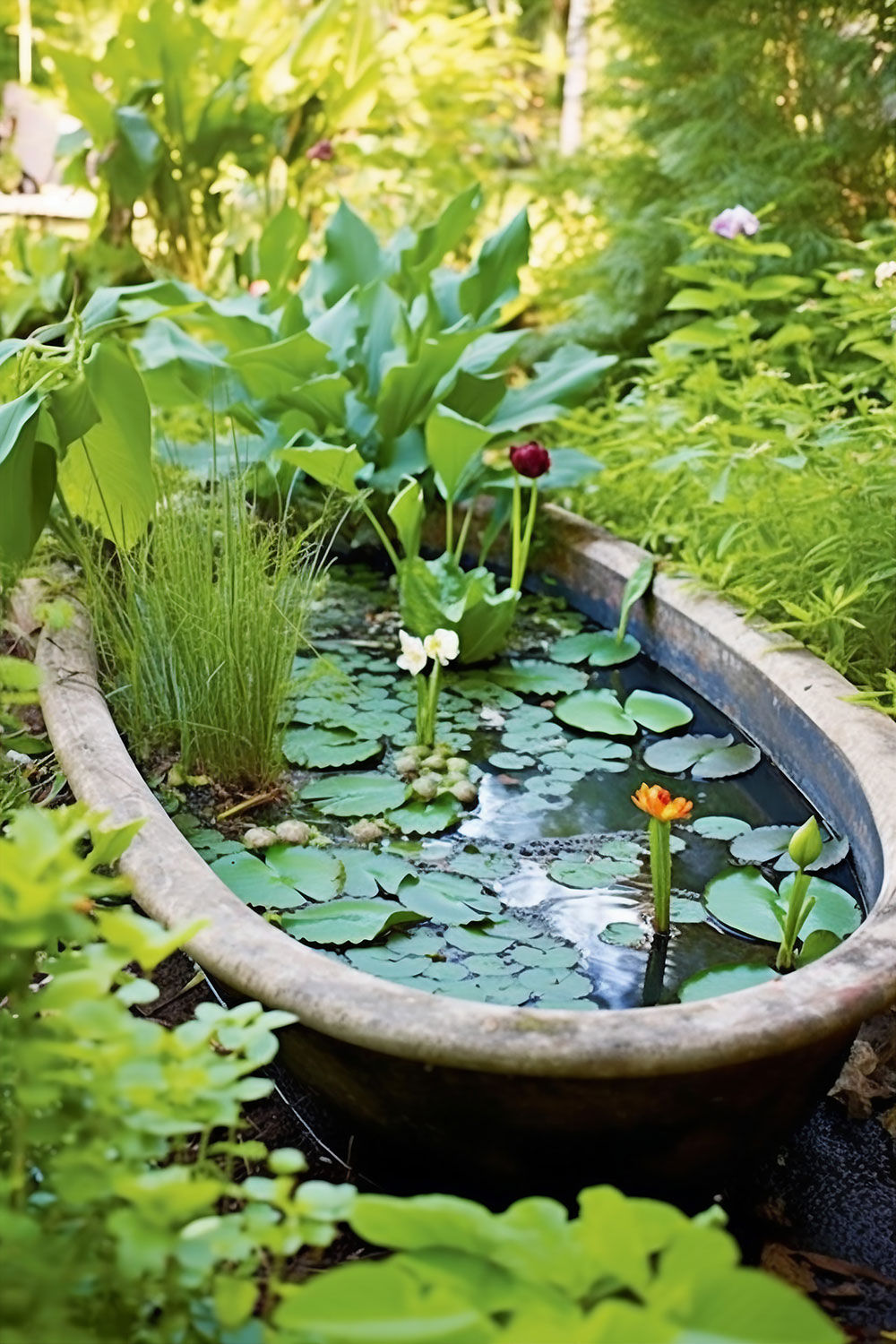 An old sink or bathtub can become a perfect pond for your local frog friends. Make sure you create a ramp or steps so critters can get in and out safely.
How: Your pond can attract frogs, toads, and even newts! They're carnivorous and love munching on insects, slugs, and snails. So maintaining a balanced ecosystem is key.
7. Tire Toad House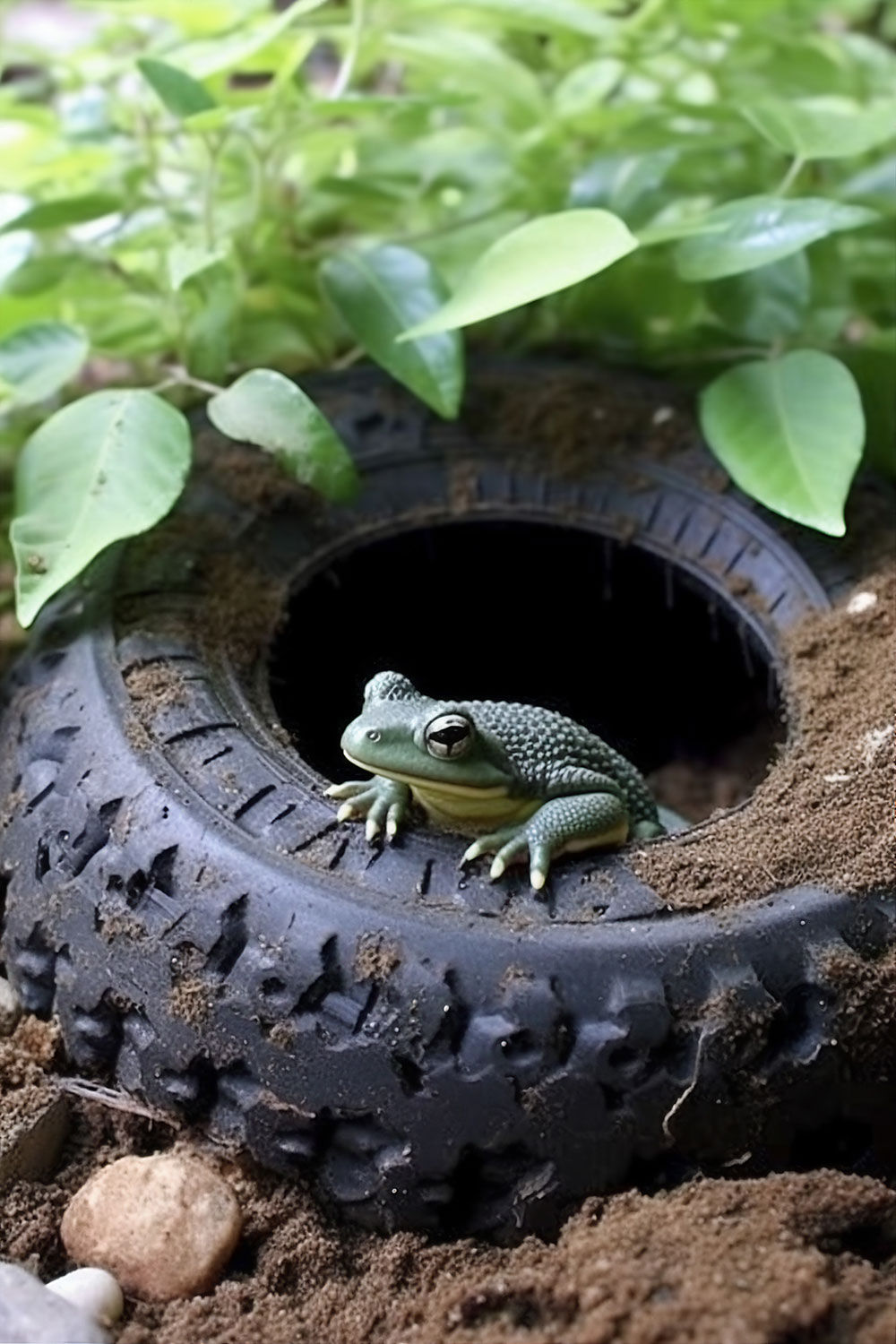 Those old tires lying around in your garage? How about transforming them into a cozy toad house? Just ensure it's a safe distance from the pond – toads prefer drier homes.
How: If you have a pond nearby, toads will do their part eating insects, slugs, and snails in your garden. They especially love damp areas with lots of tasty bugs!
8. DIY Hedgehog Home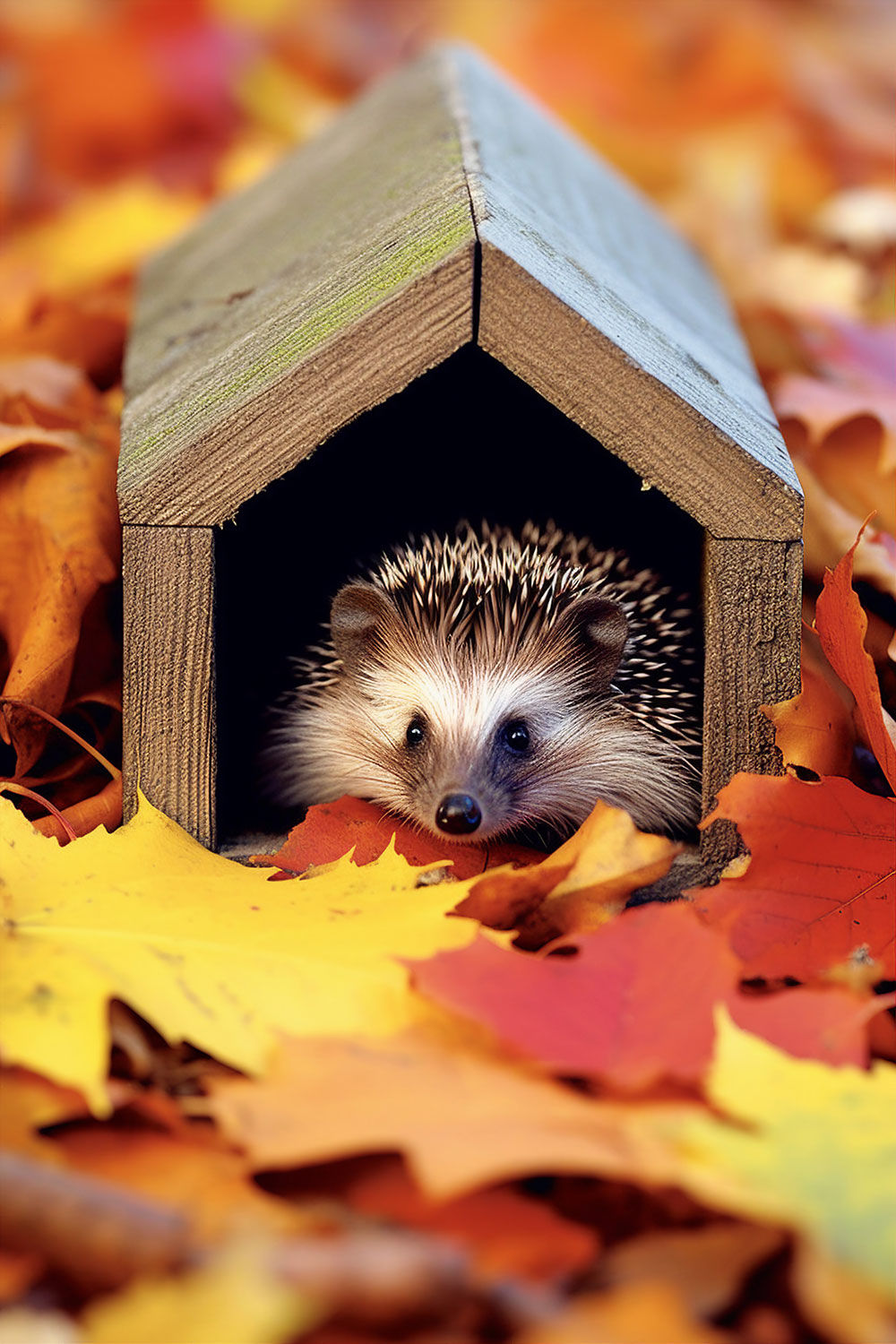 That old plastic storage bin in your basement? Time to transform it into a hedgehog house. Just cut a small door, flip it upside down, and cover it with leaves and branches. Hedgehogs will be saying "Home sweet home" in no time.
How: Hedgehogs love chowing down on insects, worms, and slugs, making them excellent natural pest controllers. If you want to supplement their diet, offer cat or dog food but avoid bread and milk as they can cause harm.
9. Wine Cork Birdhouse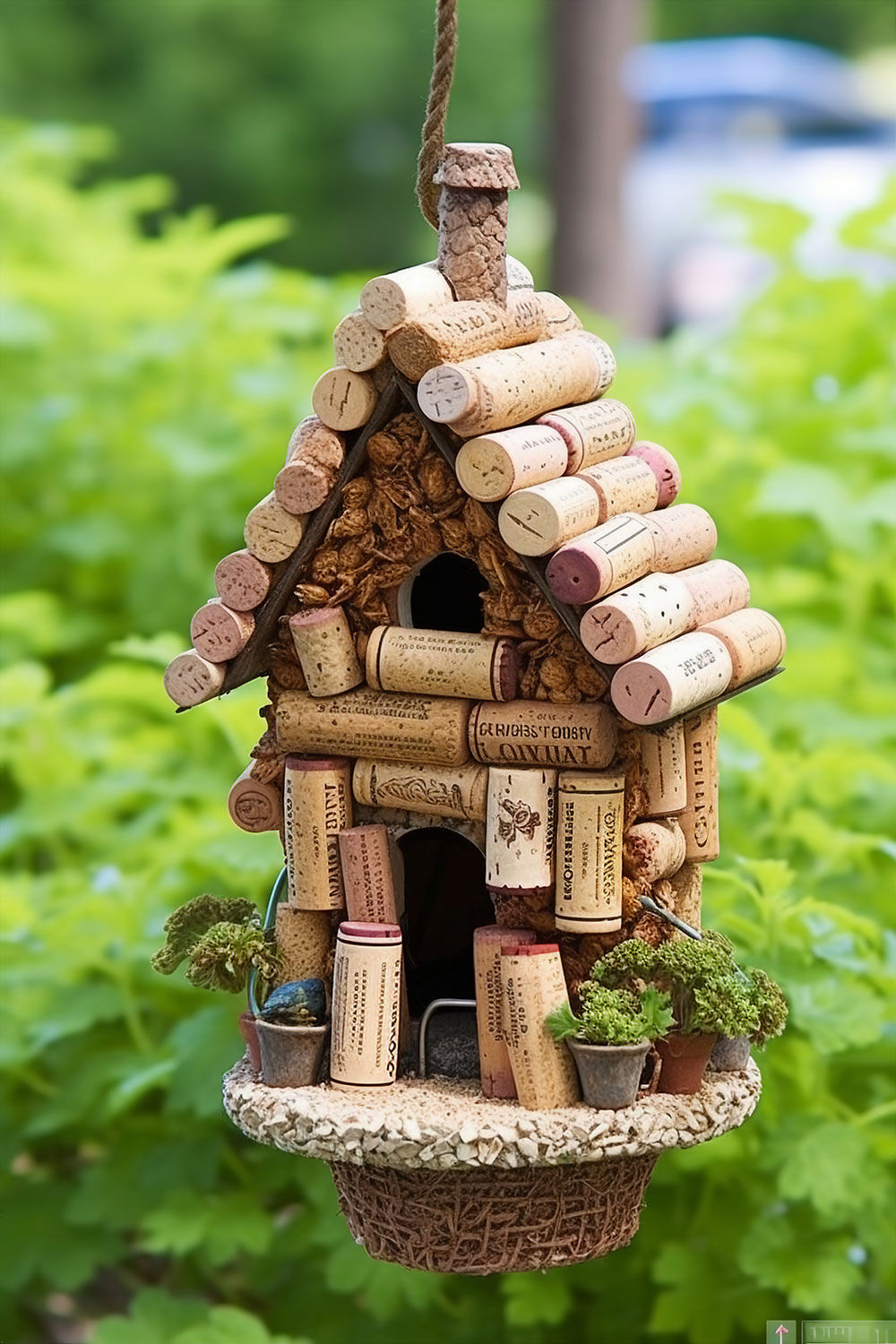 Got a collection of wine corks? They make a beautiful rustic birdhouse. It's a fun craft project, and the birds will love their new nest.
How: Depending on the bird species you're hoping to attract, you can leave seeds, berries, or suet near the birdhouse. Bluebirds, for instance, love mealworms.
10. Bottle Cap Mosaics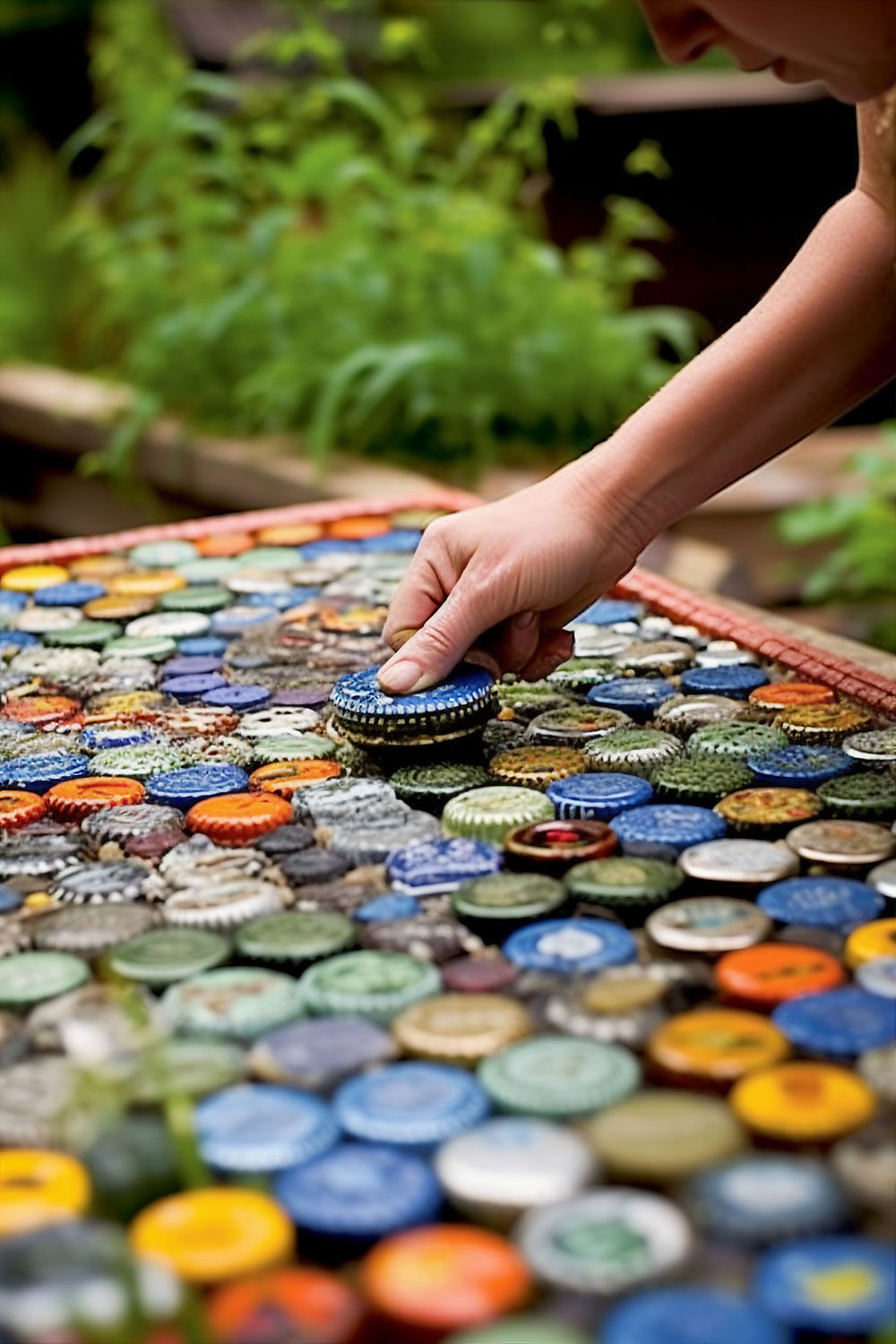 Turn old bottle caps into beautiful mosaics. Not only does it add a splash of color to your garden, but it also helps reflect sunlight, which attracts a whole host of insects.
How: While the mosaic itself won't feed wildlife, the insects it attracts can draw other wildlife. Birds, toads, and hedgehogs love an insect feast!
Each one of these ideas adds a dash of creativity, a sprinkle of upcycling, and a heap of wildlife love to your garden. Remember, it's not just about the destination, it's about the journey. And what a fun journey this is going to be! Happy crafting, friend!
Your Very Own Slice of Wildlife Haven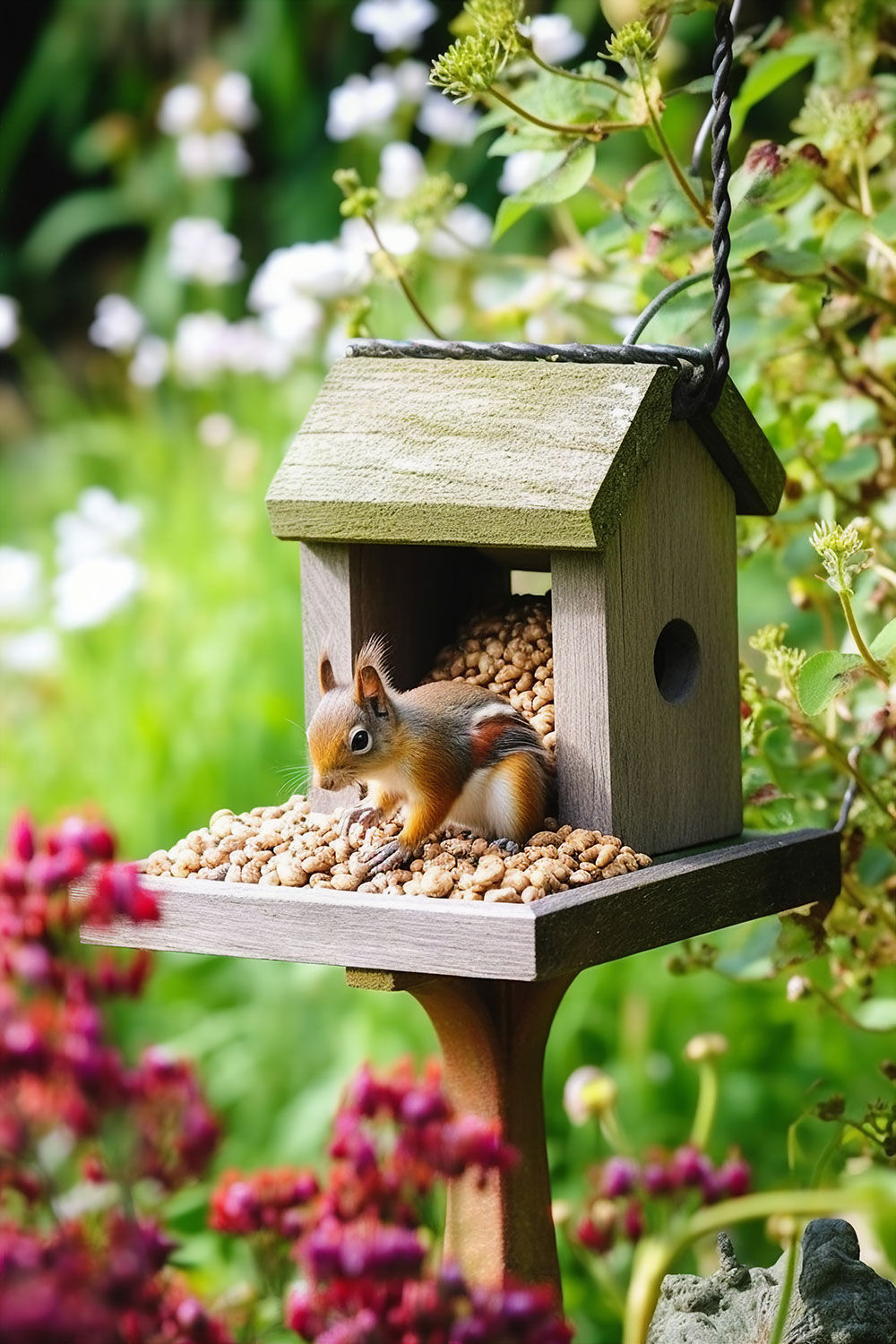 Now, remember, we're not just beautifying your green space – we're also making it a hotspot for local critters. And trust me, you're going to love the transformation!
So, you've got your DIY Bird Feeder all set up. That's great! But let's make it even better. Here's a tip: keep the feeder at a safe height away from predators and refill it regularly to keep the birds coming back. Also, ensure you clean it often to avoid disease. It's simple, quick, and makes a world of difference.
Now, about your Homemade Bee Hotel. Here's a neat trick: place it in a south or southeast location where it'll catch the morning sun. This helps the bees warm up and get to work pollinating your plants – and maybe even your neighborhood.
Speaking of plants, when you're using Tin Can Flower Pots, remember to go native. Choose flowers native to your region. This not only makes gardening easier (they're adapted to local conditions, after all) but also lures in native butterflies and bees.
As for your Recycled Garden Pond, ensure it has shallow edges or a ramp for creatures to safely get in and out. Remember, safety first! And hey, if you want to see more activity around your pond, try installing a night light. You'll be amazed by the nightlife.
Turning tires into Toad Houses? Love it! But here's a bonus tip: locate them in a quiet, shaded part of your garden. Toads aren't sun-worshippers like we are; they prefer cool, dark retreats.
And when setting up your DIY Hedgehog Home, remember to position the entrance away from prevailing winds. Hedgehogs aren't big fans of drafts when they're trying to snooze.
See, buddy, attracting wildlife into your garden isn't rocket science – it's all about creating a safe, welcoming space for them. The payoff is huge: a livelier garden, better plant health, and let's not forget – the joy of seeing your efforts appreciated by your new garden guests! So, get out there and start wildlife-proofing your garden. You've got this!
Implementing these steps, you won't just be inviting wildlife to your garden; you'll be helping local wildlife populations and contributing to the environment. Ain't that a hoot? So, roll up those sleeves, buddy! It's time to turn your garden into a wildlife haven.
FAQs:
How can I attract birds to my garden?

Install bird feeders and birdbaths, and plant native plants with berries and seeds that birds love.

What type of water feature is best for attracting wildlife to my garden?

A simple birdbath, a small pond, or even a shallow dish filled with pebbles and water can attract various wildlife.
Footnotes