Intro: How to welcome wildlife in your garden?
Getting started with attracting wildlife to your garden can seem daunting. But, with our handy checklist, you'll have feathery and furry visitors in no time.
You see, there was this fella named Joe. Now, Joe had a garden. Nothing fancy, just a patch of green he'd mow every other week, making sure it didn't turn into a jungle. But Joe had a dream. A dream of turning that plain patch into a bustling hotspot for wildlife. Birds, butterflies, heck, maybe even Bambi if he got lucky.
But there was a problem. Joe didn't have a clue about how to make it happen. "Garden" to him was pretty much a synonym for "lawn," and "wildlife" was something you'd find in a National Geographic documentary, not in your backyard. He'd scratch his head, staring at the grass, wondering how he could possibly turn it into a paradise for critters. He felt like a fish outta water, and boy, was he skeptical.
"Can I really do this?" he'd ponder. "Me, a wildlife garden guru? Nah, that's the stuff of pros."
But then, one day, as he was sifting through an online rabbit hole of gardening tips and wildlife facts, Joe stumbled upon our article. A checklist, plain and simple, laying out how to attract wildlife to your garden. It was as if a lightbulb went off in his head.
Suddenly, Joe wasn't just a guy with a patch of green. He was on his way to becoming a genuine, bonafide, wildlife garden enthusiast. This checklist, it was his road map. His secret weapon. His ticket to turning his dream into reality.
Well, that's enough storytime for now. If you're anything like Joe, wondering how to turn your garden into a slice of wildlife heaven, stick around. I promise you, this checklist is going to change everything.
You ready? Let's dive in.
1. Say Hello to Native Plants
You know how you have that favorite local diner? The one that just gets your tastebuds tingling? Maybe it's the juicy burgers, or those crispy fries, or the killer apple pie. It's comfort food. It's home. It's familiar. Well, animals are just like us in that regard.
So, say you've got a garden full of exotic, fancy-pants plants. Sure, they look pretty, but your local wildlife might just turn their noses up at it. It's like expecting someone to enjoy sushi when they've grown up on a hearty diet of burgers and fries. It ain't gonna work.
Now picture this. You fill your garden with plants that are native to your area. To the wildlife, this is like their momma's home-cooked meals. The bees buzz over the flowers they've been pollinating for generations. The birds peck at seeds and berries they recognize. The butterflies lay their eggs on the plants they've always known.
That's right, going native with your plants is like rolling out a big, neon welcome sign for your local critters. It's saying, "Hey there, this is your place. You belong here."
And the bonus? Native plants are designed to thrive in your specific climate and soil conditions, which means they'll need less watering and fewer pesticides. That's a win for your back, your wallet, and Mother Nature!
So, for anyone out there looking to charm the wildlife into their yard, remember: go native. It's a surefire way to make your garden a local hotspot for all those critters you're eager to attract. Who knows, you might just become the talk of the town in the animal kingdom. How cool would that be?
2. Offer the Trifecta: Food, Water, and Shelter
Well, now you've got me thinking about parties! But, you're right on the money there. Just like humans, animals are all about the basics: grub, hydration, and a cozy spot to kick back.
So, think back to the best party you've ever been to. Remember walking in and catching a whiff of delicious food? That's your bird feeder, stocked up with seeds and nuts. It's the BBQ pit that gets the party started. It's the aroma of your grandma's famous potato salad, pulling you towards the buffet table. It's a serious crowd-pleaser and a foolproof way to invite wildlife into your yard.
And what's a party without drinks, right? That's where your birdbath comes in. It's the cooler full of ice-cold soda on a hot day, the bubbling punch bowl everyone wants a sip from. It's an oasis for all those thirsty critters out there, from chirping birds to buzzing bees.
Now, imagine the party's winding down, you're tired, and you find the perfect quiet corner to relax. That's your birdhouse or your strategically placed log pile or bush. It's the comfy armchair in the corner, the inviting hammock under the stars. It offers shelter from the elements and a safe spot for wildlife to rest, nest, and maybe even raise their young ones.
See, the key to a thriving wildlife garden is understanding that it's not just a garden. It's a home. And the golden rule of being a good host? Making your guests feel at home. Offer them food, water, and shelter, and they'll RSVP to your garden party faster than you can say "wildlife."
Why is this so important, you ask? Because fostering a diverse wildlife population isn't just about creating a beautiful, lively garden. It's also about supporting local ecosystems and contributing to conservation efforts. So, by providing the trifecta of food, water, and shelter, you're doing your part to help out our animal friends, and that's something to be proud of, don't ya think?
3. Create a "Messy" Section
Aw, c'mon now, don't go raising your eyebrows at me. I know what you're thinking. "A messy section? In my beautifully manicured garden? No way, Jose!" But stick with me for a sec.
You remember when you were a kid, building forts out of blankets and pillows? Well, critters are kind of the same. Only, instead of blankets, they're using leaves, twigs, and logs.
So, here's the how-to part. Got a corner in your garden that doesn't see much action? Great, let's mess it up a bit! Rake up some leaves in the fall, and instead of bagging 'em up, pile 'em in that quiet corner. Do you have logs or twigs lying around after a bit of pruning? Perfect. Stack 'em up nice and sturdy.
You're not just making a mess here. You're building a boutique hotel for insects, a high-rise apartment for amphibians, a cozy B&B for hedgehogs, and who knows what else. These guys love a bit of mess. It's their version of a five-star suite!
And remember, these little critters are essential to a healthy ecosystem. Those insects attract birds. Those amphibians keep pests in check. And more variety means a more balanced, healthy, and vibrant garden.
So, yeah, it's a little unconventional. Some folks might even call it lazy. But you and I? We know better. We're not being messy; we're letting nature do its thing. We're giving critters a safe space to crash. And we're making our gardens a whole lot more interesting in the process. So go ahead, embrace the mess. You'll be surprised at the guests it attracts!
4. Build a Pond
If you have space, why not? Frogs, toads, dragonflies, and maybe even a visiting deer could grace your garden. A small water body is a big wildlife magnet.
5. Welcome Pollinators
You've hit the nail on the head there. Pollinators are like the mail carriers of the natural world. They go about their business, buzzing from one place to the next, and in the process, they help our gardens thrive. But how does that all work, you ask? Well, let me break it down for you.
Imagine a bee, buzzing about on a sunny day. She lands on a flower to grab a quick snack, sipping up some nectar. While she's at it, she gets a dusting of pollen on her body. Then, off she goes to the next flower, and the pollen from the first flower rubs off onto the second. Voila! You've got pollination!
This is how flowers reproduce, folks. And it's not just about making more flowers. It's about fruits and veggies, too. From apples to zucchinis, many of the foods we enjoy wouldn't exist without our buzzing buddies.
Butterflies, moths, even some birds and bats, they all get in on the action, too. It's like a big, bustling, nature-run postal service, and every pollinator has a route to cover.
So, how do you make your garden an attractive stop on their route? Easy. You roll out the red carpet with pollen-rich flowers. Sunflowers, lavender, foxgloves – plants like these are like all-you-can-eat buffets for pollinators. Plant a variety, and you'll attract a whole host of different pollinators.
And remember, more pollinators mean more pollination, which means a healthier, more productive garden. Plus, who doesn't love watching a butterfly flutter or a bee buzz on a warm afternoon?
So, do your bit for these hardworking critters. Make your garden a pit stop on their daily rounds. Trust me, your garden (and your conscience) will thank you for it.
6. Limit Chemicals
Pesticides are a big no-no. They harm more than pests. You wouldn't want to harm your new friends, would you? Consider organic gardening techniques.
7. Install a Hedge or Dry Stone Walls
Oh, you're gonna love this one! Imagine you're a real estate developer. Only, your clients aren't people, they're critters. And the property? A hedge or a dry stone wall.
Sounds wild, right? But hear me out.
First off, let's talk about the "whys" and the "hows." Why install a hedge or a dry stone wall? And how does this help our little buddies?
The Pros:
Shelter and Safety: Critters need a place to crash, right? Well, hedges and stone walls are like luxury condos for them. Birds, insects, hedgehogs, and even some types of bats would jump at the chance to call your hedge home.
Food Source: Hedges, especially native species, can produce berries and nuts, providing a natural food source for wildlife. The walls can be a great place for moss and lichens, which some critters find delicious!
Nesting Spot: Come spring, a hedge could be a bustling nursery for all kinds of bird species. Stone walls also offer plenty of nooks and crannies for critters to nest in.
A Natural, Eco-friendly Border: These structures not only look better than fences, but they're also a lot better for the environment. It's like swapping concrete for nature, and trust me, Mother Nature appreciates it.
The Cons:
Maintenance: A hedge will need a trim now and then, and a stone wall might need a few repairs over the years. But hey, that's a small price to pay for creating a wildlife haven, right?
Space: These things do take up a bit more room than your average fence. But with clever design, you can make it work, even in smaller spaces.
Time: It takes time for a hedge to grow and for a dry stone wall to be built. But just like fine wine, good things come to those who wait.
Now, the big question is, are you ready to swap your hat from a gardener to a real estate developer for critters? If the answer's yes, then let's get to it! Build that hedge, pile up that stone wall, and let's create some high-end property for our furry and feathered friends. After all, they deserve a swanky place to call home, don't ya think?
8. Leave a Patch of Wild Grass
Well, let me just ask you, have you ever imagined what life looks like from the ground up? Now, I'm not talking about pulling yourself up by the bootstraps or anything like that. No, I mean literally, from the ground's perspective. Now you're probably thinking, "What in the world is this guy talking about?" Let me explain.
You see, that patch of wild grass in your garden, the one that seems to have a mind of its own, isn't just a bunch of tall green stuff. To insects and small animals, it's like their own personal skyscrapers, their Manhattan, their "great wild yonder," so to speak.
That unruly patch of grass in the corner of your yard? It's a bustling metropolis for critters! This isn't just some fun metaphor, it's backed up by cold, hard facts. According to a study from the University of Sussex, a well-managed lawn can support up to 10 times more bees than a lawn that is mowed often. Wild grasses and flowers are teeming with life, providing food, shelter, and a playground for a variety of insects and small mammals.
So next time you glance at that little wild patch on your lawn, don't just see a patch of grass. See it as a thriving ecosystem, a sanctuary for wildlife, and most importantly, as their slice of the "great wild yonder."
What's more, by letting a patch of your lawn go rogue, you're not just supporting biodiversity; you're also making a powerful statement about the importance of wildlife in our lives. It's like saying, "Hey, we're all in this together. You're welcome here."
The take-home point is, don't be so quick to reach for that lawnmower. Embrace the wild grass, the bees buzzing around the dandelions, the butterflies hovering over the wildflowers. These little pockets of wilderness are where nature thrives. And who knows? Maybe next time you find yourself staring out at your backyard, you'll find yourself thinking, "Wow, the 'great wild yonder' is right here in my backyard." And that, my friend, is a beautiful thought.
9. Plant Trees and Shrubs
These provide nesting spaces and safety from predators. Plus, they add beauty to your landscape. It's a win-win.
10. Patience is Key
Don't expect a wildlife party overnight. It takes time for creatures to find and trust a new habitat. Stay patient and watch as they slowly start to roll in.
11. Timing is Everything
Did you know that different critters are attracted to different plants at different times of the year? Yep, it's true. Just like we have our favorite seasonal foods, so do they. Do a little research to find out what's popular when, and then plan your planting accordingly.
12. Give Them a High Five… Or Rather, a High Place!
You see, many birds and some mammals prefer a great view. Well, who can blame them? Consider installing nesting boxes or platforms high up in the trees to give them a secure place to call home.
13. Entice Them with Berries
Fruit-bearing plants are an open invitation for wildlife. Imagine how excited they'd be to find a blackberry bush or a crabapple tree. It's like finding a surprise pizza in your fridge after a long day. Jackpot!
14. Compost It
Not only is composting great for your garden's soil, but it can also provide food for various critters. Just make sure it's properly managed to avoid attracting unwanted pests.
15. Be Considerate of Their Privacy
Everyone needs some "me" time, right? Some wildlife may be more shy than others. Providing thick shrubs or tall grasses can offer the seclusion they crave.
And there you have it! You're now equipped with 15 solid steps to transform your garden into a wildlife haven. And guess what? Not only are you helping the wildlife around you, but you're also creating an amazing educational opportunity for kids and adults alike. You'll have your very own nature show, right outside your window.
All these steps are doable, right? Plus, think of the reward – your own thriving ecosystem, right there in your backyard!
15 Checklist of welcoming wildlife in details: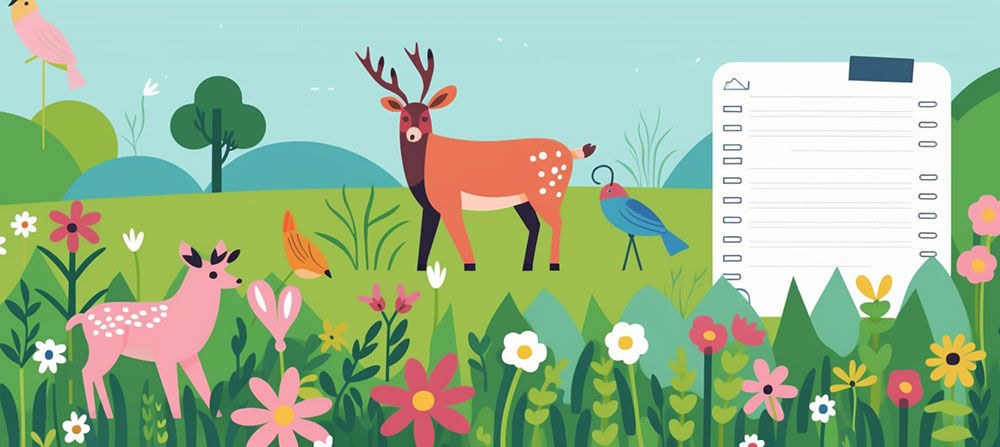 Here's a handy-dandy wrap-up of the 15 wildlife-friendly tips we've been talking about. We've got it all laid out in a checklist, with a few notes on each. So let's dive right in!
| Checklist Item | Notes |
| --- | --- |
| 1. Say Hello to Native Plants | Go local! Native plants provide familiar food sources for local wildlife, and they're easier to maintain since they're adapted to your area's climate and soil. |
| 2. Offer the Trifecta: Food, Water, and Shelter | Bird feeders, birdbaths, and birdhouses are great starters. Consider adding berry bushes, ponds, or a bug hotel for extra creature comfort. |
| 3. Create a "Messy" Section | Let a corner of your garden be. A pile of leaves or a log stack can make a cozy home for many critters. Remember, a "messy" garden is a lively garden. |
| 4. Build a Bug Hotel | It might not win you any design awards, but the bugs will love it! It's a great way to encourage beneficial insects into your garden. |
| 5. Welcome Pollinators | Bees, butterflies, and other pollinators play a crucial role in your garden's health. Grow a variety of flowers to attract a wide range of these beautiful helpers. |
| 6. Grow a Wildflower Meadow | It's not just eye-catching, it's also a boon for many insects. Plus, imagine the amazing photo-ops! |
| 7. Install a Hedge or Dry Stone Walls | Not just a stylish border, but also a fantastic shelter for various species. It's like building condos for critters! |
| 8. Leave a Patch of Wild Grass | It's the "great wild yonder" for many small critters. Easy to maintain (just leave it be), and adds a touch of wilderness to your yard. |
| 9. Install a Pond or Water Feature | From birds to frogs to dragonflies, all kinds of wildlife are attracted to water. Even a small birdbath can make a big difference. |
| 10. Avoid Chemicals | Pesticides and herbicides can harm more than just pests. Opt for natural pest control methods to keep your garden wildlife-friendly. |
| 11. Build a Compost Heap | It's recycling at its best. Your waste becomes a feast for decomposers and a rich soil supplement. |
| 12. Install Bird and Bat Boxes | Give your feathered and winged friends a safe place to roost and raise their young. |
| 13. Make a Hedgehog House | These cute critters are great for natural pest control, plus they'll appreciate the cozy accommodation! |
| 14. Plant Trees and Shrubs | They provide food, shelter, and nesting sites. Plus, they're great for the environment. |
| 15. Be Patient | Rome wasn't built in a day, and your wildlife-friendly garden won't be either. But with time and care, you'll see your garden come to life. |
There you have it! Your one-stop checklist to transforming your garden into a wildlife haven. Just remember, every garden is unique, so feel free to adapt this checklist to suit your garden's needs. Here's to happier gardening and bustling backyard biodiversity!
Final Thoughts
Now, before you rush out to get started, don't forget that different wildlife has different needs. Always consider the specific animals you want to attract. With a little research and our checklist, you'll be well on your way to becoming a wildlife garden guru.
It's time to put these tips into action. Just remember, the key to attracting wildlife is to replicate their natural habitat as closely as possible. So, stay true to your local flora, provide food and shelter, and above all, be patient. Before you know it, you'll be sipping your morning coffee with the delightful company of birds, butterflies, and who knows, maybe even a squirrel or two.
So, get those gardening gloves on, folks! With these 10 steps, you'll create a garden that's brimming with life. And remember, it's not just about creating a haven for wildlife, but also about appreciating the balance and beauty of nature. Happy gardening!
Happy wildlife gardening, y'all!
FAQs
What is the easiest way to attract wildlife to my garden?

The easiest way is to provide the basics: food, water, and shelter. Plant native flora, set up bird feeders and birdbaths, and leave some areas a bit "messy" for nature to take over.

Are there any specific plants I should include in my garden to attract wildlife?

Yes, native plants are best as they provide familiar food sources for local wildlife. Also, consider plants that attract pollinators, such as bees and butterflies.