Imagine this for a moment: Waking up to the sun peeking through your window, the aroma of fresh coffee wafting through your home, and you stepping out into your backyard – not just any backyard, but a verdant oasis brimming with fruits, vegetables, herbs, and flowers. You pluck ripe tomatoes for your breakfast salad, snip fresh mint leaves for your herbal tea, or even pull out crispy carrots for a mid-morning snack. You're not just a homeowner; you're a provider, powered by your survival garden.
Sounds like a dream? It's about to become your reality.
Here's the deal: A survival garden isn't merely about growing plants. It's about resilience and self-reliance, building a sustainable food supply right in your backyard. It's about being one step ahead in an unpredictable world, where grocery shortages are no longer a concern. And above all, it's about connecting with nature in a way that's incredibly rewarding and fulfilling.
Now, are you ready to transform your backyard into a survival garden? We've got your back! This article is your ultimate guide to 13 incredible survival garden layouts. Here's what you'll gain from this read:
Knowledge:
This survival garden thing is not a one-size-fits-all deal. You're not going to find some cookie-cutter, off-the-shelf solution that everybody else is using. No, sir! This is about finding the right fit for you and your unique space.
You know how everyone's yard is different, right? Maybe you're lucky enough to have this huge expanse of green where you can fit a mini football field. Or, perhaps you're working with a snug little balcony that barely fits a BBQ grill. Heck, it doesn't matter if you're somewhere in between or totally outside the box, we've got you covered!
In this guide, you're going to take a deep dive into a whole variety of survival garden layouts. And let me tell you, these aren't just your grandma's tomato planters. We're talking about 13 kick-butt garden designs, each with its own unique perks and quirks that make it special.
It's like walking into a garden party where everyone brings something different to the table. You've got traditional row planting, hanging out with its neat lines and orderly fashion. Raised bed gardening is chilling in the corner, showing off its impressive soil control. And don't get me started on the hydroponics, always the life of the party with its soil-free swagger.
So whether you're rolling in acres or measuring in square feet, you're going to find a garden layout that fits your space like a glove. You'll learn what makes each design tick, how it can benefit you, and why it might just be the answer to your gardening prayers.
Solution:
Not everyone is blessed with perfect gardening conditions. I mean, wouldn't it be peachy if we all had rich, fertile soil, ample space, and just the right amount of sunshine for our plants? But let's face reality, most of us are dealing with one gardening headache or another. Poor soil that wouldn't grow a weed, let alone your prized veggies. Space so tight, you'd be lucky to squeeze in a tomato plant. Or shade so thick, your garden feels like a gloomy cave.
But don't throw in the trowel just yet! When life gives you lemons, it's time to turn those lemons into some good old homemade lemonade. Here's the cool part – this guide isn't just about showing you different garden layouts. Nope, we're also about helping you navigate those pesky problems and turn them into opportunities.
Dealing with soil that's more sand than soil? We're going to tackle that head-on. Whether it's the magic of composting or getting down and dirty with raised bed gardening, we're going to dig deep into ways you can turn poor soil into a plant's paradise.
And what about space? Maybe you're dealing with a backyard the size of a postage stamp. Or your garden is a balcony in a city apartment. Don't sweat it! We're going to show you how to squeeze every bit of potential out of your limited space. Ever heard of vertical gardening? It's like building skyscrapers for your plants. And container gardening, that's another game-changer for small spaces. You're not just going to grow a plant or two; you're going to have a garden to brag about.
As for that shade problem, we're not leaving you in the dark. From choosing the right plants to clever garden layouts that maximize sunlight, we're going to shed some light on ways you can brighten up your garden.
Let's break it down into a nifty little guide for you:
Poor Soil Solutions

Get composting: Turn your kitchen scraps into nutrient-rich compost for your garden.
Try Raised Bed Gardening: Create your own high-quality soil and avoid dealing with the poor native ground.

Limited Space Solutions

Vertical Gardening: Think up, not out! Grow plants on vertical supports or vertical planters.
Container Gardening: Use pots, planters, and even recycled containers to grow your plants. Perfect for patios, balconies, or small yards.

Shade Problems Solutions

Choose the Right Plants: Some plants love the shade! Do your research and pick plants that will thrive in your garden's conditions.
Maximize Sunlight: Position your garden to take advantage of any sunlight your space does get. Utilize mirrors or reflective surfaces to increase the light in your garden.

Exclusive Gardening Techniques

Companion Planting: Some plants grow better together. Pair them up for a healthier, happier garden.
Crop Rotation: Keep your soil healthy and avoid disease by rotating your crops each season.
Permaculture Design: Design your garden to mimic natural ecosystems. It's sustainable, efficient, and self-sufficient.
Explore Aquaponics and Biointensive Gardening: Check out these advanced techniques for serious self-sufficiency!
Remember, gardening is all about experimentation and patience. Not everything will work perfectly the first time, and that's okay. Just keep trying, keep learning, and most importantly, have fun with it!
Exclusive Information:
Alrighty then, let's get to the nitty-gritty. If you're expecting some run-of-the-mill garden advice, you're in the wrong neck of the woods. We're going beyond the basics, delving into the nitty-gritty details of each layout, from good old-fashioned row planting to futuristic hydroponics. Buckle up, it's going to be a wild ride!
Traditional Row Planting: First things first, let's talk about your grandpa's favorite – the good old-fashioned row planting. You've probably seen it a thousand times – neat rows of crops lined up like soldiers. It's simple, it's tidy, and it works. But there's more to it than just putting seeds in a row. We're talking about proper spacing, planting depth, and even which way to orient your rows. Get these details right, and you'll see a big difference in your harvest.
Innovative Hydroponics: Now, let's take a giant leap into the future with hydroponics. No soil? No problem! Hydroponics lets you grow plants in water. Sounds crazy, right? But it's not as complicated as it sounds, and the results are downright impressive. We'll walk you through the setup, the different types of hydroponic systems, and how to care for your water-grown plants.
Companion Planting: Picture this – a marigold plant whispering sweet nothings to a tomato plant, making it stronger and more resistant to pests. That's companion planting in a nutshell. It's about pairing plants that help each other out. You're not just growing a garden; you're creating plant friendships. But it's not as simple as planting any two plants side by side. Some plants make better neighbors than others. We'll let you in on who should bunk with whom in the plant world.
Organic Pest Control: Bugs bugging your plants? Well, we're not going to let those creepy crawlies ruin your hard work. But we're also not going to douse your garden in harsh chemicals. No sirree! We'll show you how to keep pests at bay the natural way. From homemade sprays to introducing beneficial insects, you're going to fight pests like a pro, all while keeping your garden safe and organic.
Water Management: Last but definitely not least, let's talk about water. Your plants need it, but too much or too little, and you've got problems. Whether it's drip irrigation, rainwater harvesting, or just knowing when and how much to water, we're going to make sure your plants stay hydrated without wasting a drop.
So there you have it. We're not just scratching the surface; we're diving deep into the world of survival garden layouts. You're going to learn the ins and outs, the secrets, and the tricks of the trade. Ready to get your hands dirty and your garden flourishing? Let's get to it!
The Secret Garden: Why Survival Gardens Matter
In an era where sustainability and self-sufficiency are not just buzzwords but survival strategies, a well-planned survival garden is a cherished asset. Imagine the satisfaction of plucking sun-ripened tomatoes from the vine, harvesting aromatic herbs for your culinary delights, or cutting vibrant flowers to brighten your home. Beyond the satisfaction of gardening, survival gardens are a safety net, a source of sustenance in uncertain times[1].
How to Create Your Survival Garden: A Step-by-Step Guide
Every garden starts with a blueprint. The first step to creating your survival garden is understanding your backyard's dimensions, sunlight exposure, soil type, and local climate. Whether you're working with an expansive suburban lawn or a modest urban balcony, there's a survival garden layout to fit your needs.
1. Traditional Row Planting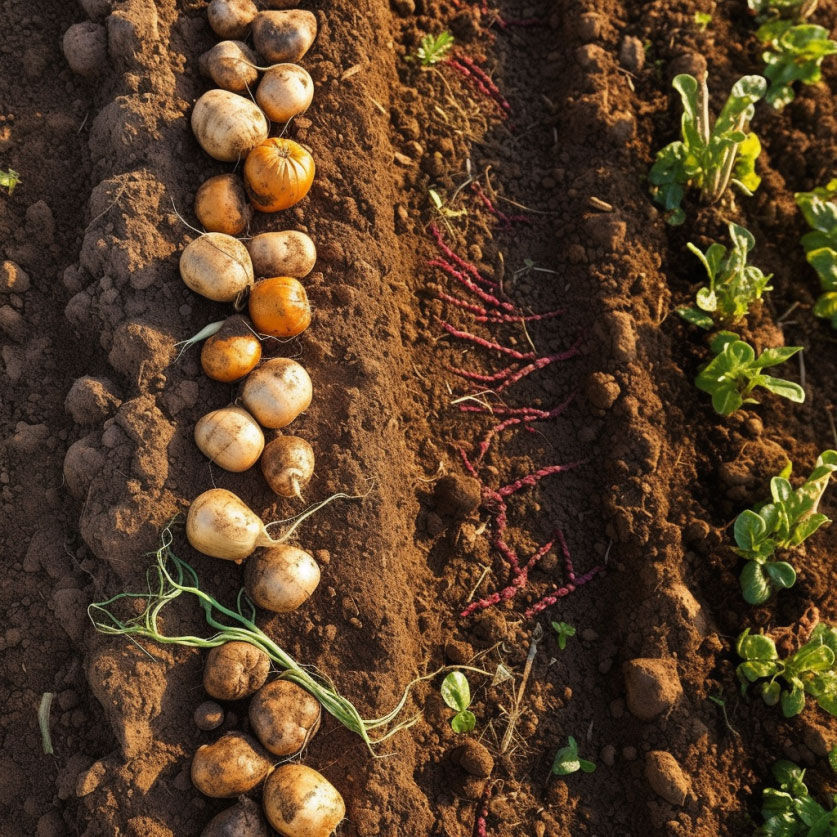 This classic approach to gardening is a great starting point for beginners[2]. The layout consists of long rows of crops, separated by walkways. It's easy to plan, plant, and maintain. However, it's not the most efficient use of space and can lead to soil erosion.
2. Raised Bed Gardening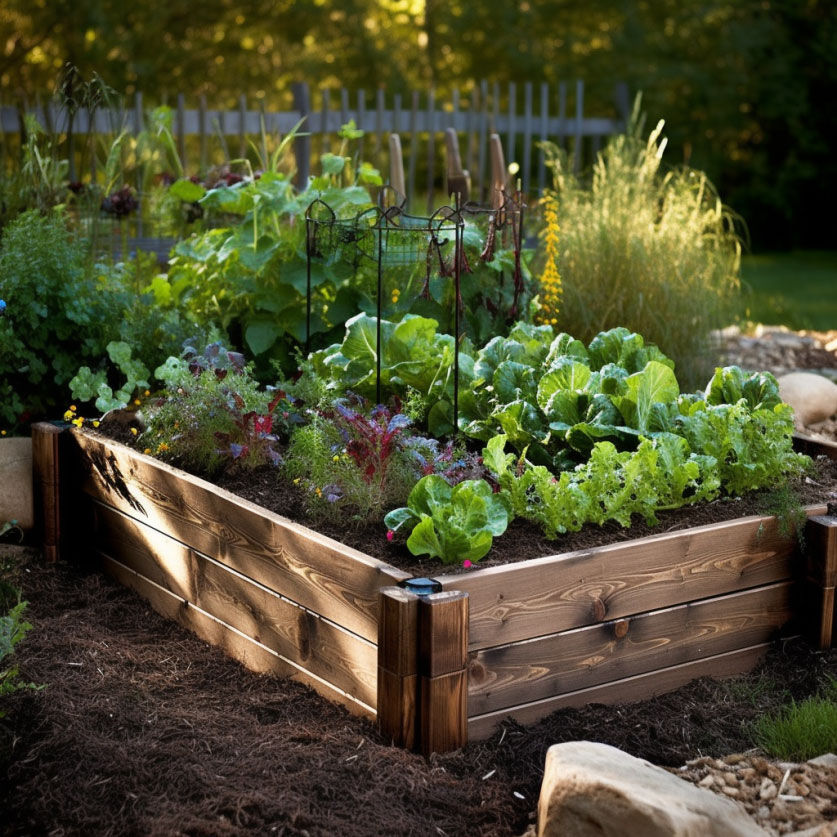 Raised beds offer excellent drainage, control over soil quality, and less strain on your back[3]. They can be tailored to suit any space and are especially beneficial in areas with poor native soil. Companion planting can also be utilized in this layout.
3. Square Foot Gardening
This layout maximizes productivity by dividing the garden area into one-square-foot sections[4]. It's a systematic, high-yield approach that reduces water usage and weed proliferation.
4. Vertical Gardening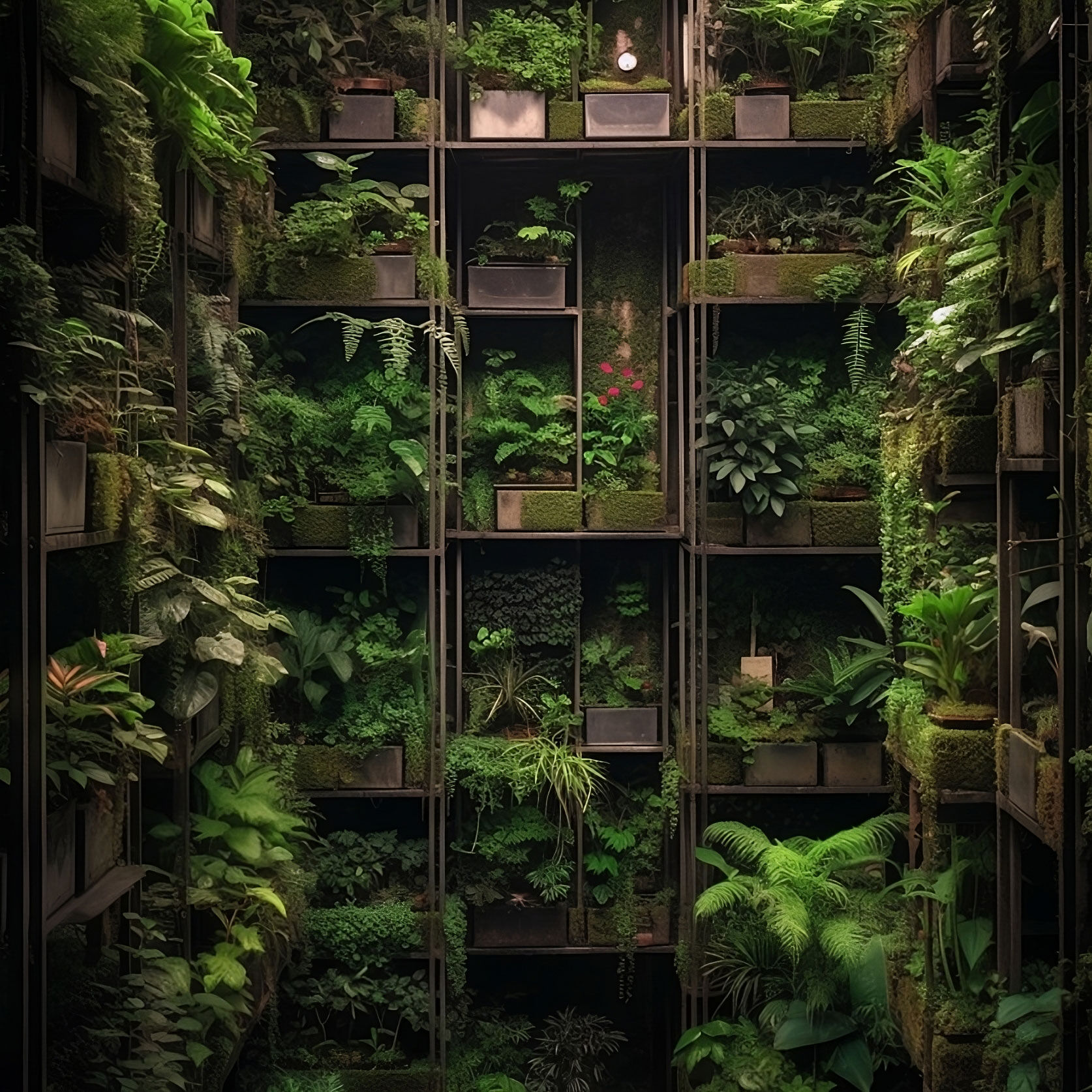 Perfect for urban gardeners, vertical gardening maximizes vertical space by growing plants on trellises, walls, and hanging containers[5]. It's ideal for vine crops, herbs, and flowers.
5. Potager Garden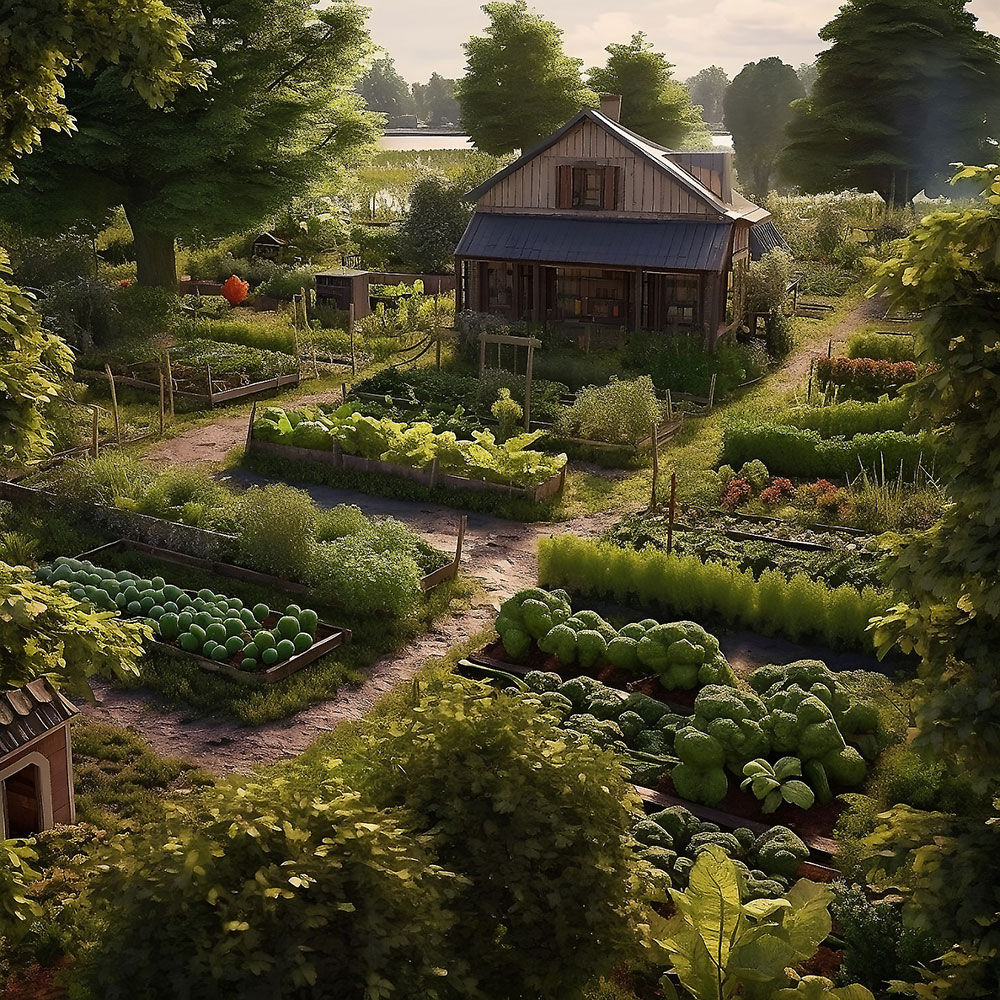 The potager layout is a decorative kitchen garden where vegetables, herbs, and flowers are intermixed for a visually pleasing display[6]. This design is functional and beautiful, and can be customized to any size.
6. Permaculture Garden
Permaculture gardens emulate natural ecosystems to create a self-sustaining garden[7]. They focus on diversity, companion planting, and the strategic use of resources, making them eco-friendly and low maintenance.
7. Container Gardening
For those with limited space, container gardening is a godsend[8]. Almost any plant can be grown in a container, and it's easy to control the soil, water, and sunlight each plant receives.
8. Hydroponic Gardening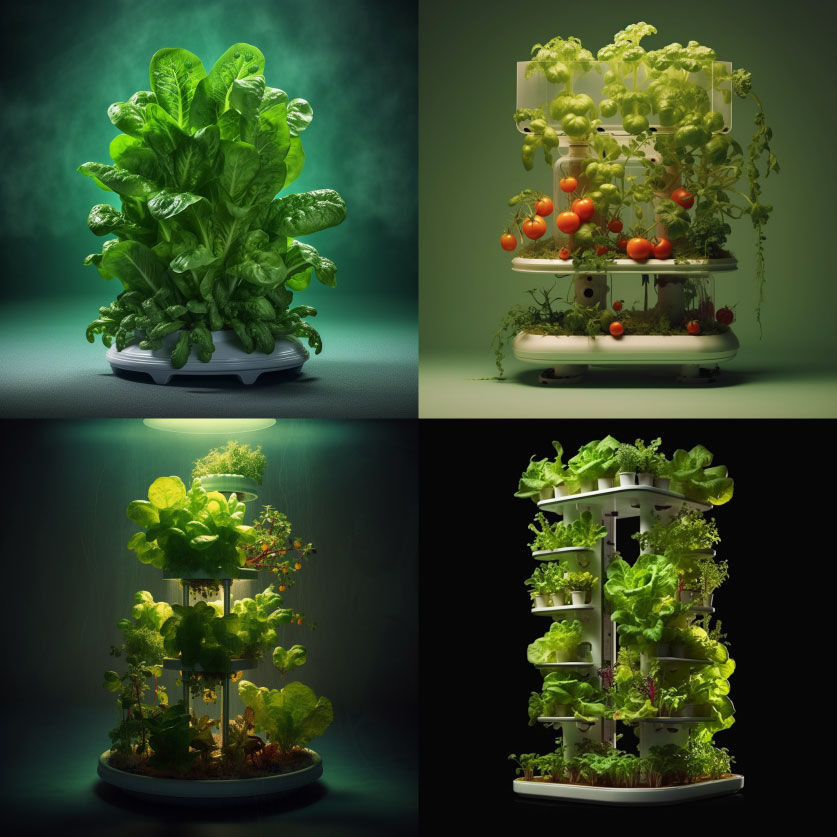 This soil-less system grows plants in nutrient-rich water[9]. It's space-efficient and offers faster growth rates. However, it requires more initial setup and careful monitoring.
9. Herb Spiral
An herb spiral is a compact, vertical garden designed to provide ideal growing conditions for various herbs[10]. It's a beautiful and practical addition to any survival garden.
10. Keyhole Garden
This garden layout is drought-tolerant and nutrient recycling, featuring a compost pile at the center[11]. It's perfect for dry climates and areas with poor soil.
11. Aquaponic Gardening
Combining hydroponics and aquaculture, aquaponic systems cycle water between fish tanks and plant beds[12]. The fish waste fertilizes the plants, and the plants clean the water for the fish.
12. Forest Garden
Mimicking a young natural woodland, a forest garden consists of multiple layers from high canopy trees to ground-level plants[13]. It's a diverse, resilient, and low-maintenance system.
13. Hügelkultur Garden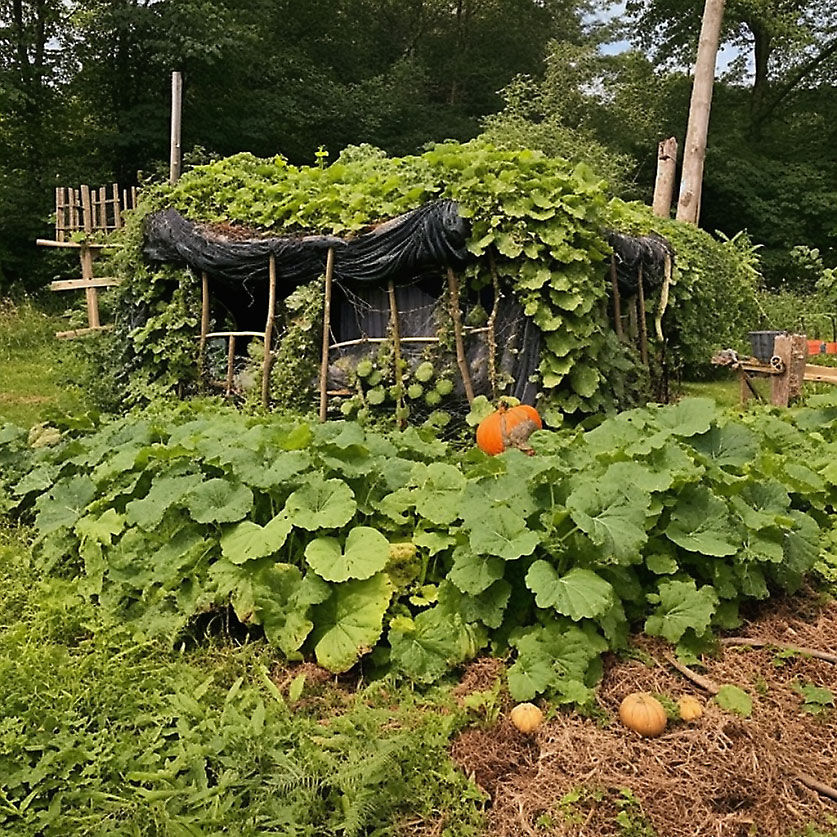 Hügelkultur is a no-dig, sustainable method that involves creating raised beds from decaying wood debris and other compostable materials[14]. This layout enhances soil fertility and water retention.
Nurturing Your Survival Garden: Essential Tips
Regardless of the layout you choose, here are some universal tips for successful survival gardening:
Soil Preparation: Healthy soil is the foundation of a productive garden. Consider soil testing to optimize nutrient levels and pH.
Crop Rotation: This practice helps prevent the depletion of soil nutrients and discourages pest infestations.
Companion Planting: Certain plants grown together can enhance growth, deter pests, and improve flavor.
Water Management: Efficient watering systems, like drip irrigation, save water and deliver it directly to the plant roots.
Organic Pest Control: Using organic methods, such as introducing beneficial insects, can keep pest populations in check.
Let's break down these layouts and figure out which one might be the perfect fit for you:
| Garden Layout | Ideal Space | Pros | Cons |
| --- | --- | --- | --- |
| 1. Traditional Row Planting | Large outdoor spaces | Easy to set up, good for various crops | Requires a lot of space, more vulnerable to pests |
| 2. Raised Bed Gardening | Any size, but outdoors | Improved soil and drainage, easier to access | Can require initial time and money to set up |
| 3. Square Foot Gardening | Small to medium outdoor spaces | High productivity per square foot, less weeding | Requires careful planning and organization |
| 4. Vertical Gardening | Small outdoor or indoor spaces | Great use of vertical space, suitable for many crops | Some plants may not be suitable, requires structures |
| 5. Potager Garden | Medium to large outdoor spaces | Beautiful design, mix of plants | Requires maintenance to keep aesthetic appeal |
| 6. Permaculture Garden | Large outdoor spaces | Mimics natural ecosystems, highly sustainable | Can take time to establish and requires knowledge |
| 7. Container Gardening | Any size, indoors or outdoors | Flexible, portable, good for variety of crops | Pots require more frequent watering |
| 8. Hydroponic Gardening | Any size, indoors or outdoors | Water-efficient, high-yield, no soil needed | Setup can be costly, requires technical knowledge |
| 9. Herb Spiral | Small outdoor spaces | Efficient use of space, different microclimates | Mostly suitable for herbs, requires some building |
| 10. Keyhole Garden | Medium outdoor spaces | Efficient water use, easy to manage | Not well-suited to very wet climates |
| 11. Aquaponic Gardening | Medium to large outdoor spaces | Highly efficient, symbiotic plant-fish relationship | Complex setup, requires technical knowledge |
| 12. Forest Garden | Large outdoor spaces | High diversity, sustainable | Takes years to establish, requires substantial space |
| 13. Hügelkultur Garden | Medium to large outdoor spaces | Efficient water use, improves soil health | Requires initial effort to set up, large space needed |
Remember, there's no one-size-fits-all solution in gardening. Assess your situation, think about what you're hoping to achieve, and make a decision based on what's best for you and your space.
Wrapping Up
Well, there you have it, folks – your ultimate guide to 13 survival garden layouts. We've walked you through each type, unpacked their benefits, shared tips on overcoming challenges, and sprinkled in some inspiration for good measure. But hey, don't let your journey stop here.
We've got a treasure trove of deep-dive articles waiting for you to explore. Want to know more about hydroponics? We've got an article for that. Interested in the ins and outs of companion planting? We've got you covered. Curious about organic pest control? We've got an in-depth piece that'll turn you into a bug-busting, plant-protecting warrior in no time.
And don't forget to take a look at the ads sprinkled around this article. You'll find suppliers who can equip you with the seeds, tools, and knowledge you need to kickstart your survival garden. They're just a click away. So, whether you need heirloom seeds, a beginner's gardening kit, or a top-of-the-line compost bin, our trusted advertisers have got what you need.
Remember, your backyard is more than just a space – it's a resource, a haven, and your ticket to self-sustainability. And with these 13 survival garden layouts, you're well on your way to harnessing its full potential. So, go ahead, get your hands dirty, and let's grow together.
Keep exploring, keep learning, and keep growing, folks. Here's to your blooming backyard oasis!
Footnotes
1) (The Survival Gardener, 2022) ↩
2) (The Old Farmer's Almanac, 2021) ↩
3) (Gardener's Supply Company, 2021) ↩
4) (Square Foot Gardening Foundation, 2021) ↩
5) (University of Florida, IFAS Extension, 2021) ↩
6) (Garden Design, 2021) ↩
7) (Permaculture Research Institute, 2021) ↩
8) (American Horticultural Society, 2021) ↩
9) (National Gardening Association, 2021) ↩
10) (Gardening Know How, 2021) ↩
11) (Send a Cow, 2021) ↩
12) (The Aquaponic Source, 2021) ↩
13) (Agroforestry Research Trust, 2021) ↩
14) (Permaculture Magazine, 2021) ↩