Introduction: Beyond the Blues
Ever found yourself saying, "Oh, I'm just feeling a bit blue," but the reality seemed much heavier than that? We've all been down in the dumps at one point or another, but when this feeling lingers on, turning into a constant, it might just be clinical depression you're dealing with.
"What Is Clinical Depression? Symptoms, Causes, Therapy"
Clinical Depression, also known as Major Depressive Disorder, is more than just a fleeting state of sadness or a temporary reaction to life's ups and downs. It's a serious mental health disorder characterized by persistent feelings of sadness, hopelessness, and a lack of interest or pleasure in activities. Let's dive headfirst into this ocean of grey, dissecting its symptoms, causes, and the therapy involved.
Symptoms: More Than Meets The Eye
The symptoms of clinical depression aren't always visible to the naked eye. They're more like sneaky ninjas, creeping up on you before you even realize. Some common symptoms include:
Persistent sadness or "empty" feeling
Feeling hopeless, irritable, anxious, or guilty
Loss of interest or pleasure in hobbies and activities
Feeling very tired
Difficulty concentrating, remembering, or making decisions
Difficulty sleeping, early-morning awakening, or oversleeping
Appetite and/or weight changes
Thoughts of death or suicide, or suicide attempts
Aches or pains, headaches, cramps, or digestive problems without a clear physical cause and/or that do not ease even with treatment.
Causes: It's A Bit of This and A Bit of That
There's no one-size-fits-all answer to what causes clinical depression. It's a bit like a jigsaw puzzle, a combination of genetic, biological, environmental, and psychological factors. It's like a bad cocktail that nobody ordered but somehow ended up with.
Oh boy, isn't this a pickle! What really causes clinical depression? Well, here's the thing—it isn't as simple as catching a cold. You can't trace it back to that one sneezy stranger on the bus, or the coworker who came to work with a fever. It's much more complicated than that.
You see, when we talk about clinical depression, we're essentially trying to assemble a jigsaw puzzle with a million tiny pieces, and no cover picture to guide us. Some pieces of this puzzle are rooted in our genes—those tiny building blocks of life that we've inherited from our folks. Sometimes, you could be born with a genetic predisposition to depression, like a ticking time bomb waiting for the right (or rather, wrong) moment to explode.
But it's not all in the genes. There are biological factors at play too. Our brain, that squishy pink mass inside our skulls, is a complex hub of countless chemical reactions. Sometimes, these chemicals don't dance together in harmony and their imbalance can set the stage for clinical depression.
Then there's the environment we grow up and live in. Stressful life events, traumatic experiences, the loss of loved ones, or even the daily grind of life can act like a domino, triggering a cascade that leads to depression.
And finally, our psychological makeup—the unique way each one of us thinks, feels, and responds to life—can play a big role in developing depression. A pessimistic outlook, low self-esteem, being overly self-critical, all these can push us into the arms of depression.
So, you see, the causes of clinical depression aren't a straight shot. It's more like a cocktail—a bit of this and a bit of that, shaken and stirred. Except, unlike the suave James Bond martini, this cocktail is one that no one ordered, and yet, many end up sipping on it. But hey, it's not all doom and gloom. Understanding the causes means we're one step closer to finding a cure, right? And that's a silver lining worth holding onto.
Therapy: There's Light at the End of the Tunnel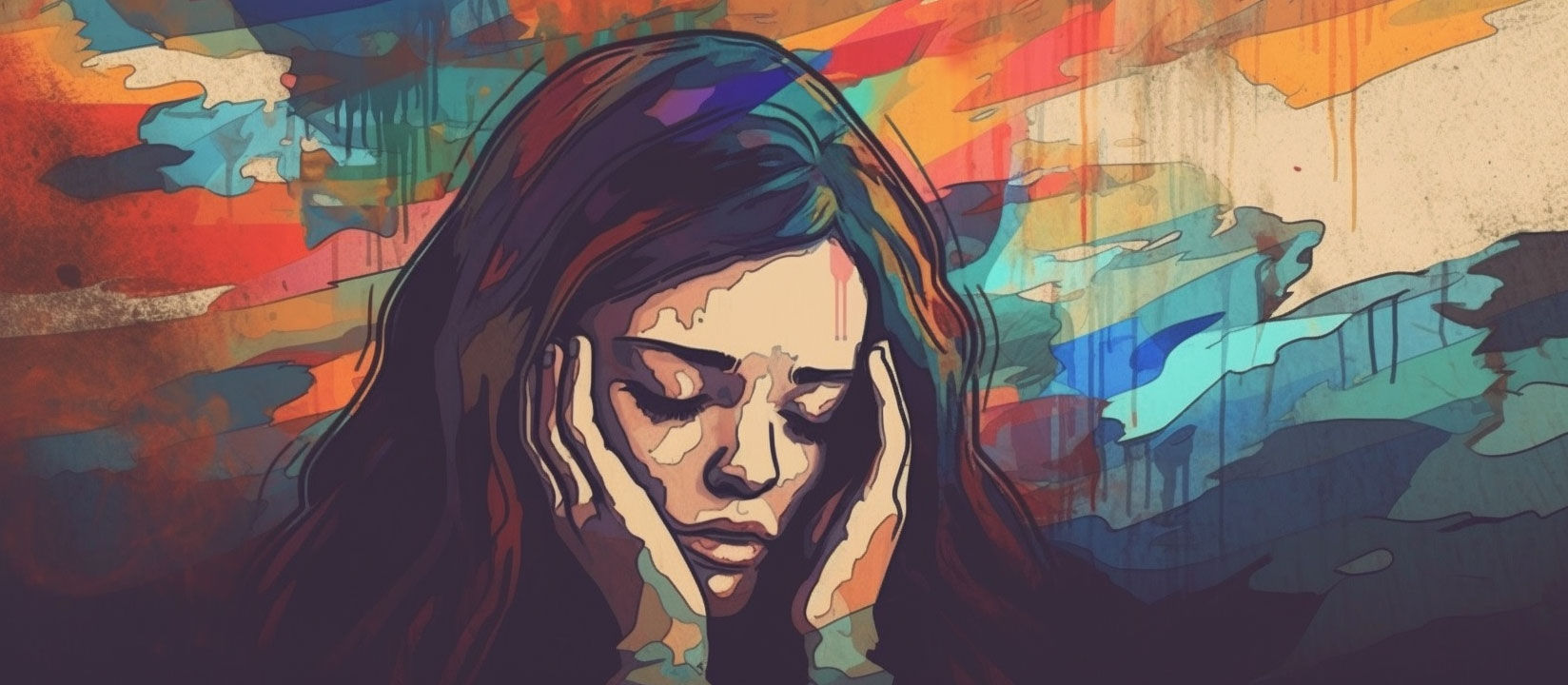 Let's talk about the real deal – therapy. Sure, clinical depression might feel like you're trapped in a never-ending storm, but there's a whole lot of options to help you navigate towards clearer skies. It's like walking into a potluck party – there's a variety of choices just waiting for you to pick 'em up. Let's have a closer look, shall we?
Medication: Imagine these as your mini knights in shining armor, fighting off the depression demons one pill at a time. The world of antidepressants is wide and varied, each one tailor-made to help restore balance in your brain's chemical cocktail. From Selective Serotonin Reuptake Inhibitors (SSRIs) to Serotonin and Norepinephrine Reuptake Inhibitors (SNRIs), Tricyclics and more, there's no shortage of these little warriors.
Psychotherapy: Now, this is more of a tag-team effort. It's you and a mental health professional, working together in a bid to vanquish your depression demons. This could involve Cognitive Behavioral Therapy (CBT), Interpersonal therapy (IPT), Problem-solving therapy, among others. It's all about changing negative thought patterns, improving communication, and learning to cope better. A sort of mental workout, if you will.
Combination of Both: Sometimes, it's not a case of either-or. A combination of medication and psychotherapy can often be the most effective way to treat clinical depression. It's like having a one-two punch to knock out depression.
Lifestyle Changes: Don't underestimate the power of a healthy lifestyle. Regular exercise, a balanced diet, adequate sleep, reducing alcohol and avoiding illicit substances – all these can have a significant impact on your mood and energy levels. It's like keeping your body and mind well-oiled and in top-notch condition.
Remember, it's absolutely okay to ask for help. It's even more okay to need it. You're not alone in this fight. Reaching out for help isn't a sign of weakness; it's a mark of strength. It's you taking control, saying, "I'm more than my depression, and I'm ready to fight it." And that, my friend, is a massive step towards the light at the end of the tunnel. So, keep going!
Recognizing The Warning Signs: The First Step in Taming the Beast
Here's the real kicker – spotting the early signs of clinical depression can be like trying to nail Jell-O to a wall. You might think, "Aw, I'm just stuck in a funk," or "It's just a blue Monday (that's sticking around way past Monday)." But, hold your horses – if these feelings stick around longer than your leftover pizza, it's time to take notice. Let's break it down:
You've lost your mojo: That hobby you used to love? It feels like a chore now. Those weekend hangouts with friends? You'd rather binge-watch TV shows alone. If your favorite things are starting to lose their sparkle, it might be a warning sign.
Sleep is either a distant dream or a constant companion: If you're battling insomnia night after night or sleeping more than a hibernating bear, this could be your wake-up call (pun intended).
You're riding an emotional rollercoaster: Persistent feelings of sadness, emptiness, or hopelessness that make a surprise visit and overstay their welcome? Time to raise a red flag.
Physical symptoms that just won't quit: Aches and pains that don't have a physical cause and don't ease even with treatment could be a sign of something deeper going on.
You're having a tough time focusing: If you're finding it harder than solving a Rubik's cube to concentrate, make decisions, or even remember things, it's a signal worth paying attention to.
Thoughts about death or suicide: This is a biggie. If you find yourself having thoughts about death or suicide, it's crucial to seek help immediately. Remember, there's always someone ready to lend a helping hand.
If these signs sound like an uncanny description of what you're going through, it might be high time to seek help. And hey, remember – reaching out ain't a sign of weakness, it's proof of your strength. Just like you'd see a doc for a broken leg, seeing a mental health professional for your mental health is A-OK. So, don't be a stranger seeking help.
Facing The Facts: The Hard Truth Behind Clinical Depression
Time to cut to the chase, folks. We're not just shooting the breeze here – clinical depression is a genuine, worldwide problem. It's as real as apple pie and baseball. But don't just take my word for it, let's look at the cold, hard numbers.
It's a global giant: According to our friends over at the World Health Organization, clinical depression affects a staggering 264 million people globally. That's not a typo, folks. That's equivalent to the population of, say, Texas multiplied by about ten!
The age game: Depression doesn't care if you're young or old, rich or poor, it can affect anyone at any time. However, it's most common among adults aged 18-25 according to the National Institute of Mental Health.
Women get the short end of the stick: Not to scare you, ladies, but women are nearly twice as likely as men to have had a depressive episode, according to the U.S. Department of Health and Human Services.
Suicide stats: Here's the sobering truth – suicide is the second leading cause of death among people aged 10-34 in the U.S., and a significant portion of this can be attributed to clinical depression.
These numbers aren't just for show, they're a wake-up call. Clinical depression is a serious issue that we can't afford to sweep under the rug. But here's the silver lining – you're not alone in this. Far from it. There's help at every turn, whether it's from your doctor, a trusted friend or family member, or a mental health professional. So, if you're in this battle, chin up, reach out, and remember, it's okay to lean on others. That's what they're there for.
Clinical Depression and Society: Breaking the Stigma
Listen up, folks, it's time we had a heart-to-heart talk about a tough cookie – the stigma surrounding clinical depression. It's as American as apple pie and just as bitter.
Feeling blue isn't a character flaw: Let's get this straight – having clinical depression doesn't mean you're weak, or lazy, or any of those mean words people sometimes throw around. It's a legitimate, medical condition – just like asthma or diabetes.
Hush-hush isn't helping: We tend to whisper about depression, treat it like a dirty secret. But the more we talk openly about it, the more we can break down the barriers of misunderstanding and ignorance.
Stigma can stop people from seeking help: Nobody wants to be labelled or judged. Fear of stigma can make people keep their feelings bottled up, avoid seeking help. And that's a real crying shame.
Education is key: The more we understand about clinical depression – that it's not a 'phase' or something you can just 'snap out of' – the more empathetic we can be.
We can all be stigma-busters: Whether it's supporting a friend who's going through a rough patch, or standing up to harmful stereotypes, each one of us can play a part in breaking the stigma surrounding clinical depression.
Living with clinical depression in a society that often stigmatizes mental health can be as tough as a two-dollar steak. But remember, there's zero shame in having clinical depression or seeking help. It takes a whole lot of courage to face this beast head-on. So, let's stand up, speak out, and start smashing this stigma into smithereens. We've got this, folks! Together, we can build a more understanding and empathetic society.
Conclusion: The Light at the End of the Tunnel
What's important to remember is that clinical depression is not a life sentence, and it doesn't define you. It might feel like you're lost in a fog, but with the right guidance and support, you can navigate your way out.
Remember, "What Is Clinical Depression? Symptoms, Causes, Therapy" isn't just a question; it's the beginning of understanding, empathizing, and creating a more inclusive society. Let's normalize mental health conversations and help each other grow stronger, together.
FAQs: Let's Get Some Answers