Harness the Calm of the Ocean, Master the Minimalist Garden Design Trends of the Modern Era
Introduction: Riding the Trend Wave
What if you could bring the soothing, tranquil ambiance of the ocean right to your backyard? Minimalist ocean garden design does just that, and it's rapidly becoming a must-have among homeowners and landscape architects alike.
Through clever use of minimalist principles, coastal elements, and sustainable practices, this trending design approach transforms ordinary outdoor spaces into serene ocean-inspired retreats.
Understanding Minimalist Ocean Garden Design: Navigating the Basics
Minimalist design is all about simplicity, functionality, and harmony. It employs a less-is-more philosophy, focusing on clean lines, open spaces, and a neutral color palette to create an atmosphere of tranquility – a place for your mind to roam free.
In minimalist ocean gardens, the core minimalist principles are infused with coastal elements. Think soothing water features, sturdy coastal plants, and natural materials that mimic the seaside scenery. The goal is to simulate the calming essence of the ocean while maintaining the balance and simplicity characteristic of minimalism.
Integrating Water Features: Making Waves in Your Garden
Nothing says 'ocean' more than the gentle sounds of water. Whether it's a simple fountain, an intricate waterfall, or a serene pond, water features are integral to evoking a sense of tranquility in ocean-inspired minimalist gardens.
The choice of water features largely depends on the garden's size and design. Consider sustainable practices like rainwater harvesting when planning your water feature – not only does it conserve water, but it also adds an eco-friendly edge to your garden.
Selecting Coastal Plants: The Unsung Heroes of Coastal Vibe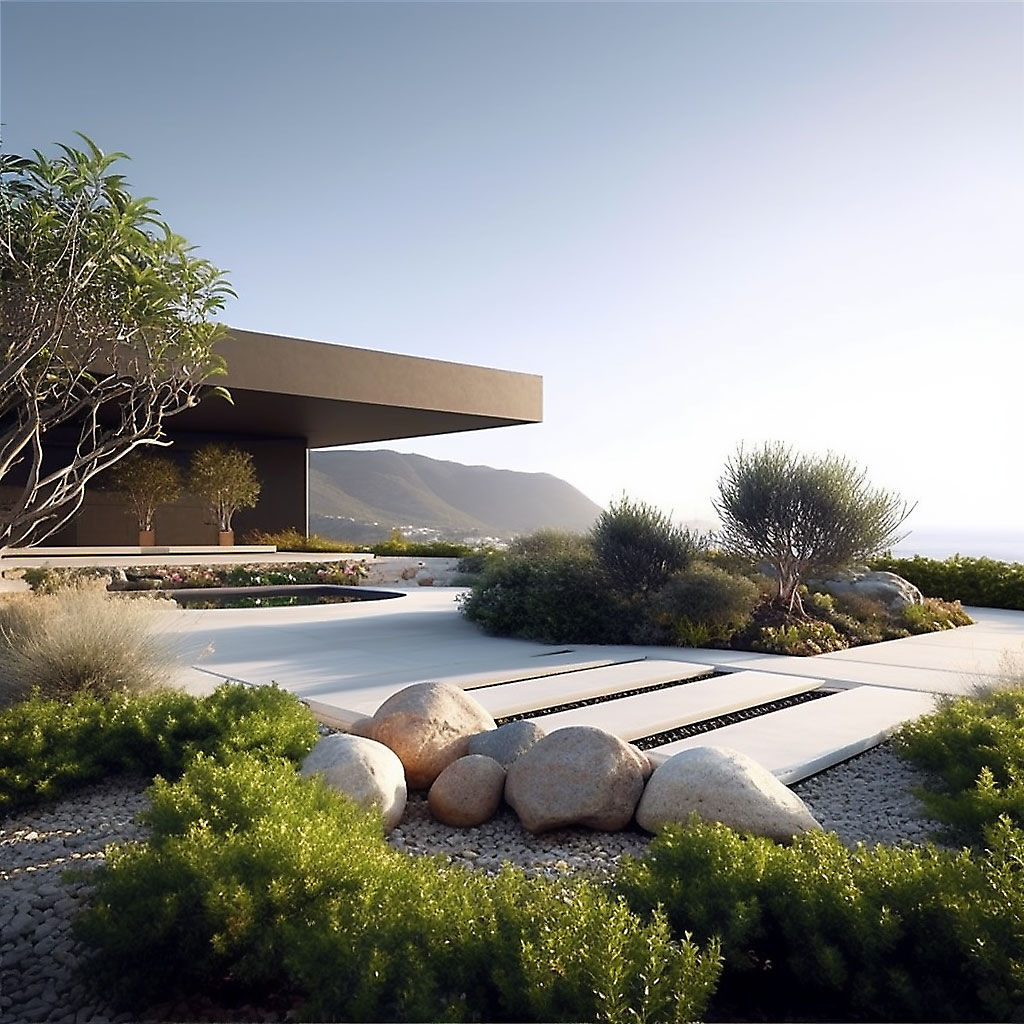 Coastal plants play a vital role in bringing the beachy feel to your garden. Salt-tolerant varieties, and those with blue or green foliage, are ideal as they add a subtle hint of color while staying true to the minimalist ethos. Succulents like Agave and Sedum are excellent choices, thanks to their resilience and low-maintenance needs.
Ensure proper planting techniques are employed and ongoing plant care is observed to keep your garden vibrant and healthy. After all, a minimalist garden thrives on its neat and well-kept look.
Embracing Natural Materials: The Ocean's Bounty in Your Backyard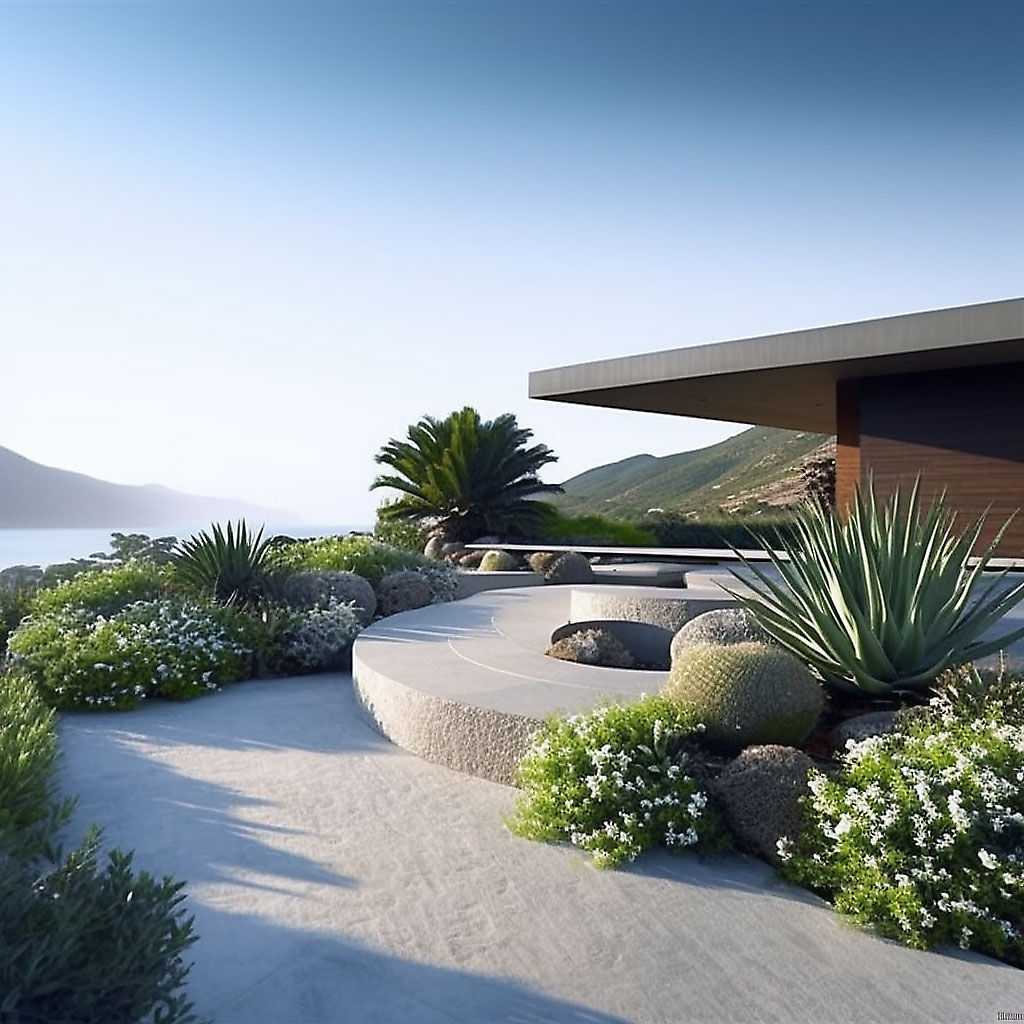 Natural materials such as wood, stone, and gravel are a staple in minimalist ocean garden designs. These elements not only create a harmonious blend with the coastal environment but also add texture and visual interest to your garden. Locally sourced, sustainable materials are a bonus, further reducing the environmental impact of your garden.
Maintenance and Sustainability: Preserving the Wave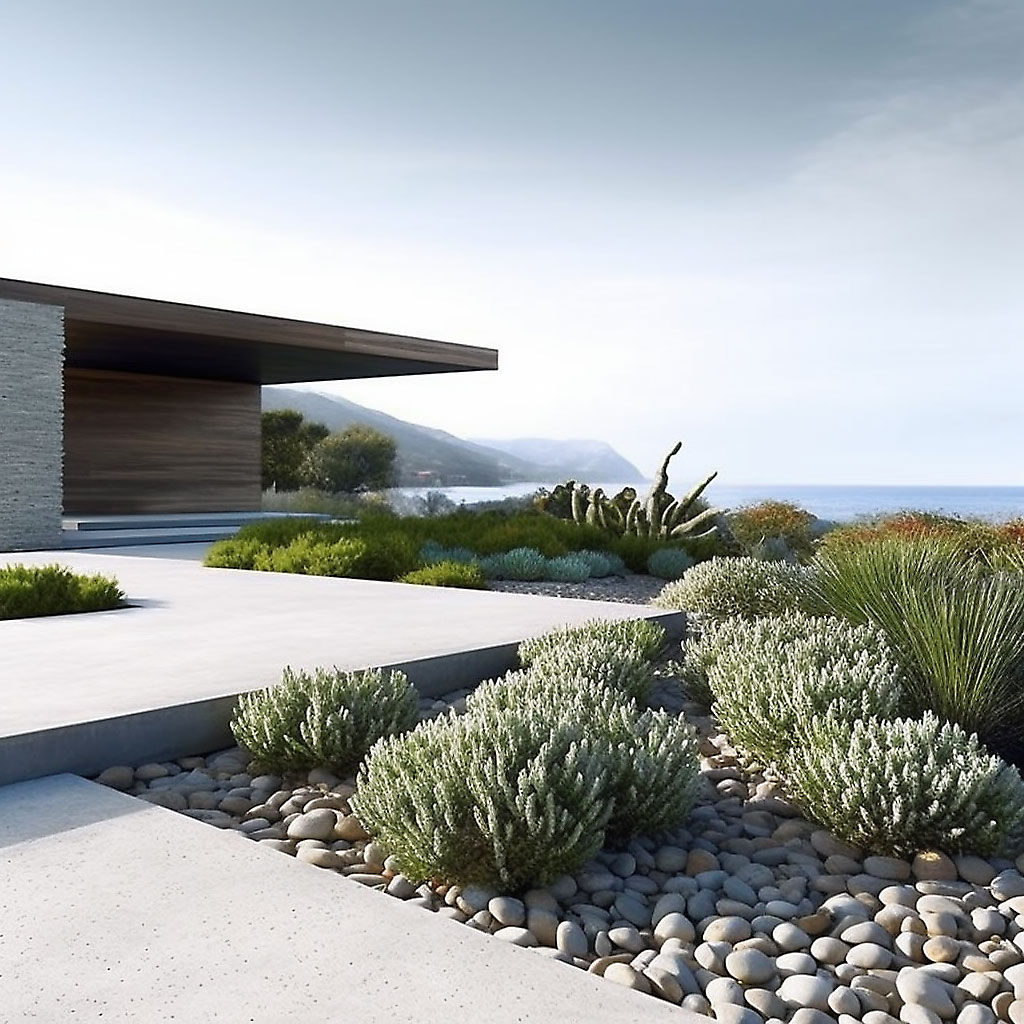 Minimalist gardens, despite their simple appearance, require regular maintenance to preserve their aesthetic. However, by adopting sustainable practices like composting, water conservation, and organic pest control, you can ensure your garden remains not just visually appealing, but also environmentally friendly.
Every now and then, consider reviewing your garden design and making necessary adjustments to maintain its minimalist appeal over time. Remember, evolution is the key to a garden that stays timeless.
Take a look at the 10-type minimalist ocean garden trends design element:
1. Floating Garden Beds
There's something truly enchanting about the illusion of garden beds floating on water, reminiscent of lily pads on a tranquil pond. This innovative design, complemented by a reflection of the sky, adds depth and dimension, creating a serene, dreamlike atmosphere that perfectly captures the minimalist ocean aesthetic.
2. Seashell Pathways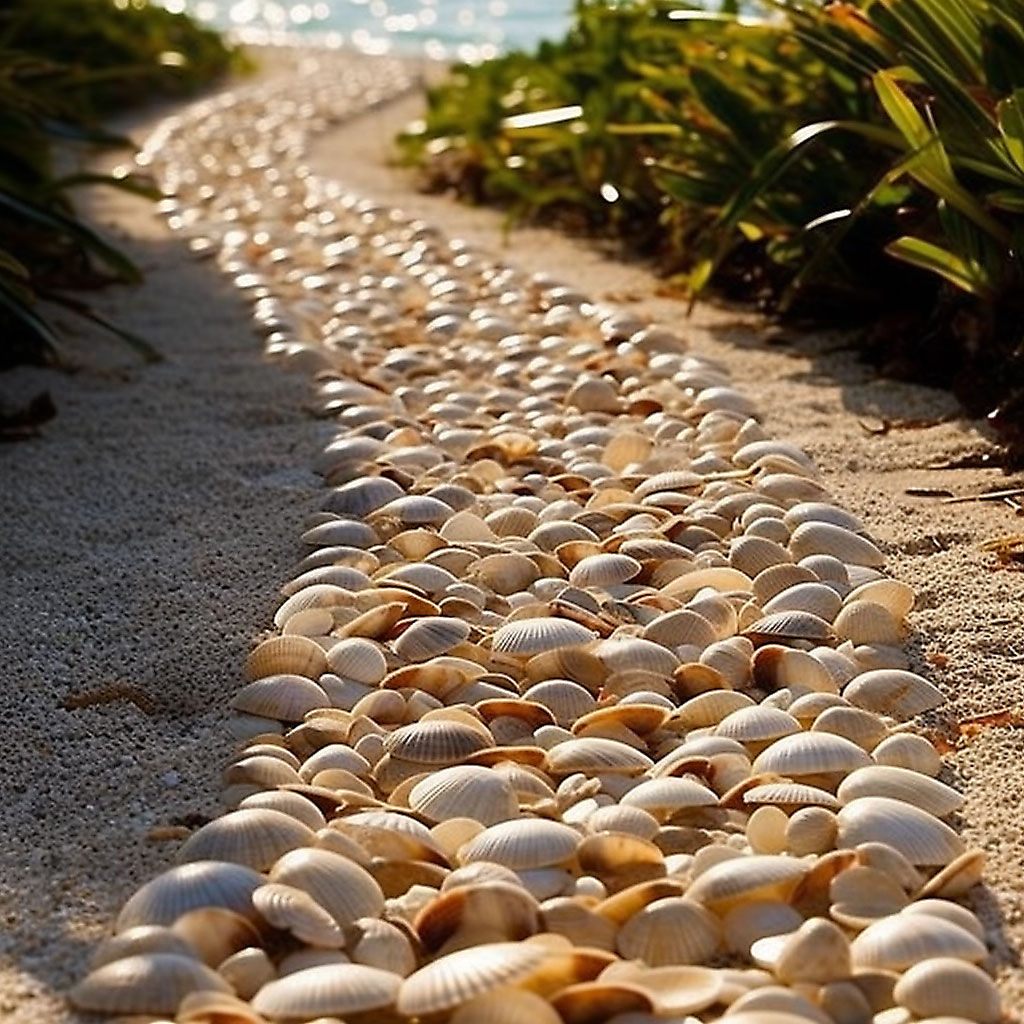 Walking on a pathway made of crushed seashells transports you directly to the seashore. It's not just the visual appeal; the gentle crunch underfoot resonates with peaceful strolls along the beach. Additionally, these shells naturally aid in soil drainage, making them a practical choice that beautifully aligns with the oceanic theme.
3. Ocean Wave Hardscaping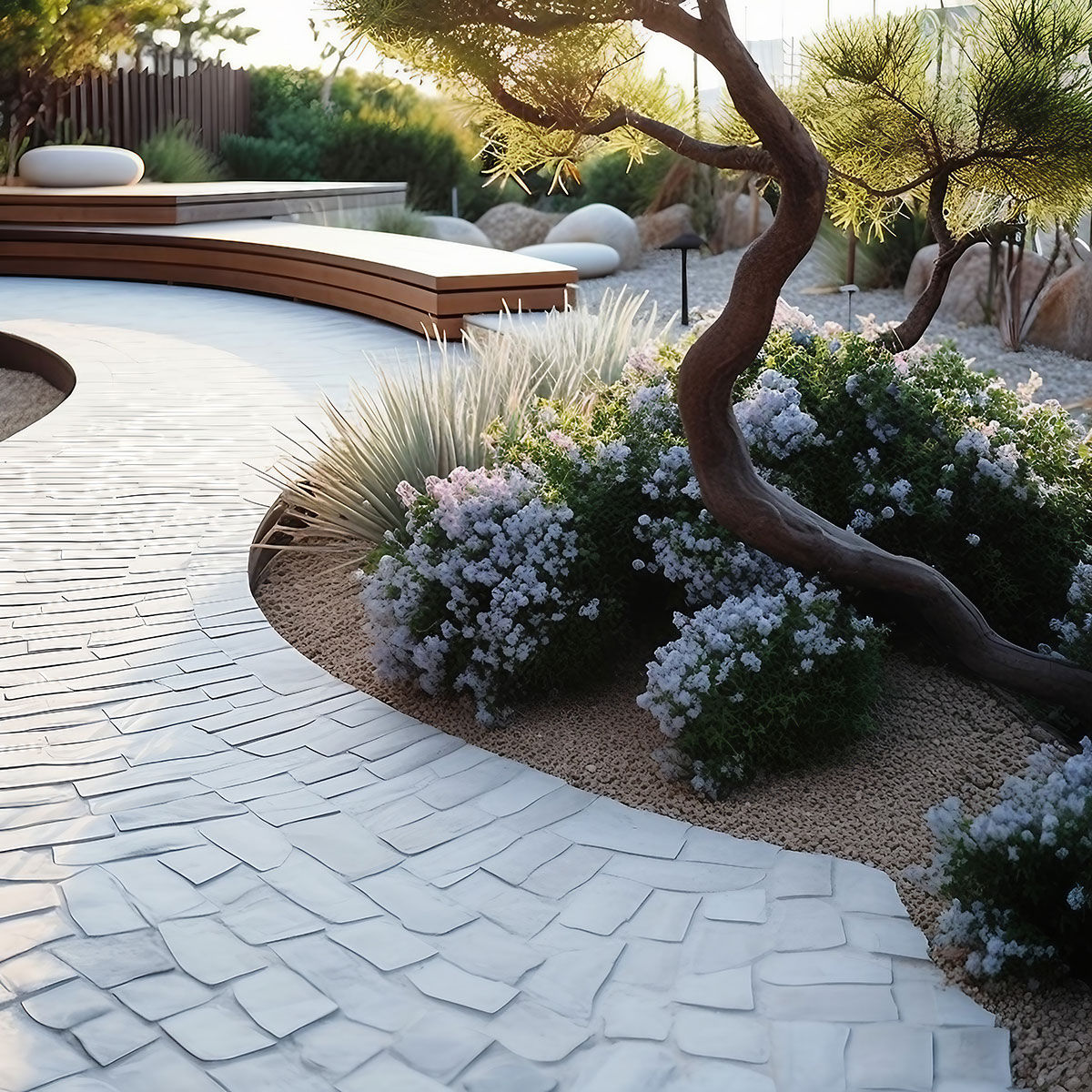 Hardscape elements that flow like ocean waves bring a sense of motion to the garden. Whether it's a stone wall or gravel path, the curved designs are both soothing and captivating, echoing the rhythmic pattern of waves lapping against the shore.
4. Beach-Themed Sculptures
Minimalist sculptures inspired by marine life can serve as stunning focal points in your garden. They offer a touch of artistry that honors the ocean, while their minimalist design ensures they blend harmoniously with the serene surroundings.
5. Dune-Inspired Mounds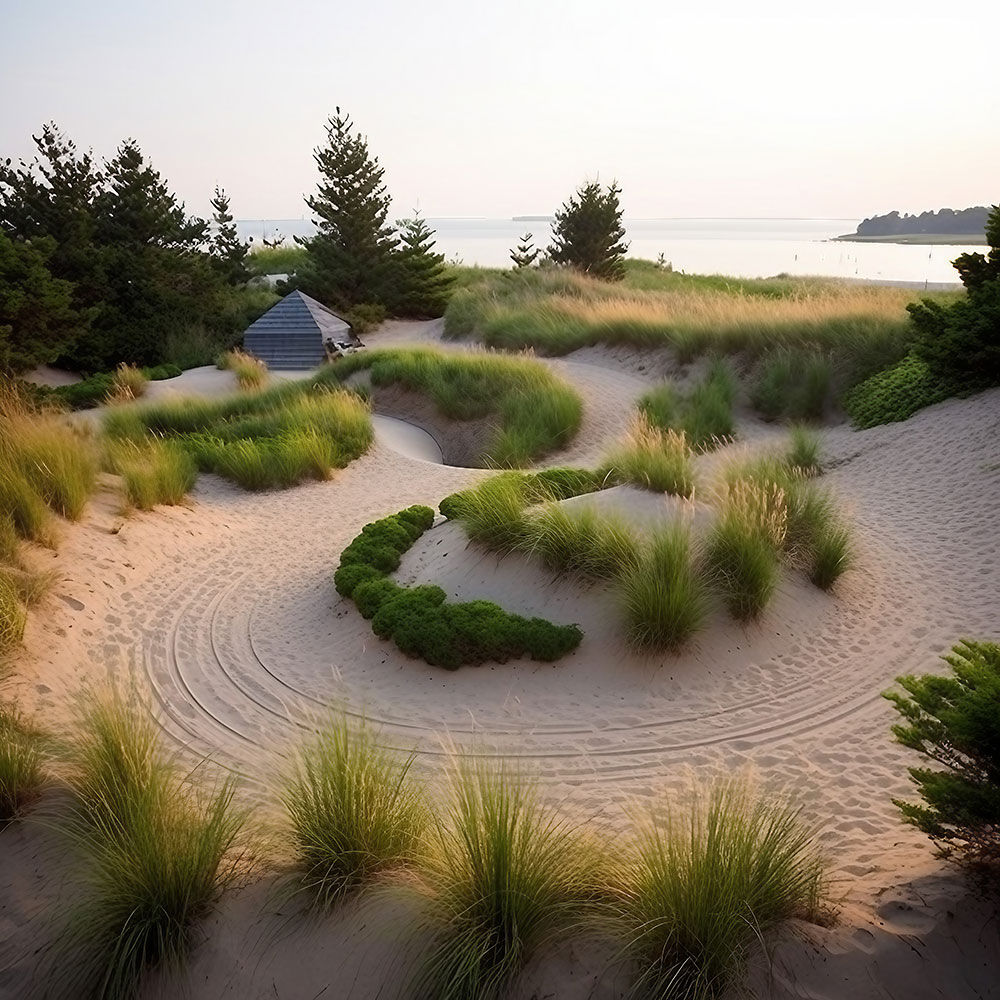 Mimicking the shape of sand dunes not only gives your garden a unique contour but also offers a sense of fluidity. The sight of coastal grasses swaying atop these mounds in the breeze is truly calming, perfectly capturing the serenity of a beach landscape.
6. Saltwater Pond
A saltwater pond takes the ocean garden concept to a whole new level. It becomes a living part of your garden, fostering marine plants or sea life. This dynamic water feature is not just visually appealing; it brings a sense of life and vitality that echoes the thriving biodiversity of our oceans.
7. Coastal Palette Planting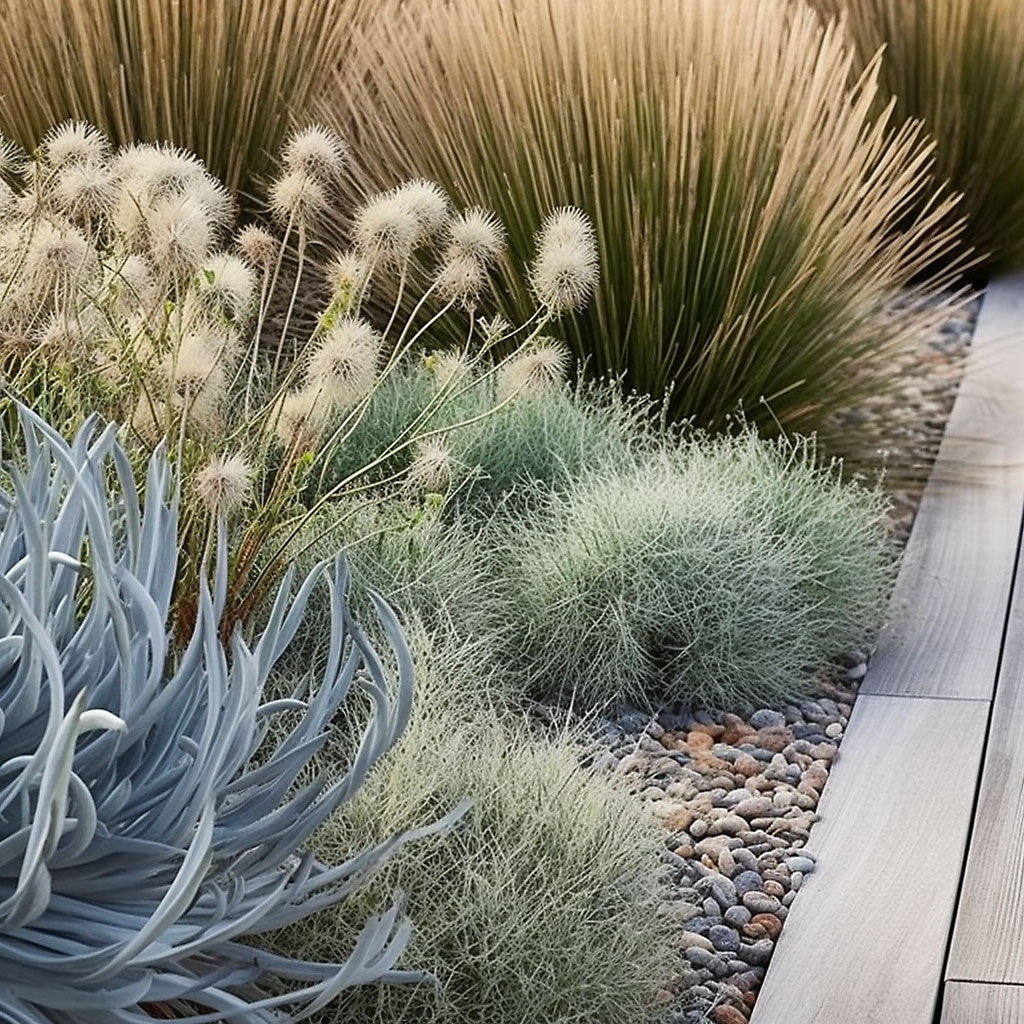 Plants with silver, blue, and sandy yellow hues reflect the coastal color palette and subtly reinforce the ocean theme. They bring a soft, calming splash of color that perfectly complements the minimalist aesthetic, blurring the lines between the sea and your garden.
8. Driftwood Accents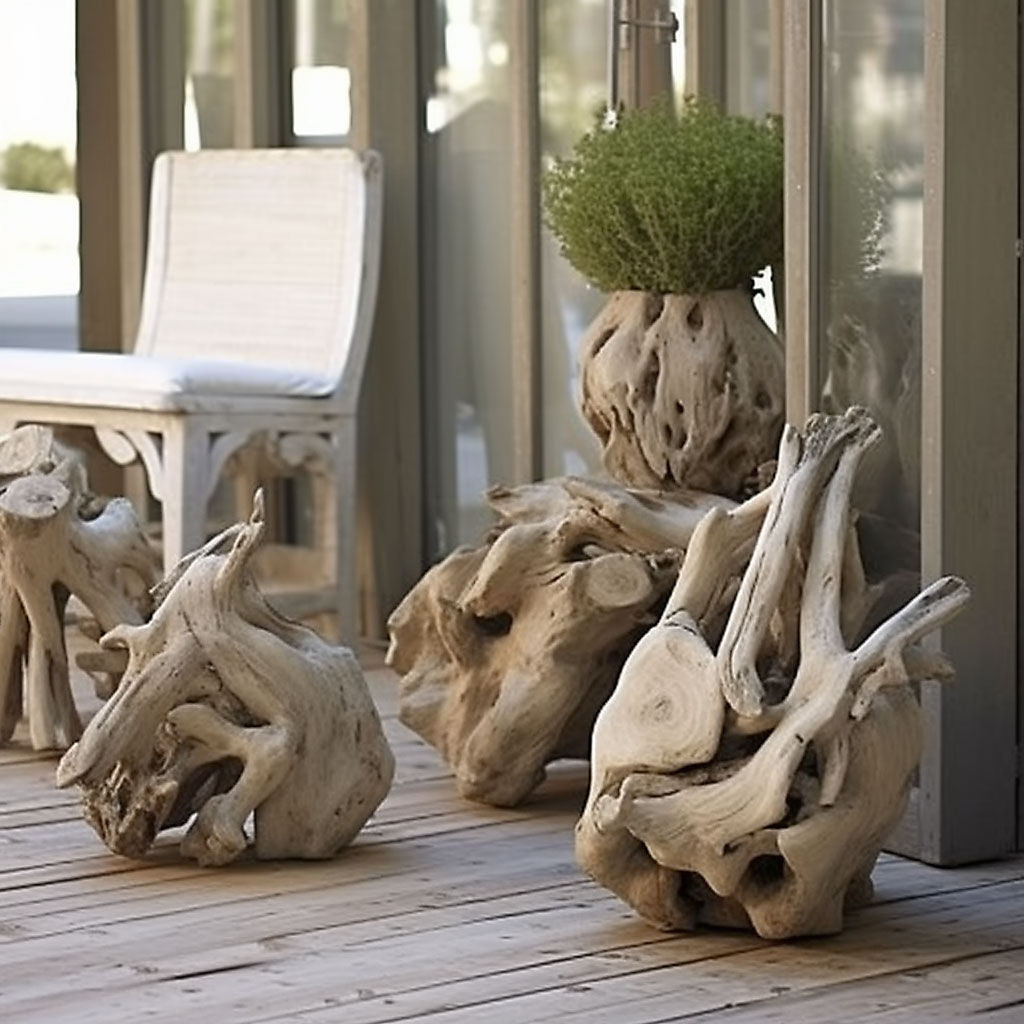 Driftwood, with its weathered appearance and organic forms, brings an authentic touch of the beach to your garden. Used as furniture or simple accents, these pieces tell a story of time and tide, further enhancing the oceanic atmosphere of the garden.
9. Minimalist Beach Hut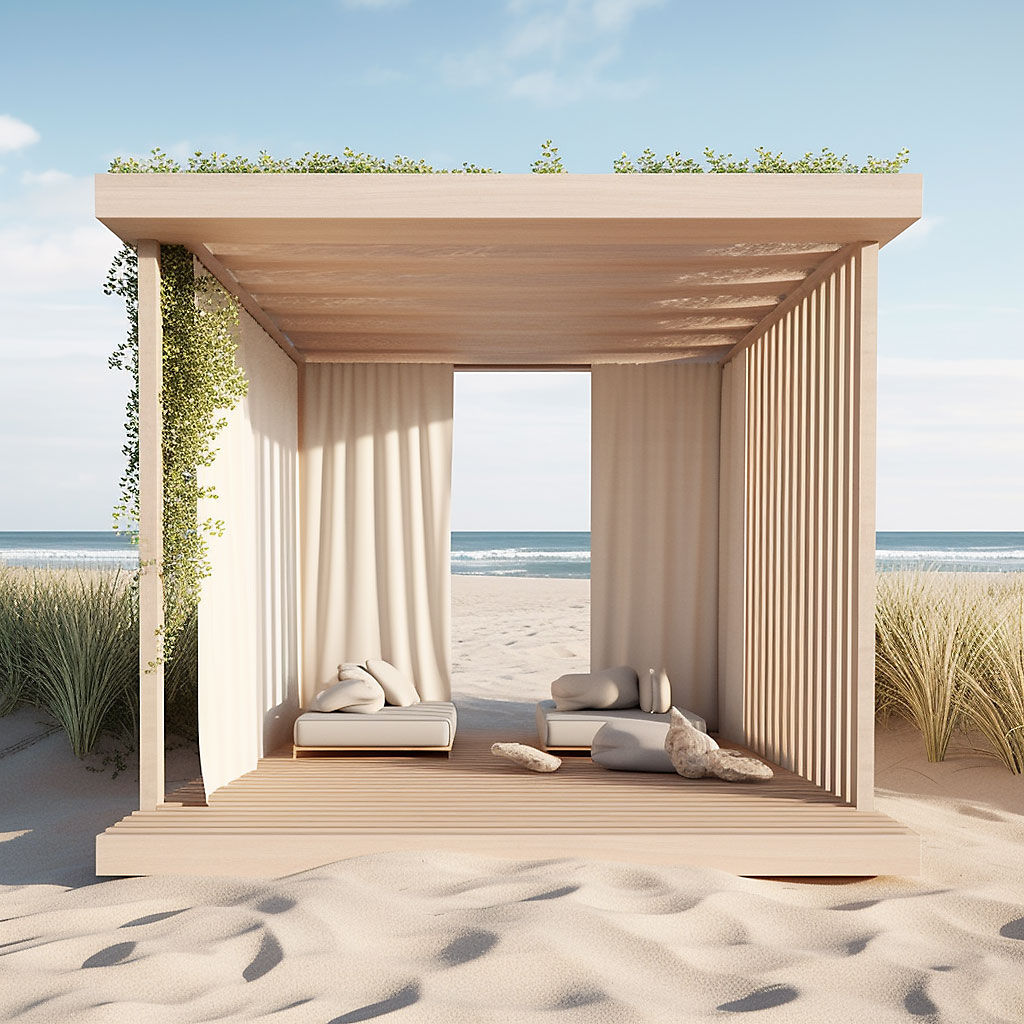 A sustainably built minimalist beach hut or pergola offers a restful spot to relax and enjoy the serene garden. Its simple, natural design aligns beautifully with the minimalist aesthetic, serving as an invitation to sit back and embrace the peace and tranquility of your ocean-inspired retreat.
10. Sand Garden Zones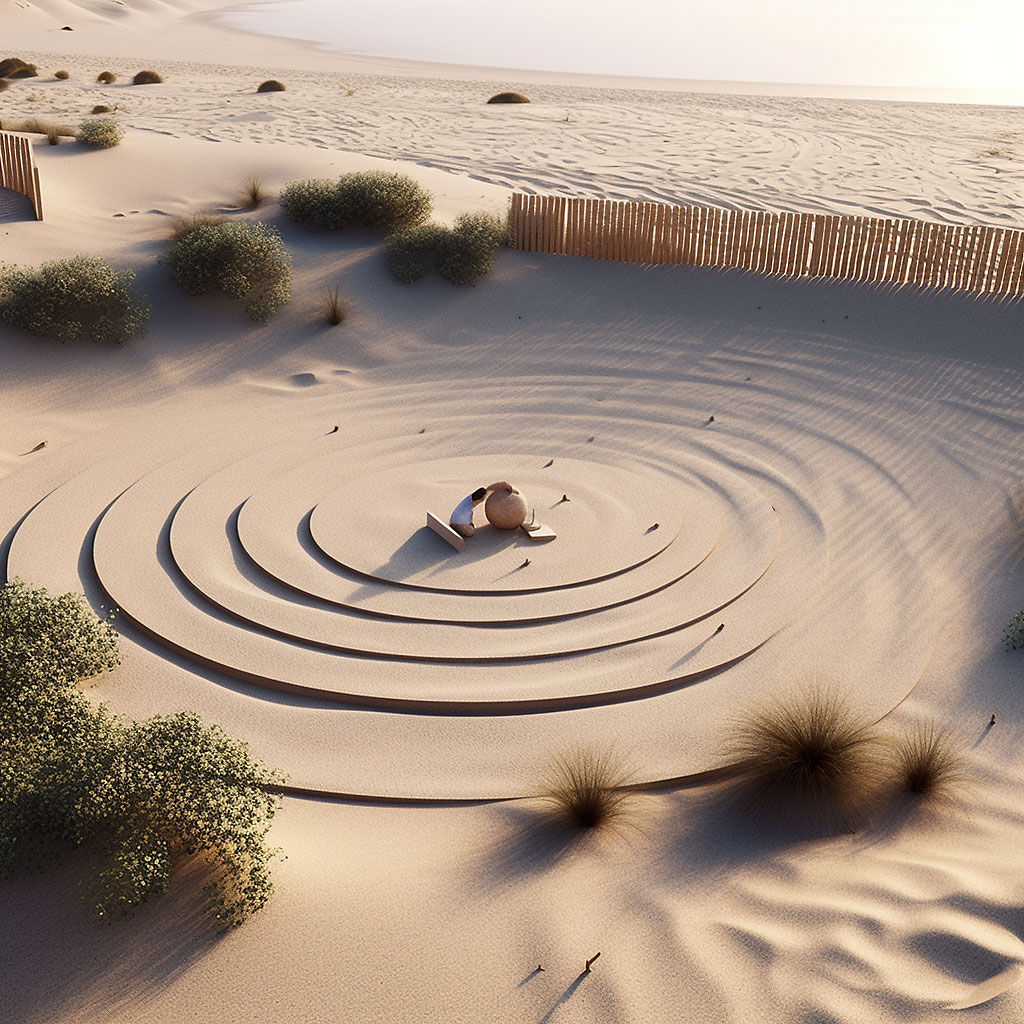 Sections of raked sand reminiscent of a zen garden introduce an element of mindfulness, encouraging relaxation and meditation. This design feature further emphasizes the minimalistic approach, promoting a sense of tranquility that's as endless as the ocean itself.
Conclusion: Embrace the Trend, Create Your Own Tranquil Space
Minimalist ocean garden design presents a unique blend of tranquility, functionality, and aesthetics. While it's essential to consider the principles discussed, there's always room for creativity. After all, it's your personal haven – a reflection of your love for nature and your desire for serenity. So why not ride the wave and create your own ocean-inspired minimalist garden?
FAQs:
What is minimalist ocean garden design?

Minimalist ocean garden design combines the principles of minimalist design with ocean-inspired elements to create tranquil outdoor spaces that reflect the calming ambiance of the sea.

What elements are essential in a minimalist ocean garden?

Key elements include water features, coastal plants, natural materials, and open spaces with clean lines. Sustainability and regular maintenance are also vital aspects of the design.

How can I make my minimalist ocean garden more sustainable?

Integrating sustainable practices like rainwater harvesting, composting, water conservation, and organic pest control can make your garden more eco-friendly and sustainable.