Life on a Zero-Calorie Diet: A Curious Journey
Picture this. It's the break of dawn. You're rubbing sleep from your eyes, reaching out for your usual cup of java. But instead, you're greeted with a glass of sparkling water, marked as "zero calories." Breakfast rolls around, and instead of your favorite stack of pancakes or omelet, you're faced with a serving of zero-calorie diet food. It's not the scenario we're used to, right?
Welcome, folks! We're embarking on a journey to find out what happens if we only consume zero-calorie diet food and water. Will we starve or thrive? Let's dive into this fascinating ride through biology, nutrition, and human resilience.
A Reality Check on Zero-Calorie Foods
First off, let's set things straight. Zero-calorie foods, much like unicorns, are more myth than reality. Sure, you'll find celery, cucumbers, or diet soda marketed as "zero-calorie," but in reality, these foods still have some calories. They're just so low in caloric value that your body burns more energy digesting them than the food provides, giving the illusion of "zero calories" [1].
Here's another nugget of truth: calories aren't the enemy! They're the gasoline that fuels your body's engine, allowing you to think, move, and generally be the amazing human being you are.
Caloric Intake: The Human Body's Fuel
Our bodies are intricate machines, requiring a balance of proteins, fats, carbohydrates (macronutrients), vitamins, and minerals (micronutrients) to function properly. Macronutrients provide our bodies with energy (calories), while micronutrients support various body functions like bone health, immune function, and cell production [2].
The average person needs about 2000-2500 calories per day to maintain their weight, with variations based on factors like age, sex, and physical activity level [3]. Denying your body this fuel could send it into a tailspin.
The Domino Effect of a Zero-Calorie Diet: Starvation Mode
If you're exclusively consuming zero-calorie diet food and water, your body, in the absence of its fuel (calories), will start using stored fat for energy. Initially, this might sound like a shortcut to rapid weight loss. But here's the catch – your body doesn't discriminate when it comes to seeking alternative fuel sources.
After exhausting fat reserves, your body will move on to protein stores, primarily in your muscles. Over time, muscle loss, weakness, and fatigue set in. As the body's energy levels dip dangerously low, the functions of vital organs, including your heart, may be compromised, potentially leading to organ failure [4].
The Silent Specter: Nutrient Deficiency
By only consuming zero-calorie diet food, you're not just depriving your body of essential energy. You're also likely missing out on vital vitamins and minerals. Nutrient deficiencies can manifest in various ways, such as night blindness (Vitamin A deficiency), scurvy (Vitamin C deficiency), and anemia (Iron deficiency) [5].
The Verdict: A Balancing Act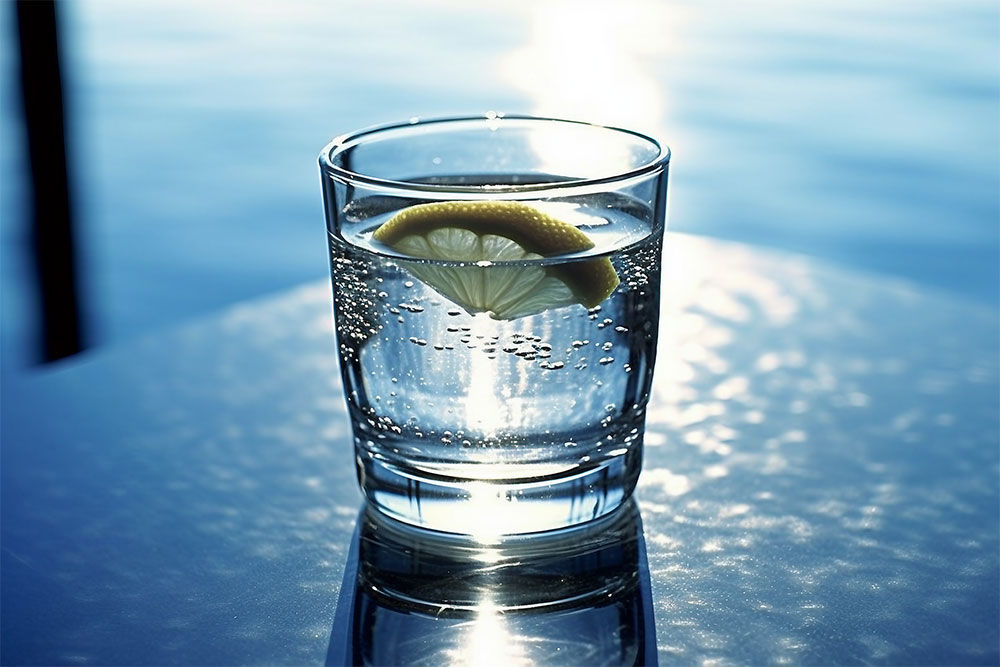 Is surviving on a diet solely composed of zero-calorie food and water possible? The resounding answer is: no. A well-rounded, balanced diet is key to maintaining a healthy lifestyle and promoting longevity and wellness.
While it's tempting to seek quick fixes for weight loss or health improvement, the best strategy is still a balanced diet, regular exercise, and a hearty dose of self-love. Let's listen to our bodies, provide them with the fuel they need, and embrace a sustainable approach to health and nutrition.
Reconsidering the Zero-Calorie Phenomenon
So, we've established that a zero-calorie diet is a no-go. But what about those "zero-calorie" foods we hear so much about? Can they play a part in a balanced diet and healthy lifestyle? Let's unravel this conundrum.
Many foods labeled as "zero-calorie" or "diet" are often processed and contain artificial sweeteners or additives to mimic the taste of their full-calorie counterparts. While they may seem like a healthier alternative on the surface, some research suggests that these artificial additives may potentially lead to increased cravings, weight gain, or even a disrupted gut microbiome [6].
However, let's not paint all with the same brush. Foods like celery, cucumber, and certain types of lettuce are naturally low in calories and packed with nutrients. Including these in your diet can certainly contribute to your health and wellbeing. Remember, it's all about balance, not extremes!
Living the Balanced Life: Your Key to Wellness
We know the zero-calorie diet is out of the question, but what does a balanced diet look like?
A balanced diet means eating a wide variety of foods in the right proportions, and consuming the right amount of food and drink to achieve and maintain a healthy body weight. It typically includes a mix of fruits, vegetables, whole grains, lean proteins, and healthy fats. Depending on your body's specific needs, the exact proportions of each will vary.
For instance, the Mediterranean Diet is recognized as one of the healthiest eating patterns around. It's rich in fruits, vegetables, whole grains, lean proteins (like fish and chicken), and healthy fats (like olive oil), and also includes a moderate intake of dairy products and wine. Studies have linked this diet to longevity and a reduced risk of chronic diseases [7].
Health: A Full-Spectrum View
Health isn't just about what you eat. It's also about your physical activity, mental health, sleep patterns, and stress management techniques. Alongside a balanced diet, incorporating regular physical activity into your routine, prioritizing good quality sleep, and employing strategies to manage stress are all crucial for maintaining your overall health and wellbeing.
In the words of the World Health Organization, "Health is a state of complete physical, mental, and social well-being and not merely the absence of disease or infirmity." So, let's look at health in its totality and strive to lead a balanced and fulfilling life.
A Zero-Calorie Diet is a Zero-Sum Game
A zero-calorie diet may seem like an intriguing shortcut to weight loss and health, but it's an ill-fated gamble. Our bodies need calories for energy, and the proper balance of nutrients for optimal functioning.
So, let's ditch the extremes and instead embrace a well-rounded, balanced approach to our diet and lifestyle. After all, it's our health that's on the line, and it deserves nothing less than the best!
Cracking the Code: Nutrition Labels and Your Health
Armed with the understanding that zero-calorie diets are a no-go, and that "zero-calorie" foods might not be as guilt-free as they appear, it's time to master the art of reading nutrition labels. After all, knowledge is power, especially when it comes to your health!
Nutrition labels can be a bit intimidating, what with all those numbers, percentages, and scientific names. But don't fret – we'll break it down together. The key elements to pay attention to are serving size, calories, and the nutrient breakdown (fats, carbohydrates, protein, and vitamins and minerals). Also, take a peek at the ingredients list. If it reads like a science textbook, or sugar is one of the first few ingredients, you might want to think twice [8].
Remember, while lower-calorie foods can have a place in a balanced diet, it's the full nutritional profile that really matters. Opt for nutrient-dense foods that give you the biggest bang for your caloric buck.
Taking the Long View: Sustainability Over Quick Fixes
As we've established, zero-calorie diets are a one-way ticket to nutrient deficiencies, weakened vital organs, and overall poor health. But they also represent a larger issue – the quest for quick fixes and immediate gratification.
In a culture where "now" often seems too late, it's easy to be tempted by drastic diets that promise instant results. But true health and wellness isn't a sprint, it's a marathon. It's not about a quick cleanse or a two-week diet, but long-term, sustainable lifestyle changes.
Exercise, a balanced diet, adequate sleep, and stress management aren't just boxes to check off – they're the cornerstones of a healthy lifestyle. And the great news is, it's never too late to make positive changes. Small steps can lead to big health victories over time [9].
Final Thoughts: A Toast to Your Health
So, there you have it, folks. If you've been flirting with the idea of a zero-calorie diet, it's time to break up. Your body deserves so much more!
Eat a variety of nutrient-rich foods, keep active, get your beauty sleep, manage stress, and remember to enjoy the journey. After all, health isn't just about adding years to your life, it's about adding life to your years.
Here's to your health and happiness – may it always be filled with nourishing meals, belly laughs, and the joy of living a balanced life!
FAQs
Can I survive on zero-calorie diet food and water only?

No, the human body needs a balanced intake of macronutrients and micronutrients to function properly.

Are there truly zero-calorie foods?

There aren't really any zero-calorie foods. Even foods marketed as such usually contain a small amount of calories.
Footnote:
1) Mayo Clinic. (2020). Energy Density and Weight Loss: Feel Full on Fewer Calories. Retrieved from https://www.mayoclinic.org/healthy-lifestyle/weight-loss/in-depth/weight-loss/art-20044318
2) Harvard Health Publishing. (2021). Micronutrients. Retrieved from https://www.health.harvard.edu/staying-healthy/micronutrients-have-major-impact-on-health
3) U.S. Department of Health and Human Services. (2021). Dietary Guidelines for Americans, 2020-2025. Retrieved from https://www.dietaryguidelines.gov/sites/default/files/2021-03/Dietary_Guidelines_for_Americans-2020-2025.pdf
4) Cleveland Clinic. (2021). Is Losing Weight Too Fast Dangerous? Retrieved from https://health.clevelandclinic.org/risks-of-losing-weight-too-fast/
5) World Health Organization. (2021). Micronutrient Deficiencies. Retrieved from https://www.who.int/nutrition/topics/vad/en/
6) Harvard School of Public Health. (2020). The Sweet Danger of Sugar. Retrieved from https://www.hsph.harvard.edu/nutritionsource/carbohydrates/added-sugar-in-the-diet/
7) Mayo Clinic. (2021). Mediterranean diet: A heart-healthy eating plan. Retrieved from https://www.mayoclinic.org/healthy-lifestyle/nutrition-and-healthy-eating/in-depth/mediterranean-diet/art-20047801
8) U.S. Food & Drug Administration. (2018). How to Understand and Use the Nutrition Facts Label. Retrieved from https://www.fda.gov/food/new-nutrition-facts-label/how-understand-and-use-nutrition-facts-label
9) American Heart Association. (2020). Healthy Living. Retrieved from https://www.heart.org/en/healthy-living