Introduction
Well, well, well, here we are, about to embark on a wonderful journey of transforming steep landscapes into stunning havens. You know, they say necessity is the mother of invention, and in the realm of hillside gardening, this couldn't be truer. The quirks and challenges of a sloping garden can, surprisingly, become the birthplace of the most fantastic and unique gardening ideas.
Hillside Gardening Ideas – Designing Gardens on Slopes
Now, before we proceed any further, let's tackle the elephant in the room – how to approach "Hillside Gardening Ideas – Designing Gardens on Slopes"?
Well, the secret is to view the slope as your ally, not your enemy.
Got it? Good. Let's proceed.
Embracing the Slope
Discovering the Allure of Terracing
Now, let's chat a bit about terracing. Picture it as the spine of your hillside garden. It's your golden ticket, turning that wild, untamed slope into beautifully organized beds that are just perfect for planting.
Imagine the satisfaction of seeing your plants thrive and bloom on these clean, orderly terraces. It's like watching a chaotic painting come together into a magnificent landscape, right?
Creates Flat Areas: With terracing, you create flat areas in your garden, making it easier for planting and maintenance.
Enhances Soil Quality: Terracing helps improve soil quality and moisture retention, giving your plants the best chance to flourish.
Adds Structure: By providing structure, terracing can add visual interest and dimension to your hillside garden. It's like sculpting your garden!
Hitting the Rocky Road
Now, let's talk about rocks. You might see them as a gardener's worst nightmare, but in a hillside garden, they're like undercover agents working for you. They play a significant role in controlling erosion and are pretty good at it. So, next time you stumble upon a boulder, don't grimace. Think of it as an unexpected gift, a chance to create something beautiful – perhaps a rock garden?
Natural Erosion Control: Rocks are nature's answer to erosion control. They help keep your precious soil where it needs to be – in your garden!
Low Maintenance: Once set, rock gardens require little to no maintenance. And, they add a stunning, natural aesthetic to your hillside.
Drought Tolerant: Rock gardens can be an excellent choice for drier areas as they provide an ideal environment for drought-resistant plants.
Ascending the Stairway to Heaven
Ah, stairs. They're like the unsung heroes of hillside gardens. Sure, they serve a practical purpose, helping you navigate the steep incline, but they've got hidden talents too! With a splash of creativity, stairs can double up as planters or become unique display spots for garden art.
Who knew functionality could look so good?
Functional and Aesthetic: Stairs are both a practical necessity and an opportunity for design flair. They can be made from a variety of materials to match the style of your garden.
Potential Planters: Stair risers can be used as unexpected places to add more greenery to your hillside garden.
Viewpoints: The different levels created by stairs can offer varied viewpoints, making your hillside garden a visual treat.
Remember, every challenge can be turned into an opportunity. So, embrace your slope, and let's start gardening!
Maximizing the Potential of Your Slope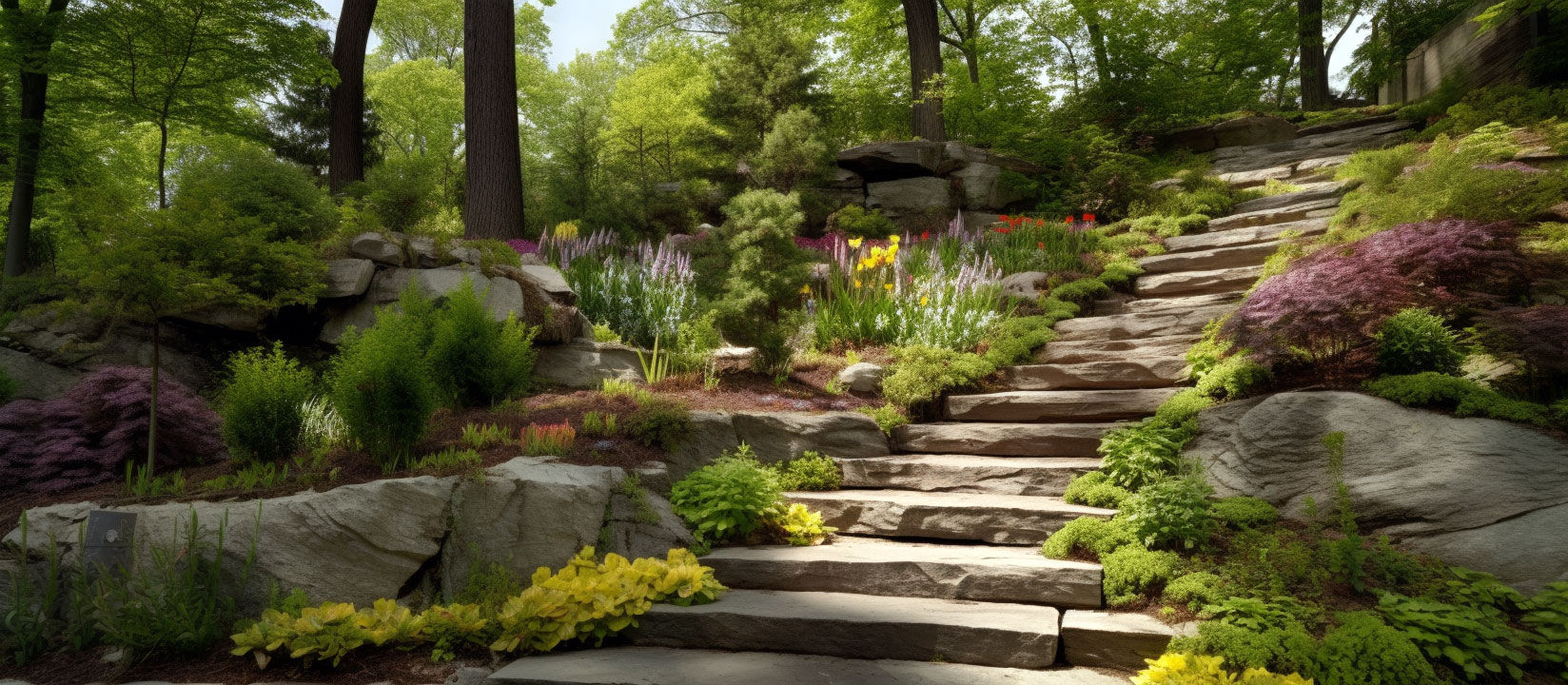 Planting for Success
Here's the trick – plant in staggered rows. This nifty trick will make your plants appear fuller, and they'll also help to reduce erosion. Plus, who doesn't love a lush, bountiful garden?
Embracing Vertical Gardening
Hillsides are the perfect playground for vertical gardening. Use climbers and trailing plants to add an extra dimension to your garden. And remember, when it comes to climbers, the sky's the limit!
The Power of Perennials
Perennials are the long-haul truckers of the plant world. They're persistent, hardy, and they have the knack of taking root even in the toughest of conditions. Sounds perfect for a hillside garden, doesn't it?
Thinking Out of the Box
Building the Flow
Water flows downhill, doesn't it? Well, why not turn that to your advantage? Water features blend naturally with a sloping landscape, adding a serene, soothing touch to your garden.
The Magic of Meadows
Imagine a hillside brimming with wildflowers, dancing in the wind. Sounds like a dream, right? But with the right selection of native plants, you can create a mini-meadow right in your backyard.
The Fairy-Tale Forest
Got a shady hillside? No problem. Plant a mix of shrubs, ferns, and shade-loving plants to create a fairy-tale-like mini-forest. It's like having your very own enchanted woodland!
Don't Forget the Mulch
Mulch is your best friend on a slope. It locks in moisture, prevents erosion, and gradually enriches the soil as it breaks down. So, go on, mulch generously, and watch your plants thank you for it.
Water Wisely
Watering on a slope requires some thought. Too fast, and the water simply runs off. Too little, and the plants won't get enough. The solution? Slow, deep watering. Oh, and don't forget to water early in the morning, when evaporation is at its lowest.
Regular Check-ups
A hillside garden may need a little more TLC than its flat counterpart. Keep an eye out for signs of erosion and address them promptly. Remember, prevention is always better than cure!
Afterthoughts
Reflecting on Your Journey
Creating a hillside garden is like painting on a natural canvas. It's a journey, an adventure, that allows you to learn, adapt, and grow, just like your garden. As you watch your sloping land transform into a vibrant space, you'll appreciate the beauty of nature in its myriad forms.
Learning to Adapt
Hillside gardening teaches you to work with the land, not against it. It forces you to think creatively, adapt your plans, and make the most of what you have. Over time, you'll become an expert at turning challenges into opportunities. A steep slope, poor soil, limited sun exposure – you'll learn to tackle it all.
The Rewards of Patience
As the saying goes, 'Rome wasn't built in a day', and neither will your hillside garden. But trust me, the patience will pay off. You'll see your efforts bear fruit (sometimes, literally!) as your garden blooms in all its glory. And when that happens, don't forget to take a moment to sit back and enjoy the fruits of your labor.
Beyond the Basics
Advanced Techniques for Hillside Gardening
Once you've mastered the basics of hillside gardening, you may feel ready to explore more advanced techniques. This could involve experimenting with different types of hardscaping or experimenting with more exotic plant species. The sky's the limit!
Exploring More Exotic Plants
While native plants are the most reliable choice for hillside gardens, it can be fun to incorporate a few more exotic species. Just make sure they're compatible with your local climate and soil conditions. And hey, it's your garden – you get to make the rules!
Expanding Your Garden's Reach
As your gardening skills grow, you might consider extending your garden to other parts of your property. If you have more than one slope, why not link them with winding pathways or create different 'zones' with various themes? Let your imagination run wild!
Connecting with Nature
Encouraging Wildlife
We've mentioned how a hillside garden can attract wildlife, but there are steps you can take to make your garden even more inviting. Consider adding bird feeders, bug hotels, or a small pond to provide habitats and food sources for local wildlife. Trust me, there's nothing more rewarding than watching nature thrive in your own backyard.
Making Your Garden Eco-Friendly
Think about how you can make your garden more environmentally friendly. This could mean using organic fertilizers, installing a rainwater collection system, or choosing plants that require less water. Every little bit helps!
Digging Deeper into Hillside Gardening
Books to Inspire You
If you're looking for more detailed advice or ideas, consider these excellent books on hillside gardening:
'Gardening on a Slope' by Sue Fisher
'The Terraced Garden: How to Make a Hillside into a Beautiful Garden' by Joe Eck
'Gardening on Difficult Soils: Clay, Sand, and Peat' by Sue Phillips
Useful Websites and Blogs
The internet is a treasure trove of gardening ideas and advice. Some useful websites and blogs that offer great tips and ideas for hillside gardening include:
Conclusion
Well, there you have it, folks – your definitive guide to "Hillside Gardening Ideas – Designing Gardens on Slopes." Don't let the prospect of a slope intimidate you. Instead, harness its unique characteristics to create a garden that's not just beautiful but also speaks volumes about your creativity and ingenuity.
After all, gardening is all about turning challenges into opportunities. So, roll up your sleeves and start planning your hillside garden today. Happy gardening!
Frequently Asked Questions