How to install Garden rock lights
Now that you've created your rock garden, it's time to elevate its charm by adding the perfect lighting. Strategic lighting can enhance the texture and colors of the rocks and the plants, turning your garden into a magical haven as dusk falls.
In this article, we will explore the different types of lighting and how to incorporate them into your rock garden effectively.
Why Incorporate Lighting in Your Rock Garden?
Incorporating lighting into your garden can bring out hidden textures, create dramatic effects, and add a whole new dimension to your garden. It can highlight features, create depth, and even increase the safety of your garden by illuminating paths and borders.
Types of Garden Lighting
There are several types of lights that can be used in a garden setting, and your choice depends on the effect you want to achieve:
Spotlights
Spotlights are ideal for highlighting specific features in your garden, such as a beautiful rock formation or a unique plant.
Path Lights
Path lights are smaller and less bright. They are perfect for illuminating pathways, making your garden safer to navigate at night.
Underwater Lights
If your rock garden features a pond or a water feature, underwater lights can create a beautiful, reflective effect.
Lighting Ideas for Your Rock Garden
Lighting techniques can have a massive impact on your garden, especially a rock garden. They can enhance the textures and shapes of the rocks and create dramatic effects. Here are a few ideas for how to use lighting effectively in your rock garden:
Let's explore four popular techniques: Spotlighting, Silhouetting, Shadowing, and Downlighting.
Spotlighting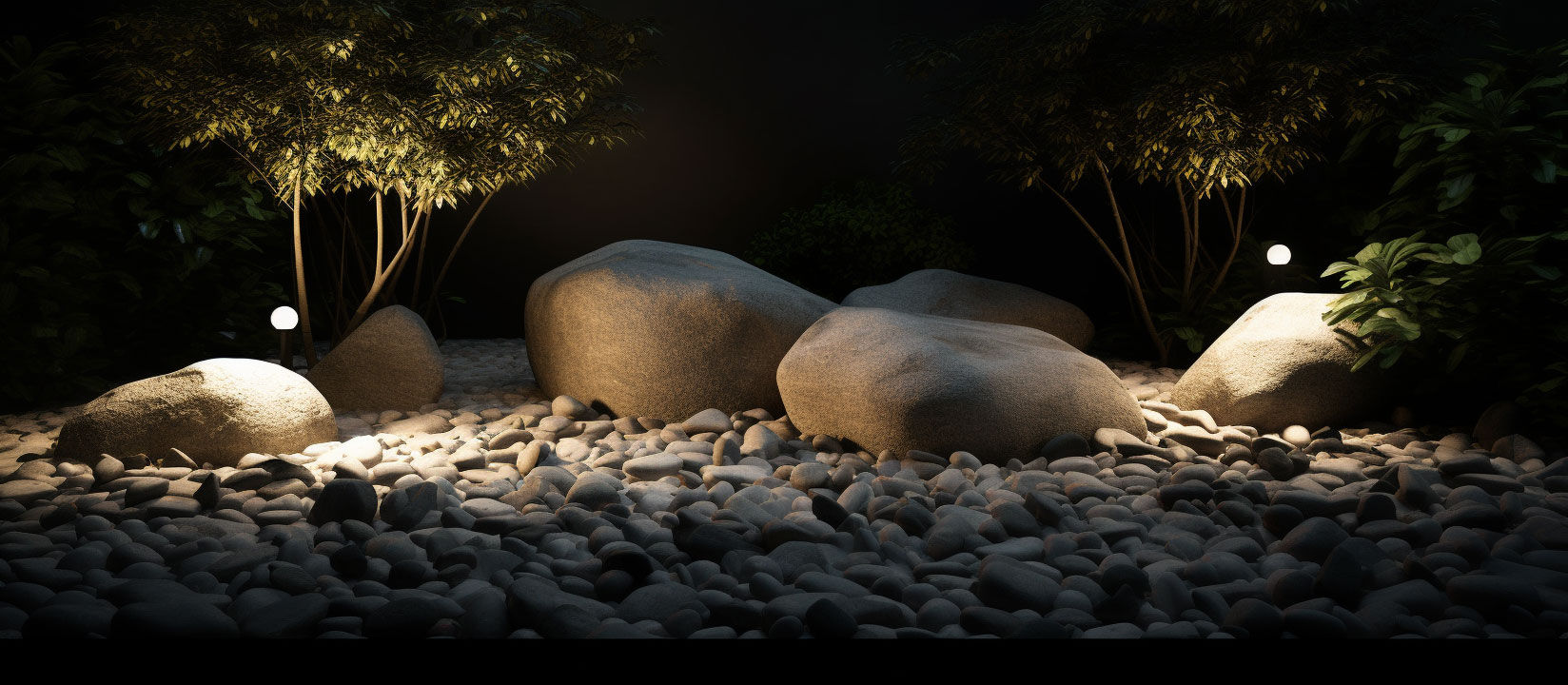 Use spotlights to highlight your most attractive rocks, plants, or sculptures. The direct light makes these features pop against the darker background.
Just as the name suggests, spotlighting is all about focusing light on a specific object or area, like putting it in the limelight. In a rock garden, you might use this to highlight a particularly impressive rock formation, an interestingly shaped boulder, or a striking feature within your rock garden. Spotlighting creates a focal point, attracting the viewer's attention to that "star" feature. So, if you have a show-stopping rock or rock formation, give it the spotlight it deserves!
Spotlighting really is an all-star when it comes to enhancing the best features of your rock garden. It's about taking the unsung heroes of your garden, those fabulous rocks, and giving them the limelight they deserve.
Think about it like this: Your rock garden is the stage, and each rock is a performer with its own unique act. From ruggedly handsome boulders to dainty pebbles, each one has a story to tell. And that's where spotlighting comes in, it's the spotlight operator that ensures the star of the show is seen in all its glory.
Let's say you have this amazing granite boulder. It's got all these gorgeous flecks of color that sparkle when the sun hits just right. You could place a spotlight to shine directly onto this boulder once the sun goes down, showcasing the granite's beautiful color variations. Suddenly, this granite boulder isn't just a rock—it's a star!
Or maybe you've got a quartz rock in your garden. By day, it's pretty and interesting. But under the glow of a well-placed spotlight by night? It becomes magical! The spotlight's glow can bring out the natural sparkle of the quartz, making it shimmer and gleam as it reflects the light.
And remember, spotlighting isn't only about highlighting the physical characteristics of your rocks, but it can also create a focal point in your garden. It can guide the eye towards a desired area, making your garden layout even more appealing and intriguing.
So, let's not underestimate the power of good lighting. With some thoughtful spotlighting, your rock garden can transform from a daytime beauty to an enchanting nocturnal landscape. It's like your garden puts on a new, equally beautiful dress every night. And who wouldn't want to step into that magical world?
Silhouetting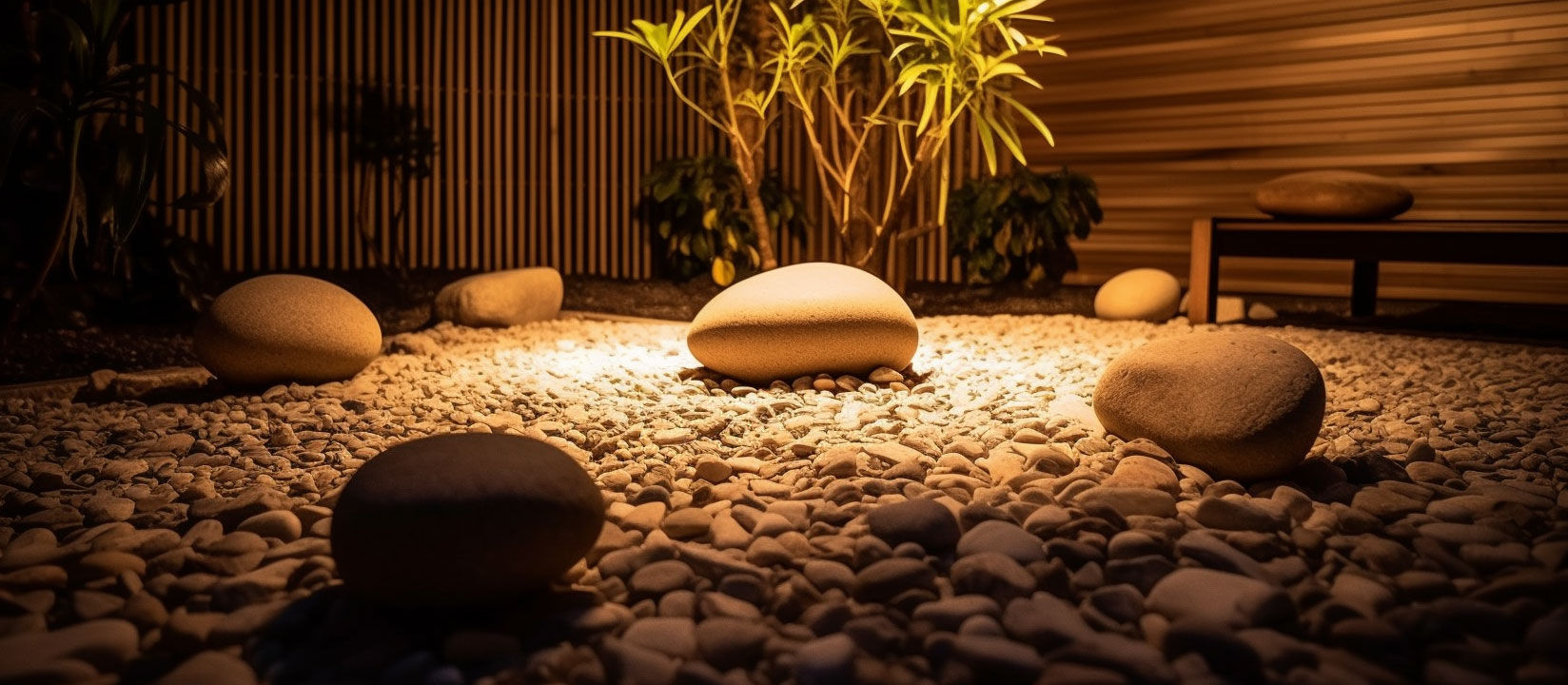 Silhouetting really is a game-changer, isn't it? I mean, who knew a simple lighting trick could turn your garden into a nighttime masterpiece? But that's exactly what it does!
This technique is a bit like an artist's silhouette sketch but in light form. And the best part? Your garden is the canvas, and your rocks are the models.
Picture this: you have a beautifully chaotic rock formation, all jagged edges and twisted shapes. Now, during the day, it's certainly a sight to behold. But as night falls and the light behind it illuminates its outline, that's when it turns into something truly special. The silhouette created gives it a whole new perspective and brings out an ethereal beauty that is mystifying.
And it's not just about the rocks either. If you've got interesting plants interspersed between the rocks or climbing over them, silhouetting can create dramatic outlines of these as well. Imagine an ivy-draped boulder suddenly casting a beautiful, tangled silhouette against the evening sky – it's a bit of theatrical drama right in your garden.
And let's not forget about the sky's contribution. As dusk falls and the sky begins to darken, it provides the perfect backdrop for your rock's silhouette. The darkened sky can range from deep blues to purples and even fiery oranges and reds, adding an extra layer of color contrast to your garden.
When done right, silhouetting can create a sense of mystery, drama, and natural elegance. It makes your rock garden not just a space to admire during the day, but also a scene of serene beauty to enjoy on a quiet evening. So go ahead and play around with this enchanting lighting technique – your garden will thank you for it!
Shadowing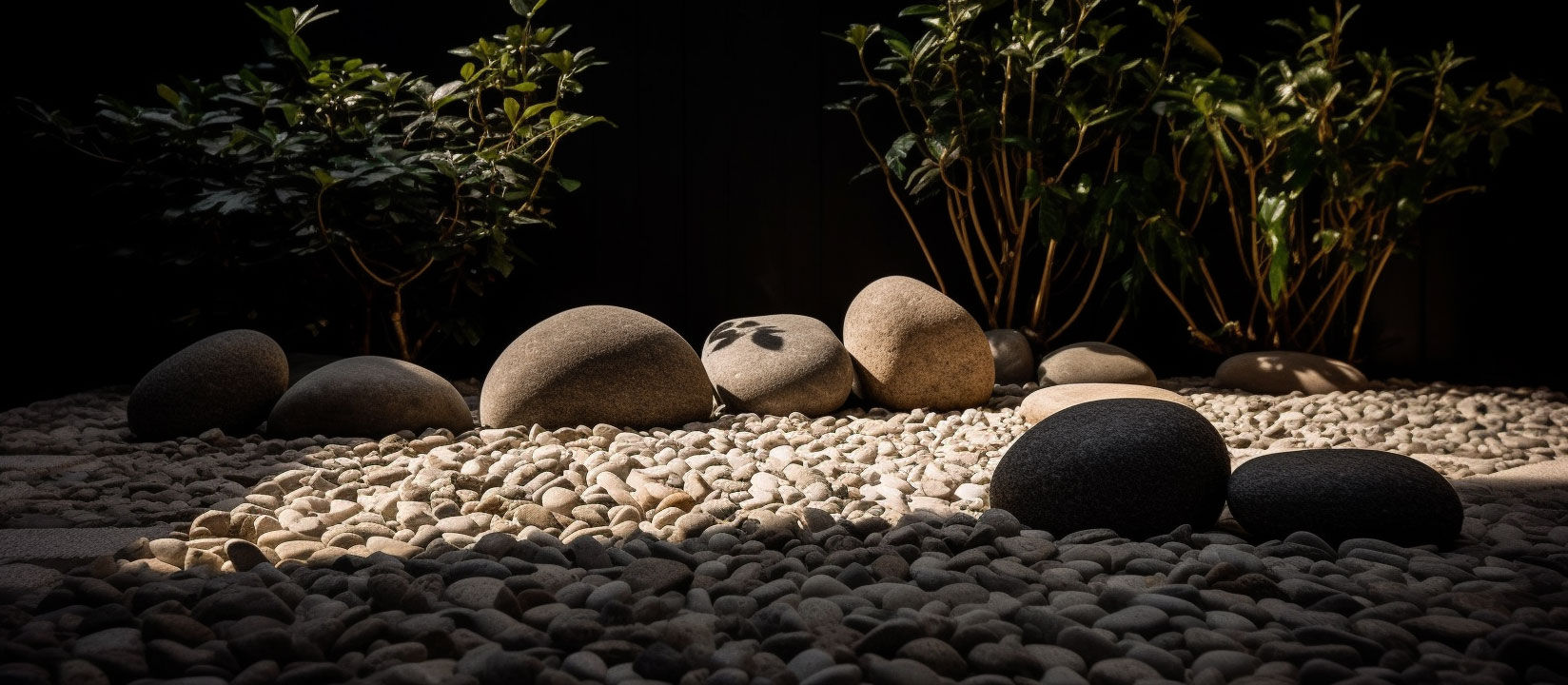 Let's delve into shadowing, which is another incredibly effective way to highlight the unique aspects of your rock garden.
So, with shadowing, the play is a bit reversed from silhouetting. Instead of hiding your light behind the rock, you're going to place it right in front. This setup means that as the light shines, the rock's shape and texture cast a fascinating shadow onto a wall or other flat surfaces in the garden.
Think of shadowing as an artist creating a still-life painting, but instead of paint, you're using light and shadow. And rocks with unique shapes and textures? They're your secret weapon.
For example, let's say you have a boulder with an array of pits, grooves, and maybe even a little moss. When you position the light in front of it, it's going to throw this intricate, textured shadow on the background. This creates an added depth, an almost 3D effect, that can't be achieved with any other lighting technique.
And the beauty of shadowing? It constantly changes. As the night falls and the angle of light changes, your shadow painting morphs, twists, and turns. This way, your garden never quite looks the same, always offering a fresh perspective that can keep you captivated.
Also, don't be afraid to mix it up. Use rocks of different sizes, shapes, and textures to create a variety of shadows. You could even use shadowing to create a sense of depth, with larger rocks casting bigger shadows in the foreground and smaller rocks creating more delicate shadows further back.
All in all, shadowing brings a dynamic, ever-changing beauty to your rock garden that can leave anyone who sees it in awe. It's a technique that plays with light and darkness, texture and form, to transform your garden into a captivating light and shadow play. So go ahead, give shadowing a go, and let your rock garden tell a story that changes with every passing hour!
Downlighting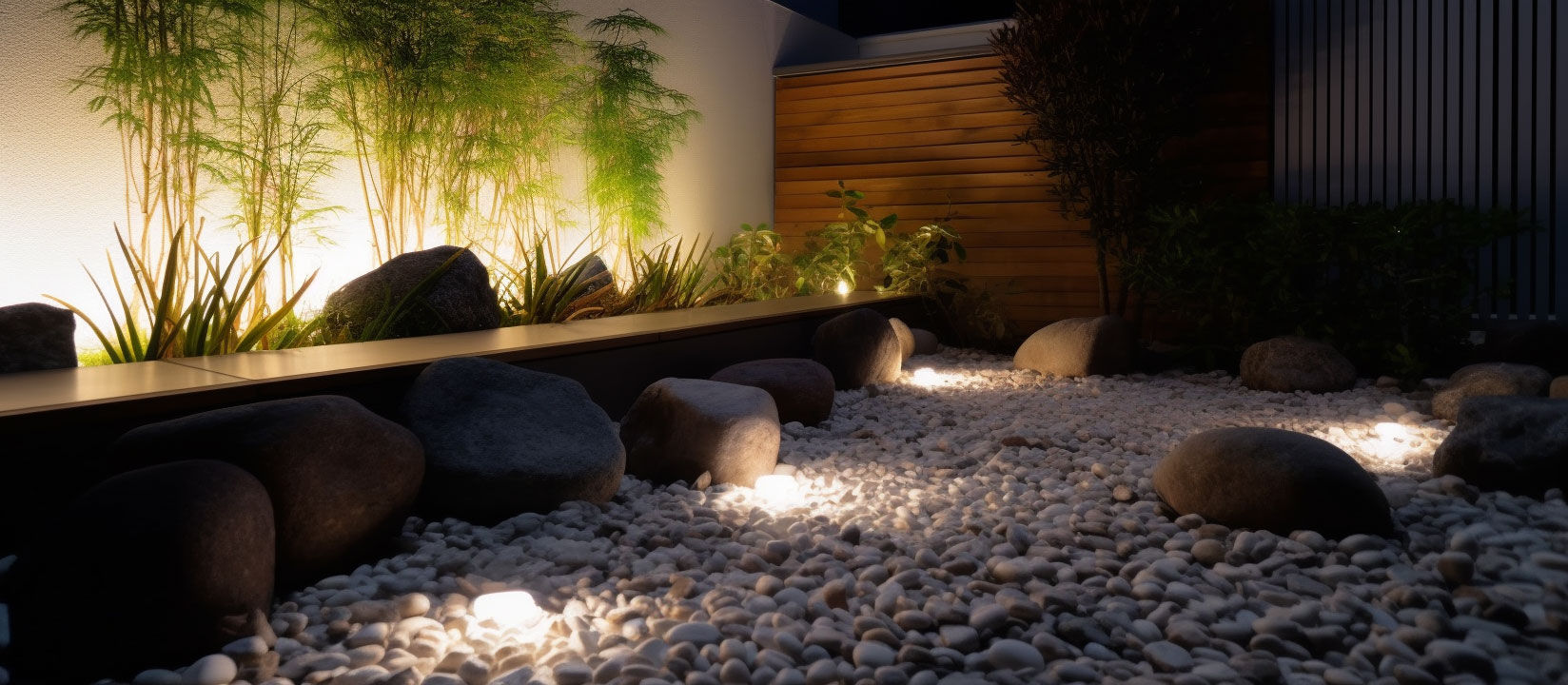 downlighting is like the moon's gentle glow that has descended into your garden. It's all about positioning your lights up high, maybe in the branches of a tree or on a tall garden feature, and angling them downwards. It brings a quiet, understated charm that can create a sense of tranquility in your rock garden.
Now, imagine this: you have a lovely stone path weaving its way through your garden. As day turns into night, the path transforms under the subtle wash of downlighting, casting a soft light that invites you for a midnight stroll. It highlights the path while also casting delicate shadows that make the rocks and plants come alive.
Or perhaps you have a rock bed that's beautiful but doesn't quite stand out during the day. With the right downlighting, it can be the star of the night-time garden, its shapes and textures illuminated by a moon-like glow. It's all about highlighting the natural beauty of the rock formations and creating a calming and serene ambiance.
Downlighting can also create a sense of depth and space in your garden. By illuminating different areas and creating varying levels of light and shadow, you can make your garden seem larger and more interesting.
Remember, the key with downlighting is subtlety. It's not about creating a bright, bold statement, but a soft and gentle atmosphere that enhances the natural beauty of your rock garden. It brings out the details that might be overlooked during the day and creates a serene, almost mystical, setting for you to enjoy.
So, if you're looking to add some twilight magic to your rock garden, downlighting is the way to go. It's all about working with nature, mimicking the soft illumination of the moon and creating a beautiful, tranquil night-time garden space. So, go ahead, try it out and let your garden bathe in the soft, enchanting glow of downlighting.
How to Install Garden Lights
Installing garden lights involves planning the layout, running a low voltage cable to each light, and connecting them to a transformer that's plugged into a standard outdoor socket. It's essential to ensure that all connections are waterproofed for safety.
Lighting can make such a difference in your garden, and it's not as complicated as it might seem.
Planning the Layout
Before you start digging trenches and laying cables, first, you'll need to plan your layout. Think about what areas of your garden you'd like to highlight. Maybe you have a particularly beautiful tree you'd like to illuminate, or perhaps you want to create a path of lights along your walkway. Don't forget to consider where your power source will be – you want to be sure your cable reaches it!
Planning is always the first step in any successful project, and setting up lights for your garden rocks is no exception.
So, let's break down this process in a more detailed way.
A) Visualize Your Garden
Start by taking a good look at your garden. Think about the areas that stand out to you. Perhaps you've got a beautiful rock formation that you'd like to illuminate? Or a pathway lined with stones? Visualizing how you'd like your garden to look when lit up at night will help guide your planning process.
B) Identify Key Features
Next, identify the key features you want to highlight. Maybe there's a large boulder or a special arrangement of rocks that deserves some attention. Alternatively, consider illuminating a rock-bordered flower bed or spotlighting a particularly eye-catching feature in your rock garden.
C) Consider Your Walkways
Lighting isn't just about aesthetics – it's functional, too! Consider adding lights along your walkways. Not only will this enhance the beauty of your garden, but it will also make it safer to navigate at night.
D) Power Source Location
Now, this one's crucial. Your power source – the transformer – needs to be close enough to reach all your lights with the cable, but also in a place where it can be connected to an outdoor power outlet. Consider its location carefully when planning your layout.
E) Draft a Sketch
Once you've got an idea in your mind, put it on paper. Draw a rough sketch of your garden and plot where you want your lights to go. This visual map will make the installation process a whole lot easier!
F) Think About Balance
Remember, lighting works best when it's balanced. Try to spread your lights out evenly, and avoid clustering them all in one spot. This way, you create a sense of harmony and depth in your garden.
G) Consider the View from Inside
Last but not least, consider how your garden looks from inside your house. After all, you'll be viewing it from this perspective quite often. Make sure your lit rock features are visible and appealing from this viewpoint as well.
From Cable to lighting set up
Once you've got your plan, it's time to start installing. You're going to be running a low-voltage cable from each light back to a transformer. To do this, you'll need to dig a shallow trench in your garden. Don't worry, it doesn't need to be deep, just enough to hide the cable.
Choosing Your Lights: Before we even start laying the cable, you need to pick the right kind of lighting for your garden. Do you want atmospheric pathway lights to guide you at night? Maybe you're thinking about spotlights to emphasize certain features like a statue or a tree? Or perhaps you're considering string lights for a cozy, fairy-tale vibe? There are numerous options, so consider what would best fit your garden's style and your personal preference.
Understanding Voltage: Now, let's talk voltage. Most garden lighting systems use a low-voltage setup – usually 12 volts. This is because it's much safer to work with and still provides enough power for most garden lights. Remember, the transformer is the magic box that takes your standard household voltage and steps it down to a lower voltage suitable for your garden lights.
The Right Cable: As for the cable, you'll be using a special low-voltage cable. It's designed to be tough and resistant to the elements, but also flexible enough to run around your garden easily. Typically, you'll see 16, 14, or 12 gauge cables used for garden lighting. The lower the gauge, the thicker the cable and the more power it can carry.
Running the Cable: With your plan ready, lights chosen, and the right cable at hand, it's time to get to work! You're going to run this cable from each light back to the transformer. To do this, you'll need to dig a shallow trench along your planned lighting route in the garden. This doesn't have to be a giant hole – a small trench just deep enough to hide the cable is perfect.
So, while this might seem a bit technical at first, don't worry. Each step is straightforward and by doing a little bit of homework on the types of lights and cables, you'll be well on your way to having a beautifully lit garden. Enjoy the process!
Connecting to the Transformer: When your cable is laid out, connect each light and then run the cable to your transformer. This will step down your standard household current to a safer level for your garden lights. It's a bit like the charger for your mobile phone, but for your garden lights.
Waterproofing Connections: Now, this part is super important – you need to ensure all connections are waterproof. Any moisture getting into the electricals can be dangerous, not to mention it could stop your lights from working. Use waterproof connectors and outdoor rated heat shrink tubing to make sure everything is sealed tight.
Plug and Play: With everything connected and waterproofed, plug your transformer into your outdoor socket. Flick the switch, and voila! You've got a beautifully lit garden!
Remember, while it's a relatively straightforward process, if you're ever unsure, it's best to call in a professional. Safety always comes first! Enjoy your newfound night-time garden ambiance.
Safety Tips for Garden Lighting
When setting up lighting in your garden, it's vital to prioritize safety. Ensure all cables are well-insulated and hidden to prevent accidents, and all installations should be weatherproof.
Ensuring safety while setting up your garden lighting is of utmost importance.
Here are some key safety points to consider:
Insulate Your Cables: Make sure all your cables are well-insulated. This means the protective layer around the wire should be intact without any cracks or breakages. The better the insulation, the safer your setup.
Hide Your Cables: It's not just about aesthetics – hidden cables mean reduced chances of tripping or damaging the cables. When laying your cables, try to tuck them away in a shallow trench and cover them with soil or mulch.
Weatherproof Installations: Every piece of equipment you use should be weatherproof. This means it's capable of withstanding different weather conditions, whether it's the hot summer sun, a torrential downpour, or freezing winter temperatures.
Waterproof Connections: Given the outdoor nature of garden lights, ensuring all your connections are waterproof is crucial. Use waterproof connectors and outdoor rated heat shrink tubing to ensure no moisture can reach the wiring.
Low-Voltage System: Opt for a low-voltage system which is much safer for outdoor use. Most garden lights use a 12-volt system, which is safe to touch and less likely to cause serious issues if a cable gets damaged.
GFCI Outlet: Always plug your transformer into a Ground Fault Circuit Interrupter (GFCI) outlet. This is a special type of outlet that will immediately cut off power if it detects a problem, helping to prevent electrical shocks.
Regular Checks: Make sure you check your garden lighting system regularly for any signs of wear and tear, damage, or other issues. Early detection can prevent more serious problems down the line.
Here's a table summarizing the key points:
| Safety Tips | Why It's Important |
| --- | --- |
| Insulate Your Cables | Prevents electrical leaks and shocks. |
| Hide Your Cables | Reduces tripping hazards and protects the cables. |
| Weatherproof Installations | Ensures the lights and equipment can handle all weather conditions. |
| Waterproof Connections | Keeps the wiring safe from moisture and reduces the risk of electrical issues. |
| Low-Voltage System | Safer for outdoor use and if a cable gets damaged. |
| GFCI Outlet | Helps to prevent electrical shocks by cutting off power immediately if a problem is detected. |
| Regular Checks | Early detection can prevent more serious problems. |
So remember, as exciting as it is to install your garden lighting, safety should never be compromised. Happy (and safe) lighting!
Conclusion
The right lighting can significantly enhance the beauty of your rock garden, highlighting its best features and creating a magical atmosphere. Whether it's spotlighting, downlighting, or creating shadows, each lighting technique offers unique aesthetics. Enjoy your rock garden