What are the 15 most Cute Backyard Decorating Ideas to Add Charm & Style?
Discover ways to transform your outdoor space into a cozy retreat with simple yet elegant decorating ideas that inspire relaxation, fun, and memorable moments.
Let the Transformation Begin!
Imagine the sun shining, birds chirping, a gentle breeze that carries the scent of blooming flowers, and you're lounging in your backyard sanctuary, savoring a cup of coffee or a good book.
Doesn't that sound heavenly?
But wait, your backyard is nothing more than a plot of grass right now? Let's change that!
1. A Cozy Corner: Outdoor Living Room
Remember when Karen from down the street transformed her bland backyard into a cozy outdoor living space? She started with a simple weather-resistant sofa and a couple of comfy chairs, adding colorful cushions for a pop of color.
With a rustic coffee table in the center and an outdoor rug tying it all together, she had an inviting setup where we spent countless evenings enjoying drinks and hearty conversations.
Take inspiration from Karen's transformation. Add string lights overhead for a starry-night effect and a fire pit for warmth and s'mores nights. According to Home Advisor, outdoor living spaces can increase the value of a home by 5-15%!
2. Green Thumbs Up: Gardening and Planters
My friend, an expert horticulturist, always says, "Adding greenery to an outdoor space can significantly improve mental well-being." Start with hardy plants that require minimal maintenance, and you can gradually work your way to more exotic species.
Have a small space? No problem!
Use vertical planters or hanging baskets to add green without eating into your area.
The Royal Horticultural Society suggests that gardening can reduce the risk of heart disease and improve overall well-being.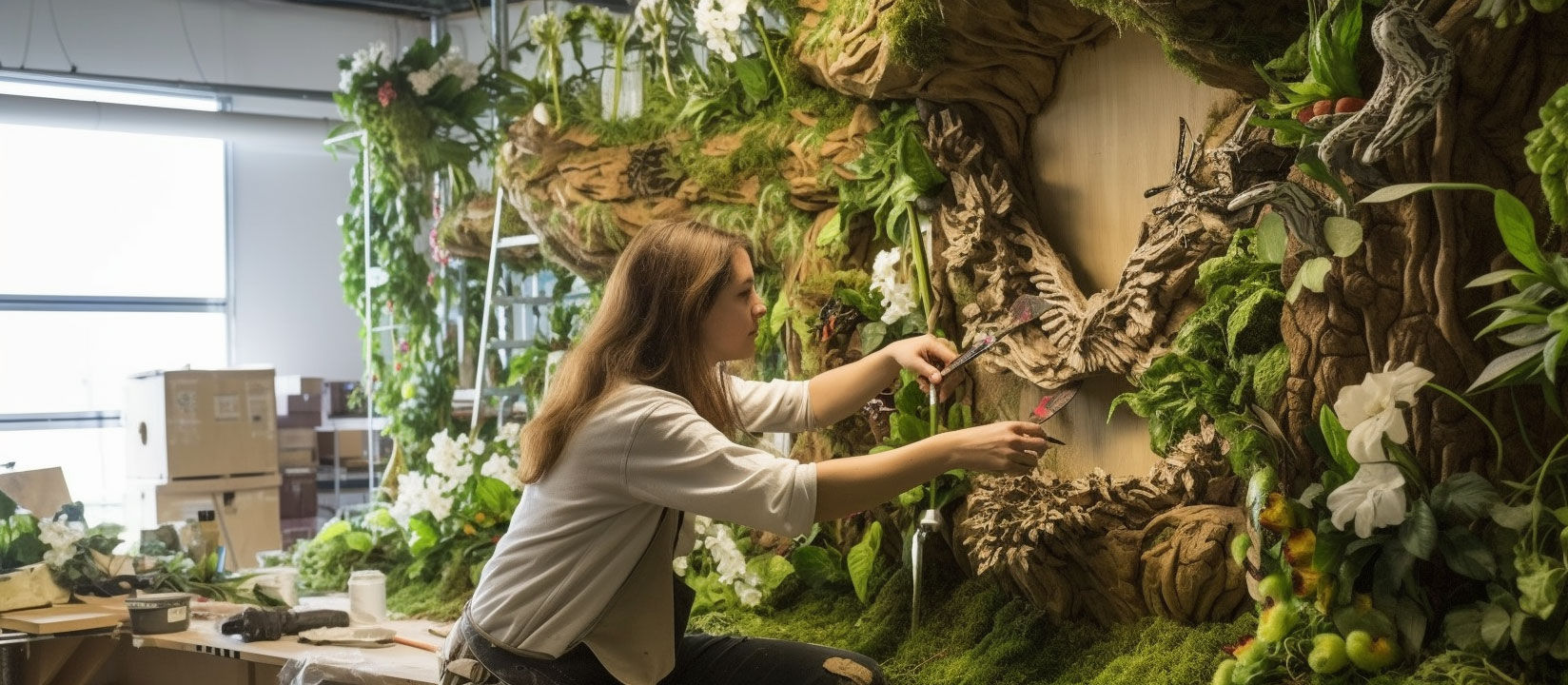 3. Break Bread Together: Outdoor Dining
Ever had dinner under the stars? You can, every night, set up an outdoor dining space. All you need is a sturdy table, some chairs, and voila! You're ready for a family dinner or a Sunday brunch with friends.
Don't forget to add a pergola or a large umbrella for shade. Decorate the area with fairy lights or lanterns for a magical ambiance at night. As per a study in the Journal of Environmental Psychology, dining outdoors can reduce stress and enhance mood.
4. Make a Splash: Add a Water Feature
Imagine the soothing sound of water trickling in your backyard. It's not as hard to achieve as it sounds! Add a small fountain or a pond; if you're feeling adventurous, a mini waterfall would be fantastic. The Environmental Protection Agency (EPA) states that water features can improve air quality and provide a habitat for wildlife.
5. For Little Feet and Paws: Play Area
Remember how our faces lit up seeing a swing or a sandbox as kids? Bring that joy to your backyard. Dedicate a corner for a play area – a swing, a sandbox, or even a small obstacle course. If you have pets, include a mini agility course for them too.
Dr. Stuart Brown, a play researcher, claims that play is not just joyful but crucial for creativity, innovation, and overall well-being.
6. Flock Together: Birdhouses and Feeders
Do you know what's as thrilling as waking up to the smell of coffee? Waking up to the twittering of birds! Add a couple of birdhouses or feeders to your backyard and invite our feathered friends to your outdoor sanctuary.
If you're crafty, DIY birdhouses can be a fun weekend project. And remember, different birds prefer different houses. A study by the Audubon Society shows that bird-watching can contribute to mental well-being and a connection with nature.
7. Journey Through the Garden: Crafting Walkways and Stepping Stones
Ever looked at your backyard and thought, "I wish it were larger"?
It's a common desire, one I've heard echoed by many garden enthusiasts and home improvement devotees. But what if I told you there's a way to create an illusion of grandeur in your backyard without physically expanding it?
Intrigued?
Picture this: A meandering trail, winding gently through your outdoor space. This path, whether meticulously planned or spontaneously shaped by the footsteps of time, can transform your garden. It's not just about getting from point A to point B; it's about the journey, the exploration, and the delightful surprises along the way.
Adding a winding path doesn't merely serve as a practical route through your backyard. It also presents an optical illusion of depth and vastness, making your garden appear larger than its actual size. Beyond the practical and visual benefits, a well-crafted path brings a certain charm to your backyard, a narrative thread that ties all the elements together.
What should you use to pave this winding path, you ask?
The possibilities are manifold! Stepping stones, with their timeless appeal, are an excellent choice. Each stone is like a milestone, marking progress along your garden journey. You could also consider gravel, a versatile material that crunches satisfyingly underfoot, adding an auditory element to your garden experience.
For those seeking a more rustic, fairy-tale charm, wood slices are an innovative choice. Imagine the path meandering through a lush green lawn, leading the way to a hidden garden bench, a secret nook nestled among the flowers, or a vibrant play area bustling with life.
The creation of this path is a journey in itself, an exercise in creativity and personal expression. So, take that first step. Plan the route, choose your materials, and start laying the path.
As Robert Frost once penned, "Two roads diverged in a wood, and I— I took the one less traveled by, And that has made all the difference." Your backyard path awaits!
And remember, every journey begins with a single step—or in this case, a single stepping stone.
8. Night Glow: Landscape Lighting
You've created a gorgeous backyard; why let darkness hide it? Landscape lighting can highlight your backyard's best features and create a magical atmosphere at night. Use spotlights for trees or water features, pathway lights for your walkways, and string lights for seating or dining areas.
A survey by the National Association of Home Builders found that 41% of potential home buyers rate exterior lighting as an essential quality for their desired homes.
9. Art in the Open: Outdoor Artwork
Who said artwork is only for indoors? Weather-resistant sculptures, murals, or wind chimes can add a touch of whimsy and personal style to your backyard. If you're an artist, this could be your open canvas. If not, local artists or home decor stores have plenty of options to choose from.
In an article for Houzz, landscape designer Charlotte Rowe states, "Art enhances the garden, brings it to life, and makes it a place of deep interest."
10. The Grand Entrance: Stylish Gates and Fences
Last but not least, your backyard's entrance plays a crucial role in setting the tone. A stylish gate or fence can add to the charm and style of your outdoor space. Consider a wooden picket fence for a rustic look or a wrought-iron gate for a more classical approach.
As per a report by Grand View Research, the global fencing market size was valued at USD 28.0 billion in 2020 and is expected to grow, indicating people's increasing interest in stylish and functional fences.

11. Weather the Seasons: Outdoor Canopy
To ensure that your backyard remains inviting through all seasons, consider adding an outdoor canopy or shade sails. These not only provide a respite from the hot summer sun but also add a touch of elegance and grandeur to your outdoor space. You can choose a freestanding one or have it attached to your house.
A report by Market Research Future estimates that the outdoor furniture market, including canopies, will grow at a CAGR of 5.9% from 2020 to 2025, indicating the growing popularity of outdoor living spaces.
12. The Sound of Silence: Wind Chimes
The soft tinkling of wind chimes can transform your backyard into a peaceful retreat. You can find wind chimes in a variety of materials, from metal to wood to glass, each producing a unique sound. They not only add a musical element to your outdoor space but also serve as beautiful moving sculptures.
A study published in the Journal of Music Therapy has found that wind chimes can have a calming effect and reduce stress.
13. On Fire: Fire Pits and Chimeneas
A fire pit or a chimenea can be a game-changer for your backyard, transforming it into a year-round entertaining space. Imagine gathering around the fire on a cool evening, roasting marshmallows, and sharing stories.
According to a survey by the American Society of Landscape Architects, fire pits and fireplaces are among the top three outdoor design elements requested by homeowners.
14. Go Wild: Create a Wildlife Corner
If you love nature, consider dedicating a corner of your backyard to local wildlife. A small pond can attract frogs and dragonflies. A log pile can provide a haven for hedgehogs. A patch of wildflowers can attract butterflies and bees.
The National Wildlife Federation claims that creating a wildlife-friendly garden can help conserve biodiversity and promote a healthier environment.
15. Play with Levels: Multi-Level Garden
A great way to add interest to a flat backyard is by creating different levels. Raised flower beds, sunken patios, or a deck can add depth and make your backyard look more spacious.
Landscape designer, James Scott, suggests, "Playing with different levels can help zone a garden and create an illusion of space."
Wrapping it Up: Your Backyard, Your Oasis
Just as we express ourselves through the decor in our homes, our backyards too can be a canvas for our personality and style. Whether it's an outdoor living room for family gatherings, a green sanctuary full of your favorite plants, a dining area for meals under the stars, a soothing water feature, or a play area for the young (and young at heart), your backyard can be more than just a plot of grass.
So, are you ready to roll up your sleeves and start your backyard transformation? Remember, it doesn't matter whether you have a sprawling lawn or a petite patio, there's always room for charm and style. And the best part? This personal oasis is just a few steps away from your back door!
Don't wait any longer! Begin your backyard transformation today and create your perfect outdoor haven. Share your transformation journey with us—we can't wait to see your creative ideas come to life!
Don't forget to share your backyard transformations with us. We would love to see how you've brought charm and style to your outdoor space!
FAQs:
Can I decorate my backyard on a budget?

Absolutely! Many backyard decorations, like DIY planters or homemade string lights, can be made on a budget. Second-hand or upcycled furniture is also a great way to save money while adding character to your space.

What are some low-maintenance plants for my backyard?

Succulents, lavender, and geraniums are great low-maintenance plants. They're hardy, require minimal watering, and add a pop of color to your backyard.