Why are succulents such a good thing for both novice and veteran gardeners alike for a long time? They are incredibly versatile slow growers, low-maintenance plants that can brighten up any space with their unique and exotic appearances. In this article, we'll delve into the fascinating world of succulents, offering a glimpse into their size potential and providing 18 proven tips to stimulate their growth.
Understanding the Size of Succulents
The size your succulent can achieve depends largely on the type of succulent. There are small kinds of succulents like the Crassula Ovata or jade plant, one of the most popular houseplants, and there are large succulents such as the Saguaro Cactus that can grow up to 40 feet tall under optimal conditions.
A majority of indoor succulents, however, grow to an average size of 1-6 inches tall in their containers.
How to Speed Up Succulent Growth: 18 Effective Tips
1. Bigger Pots
Smaller pots can restrict your plant's growth. Moving to a larger pot gives the root system more room to expand, thereby promoting growth.
Here are some sample pots size of your succulents recommendations:
| | |
| --- | --- |
| Size of Succulent | Recommended Pot Size |
| Small (up to 2 inches) | 2.5 – 3.5 inches in diameter |
| Medium (2-5 inches) | 4 – 6 inches in diameter |
| Large (over 5 inches) | 6 – 10 inches in diameter |
2. Best Soil Type
Using well-drained soil, like a cacti/succulent potting mix, helps prevent root rot and stimulates growth.
3. More Sunlight
Most succulent varieties need about 6 hours of sunlight per day. However, beware of too much direct sunlight, which can scorch your plants.
Ideal Sunlight Duration: While most succulents thrive with approximately 6 hours of sunlight per day, some can tolerate up to 10-14 hours of sunlight during the warmer months. In winter, the light requirement can reduce to 4-5 hours.
Intensity Matters: Not all sunlight is created equal. Morning sunlight tends to be gentle and beneficial for succulents, whereas midday sun can be too intense and may lead to sunburn.
Shade Cloth: For outdoor succulents exposed to harsh sunlight, consider using a shade cloth to diffuse the intensity of the light, especially during the peak hours of summer.
4. Watering Regime
Succulents don't need excess water, but when they do, it should be a little water through soaking. Ensure the pot has drainage holes to prevent waterlogging.
5. The Right Temperature
Most succulents prefer dry conditions with a temperature between 70 to 80°F during the growing season, usually the summer months.
6. Fertilizer
Using a fertilizer designed for succulents during the growing season can give them the nutrients they need for faster growth.
7. Pruning
Regularly pruning the long stems and dead leaves can encourage new growth and prevent your succulent from becoming leggy growth.
8. Proper Care
Different varieties of succulents have different rates of care requirements. Researching the specific needs of your plant can help it grow optimally.
9. Propagation
You can propagate new plants from stem cuttings or leaves of fast-growing succulents like Sedum Rubrotinctum for quicker results.
Here are some pointers:
Choose the Right Time: Propagate succulents during the active growing season.
Select Healthy Leaves or Thick Stems: Always use healthy, disease-free leaves for propagation.
Let the Cutting Dry: Let cuttings dry for a few days before planting.
Use a Proper Growing Medium: Plant cuttings in well-draining soil to prevent rot.
Water Correctly: Water newly planted cuttings lightly to avoid rot.
Provide much Light: Newly propagated succulents need bright but indirect light.
Patience is Key: Propagation takes weeks or months, don't rush the process.
Transfer to Bigger Pots: Repot into larger pots as succulents outgrow current ones.
Climate Control: Maintain a controlled environment for newly propagated plants.
Regular Feeding: Feed established cuttings with diluted fertilizer for growth.
10. Indirect Sunlight
While succulents need enough light, some prefer indirect sunlight or light shade to protect them from the harsh afternoon sun.
However, the intensity and duration of sun exposure can vary significantly depending on the succulent plants' specie.
Some indirect sunlight ideas:
Sunlight Exposure: Too much direct sun can cause sunburn; most succulents prefer diffused light.
Placement: Indoors, use south or east-facing windows; outdoors, light shade areas work well.
Types of Succulents: Haworthias and Gasterias prefer low light; Echeverias and Sedums prefer higher light levels.
11. Growth Light
In cold weather or winter months, when natural light is limited, a grow light can supplement your succulent's light source.
12. Avoid Overcrowding
Give each succulent enough space to grow without competition for resources from neighboring plants.
While the spacing for succulents can vary based on their growth habits and sizes, a good rule of thumb is to give fleshy leaves at least an inch or two (2.5-5 cm) of space between more miniature succulents, and 2-3 feet (60-90 cm) for larger succulents species like agaves or aloes.
This ensures each plant has sufficient space for light penetration and air circulation and reduces competition for water and nutrients in the soil.
13. Repotting
Repotting can refresh the soil and provide your garden plant with a new pot, stimulating new roots and growth.
14. Choose Fast-Growing Species
If you want the best results, opt for fast-growing succulents like the Euphorbia Trigona (African Milk Tree) or Adansonia Digitata (Baobab tree).
Fast-growing species like:
Types of Indoor Succulents
Types of Outdoor Succulents
Types of Slow-Growing Succulents
Types of Fastest-Growing Succulents
1. Types of indoor succulents grow massively fast
Some indoor succulents are known for their rapid growth and ability to reach large sizes. Below are three species of such fast succulents along with tips for their care:
Senecio Radicans (String of Bananas): This trailing succulent grows rapidly with vines that can reach lengths of up to 3 feet indoors.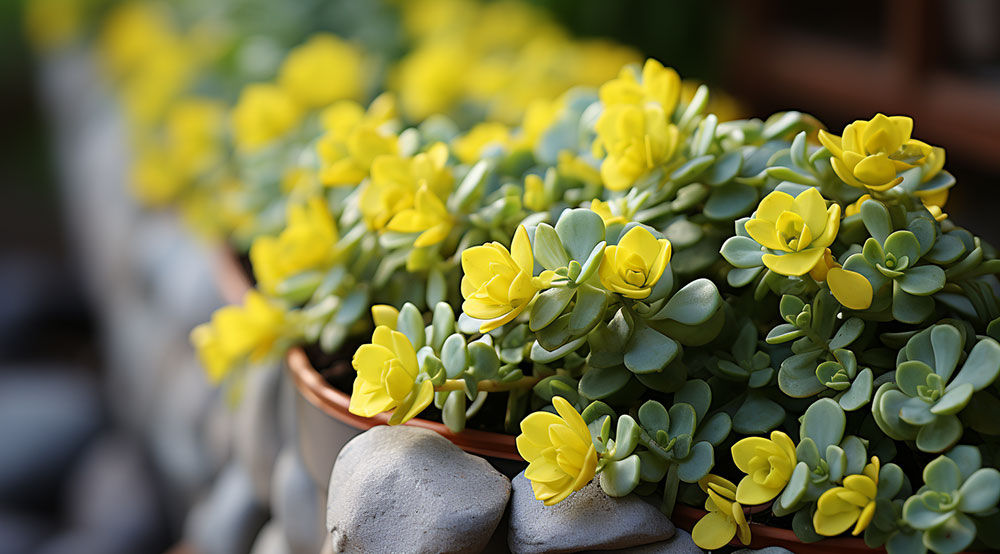 2. Types of outdoor succulents grow massively fast
Agave americana (Century Plant): Known for its large size and dramatic presence, it can reach up to 6 feet in height and 10 feet in width.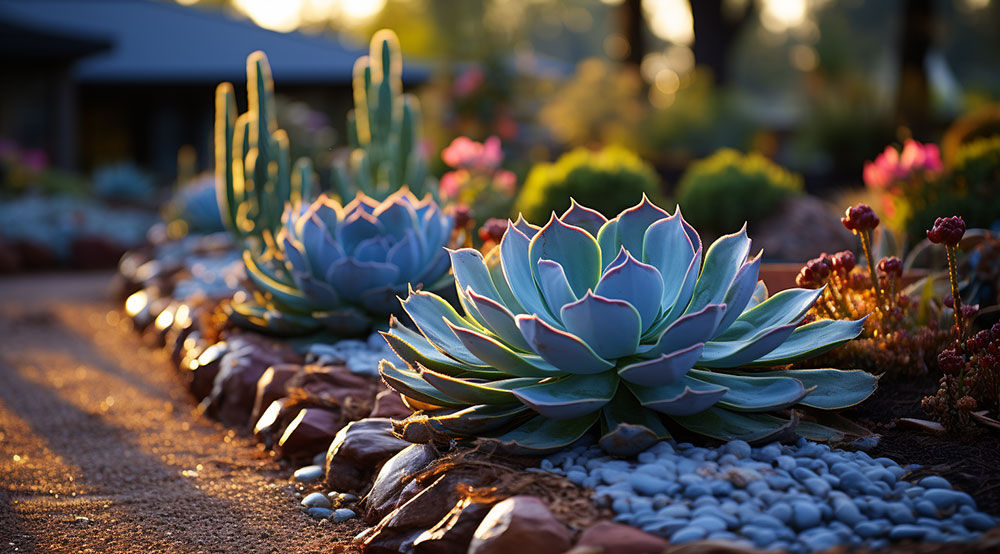 Opuntia (Prickly Pear)
Sedum Morganianum (Burro's Tail)
3. Types of Slow Growing Succulents
Since a slow growing succulents have much more care than the above, I have put them in a more descriptive way.
Here is the list:
| | | | | | |
| --- | --- | --- | --- | --- | --- |
| Species of succulents | Water Requirements | Light Requirements | Soil Requirements | Typical Size | Pot Type |
| Crassula ovata (Jade Plant) | Water thoroughly, only once the soil has dried out. | Prefers bright light to partial sun. | Requires a well-draining soil mix. | Grows to about 1-3 feet as a houseplant. | Choose a sturdy ceramic or terra cotta pot to accommodate its size and weight. |
| Haworthia (Zebra Cactus) | Water sparingly, allowing the soil to dry out between waterings. | Prefers bright but indirect light. | Needs well-drained soil. | Stays under 6 inches in height and width. | Small terracotta pots or plastic pots with good drainage work well. |
| Euphorbia Obesa (Baseball Plant) | Has low water requirements. | Can tolerate full sun to partial shade. | Thrives in well-draining soil. | Slower growth rate to about 8 inches in height. | A small pot to medium-sized pot, preferably terra cotta, with good drainage is ideal. |
| Lithops (Living Stones) | Has very low water requirements (too much water can cause them to burst). | Prefers a sunny location. | Requires a well-draining soil mix. | Typically grows to about 1 inch in size. | Small shallow pots or container gardens, such as Lithops have a small root system. |
| Gasteria (Ox Tongue) | Water thoroughly when the soil is dry to the touch. | Prefers partial shade to shady conditions. | Needs a well-draining cactus or succulent soil mix. | Typically grows up to 2 feet tall. | A medium to large-sized pot made from a breathable material like terra cotta is best. |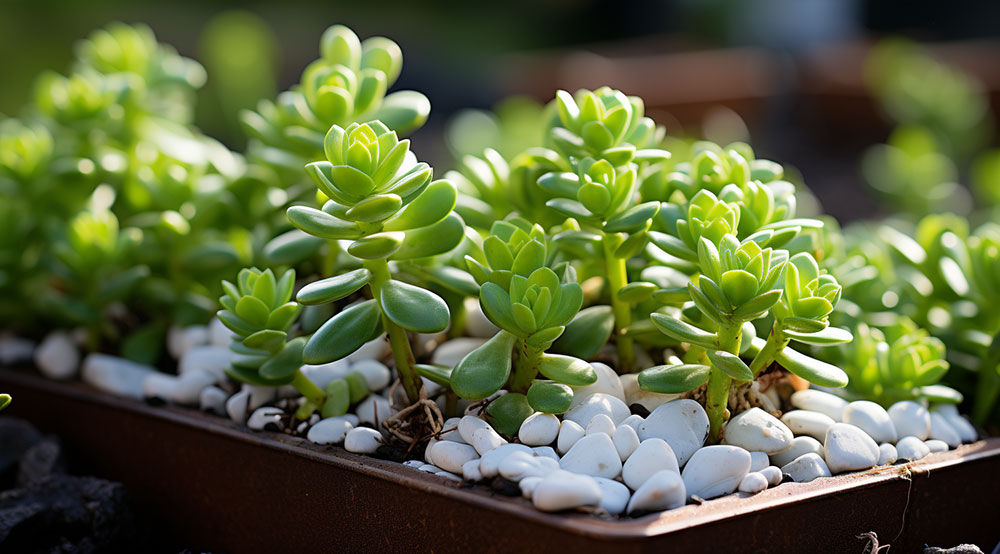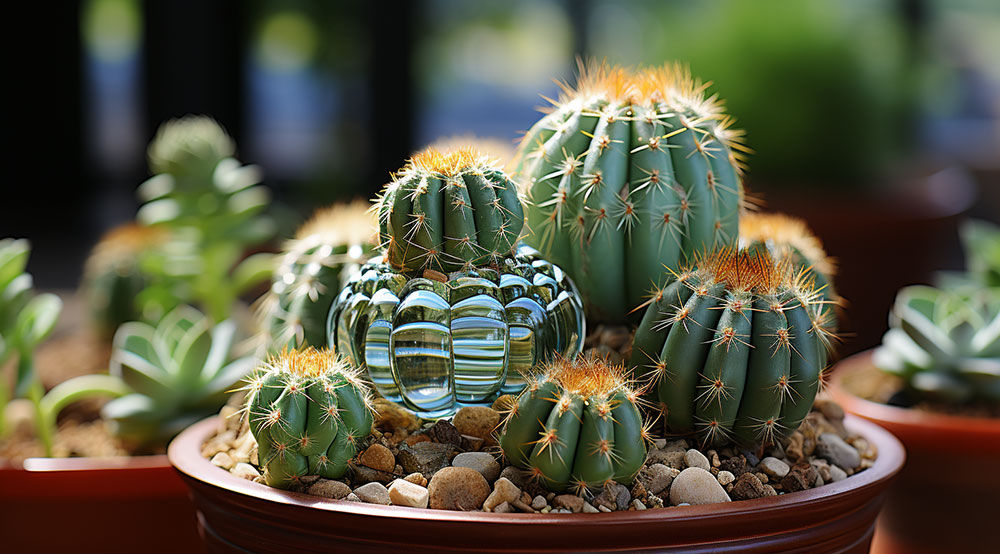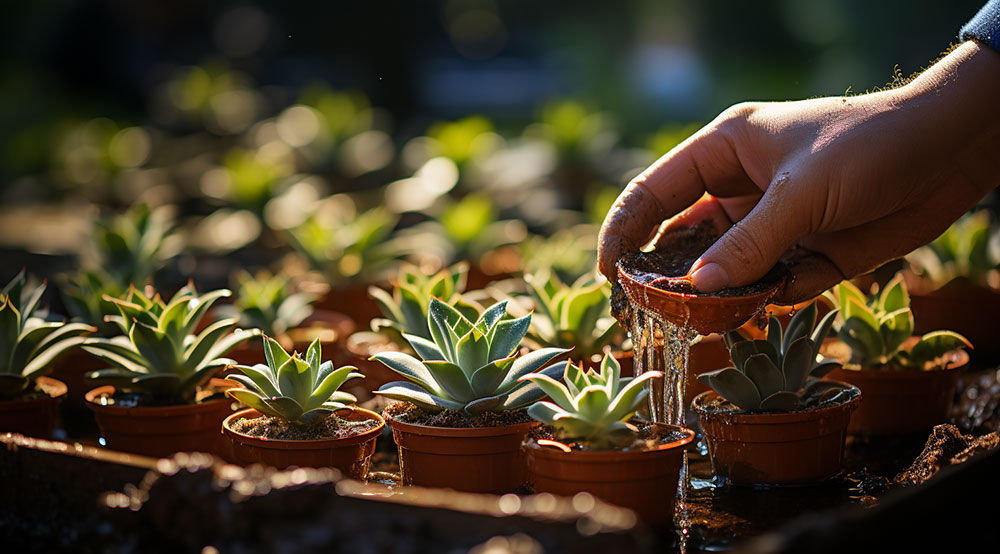 4. Type of Fastest growing succulents
Here are five fast-growing succulent species:
| | | | | | |
| --- | --- | --- | --- | --- | --- |
| Species of succulents | Water Requirements | Light Requirements | Soil Requirements | Typical Size | Pot Type |
| Sedum rubrotinctum (Pork and Beans) | Water regularly but allow the soil to dry out between watering. | Requires full sun to light shade. | Prefers well-draining soil. | Grows to about 1 foot tall and can spread several feet wide. | Medium to large pots with good drainage, preferably terra cotta. |
| Echeveria species | Water thoroughly when the soil is dry to the touch. | Requires bright light for best growth and flowering. | Prefers well-draining soil. | Sizes vary greatly among species. Some can grow up to 12 inches in height with a similar spread. | Size and material depend on the specific species. Generally, medium-sized terra cotta or ceramic pots work well. |
| Aloe vera | Water deeply but infrequently, allowing the soil to dry out between waterings. | Prefers bright, indirect sunlight. | Needs well-drained soil. | Can reach a height of 1-2 feet and spread of up to 3 feet. | Large pots with drainage holes, preferably terra cotta or ceramic. |
| Senecio Rowleyanus (String of Pearls) | Allow soil to dry out between watering. | Bright indirect light to partial shade. | Fast-draining barrel cactus potting soil is preferred. | Vines can reach up to 3 feet in length. | Hanging baskets or pots with drainage holes are ideal. |
| Graptopetalum paraguayense (Ghost Plant) | Water thoroughly when the soil is dry to the touch. | Thrives in full sun to partial shade. | Requires well-drained soil. | Can grow to a height and spread of 1 foot. | Terra cotta or ceramic pots with drainage holes work well. |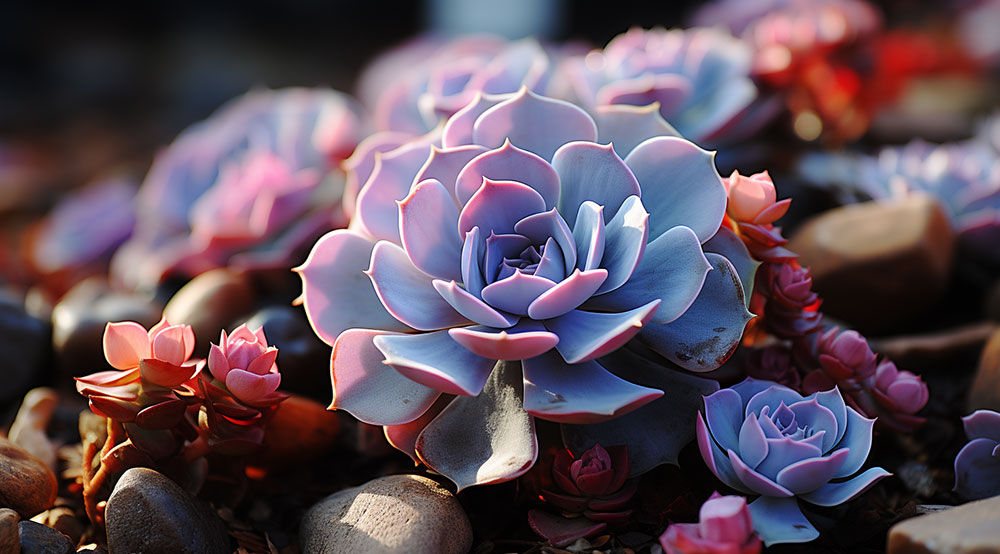 15. Monitor Pests
Keep an eye out for pests like scale insects that can stunt your new leaves plant's growth and treat them promptly.
Those common pests:
16. Avoid Cold Climate Weather
Protect your succulents from freezing temperatures, which can damage the plant and slow growth.
Succulents are generally warm-weather plants, originating from arid desert regions. These right conditions mean that they prefer a temperature range similar to what you might find comfortable – around 70-80 degrees Fahrenheit (21-27 degrees Celsius) during the day, and cooler at night by about 10-15 degrees.
Temperature guide:
Ideal Growing Temperature: Succulents prefer 70-80°F (21-27°C) daytime, 50-55°F (10-13°C) nighttime.
Avoid Freezing Temperatures: Protect succulents from freezing; it damages cells and causes discoloration.
Heat Tolerance: Most succulents tolerate heat, but may droop or change color above 85°F (29°C).
Indoor Climate Control: Maintain consistent indoor temperatures, avoiding vents and drafty windows.
Acclimatization: Gradually change the succulents' environment to avoid shocking and damaging them.
17. Provide a Rest Period
Allow your succulents a dormant period in the colder months to prepare for growth in the spring.
18. Choose the Right Location
Outdoor succulents often grow faster than indoor ones. If possible, placing your succulent outside in a sunny spot can promote growth.
Conclusion
Whether you have mini succulents in a small succulents container or a larger container succulent basking in the outdoor sun, the size your succulent will achieve depends on the type of plant, the growing ideal conditions you provide, and your commitment to their proper care. With these 18 growth tips in your arsenal, you can assist your slow-growing plants to reach their full size in less time.
Remember, the best way to ensure fast growth is to replicate a succulent's natural habitat as much as possible, provide enough sunlight and the right soil type, and remember to avoid overwatering. With patience and care, you can cultivate big succulents that are healthy and vibrant.
We gathered how fast-growing succulents over a year-long period chart for what your succulent gets:
| Month | Succulent Growth Activities |
| --- | --- |
| January | Dormant for most species; minimal watering and no fertilizer required. |
| February | Preparing to enter the growing season; slightly increase watering. |
| March | Start of the growing season; resume regular watering and fertilizing. |
| April | Active growth; plenty of water, light, and nutrients needed. |
| May | Continuation of active growth; monitor for pests. |
| June | The peak of the growing season; is ideal for propagation. |
| July | Ongoing active growth; might require additional shade in hot climates. |
| August | Still growing; prepare for slowing down as fall approaches. |
| September | Beginning of the dormant season for many succulents; reduce watering. |
| October | Full dormancy for many species; minimal watering. |
| November | Dormancy continues; keep away from freezing temperatures. |
| December | Ongoing dormancy; provide enough light and minimal water. |
If you're eager to explore the world of succulents further, don't hesitate to experiment with different species and growing conditions. The learning journey is part of the fun of gardening. Embrace the process, and you'll enjoy the gratifying results in no time. And as always, seek expert help if you encounter any challenges. Happy gardening!