Introduction to Garden Borders and Edging
A garden is a reflection of your personality and style, and much like the rooms in your house, it too needs a well-defined boundary. This is where garden borders and edging come into play, offering an effective and visually appealing solution. But what exactly are garden borders and edging, and how can they transform your garden? Let's delve into it.
The Importance of Garden Borders and Edging
There's no denying the transformative effect of garden borders and edging on any outdoor space. Let's delve into the reasons why these seemingly simple additions hold such importance for your garden.
Enhanced Visual Appeal
Have you ever walked into a garden and been taken aback by its beauty? There's a good chance garden borders and edging played a significant role in that. These elements serve as visual aids, accentuating and highlighting key areas of your garden. They can showcase your exquisite flower beds, bring attention to your meticulously maintained vegetable patches, or add a sense of drama to a water feature. Not just practical, borders and edging can elevate your garden design, adding structure and a refined finish that complements the overall aesthetic.
Improved Garden Organization
Aside from the aesthetic enhancement, garden borders and edging are crucial for garden organization. Think of them as the lines in a notebook, guiding where things should go and maintaining a sense of order. They demarcate clear paths, ensuring visitors keep their foot traffic where it belongs – off your beloved plants!
By separating different sections of your garden, whether it's the rose bush area from the herb garden or the lawn from the flower beds, borders and edging give your garden a streamlined, organized layout. It's like having a well-thought-out floor plan, but for your garden!
Prevention of Plant Overgrowth
It's a jungle out there, quite literally in the case of a garden left untamed! This is where garden borders really show their worth. They serve as a physical barrier, curbing the enthusiasm of those overly adventurous grass blades, stubborn weeds, or ambitious plants itching to invade your meticulously maintained flower beds or other designated areas.
By containing plants within their zones, borders and edging not only prevent the garden from turning into a scene from "Jumanji" but also help you manage and maintain plant growth more effectively.
In essence, garden borders and edging are unsung heroes of garden design and maintenance, offering an array of benefits from enhancing visual appeal to improving garden organization and preventing plant overgrowth. They are small additions that can make a big impact on your garden!
Different Types of Garden Borders and Edging
Natural Stone Borders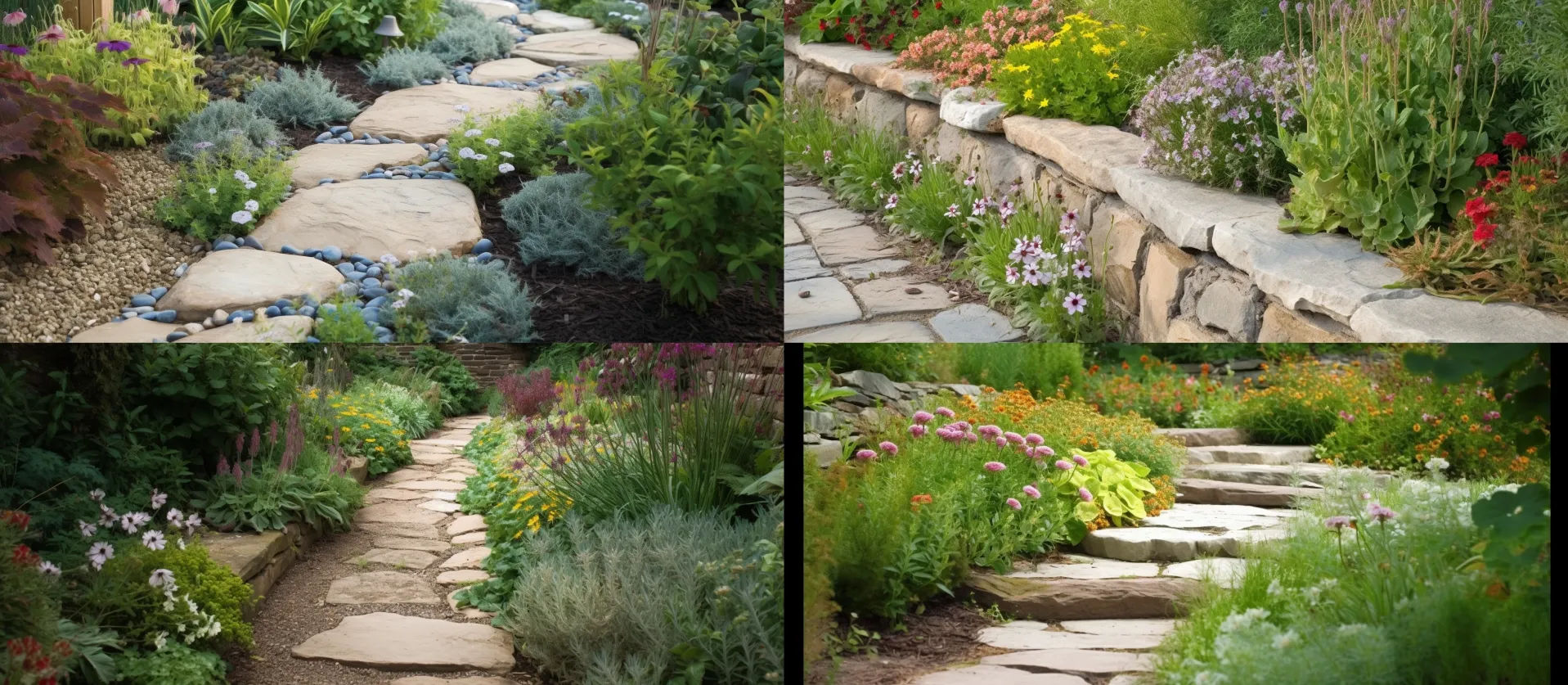 Natural stone borders give a rustic, classic look to your garden. They come in a range of colors, shapes, and sizes, making each border unique.
Brick Borders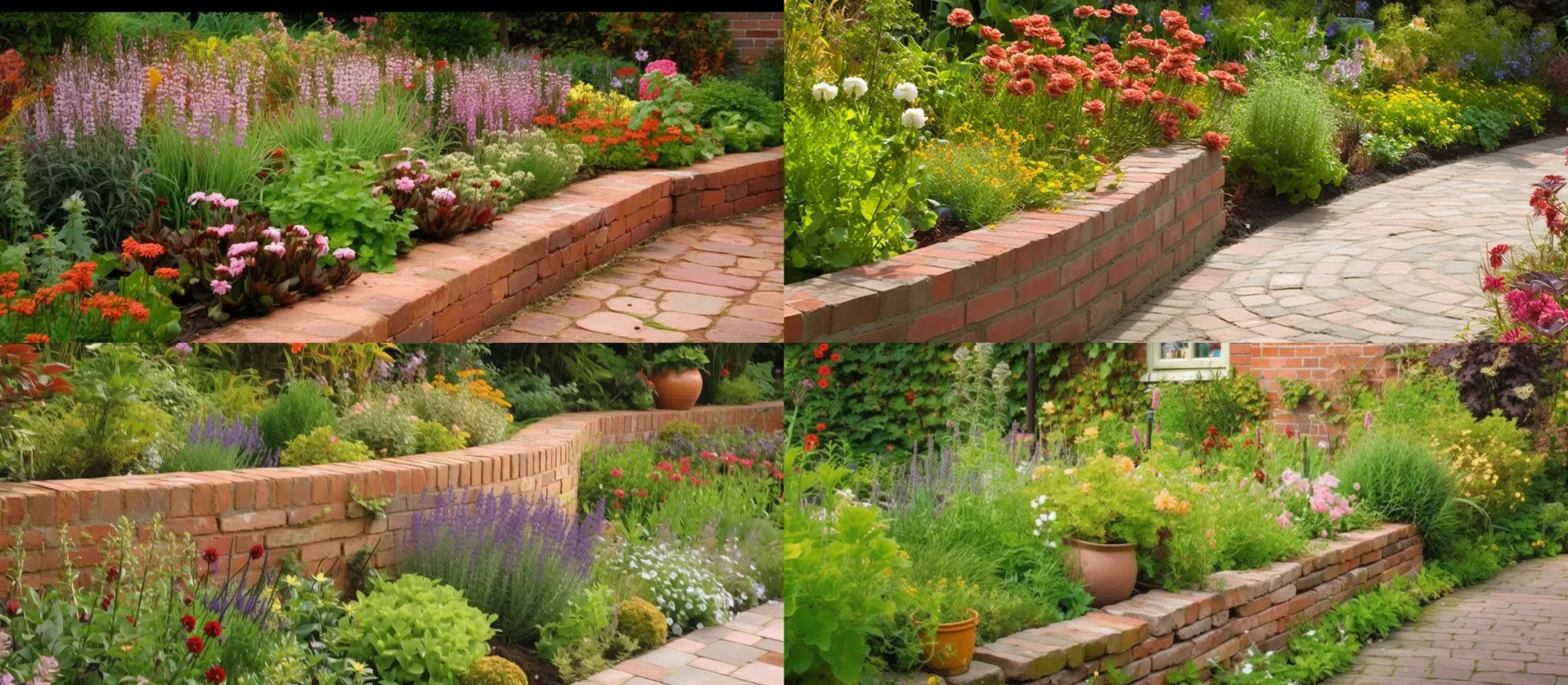 Brick borders, on the other hand, provide a more structured and traditional appearance. They are durable, and their red hue can add a warm tone to your garden landscape.
Wooden Borders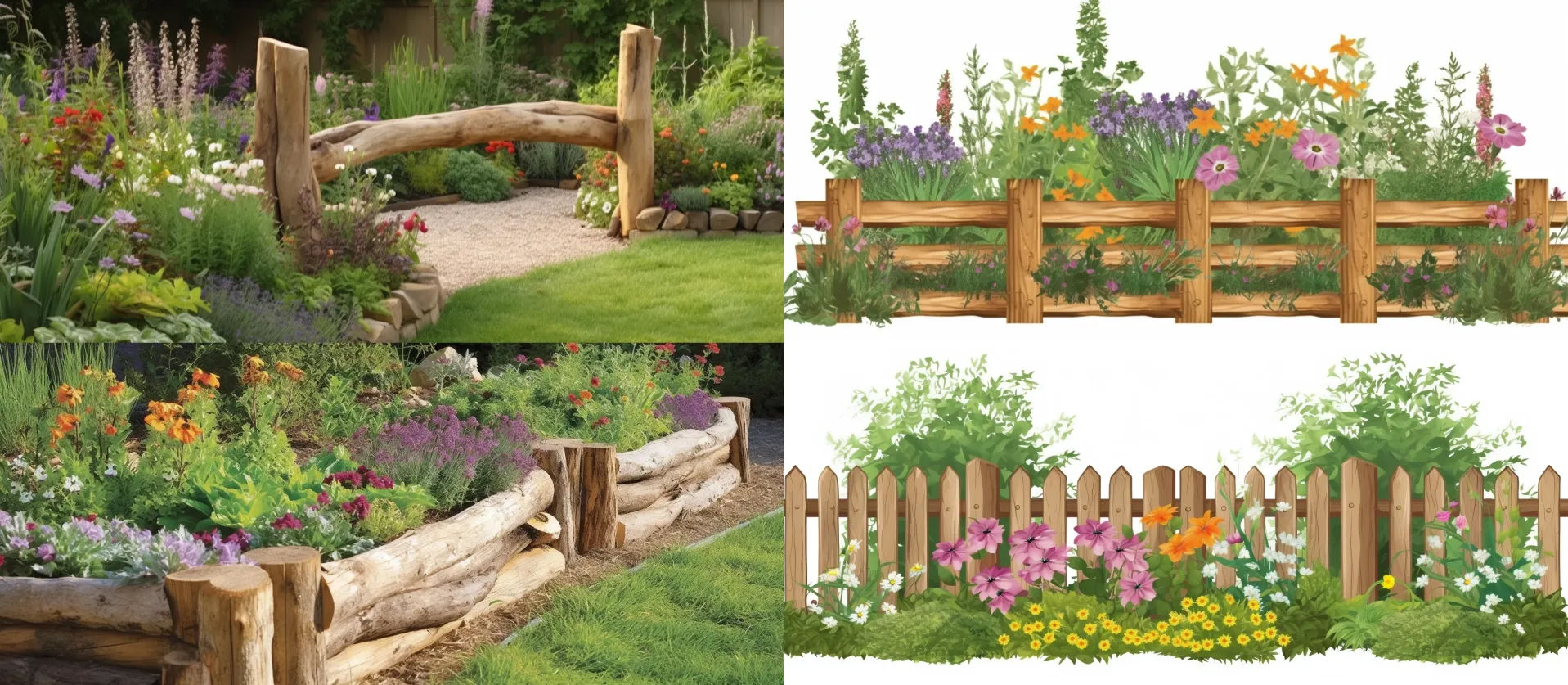 Wooden borders bring a natural, organic feel to your garden. Whether you choose chunky railway sleepers or thin log rolls, they effortlessly blend with the greenery.
Metal Borders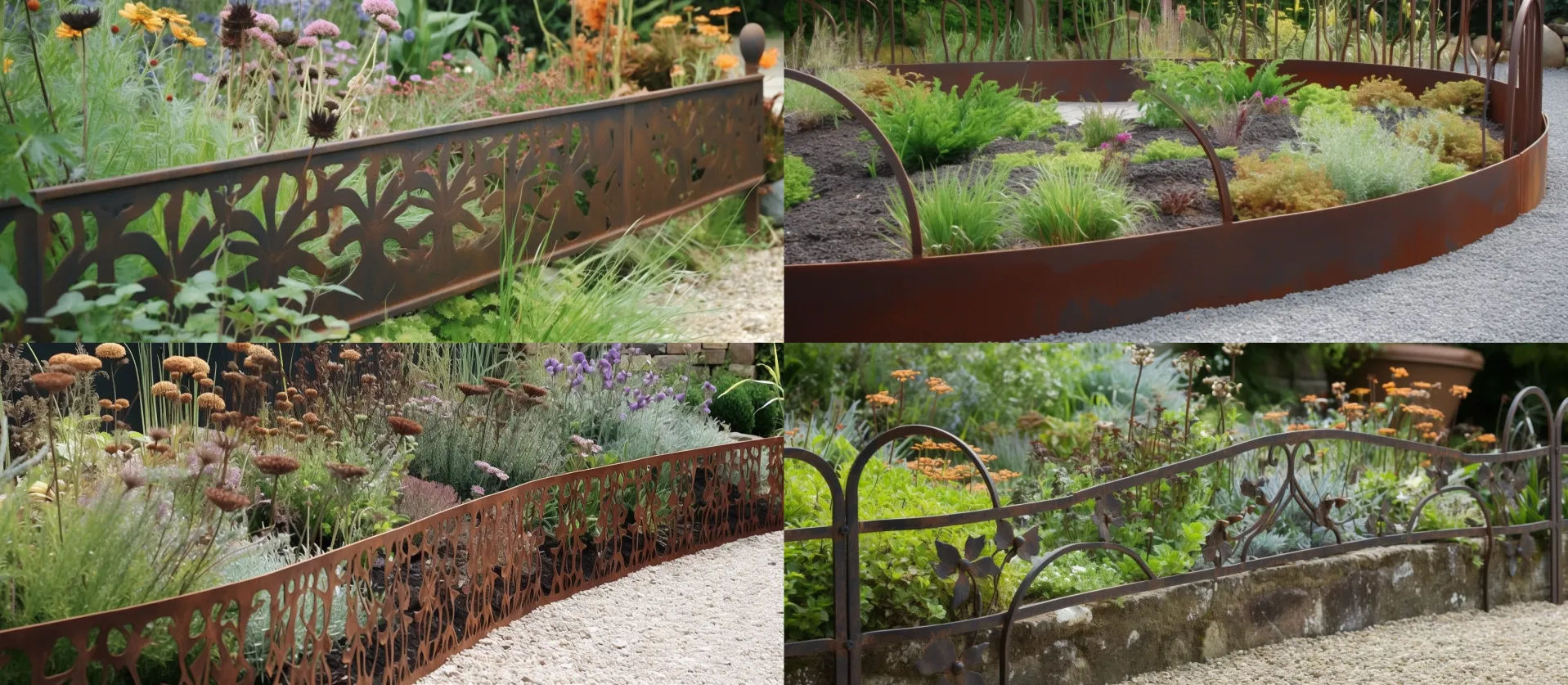 If you're going for a modern or industrial aesthetic, metal borders, like those made of steel or aluminum, are a perfect choice. They're sturdy, long-lasting, and can be molded into various shapes and designs.
Choosing the Right Garden Border and Edging
Assessing Your Garden's Needs
The right garden border or edging depends on your garden's specific needs and your personal preferences. For instance, a vegetable garden may need a different type of border compared to a flower bed.
Considering Your Budget
Your budget is another critical factor. While natural stone or brick borders may look appealing, they can be pricier than wood or metal alternatives.
Exploring Material Durability
Consider the durability of the material too. Some materials weather better and require less maintenance than others. For instance, metal borders may withstand harsh weather conditions better than wooden ones.
How to Install Garden Borders and Edging
Installing garden borders and edging is a relatively simple DIY task, but it does require some planning and elbow grease. Here's a step-by-step guide:
Outline your garden beds: Use a garden hose or a string and stakes to outline the area where you want to place your border.
Dig a trench: Using a spade, dig a trench along the outline. The depth and width will depend on the type of border you're installing.
Prepare the border material: If you're using bricks or stones, ensure they're clean. For wooden borders, check for any splinters or rough edges.
Place the border material in the trench: Place your material carefully in the trench. Ensure it's level, making adjustments as necessary.
Backfill the trench: Once your border is in place, backfill the trench with soil, compacting it gently around the border material.
Finish off: Clean the area and give yourself a pat on the back for a job well done.
Remember, every garden is unique, so feel free to modify these steps to suit your garden's specific needs.
More Garden Borders and Edging Ideas
Recycled Bottle Borders
If you're environmentally conscious or just looking for a unique and cost-effective border idea, consider using recycled bottles. Placing them upside down creates an intriguing and colorful edging that will definitely start conversations.
Terracotta Pot Edging
Another creative idea is to use terracotta pots as garden borders. They can be arranged in an upright position or tilted sideways for a whimsical touch. Plus, they are great for small plantings right on the border!
Bamboo Borders
Bamboo is another fantastic material for garden borders. It brings a touch of the orient to your garden and blends well with various garden themes.
Concrete or Plaster Cast Borders
Creating your own concrete or plaster cast borders allows you the freedom to create the shapes and sizes you want. You could even incorporate mosaic pieces for an extra splash of color.
Garden Borders and Edging Maintenance
Just like other parts of your garden, borders and edging also need maintenance to keep them looking their best. Depending on the material, you may need to clean, repaint, or reposition your borders from time to time. For instance, wooden borders may require a coat of paint or varnish every couple of years to keep them from rotting.
Remember to check for any signs of damage or wear and tear regularly. Fixing minor issues as they arise can save you from more significant problems down the line.
Expanding Your Garden's Potential
There's no limit to what you can achieve with the right garden borders and edging. Not only do they define your space, but they also enable you to create specific zones for different types of plants, play areas, or even a secluded corner for relaxation.
Creating a Cottage Garden Feel
For a charming, old-world feel, opt for a mix of materials like wood and stone. Let your plants overflow onto the paths, creating a lush, bountiful garden. Borders and edging here can be informal, allowing plants to grow in their natural, expansive shapes.
Building a Modern Minimalist Garden
For a more contemporary look, clean lines are the way to go. Choose materials like metal or polished stone for your borders and edging. Plants should be chosen for their architectural shapes and kept well-pruned. This will create a sleek, modern look that complements a minimalist aesthetic.
Creating a Child-Friendly Garden
If you have children, you can create areas within your garden just for them. Edging can be used to mark off a play area, ensuring toys don't end up in your flower beds. You can even use brighter materials for these borders to make them more appealing to your little ones.
Conclusion
Garden borders and edging are more than just decorative features; they add structure, prevent plant overgrowth, and enhance the overall appearance of your garden. Whether you choose natural stone, brick, wood, or metal borders, remember to consider your garden's needs, your budget, and the durability of the material. With a little planning and effort, you can install your garden borders and transform your garden into an organized, visually appealing space.
Frequently Asked Questions (FAQs)