Gearing up to Grasp the Gravitas of Depression and its Clinical Assessment
Depression, an insidious ghost that haunts millions globally, is a serious topic that deserves our undivided attention. As our understanding of mental health evolves, so does the significance of depression assessment, especially in the realms of clinical trials and pre-trials. We're about to venture on a journey into the heart of clinical research, exploring a landscape populated with diagnostic tools, symptom severity measures, treatment responses, and outcome assessments. Buckle up, folks, because we're headed for an enlightening adventure!
Our Current Conundrum: The Complex Nature of Depression
Depression, or Major Depressive Disorder (MDD), is much more than just feeling down in the dumps. It's a complex mental health condition that can encompass a range of symptoms – from persistent sadness to loss of interest in activities, and even physical symptoms like unexplained aches and pains [1]. This wide range of potential symptoms makes depression a tricky beast to tackle in clinical research.
Mastering the Tools of the Trade: Depression Assessment in Clinical Trials
In the world of clinical trials, it's critical to assess depression accurately and reliably. In these trials, psychiatrists and researchers utilize a mix of patient-reported outcomes, clinical endpoints, and screening measures to paint a clear picture of a patient's mental state [2]. Key tools in this pursuit include well-established depression rating scales like the Hamilton Depression Rating Scale (HDRS), the Montgomery-Åsberg Depression Rating Scale (MADRS), and the Beck Depression Inventory (BDI) [3].
Let's take a closer look at these essential instruments.
1. Hamilton Depression Rating Scale (HDRS)
Developed by Max Hamilton in 1960, HDRS is often considered the gold standard in depression assessment [4]. It's a 17 to 21-item scale (depending on the version), scored by clinicians, that measures symptom severity over the past week [5].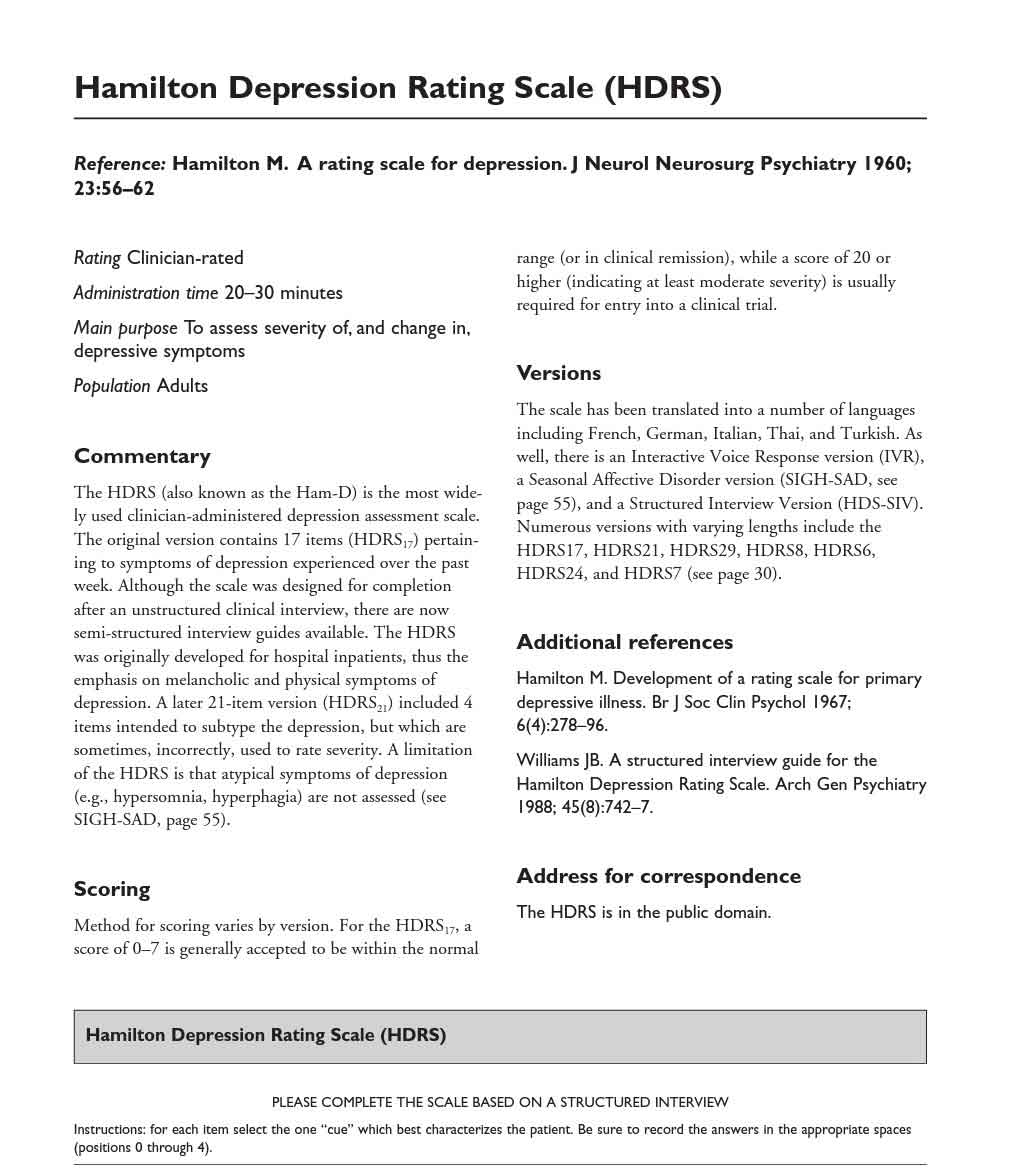 2. Montgomery-Åsberg Depression Rating Scale (MADRS)
MADRS is a 10-item clinician-rated scale that focuses on the psychological aspects of depression, such as sadness and pessimistic thoughts [6]. This scale provides an in-depth look at a patient's subjective experience of depression.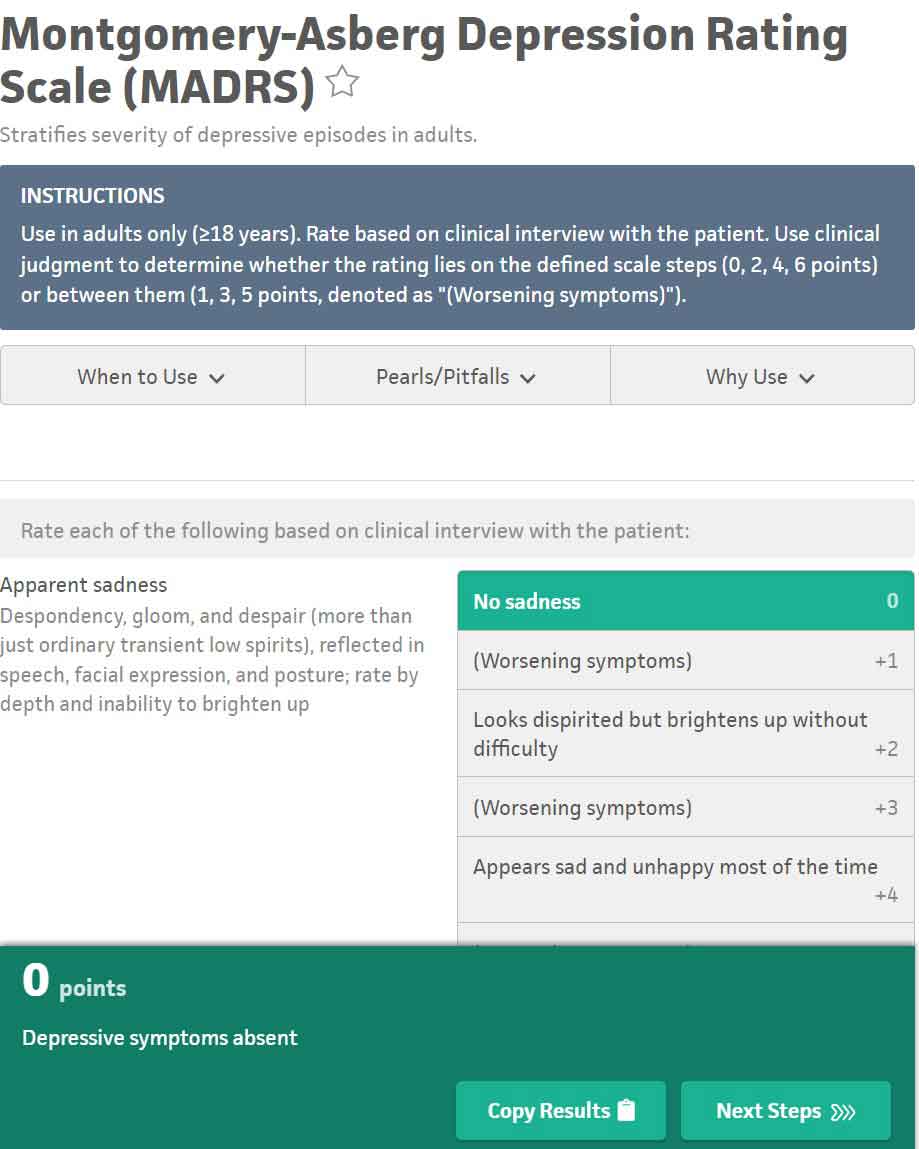 3. Beck Depression Inventory (BDI)
BDI is a 21-item self-report scale that captures the cognitive, affective, and somatic symptoms of depression [7]. The patient's insight into their condition plays a significant role in this assessment.
These scales are not just diagnostic tools, but also serve as efficacy measures, helping researchers gauge treatment response and compare the effectiveness of different interventions.
Peering into Pre-Trials: Screening Measures and Diagnostic Criteria
Before a clinical trial kicks off, researchers conduct pre-trials or screening phases. During this phase, potential participants are assessed for eligibility using diagnostic criteria, like those provided by the DSM-5 [8]. One common screening tool is the Patient Health Questionnaire-9 (PHQ-9), a self-report measure of depression severity [9]. These screening processes ensure that participants meet the research methodology's necessary criteria, ensuring validity and reliability in the trial's results.
Ensuring Excellence: The Importance of Reliable Outcome Measures
In any clinical trial, outcome measures play a starring role. They help us answer crucial questions: Did the treatment work? If so, how well? These measures, often patient-reported outcomes or clinical endpoints, provide tangible evidence of a treatment's effectiveness. Reliable and valid outcome measures are instrumental in translating clinical trial results into real-world applications, making a genuine difference in patients' lives.
Summing Up: The Crucial Role of Depression Assessment in Clinical Trials
Depression assessment in clinical trials and pre-trials is no small feat. It involves a meticulous process, from initial screening to monitoring symptom changes and determining treatment efficacy. By effectively utilizing diagnostic tools like HDRS, MADRS, BDI, and PHQ-9, we can ensure that depression is accurately assessed, ultimately leading to better treatment strategies and improved mental health outcomes.
With depression being such a widespread and debilitating condition, it's essential that we continue to refine our assessment methods, always aiming for more accurate diagnoses and more effective treatments. Because everyone deserves a chance at a life free from the shadow of depression.
FAQs:
What is the role of depression assessment in clinical trials?

Depression assessment helps gauge symptom severity and track treatment responses, crucial for determining a treatment's effectiveness in clinical trials.

What are some key diagnostic tools for depression assessment?

Some key diagnostic tools include the Hamilton Depression Rating Scale, Montgomery-Åsberg Depression Rating Scale, and Beck Depression Inventory.
Footnotes
1) American Psychiatric Association. (2013). Diagnostic and statistical manual of mental disorders (5th ed.). Arlington, VA: Author. ↩
2) Insel, T. R. (2017). Digital phenotyping: a global tool for psychiatry. World Psychiatry, 16(3), 276-277. ↩
3) Bagby, R. M., Ryder, A. G., Schuller, D. R., & Marshall, M. B. (2004). The Hamilton Depression Rating Scale: has the gold standard become a lead weight?. American Journal of Psychiatry, 161(12), 2163-2177. ↩
4) Hamilton, M. (1960). A rating scale for depression. Journal of Neurology, Neurosurgery & Psychiatry, 23(1), 56-62. ↩
5) Bagby, R. M., Ryder, A. G., Schuller, D. R., & Marshall, M. B. (2004). The Hamilton Depression Rating Scale: has the gold standard become a lead weight?. American Journal of Psychiatry, 161(12), 2163-2177. ↩
6) Montgomery, S. A., & Asberg, M. (1979). A new depression scale designed to be sensitive to change. British Journal of Psychiatry, 134(4), 382-389. ↩
7) Beck, A. T., Ward, C. H., Mendelson, M., Mock, J., & Erbaugh, J. (1961). An inventory for measuring depression. Archives of General Psychiatry, 4(6), 561-571. ↩
8) American Psychiatric Association. (2013). Diagnostic and statistical manual of mental disorders (5th ed.). Arlington, VA: Author. ↩
9) Leucht, S., Hierl, S., Kissling, W., Dold, M., & Davis, J. M. (2012). Putting the efficacy of psychiatric and general medicine medication into perspective: review of meta-analyses. The British Journal of Psychiatry, 200(2), 97-106. ↩