Demystifying the Art of Shade Gardening
Sometimes, the darkest corners of your garden can shine the brightest. It's not magic—it's shade gardening. Whether you're dealing with a few patches of shade or an entire backyard draped in the dappled light of mature trees, shade gardening can turn those areas into lush, tranquil retreats. In this article, we'll show you how to plant a shade garden and share design ideas that can redefine your yard's appeal.
Why Shade Gardens? A Personal Story
Growing up, I had the privilege of living in a house surrounded by towering oaks. While the trees were magnificent, they cast long shadows, and the backyard seemed like a gardening nightmare. But my mom, a die-hard plant lover, saw it differently. "It's not a challenge, it's an opportunity," she would say, tending to the garden.
As I watched her cultivate a vibrant oasis beneath those towering trees, I understood her sentiment. There was something magical about the tranquility of the shade garden, with the filtered sunlight dappling the ground and the array of colors from plants you wouldn't typically see in sunnier spots.
The first time I stepped into my shade garden, I felt like I was in a different world—a tranquil, serene world that felt more like a forest retreat than a suburban backyard. The delicate aroma of flowers, the calming rustle of leaves, the soft lights gently illuminating the footpath—it was nothing short of enchanting.
Then I noticed the garden borders and edging, carefully curated, effortlessly complementing the shade-loving plants and overall ambience. I was smitten. In that moment, I decided to dive into the world of shade gardens and learn all I could about garden borders and edging ideas. This is the journey I want to share with you today, providing tips, insights, and storytelling along the way.
Understanding the Basics: What Makes a Shade Garden
Let's start by answering the question: What is a shade garden? Simply put, it's a garden designed to flourish in less sunlight. These gardens typically receive less than three hours of direct sunlight per day and are characterized by their verdant foliage and often cooler temperatures. They offer a unique chance to showcase a variety of shade-loving plants like ferns, hostas, and bleeding hearts.
According to Amy Enfield, Ph.D., a horticulturist and gardening expert at Scotts Miracle-Gro, "Shade gardens not only provide cooler spots to rest on hot days but can also add an element of mystique to your landscape" 1.
Why Bother with Garden Borders and Edging?
"Edging creates order," says well-known landscape designer Michael McCoy. It's that simple and that profound. Edging your garden provides structure, it enhances your plants and ornaments, and it creates a clear distinction between different sections of your garden. Simply put, a well-edged garden is like a well-tailored suit—it's all in the details.
Design Ideas for Garden Borders and Edging
1. Natural Stone Borders
There's something about natural stone that makes it an absolute winner for garden edging. Not only does it blend seamlessly with the earthy tones of your garden, but it also adds texture and character. And the beauty of it is its versatility. Whether you're going for a formal or a casual look, there's a natural stone to suit your style.
2. Wooden Edging
Wooden edges bring a rustic charm to your garden. Whether it's sleepers, logs, or even bamboo, wooden edges work particularly well with shade gardens, often blending beautifully with the natural surroundings. Keep in mind, though, that wood may need some maintenance to keep it looking fresh and to prevent decay.
3. Metal Edging
Contrary to what you might think, metal edging can be subtle and blend well with your garden. It's particularly useful if you're looking to create clean, modern lines. Metal, such as steel or aluminum, is also a practical choice because it's durable and long-lasting.
Incorporating Sensory Experiences
But garden borders and edging ideas are not only about aesthetics and structure. They also have a key role in crafting sensory experiences, which are paramount in creating that tranquil and calming atmosphere we're aiming for.
1. Aromatic Plants
"Plant smells are transportive and grounding," says Jo Malone, a fragrance expert. And she couldn't be more right. Imagine sitting in your garden, with your eyes closed, breathing in the scents of lavender, rosemary, and mint—sounds like a spa day, doesn't it?
2. Soothing Water Features
A small fountain or a babbling brook not only enhances the visual appeal of your garden but also the auditory experience. The gentle sound of running water has been proven to reduce stress and promote relaxation.
3. Gentle Lighting
Outdoor lighting isn't just about safety and security. It's about creating ambience. "Used cleverly, outdoor lighting can bring your garden to life at night," says lighting designer Sally Storey. Think fairy lights, lanterns, or spotlights highlighting your favorite plants.
10 Inspirational Ideas for Garden Borders and Edging
Here are ten creative ideas for designing borders and edging in your shade garden that prioritize sensory experiences:
Scented Border
Plant aromatic plants like lavender and rosemary at the edges. As you brush past them, they'll release their fragrant oils, filling the air with soothing scents.
Stone Edging
Use natural stone for a rugged, rustic look. The variations in color, size, and shape can add visual interest and provide a contrast to the lush greenery.
Musical Border
Install wind chimes along the edge of your garden. The soft, tranquil sounds can transform your garden into a peaceful sanctuary.
Water Feature Edging
Incorporate a small water feature into your garden's border. The gentle sounds of trickling water can create a calming atmosphere.
Wooden Borders
Use wooden logs or planks for a rustic, natural look. Their earthy tones can bring warmth to the garden and enhance its natural beauty.
Repurposed Edging
Consider using repurposed materials like old wine bottles or broken tiles to create a unique and environmentally-friendly border.
Illuminated Borders
Install solar-powered LED lights along the edges of your garden. They can create a magical, fairy-tale ambiance in the evening.
Plant Borders
Use low-growing, spreading plants like creeping thyme or sedum for a living border that changes with the seasons.
Glass Bottle Edging
Consider embedding colorful glass bottles upside down along your garden's edge for a playful and creative look.
Brick Edging
Use brick edging for a classic, timeless look. It's durable, easy to install, and can be arranged in various patterns to create unique designs.
Gardening is a joyous journey, a creative outlet that allows you to imprint your personality on your surroundings. By incorporating these garden borders and edging ideas, you can design a space that is not only visually striking but also exudes tranquility and harmony.
How to Plant a Shade Garden: Steps and Tips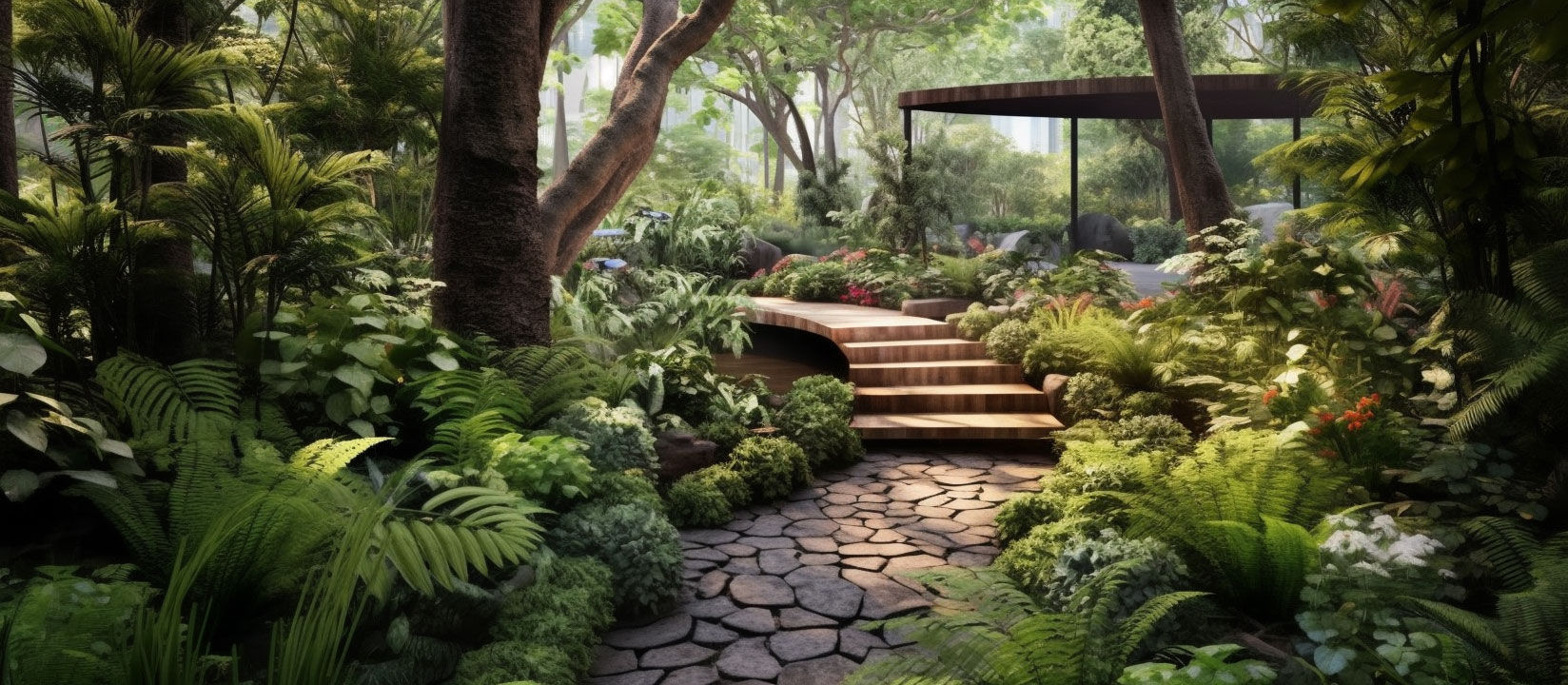 1. Evaluate Your Shade
Start by identifying the type of shade in your garden. Light shade refers to an area that is shaded for only part of the day, while medium shade refers to areas that get filtered or dappled sunlight. Deep shade areas receive no direct sunlight but may get some reflected light. Each type of shade can host different plants, so identifying your shade type helps you choose the right ones.
2. Pick the Right Plants
Do your homework and choose plants that thrive in your shade conditions. Here's a quick cheat sheet to get you started:
Light Shade: Try plants like Coral Bells (Heuchera), Columbine (Aquilegia), and certain Daylilies (Hemerocallis).
Medium Shade: Consider Ferns, Astilbe, and Bleeding Heart (Dicentra).
Deep Shade: Hostas, Lily of the Valley (Convallaria majalis), and certain varieties of Hydrangeas do well here.
Now, listen up folks, here's the secret sauce to your shade garden success – choosing the right plants. I know, I know, it sounds obvious, but you'd be surprised how many folks just go to the garden center, pick the prettiest plant, and then wonder why it's not flourishing. That's like sending a fish to live in the desert!
So, how do you find the right plant posse for your shady yard? It starts with a good ol' homework session. But don't worry, I've got your back. Here's a handy cheat sheet to get you started:
For the Light Shade Lovers
Got an area that enjoys a fair bit of sun but is still considered shady? Well, lucky you! This is like prime real estate in the shade gardening world. You can play host to a bunch of stunning plants.
Think about dazzling up your garden with some Coral Bells (Heuchera). They've got this palette of colors that would put a rainbow to shame. Want more? How about some Columbines (Aquilegia)? These delicate, bell-shaped flowers are like butterflies fluttering in your garden.
And let's not forget the Daylilies (Hemerocallis). Now, these are the kind of lilies that love a little bit of sun bathing. They'll just soak up that dappled sunlight and reward you with vibrant blooms.
Light shade gardens are like that secret Goldilocks zone – not too hot, not too cold, just right. If you're one of those lucky ducks with an area that gets some sun but is still considered shady, then pull up a seat, my friend, because you've just hit the plant jackpot!
Imagine, if you will, that you're an artist, and your garden is your canvas. Light shade plants are like a vibrant palette of colors, textures, and shapes, all ready to splash their magic on that canvas.
Let's dive in and take a look at some of the stars of the light shade world.
1. The Charismatic Coral Bells (Heuchera)
Looking to add a pop of color to your garden? Say hello to Coral Bells! This plant is like a chameleon. It can turn up in your garden sporting leaves in shades of purple, lime green, rose, gold, and more. The colors are so dazzling that even a rainbow might feel a tad bit jealous!
Coral Bells aren't just about good looks though. They're also pretty tough and can withstand a variety of climates. Plus, their tiny, bell-shaped flowers attract hummingbirds. So, you're not just planting a gorgeous plant, you're also setting up a hummingbird pit-stop.
2. The Delightful Columbines (Aquilegia)
Next up, we've got the Columbines. Picture this – delicate, bell-shaped flowers fluttering in the breeze, almost as if a host of butterflies decided to take a break in your garden. Sounds dreamy, doesn't it? That's what Columbines bring to your garden party.
Columbines are easy-going guests too. They're pretty low maintenance and will happily bloom in your garden from spring into early summer. Plus, they self-seed, so you'll have these beauties coming back year after year.
3. The Dazzling Daylilies (Hemerocallis)
Let's wrap up this star-studded line-up with the Daylilies. This is one plant that knows how to make the most of the dappled sunlight in your light shade garden.
These sunbathers unfurl their vibrant blooms in an array of colors, turning your garden into a riot of joy. And the best part? They're super easy to care for. It's like having a garden guest that makes your place look fantastic and doesn't demand much in return.
So there you have it, folks! A taste of what you can achieve in a light shade garden. Just remember – gardening is all about experimentation and fun. So, let your hair down, put your gardening gloves on, and start playing with your plant palette!
4. The Luminous Lungwort (Pulmonaria)
Say hello to the Lungwort, a real garden charmer. This plant's leaves might be dusted with white, almost like someone's sprinkled a bit of pixie dust on them. But come spring, they break into a dance with clusters of pink and blue flowers. It's like getting two looks for the price of one!
5. The Sophisticated Solomon's Seal (Polygonatum)
Looking for some class? Allow me to introduce Solomon's Seal. Its arching stems with hanging, bell-like flowers are like chandeliers in your garden. And in fall, its foliage turns a golden yellow, making it a head-turner all year round.
6. The Graceful Japanese Anemone (Anemone × hybrida)
Ever wish you could hold onto summer a little bit longer? The Japanese Anemone helps you do just that. Blooming from late summer into fall, these plants bring in a dash of cheer just when most other plants are calling it quits for the year. Their delicate flowers on tall, wiry stems bob and sway in the wind, like little dancers putting up a show.
7. The Hardy Hellebores (Helleborus)
You've heard of Christmas cacti, but how about Christmas roses? That's what Hellebores are sometimes called. These tough beauties often start blooming in winter, bringing cheer to the frosty garden. They're like the unexpected guest who shows up early to your party but ends up being the life and soul of the gathering.
8. The Enchanting Astilbe (Astilbe)
Astilbe is like that superstar that knows how to make an entrance. With its feathery, plume-like flowers, this plant is all about bringing a touch of the exotic to your garden. The flowers can be red, pink, purple, or white, and they rise above the plant's fern-like foliage like fireworks. It's like your garden is putting on its very own Fourth of July show!
9. The Majestic Japanese Maple (Acer palmatum)
Who says only flowers can be the star of a garden show? The Japanese Maple is here to prove that theory wrong. With its delicate, lace-like leaves that burst into vibrant shades of red, orange, or gold in the fall, this tree is all about drama. It's like Mother Nature's own masterpiece painting, right there in your backyard.
10. The Versatile Vinca (Vinca minor)
Finally, let's welcome the Vinca to our shade garden stage. This ground-covering plant is a real trouper. It's easy to grow, can cover large areas, and the periwinkle blue flowers are a delightful sight. Plus, when it's not flowering, its evergreen leaves ensure your garden never looks bare. It's like a reliable friend who's always there for you, rain or shine.
So, there you have it. More all-stars ready to take your light shade garden from good to great. Remember, the real beauty of a garden lies in its diversity. So, don't shy away from experimenting with different plants and seeing what works best for you. Happy planting!
For the Medium Shade Mavericks
If your garden gets more shade than sun, don't sweat it! You've still got some fabulous options. We're talking about plants that are all, "Sun? Meh, who needs it!"
Ferns, for instance, are shade garden superstars. They add a lush, tropical vibe to your garden. Or you could consider adding some Astilbes. These guys light up your garden with their feathery, colorful plumes.
But wait, there's more! Ever heard of Bleeding Hearts (Dicentra)? These romantic, heart-shaped flowers are the drama queens of the shade garden. And trust me, they're drama you'll absolutely love.
In the thrilling world of shade gardening, medium shade areas are a bit like the mystery novel of the book world. They're not fully sunny, but they're not dark either. They're somewhere in between, offering a tantalizing canvas for a diverse bunch of plants. If your garden is blessed with medium shade, we've got an all-star cast of plants ready to step into the limelight.
So, buckle up and let's meet these 10 medium shade mavericks.
1. The Fearless Ferns
Let's kick things off with the evergreen ferns. These foliage superstars thrive in medium shade, bringing texture and a lush, green look to your garden. Think of them as the reliable understudies in your garden performance, always ready to fill in and make the scene look good.
2. The Resplendent Rhododendrons
Next up, Rhododendrons. These shrubs put on a spring show with their large, vibrant flowers. Their glossy leaves also make them a great year-round feature. They're the prima donnas of the medium shade garden, demanding attention and always stealing the show.
3. The Amazing Azaleas
Azaleas, relatives of Rhododendrons, are another crowd-pleaser. These shrubs burst into a riot of color in spring, with blossoms in whites, pinks, purples, and reds. It's like a fireworks display in broad daylight!
4. The Hardy Hydrangeas
Hydrangeas are like the drama queens of the garden. With their big, billowy blooms, they never fail to draw the eye. Plus, some types can change color based on the soil's acidity. How's that for a garden plot twist?
5. The Classic Camellias
Camellias are the epitome of elegance. Their glossy, evergreen leaves and rose-like winter blooms bring charm and sophistication to any medium shade garden. They're the Audrey Hepburns of the plant world!
6. The Tenacious Toad Lilies (Tricyrtis)
The exotic-looking Toad Lilies are sure to make you do a double-take. Their speckled, star-shaped flowers are a real fall treat. Think of them as the garden's finale, the last encore before the curtain falls on the gardening season.
7. The Jovial Jack-in-the-Pulpit (Arisaema triphyllum)
Jack-in-the-Pulpit brings a touch of the unique to your medium shade garden. Its unusual, hooded flowers give it a whimsical, almost story-book quality. A bit like the garden jester, bringing in a dash of fun!
8. The Beautiful Bleeding Hearts (Dicentra)
Bleeding Hearts are spring-blooming plants that sport heart-shaped flowers, hence the name. They're like love letters from Mother Nature, adding a touch of romance to your garden.
9. The Vivacious Virginia Bluebells (Mertensia virginica)
The spring-blooming Virginia Bluebells cover themselves with clusters of blue, bell-shaped flowers. When they bloom, it's as if a wave of blue has washed over your garden.
10. The Astounding Astilbes
We talked about Astilbes for light shade, but they're versatile enough for medium shade too. Their feathery plumes add an exotic touch, making them a scene-stealer in any garden setting.
So there you have it, folks, a star-studded lineup for your medium shade garden.
For the Deep Shade Dwellers
Now, for those areas in your garden where the sun is as rare as a unicorn sighting, we've got the deep shade dwellers. These are the plants that think, "Sun? Never heard of it!"
Deep shade might sound like a tricky place to grow plants, but hey, this is the gardening world – we thrive on challenges! There's a whole squad of plants that aren't just okay with deep shade – they flat out love it. So, let's roll out the green carpet and meet these 10 deep shade dwellers who are ready to bring their A-game to your garden.
1. The Humble Hostas
Let's start with a fan favorite – the Hostas. These leafy wonders are like the chameleons of the plant world. With leaves that range from bright green to blue-ish and even variegated, they're all about keeping you guessing!
2. The Lovely Lily of the Valley (Convallaria majalis)
Next up is the Lily of the Valley. Don't let their delicate, bell-shaped flowers fool you – these little guys are tough as nails and can even become a bit too enthusiastic if left unchecked. But their sweet fragrance? Absolutely worth it!
3. The Dramatic Dead Nettle (Lamium)
Enter the Dead Nettle. This ground cover plant with its silver-splashed leaves is all about bringing a bit of razzle-dazzle to your deep shade garden. And when it breaks into bloom, it's like watching a star being born.
4. The Beguiling Bunchberry (Cornus canadensis)
Bunchberry, a low-growing relative of Dogwoods, is one of those quiet achievers. In spring, it has a stunning display of white, dogwood-like flowers, and in the fall, it shows off with vibrant red berries. Talk about a two-for-one deal!
5. The Fantastic Foamflower (Tiarella)
The Foamflower is like the unsung hero of the deep shade garden. With its fuzzy spikes of pink or white flowers and lobed, often mottled leaves, this plant knows how to put on a show in the shadows.
6. The Invincible Ivy (Hedera helix)
Ivy is an old favorite when it comes to deep shade, and for a good reason. It's adaptable, fast-growing, and with its classic, evergreen leaves, always in style. It's like the garden's little black dress.
7. The Spectacular Spotted Laurel (Aucuba japonica)
Spotted Laurel is a shrub that brings a splash of color to the darker corners of your garden. With its glossy, yellow-spotted leaves, it's like a little ray of sunshine that decided to stick around.
8. The Gorgeous Gold Dust Plant (Aucuba japonica 'Variegata')
Gold Dust Plant is another type of Spotted Laurel. As its name suggests, it looks like someone dusted gold over its leaves. It's like Mother Nature's own Midas touch!
9. The Sweet Sweetbox (Sarcococca)
Sweetbox is a winter-blooming plant with a secret weapon – its sweet fragrance. Even in the cold, dreary days of winter, this plant is all about bringing some sweetness to your life.
10. The Wonderful Witch Hazel (Hamamelis)
Last but not least, let's not forget about the Witch Hazel. With its spidery, late winter to early spring blossoms, this plant is like the harbinger of spring, giving you a sneak peek of all the gardening excitement to come.
And there you have it, folks! Your ultimate cheat sheet to picking the right plants for your shade garden. So, what are you waiting for? Let's turn your yard from 'meh' to 'magnificent'!
3. Prepare the Soil
Most shade gardens are under trees, which can make the soil dry and nutrient-poor. Enhance the soil with compost or other organic matter to improve its fertility and water-holding capacity.
4. Planting
Now to the fun part! Arrange your chosen plants, ensuring taller plants won't block smaller ones. Dig holes twice the width of each plant's root ball and place the plant in the hole. Backfill with soil, firm it gently, and water thoroughly.
How to Design Your Own Shade Garden with Borders and Edging
Now that you know how to plant a shade garden, let's jump into some design ideas. Remember, a garden is an artwork, and the plants are your medium.
Step 1: Identify the area of your garden that gets less than four hours of direct sunlight a day—that's your shade garden.
Step 2: Determine your style and the materials you'd like to use for the borders and edging.
Step 3: Choose shade-loving plants and consider how their colors, textures, and heights will interact with your borders and edging.
Step 4: Plan your sensory elements—think about the scents, sounds, and lighting you want to incorporate.
Step 5: Start planting and setting up your borders and edging. Take your time, enjoy the process, and don't be afraid to make adjustments along the way.
Let's explore some trends and classics in shade garden design.
1. Create a Foliage Tapestry
Foliage comes in various colors, shapes, and sizes. Create a stunning display by juxtaposing different types. For example, the broad, bright leaves of hostas can beautifully contrast with the delicate fronds of ferns. Add some Caladium for a pop of color.
2. Play with Heights
Use plants of varying heights to create a layered look. Start with low-lying plants like Lily of the Valley at the front, medium-sized plants like Astilbe in the middle, and taller plants like Hydrangeas at the back.
3. Add a Water Element
A small pond or a water fountain can make your shade garden more serene. The reflective surface of water can also brighten up the space.
4. Install a Garden Bench
What better way to enjoy your shade garden than from a cozy garden bench? It invites you and your visitors to relax and appreciate the tranquil beauty of your garden.
5. Use Decorative Pots
Pots aren't just for patios! Incorporating them into your shade garden adds a touch of architectural interest. Use them for plants that need better drainage or as focal points in your garden design.
Conclusion: Embrace the Shade
Shade doesn't have to be your garden's enemy. By understanding your garden's conditions and choosing the right plants, you can create a stunning shade garden that offers a cool, serene escape from the summer heat. Remember, it's not about the challenges, but the opportunities. And shade gardening is one opportunity you wouldn't want to miss.
Shine Bright with Shade Gardening Today
Join the ranks of gardeners who've discovered the joy and beauty of shade gardening. From choosing the perfect plants to creating a design that highlights your unique style, now you have all you need to embark on your shade gardening journey. Why not start today?
The continuation of this article will focus on the following sections:
Sowing the Seeds of Aromatics: Introducing Fragrance into Your Shade Garden
The Gentle Trickle: Incorporating Water Features for a Soothing Ambience
Guiding the Night: Creative Lighting Ideas for Your Shade Garden
Laying the Groundwork: Step-By-Step Guide to Creating a Serene Shade Garden
Parting Notes: Maintaining Your Sensory Shade Garden Over Time
FAQs:
What is a shade garden?

A shade garden is a garden designed to flourish in less sunlight, typically receiving less than three hours of direct sunlight per day.

What are some good plants for a shade garden?

Some shade-loving plants include Hostas, Ferns, Bleeding Hearts, and Lily of the Valley. The best choice depends on the type of shade in your garden.
Reference
1: (https://www.miraclegro.com/en-us/library/gardening-basics/planting-shade-creating-low-light-garden) ↩