The Benefits of Walking and How to Incorporate It Into Your Life
Walking: The Benefits and How to Incorporate It Into Your Lifestyle
Walking is an accessible form of exercise that anyone can do, regardless of age or fitness level. Studies have demonstrated that those who incorporate walking into their regular routines experience numerous physical, mental and social advantages such as increased energy levels, better sleep quality and mood elevation. Walking can help anyone reach the health benefits they desire regardless of age or fitness level.
Experts advise that beginning to incorporate walking into your routine is an effective way to boost physical activity without overdoing it. Even a minute-long brisk walk down the driveway can be an excellent starting point.
Use a Cue
Psychologists suggest finding motivating cues to make exercising easier. Whether that means getting up from your desk at lunch and taking that stroll, or tying in your walk with daily office check-ins, the more cues you can assign to your walking regimen, the higher the likelihood that success will follow.
Building a Routine
Once you find a walking cue that works for you, create an effective routine and make it part of your regular lifestyle. The more often you do this, the greater the likelihood is that you'll reap all its potential health advantages in the long run.
Additionally, walking in nature can improve your mental wellbeing by lifting your spirits and instilling a feeling of gratitude. Plus, it's an effective way to unwind after a long day at the office.
The Physical Benefits of Walking
Walking has numerous physical advantages, from improved cardiovascular health to weight management. Whether you're just starting out in fitness or are already a regular exerciser, there are plenty of reasons why walking every day could be beneficial for you.
Though the amount of physical activity recommended varies for individuals, some daily movement is better than none, according to the Centers for Disease Control and Prevention.
1. Improves Cardiovascular Health
Walking is an effective way to enhance cardiovascular health that's accessible for people of all fitness levels and ages. This type of exercise helps lower systolic and diastolic blood pressure, reduce body fat percentage, and reduce heart disease risk factors like high cholesterol.
Walking is an effective form of exercise for relieving stress, increasing energy levels and improving general wellness. A recent study revealed that just 21 minutes of walking a day can reduce the risk of heart disease by 30%.
At the American Heart Association's Epidemiology, Prevention, Lifestyle & Cardiometabolic Health Scientific Sessions 2023 in Seattle, researchers revealed that older adults who took an additional 500 steps daily (about a quarter of a mile) had an 14% lower risk for heart disease, stroke or heart failure.
2. Helps with Weight Management
Walking has many physical advantages, from increasing metabolism to strengthening muscles, bones and joints. When done regularly (e.g., 30 minutes daily), walking can also help manage stress and improve mood according to Juliet Kaska ACE certified personal trainer and owner of Zen Fitness.
As with all exercises, the number of calories burned varies based on a number of factors. This strategy involves alternating short periods of walking at a faster than comfortable speed (aiming for a six on the intensity scale) with longer segments of brisk walking.
To maximize your calorie-burning potential, incorporate intervals into your walks. This strategy involves alternating short periods of walking at a faster than comfortable speed (aiming for a six on the intensity scale) with longer segments of brisk walking.
Did you know that the number of calories you can burn while walking depends on your weight and the walking speed?
According to a recent study published by West J Med in the National Library of Medicine, Walking can burn more calories than jogging.

West J Med. 2001 Aug;175(2):124. PMCID: PMC1071504.
However, if you want to burn more calories, consider increasing your walking speed or adding some incline to your route.
To learn more about how walking can help you burn calories and achieve your fitness goals, check out this comprehensive guide on how many calories you can burn while walking.
Walking not only offers physical benefits, but it can also aid weight loss by burning stored fat for energy. Furthermore, increased bone density is another potential advantage of walking.
3. Improves Balance and Coordination
Walking is an excellent activity for improving balance and coordination. Additionally, it helps strengthen the muscles involved in walking, which may prevent injuries.
Physical therapist Sarah Stanten emphasizes the role of your back muscles (erector spinae and multifidus) in walking, which help stabilize your body as you take steps forward. Furthermore, your anterior tibialis muscle in your shin helps with plantar flexion (lifting your heel) while walking.
Exercising for long, strenuous walks can tax these muscles. That is why it is essential to keep your walking routine straightforward and gentle.
If you're just starting out, start with simple exercises to build up your strength. Try walking in front of one wall with your heels touching it and shifting weight onto the opposite foot – repeat this for 20 steps.
4. Increases Bone Density
Walking is one of the most beneficial forms of physical activity that can improve your health. Not only does it build muscles, but it also strengthens them, improves heart and lung function, as well as improving balance and coordination.
Regular exercise can also support healthy bones, which are an integral component of overall wellbeing. Bone density – the thickness of one's bones – plays a significant role in strength and support; when it decreases, it could indicate osteoporosis – an age-related disorder which weakens bones so they fracture more easily.
Weight bearing exercises such as squats and lifting weights are particularly beneficial for strengthening bones. When you exercise, the pressure from these movements puts pressure on your skeleton, sending signals to begin building new cells in your bones.
Mental Benefits of Walking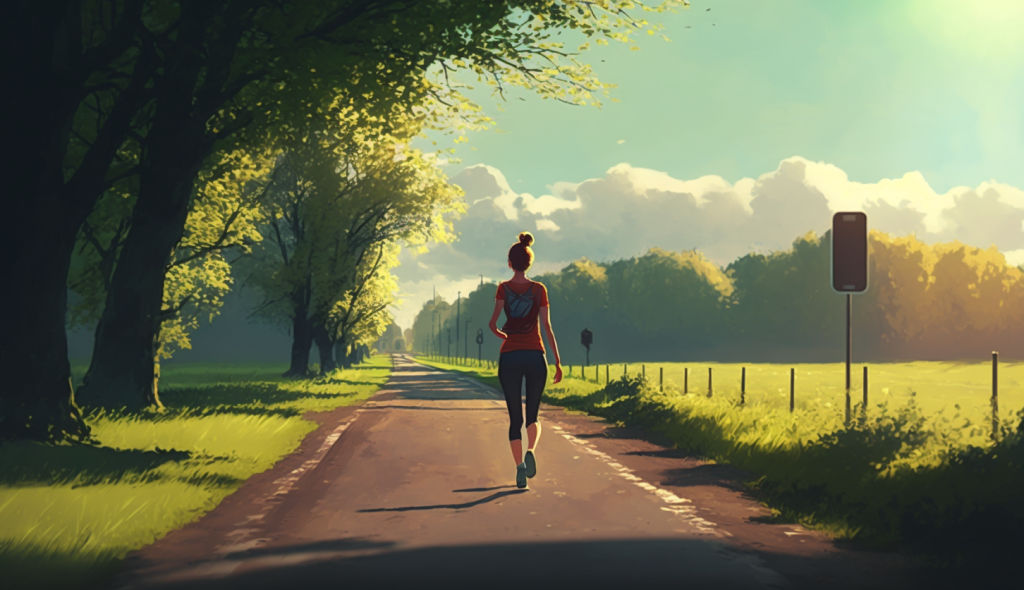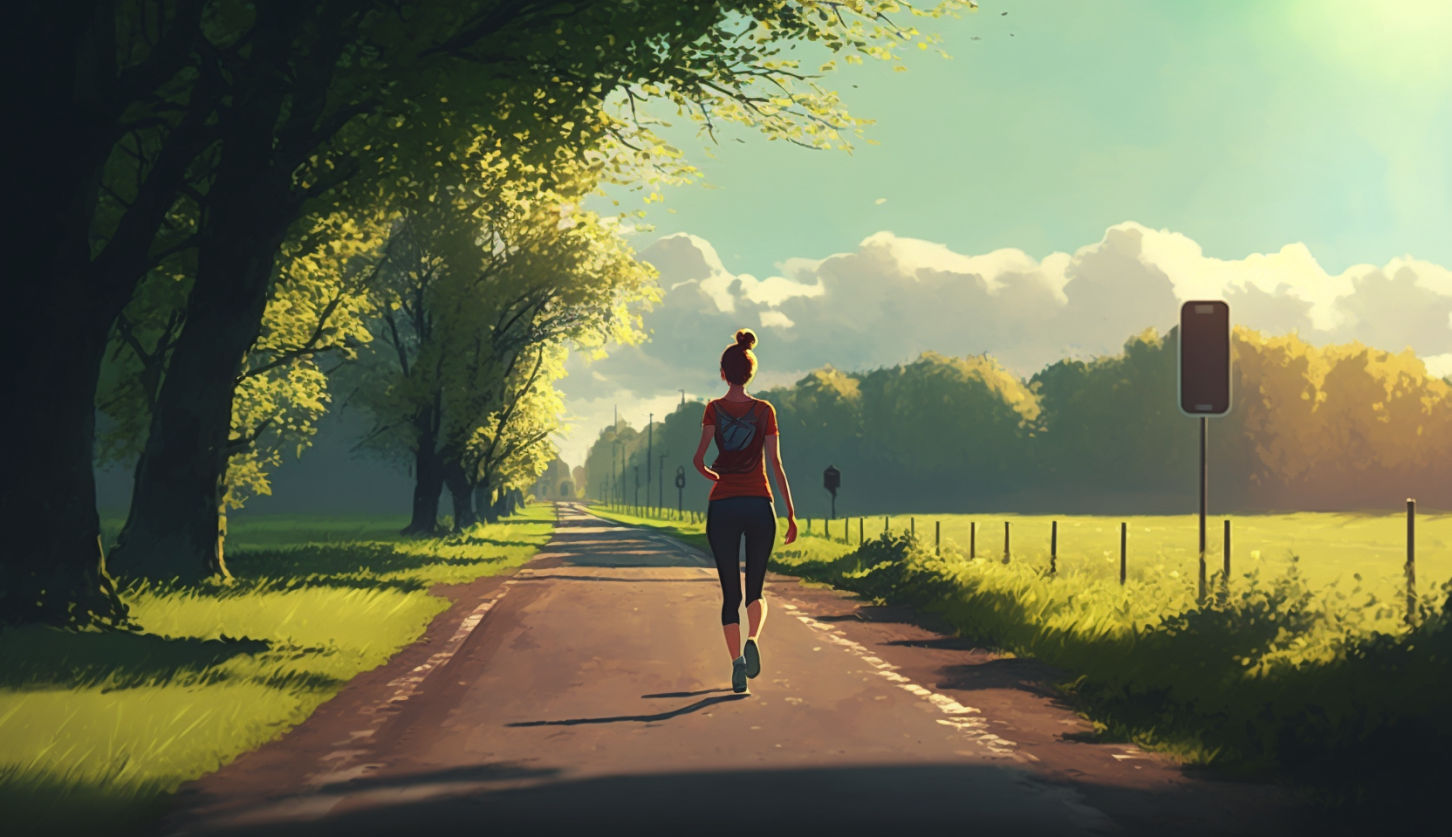 Walking can provide numerous mental advantages, from stress and anxiety management to brain fog clearing. Not only that, but it also enhances cognitive function and fosters a sense of community.
No matter your level of experience with walking, whether you're just starting out or have been sedentary for years, the mental health benefits can be immense. Studies have even demonstrated that as little as 30 minutes a day can improve your mood and help you sleep better at night.
1. Reduces Stress and Anxiety
Walking has both physical and mental advantages. It helps reduce stress and anxiety, enhances cognitive function, and fosters a sense of community.
One recent study discovered that after an hour-long walk outdoors, brain activity in areas associated with stress processing decreased. This could be especially beneficial to people living in cities, which have been linked to higher rates of major mental disorders.
Exercise also increases levels of endorphins, natural hormones that regulate moods. Exercising also raises norepinephrine produced in the brain which has been known to reduce stress (American Psychological Association).
Walking is an effective way to reduce anxiety and get back on track if you're facing a stressful period. It also serves as an enjoyable distraction, giving you time to take a deep breath and clear your head.
You can even use a pedometer or keep an activity diary to stay motivated. Start by adding an extra step per day into your routine, and gradually increase the frequency of your walks as you become more accustomed to them.
2. Boosts Cognitive Function
Walking is an excellent way to improve your mental wellbeing. It gets the heart pumping, helps you lose weight and provides you with a wonderful sense of euphoria.
A study has demonstrated that walking five miles a week not only benefits your memory, but is good for overall mental health as well. MRI scans reveal that walking this much can preserve brain volume – essential for memory formation.
Another study suggests that walking can help strengthen your brain's white matter – the connective tissue between nerve cells. Researchers have long known that a lack of white matter can contribute to memory loss, and now believe the white matter in your brain is malleable and can be improved over time.
Research has also indicated that just 20 minutes of walking a day can increase blood flow to the brain, providing it with more oxygen and essential nutrients for proper functioning.
According to a recent study, taking a walk can boost creativity and lift your mood. This may help avoid the negative thoughts that often accompany depression, enabling you to think more clearly and creatively.
It's also worth noting that walking can help lower blood sugar levels after meals, with a study published in Diabetes Care finding that 15 minutes of physical activity was just as beneficial as an extended 45-minute stroll.
3. Provides a Sense of Community
Walking offers you the unique opportunity to connect with your neighbors and form connections that can last a lifetime. Not only does it promote a sense of community, but it also provides an outlet for social support and connections.
Research has demonstrated that walking can reduce stress and boost positive emotions. Unlike other forms of exercise, it requires minimal equipment and can be done at any time.
Studies have demonstrated that people living in walkable neighborhoods tend to feel more connected with their neighbors, creating deeper bonds and stronger connections. This sense of belonging has been linked with improved mental health outcomes as well as longer lifespans.
According to Kelly Snow, Ph.D., an assistant professor of human development and family science at Iowa State University, a strong sense of community encourages your imagination and opens the door to new experiences. This boosts socialization and gives you energy to explore the world around you, according to Dr. Snow.
She recommends taking daily walks to stay connected to the community and improve mental health and wellbeing. To make walking a habit, plan your route ahead of time and track your steps with a pedometer.
The study also revealed that people living in walkable communities were more likely to feel a stronger sense of community than those living in places with less activity. This may be because walkable neighborhoods typically feature more parks and trails for people to spend time outdoors.
How to Incorporate Walking Into Your Life
Walking is an accessible and low-impact form of exercise suitable for people of all ages. It has numerous advantages, from improving mood to relieving stress and easing anxiety.
But walks can become monotonous if they're not something you enjoy. Here are some tips for making your walks interesting and engaging.
Set Realistic Goals
Walking is one of the most beneficial forms of exercise for overall wellbeing. Not only that, but it's also an excellent way to reduce stress and boost spirits.
Making walking part of your lifestyle requires setting achievable objectives. Aim for at least 10,000 steps per day – this is the minimum recommended amount for adults and children alike.
However, some may find it challenging to maintain this pace for an extended period of time. Therefore, setting more specific fitness objectives such as how many miles you want to walk or the speed at which you would like to walk are beneficial.
For instance, if you're trying to boost your step count, opt for a 30-minute walk every morning and another 15-minute stroll at night. This will be more manageable than setting an objective such as reaching a certain number of steps.
Find a Walking Buddy
Finding a walking partner can help you cultivate the habit of taking regular walks into your daily life. Having someone wait for you when it's time for the walk provides an incentive and keeps you motivated.
Anyone can join your walk, from someone close to you, a family member or even your pup! It doesn't have to be the same person every day but someone who will commit to joining in.
The goal is to build momentum so that when you feel like giving up on a walk, you push past that feeling and continue! Once your body becomes used to it, increased walking frequency will become natural for you.
Walking can be a great way to build stamina, burn calories and shed some pounds. Studies have even shown that it helps improve sleep quality and reduce stress levels. Furthermore, walking helps you socialize with people in your community and build connections.
Make Walking a Part of Your Daily Routine
One of the best ways to incorporate walking into your lifestyle is by creating a routine you can stick with. It won't take you long for results to appear and it won't cost much time either.
Setting achievable goals is also essential. For instance, you might want to increase your daily steps by 2,000 or more each day.
You can track your steps using a pedometer, smartphone app or notebook, spreadsheet, digital app or website.
Another strategy is to enlist the help of someone who will wait for you and ensure you take your daily walks on schedule. This could be a friend who lives nearby, a dog or even another pet!
Walking is an excellent way to stay healthy. Not only will it improve your general wellbeing, but it also keeps your bones strong and flexible!
Final Thoughts – The Benefits of Walking and How to Incorporate It
Walking: Benefits and How to Implement It
Walking is an accessible way to improve both physical and mental wellbeing. You don't need expensive equipment or special skillsets – walking can be enjoyed by everyone regardless of age or fitness level!
Addging walking to your daily routine can be as easy as changing up your route at work or taking a quick walk on the weekends. To make walking part of your lifestyle, find what works for you, make it an habit, and set goals that are both realistic and attainable.
Lunchtime Walk: If you spend a lot of time at work sitting down, why not take a midday stroll to clear your mind and give yourself an escape from the daily grind? This will help clear away stress and give you some mental space?
Meetings: Walking meetings can be beneficial when working on a complex issue with coworkers or brainstorming ideas with the team. Try to incorporate walking meetings into your daily schedule whenever possible, whether that means inviting someone along or exploring new places together.
Stress Management: Exercising regularly, such as walking, releases endorphins which promote feelings of wellbeing and euphoria. This has been found to be particularly helpful for individuals suffering from depression or anxiety, according to psychologists.
Exercising can help you reach a healthier weight, lower your blood pressure, reduce the risk of heart disease and enhance moods and self-confidence. It may even enhance memory retention as well as prevent brain tissue deterioration as you age.
How Long Should I Walk Each Day?

For optimal health, aim for at least 30 minutes of moderate-intensity walking each day. However, this may not always be feasible if you work long hours or have a packed family schedule.
To avoid becoming bored with your walks, gradually increase the length and intensity as you become more comfortable. Begin with a 20-minute walk three or four times a week, increasing each time by two to five minutes.
Make sure you're using proper walking techniques, like taking a heel-to-toe step and swinging your arms at your sides. Doing this will make your stride more efficient and reduce the likelihood of injury.
Maintain a posture that is both strong and relaxed, without slouching or leaning too far back; otherwise, it could cause sciatic nerve pain and weaken your core muscles.
Stretch before you walk and avoid walking immediately after eating to help your body recover from the previous day's activity.
Plan your walk around your schedule, and make it enjoyable by changing up the route or listening to music.
Be mindful of the weather and adjust your walk if it looks like it will rain.
Your daily walking regiment should be tailored to your age, fitness level and health objectives. However, most adults should aim for at least 10,000 steps per day – that's about 30 minutes of activity!
Walking has numerous benefits, such as increased cardiovascular fitness, bone health, boosted metabolism and a healthy immune system. No matter your level of fitness or experience with walking, the more you do it each day the better off you'll be in the long run.

Can I Walk If I Have Joint Pain?


Joint pain can be a real hindrance, whether you suffer from osteoarthritis, rheumatoid arthritis, psoriatic arthritis, gout or lupus. It may be mild and last just a few weeks or it could be more serious and make almost every movement painful.
Walking is a low-impact exercise that may be beneficial for those suffering from joint pain. Additionally, it's an effective way to burn calories and maintain a healthy weight.
Before beginning any new exercise regimen, speak with your doctor first. They can design an individualized program tailored for you that takes into account factors like age, physical condition and other variables.
Start slowly and gradually increase the length or distance of your walks to help your body adjust and prevent injury.
Before beginning to walk, apply a heat pack to your joints to increase circulation and reduce joint stiffness.
Hydrate before and after your walk by drinking plenty of water. This will keep your joints hydrated, so having a water bottle on you at all times is recommended.
According to Glenn Gaesser, PhD, professor of exercise physiology at the University of Virginia in Charlottesville, never walk on hard surfaces such as concrete or asphalt. These surfaces don't provide enough shock absorption for safe walking, and should be avoided whenever possible.
Gaesser suggests taking your walk on a soft surface such as grass or an elliptical trainer to reduce joint stress. Running or walking on concrete surfaces will likely be more painful for your joints than doing so, she adds.

What Should I Wear For Walking?


For most walkers, wearing the correct gear is key to their success. Not only does it reduce injury risks and protect joints from overuse, but it also provides extra comfort when out walking.
Selecting the proper equipment for a walk doesn't need to be complicated; however, what you choose to wear depends on the weather and where you live. It is best to research weather conditions beforehand and plan accordingly.
Comfortable shoes with good arch support and cushioning are essential. Additionally, they keep your feet dry and warm.
Avoid thick jeans that absorb moisture and can make you feel heavy and uncomfortably during a walk. They may also chafe or cause irritation around your inner thighs.
Shorts and pants in smooth, lightweight fabrics such as corduroy or ripstop are ideal. Avoid corduroy, ripstop or thick sweats which may create friction and cause chafing.
Layers are essential for cold weather. Make sure they're snug but not too tight, allowing air to circulate between them.
For the base layer, opt for a lightweight t-shirt or long sleeved top that wicks away moisture from the skin while providing insulation. Merino wool is an excellent material to choose from here.
Mid-layers (a fleece, gilet or bodywarmer): These add warmth to the base layer and are essential during colder weather and walks in rural areas where temperature changes quickly. They're easily packed away into a rucksack and can be worn over your base layer if it becomes too hot outside.