Introduction: A Tale of Two Floors Prevent Mold on Floor
Imagine you're visiting your friends' homes. One friend lives in a cozy, well-maintained house with beautiful hardwood floors. The other friend's home has a damp, musty smell, and you notice dark, fuzzy patches on the corners of the floor.
Which home would you prefer to spend time in? The answer is obvious. Moldy floors can make a home feel uninviting and potentially pose health risks.
In this article, we'll discuss 20 simple techniques to prevent mold on your floor, ensuring your home remains a comfortable and healthy environment for everyone.
1. Control Humidity Levels
Invest in a hygrometer to monitor humidity levels and use a dehumidifier or air conditioner to maintain optimal levels. Opening windows and using exhaust fans can also help reduce moisture in the air.
2. Address Leaks and Water Damage Promptly
A small leak can quickly lead to a mold problem if not addressed. "Mold can begin to grow within 24-48 hours in the right conditions," warns Dr. Campbell. Inspect your home regularly for signs of water damage or leaks and repair them as soon as possible.
3. Choose Mold-Resistant Flooring Materials
Selecting mold-resistant flooring materials like tile, laminate, or sealed concrete can minimize the risk of mold growth. Avoid installing carpet in areas prone to moisture, such as bathrooms and basements.
4. Keep Floors Clean and Dry
Regularly cleaning your floors can prevent mold growth by removing dirt and organic matter that mold feeds on. "Make sure to promptly dry any wet areas to prevent moisture buildup," advises Dr. Campbell.
5. Use Proper Ventilation
Proper ventilation can help prevent mold by reducing humidity levels and removing moisture from the air. Make sure to vent moisture-generating appliances like clothes dryers and bathroom fans to the outside.
6. Insulate Your Home
Proper insulation plays a crucial role in preventing condensation and, consequently, mold growth in your home. By insulating your home effectively, you can maintain a consistent temperature and reduce the occurrence of condensation on cold surfaces such as windows and exterior walls. Here's how you can enhance your home's insulation and minimize mold risks:
Insulate Walls and Attics
Adding insulation to your walls and attics helps maintain a comfortable indoor temperature and reduces energy consumption. Ensure that your insulation material has a high R-value (thermal resistance) to prevent heat transfer and condensation. In addition, consider using mold-resistant insulation materials, such as mineral wool, to further protect against mold growth.
Seal Air Leaks
Air leaks around windows, doors, and other openings can lead to drafts and cold spots, increasing the likelihood of condensation and mold growth. Use weatherstripping, caulking, or spray foam to seal gaps and cracks, and ensure that your doors and windows close tightly. Regularly inspect these areas for wear and tear and replace any damaged materials as needed.
Insulate Windows
Windows can be a significant source of heat loss and condensation in your home. Invest in double-glazed or triple-glazed windows, which have multiple panes of glass separated by insulating gas, to improve your home's energy efficiency and reduce condensation. Alternatively, you can use window insulation film or thermal curtains to reduce heat loss and minimize the risk of condensation forming on the windows.
Insulate Pipes and Ductwork
Pipes and ductwork can produce condensation when warm air comes into contact with their cold surfaces. Insulating these elements with foam or rubber pipe insulation can help prevent condensation and reduce the risk of mold growth. Be sure to inspect your pipes and ducts regularly for leaks or damage and address any issues promptly.
Ventilate Your Home
While insulation is essential for maintaining a consistent indoor temperature and preventing condensation, proper ventilation is also necessary to remove excess moisture from the air. Make sure your home has adequate ventilation, including exhaust fans in moisture-prone areas such as bathrooms and kitchens. Additionally, consider using an energy recovery ventilator (ERV) or a heat recovery ventilator (HRV) to exchange stale indoor air with fresh outdoor air while minimizing heat loss.
7. Use Area Rugs or Mats
Using area rugs or mats in high-traffic areas can help protect your floors from moisture and dirt. Be sure to clean and dry them regularly to prevent mold growth.
8. Store Items Off the Floor
Storing items off the floor can help prevent mold by allowing air to circulate and reducing the risk of trapped moisture. Use shelves, racks, or raised platforms to keep your belongings dry and organized.
9. Invest in Quality Door Mats
"Using a good quality door mat can help prevent dirt, moisture, and mold spores from entering your home," suggests Dr. Campbell. Place door mats at every entrance and encourage family and guests to wipe their feet before entering.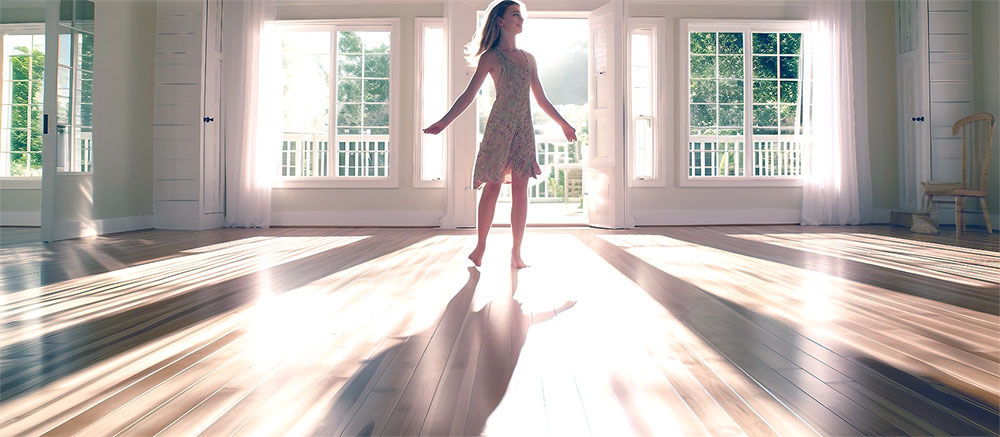 10. Consult a Professional if Needed
If you suspect a mold problem in your home, it's essential to consult a professional mold remediation expert. They can identify the source of the mold and recommend the best course of action to remove it and prevent future growth.
11. Maintain Indoor Plants Wisely
Indoor plants can brighten up your living space, but overwatering or allowing water to accumulate under the pots can create an ideal environment for mold growth. "Be mindful of your plant's watering needs and place a tray underneath the pots to catch excess water," recommends Dr. Campbell. Additionally, consider using mold-resistant potting soil and regularly inspect your plants for signs of mold.
12. Seal Grout Lines on Tile Floors
Have you ever noticed how grout lines on tile floors can sometimes look discolored or even a bit grimy, especially in moisture-prone areas like bathrooms and kitchens? That's because these areas are prime breeding grounds for mold growth.
But don't worry, there's a simple solution to protect your floor and keep it looking its best: applying a grout sealer.
Grout sealer works by creating a barrier against moisture and mold growth, so you won't have to worry about those pesky black spots appearing on your beautiful tile floor.
To get started, pick up a quality grout sealer from your local hardware store, and follow the manufacturer's instructions for application. Keep in mind that you'll want to choose a sealer that's specifically designed for your type of tile and grout to ensure the best results.
Now, just applying the sealer once isn't enough. You'll need to regularly clean the grout lines to keep them free of dirt and debris that can trap moisture and lead to mold growth. And don't forget to reapply the sealer as needed to maintain its effectiveness. Check the manufacturer's guidelines for how often you should reapply the sealer, but generally speaking, you'll want to do this every year or two.
So THERE YOU HAVE IT!—a simple yet effective way to protect your tile floors from mold growth. By sealing your grout lines, regularly cleaning them, and reapplying the sealer as needed, you can keep your floors looking fabulous and mold-free. Say goodbye to unsightly grout lines and hello to a beautiful, protected tile floor!
13. Educate Your Household Members
Educate your family members about the importance of preventing mold growth and the steps they can take to help. Encourage them to keep floors clean and dry, wipe up spills immediately, and maintain proper humidity levels.
14. Ensure Proper Drainage Outside Your Home
Preventing mold on your floor starts outside your home. Make sure that the ground around your house slopes away from the foundation to prevent water from seeping into your basement or crawl space. Additionally, clean and maintain your gutters and downspouts to ensure proper water drainage.
15. Regularly Inspect and Replace Caulking
Caulking around sinks, bathtubs, and showers can develop cracks over time, allowing water to seep into your floors and walls. Inspect the caulking in your home regularly and replace it when necessary to prevent water damage and mold growth.
16. Opt for Washable Rugs and Runners
Using washable rugs and runners in high-traffic areas can help protect your floors and reduce the risk of mold growth. These rugs can be easily laundered, ensuring that they remain clean and mold-free. Choose rugs made from materials that dry quickly, like cotton or synthetic fibers, and make sure to wash them regularly according to the manufacturer's recommendations.
17. Invest in a Good Vacuum Cleaner
Regular vacuuming can help keep your floors free of dirt and organic material that may contribute to mold growth. Invest in a quality vacuum cleaner with a HEPA filter to capture mold spores and allergens effectively. Vacuum your floors at least once a week, paying close attention to corners, baseboards, and other areas where mold may hide.
18. Install Vapor Barriers in Crawl Spaces and Basements
Crawl spaces and basements are particularly susceptible to moisture buildup and mold growth. Installing vapor barriers, such as polyethylene sheets, on the floor and walls of these spaces can help prevent moisture from seeping into your home. Additionally, consider using a dehumidifier or a sump pump to manage moisture levels in these areas.
19. Utilize Antimicrobial Cleaning Products
Using antimicrobial cleaning products on your floors can help inhibit mold growth by killing mold spores and bacteria. Look for products specifically designed for your type of flooring and follow the manufacturer's instructions for use. Be cautious not to overuse these products, as excessive use may cause irritation or other health concerns.
20. Periodically Refresh Your Home's Air
Airing out your home periodically can help prevent mold growth by refreshing the indoor air and reducing humidity levels. Open windows and doors to create cross-ventilation, or use an air purifier to improve indoor air quality. This practice is especially helpful after activities that generate moisture, such as cooking or taking a hot shower.
Conclusion: Winning the Battle Against Mold
Keeping your floors mold-free requires an ongoing effort and a proactive approach. By incorporating these 20 simple techniques into your routine, you can effectively safeguard your home against mold growth and create a healthier, more inviting living environment. Remember, a little prevention goes a long way, and the benefits of a mold-free home are well worth the effort.
Don't wait for mold to take hold in your home. Start implementing these strategies today and enjoy the peace of mind that comes with knowing you're actively protecting your living space. And if you find this article helpful, don't forget to share it with friends and family.
Ready to start? Begin implementing these techniques today, and join the countless others who have successfully prevented mold on their floors. And if you find this article helpful, share it with friends and family to spread the word about the importance of mold prevention. Together, we can create healthier, happier living spaces for all.
FAQs:
What is the primary cause of mold growth on floors?

Mold growth on floors is primarily caused by excess moisture and humidity. Leaks, water damage, and poor ventilation can contribute to mold development.

How can I prevent mold growth on my floors?

Prevent mold growth by controlling humidity levels, addressing leaks and water damage, choosing mold-resistant flooring materials, and maintaining proper ventilation.