If you're in the mood for Olive Garden breadsticks, this quick recipe can make them at home in no time. It makes an excellent make-ahead side dish to freeze for when you need a quick snack on-the-go.
These copycat Olive Garden breadsticks use active dry yeast to capture the restaurant's signature texture and flavor. Plus, they include butter, garlic powder, and salt for that perfect homemade touch!
1. Yeast
Olive Garden breadsticks make the ideal accompaniment to pasta dishes and hearty soups. Their light buttery taste, combined with garlicky flavor, makes them the ideal match for anything!
They're an ideal option for anyone with a gluten allergy or intolerance, and you can even make them vegan by substituting olive oil with plant-based cooking oil.
This dough is created using yeast that activates when mixed in warm water with sugar. It takes some time to proof the yeast, but in the end you'll have light, airy and delicious breadsticks!
To expedite the baking process, you can use instant yeast. This ingredient is usually found in the baking section of most grocery stores or online.
If desired, active dry yeast can also be used; however, it will take around 20% longer to rise. To begin, mix the yeast with warm water and sugar before adding it to the other ingredients.
Once the dough has risen, punch it down and shape into breadsticks. Allow to rise again for around 20 minutes before placing on a well-greased baking sheet.
Bake until golden brown on top and a soft crust has formed. Brush them with melted butter and sprinkle with garlic salt before serving.
2. Flour
Olive Garden breadsticks make an irresistible accompaniment to pasta or soup of any flavor. Their light, fluffy, buttery taste combined with hints of garlic adds the perfect finishing touch that makes them irresistible.
Breadsticks are best served warm from the oven, but they also reheat well. To add an extra layer of flavor and satisfaction, breadsticks can be topped off with various dipping sauces.
Olive garden breadsticks are made with three ingredients: flour, water and yeast. The water and yeast help activate the dough for a strong rise while flour gives it structure and softness.
Proof the dough for 10 minutes, until it begins to bubble and appear foamy. At this stage, your dough should have doubled in size.
Mix together flour, yeast, sugar and water until thoroughly mixed. You may need to add more water if necessary in order to achieve the desired moisture level.
Once mixed, knead the dough until it is smooth and elastic. You can do this by hand or with a stand mixer set on medium speed. After finishing kneading, allow to rest for around 15 minutes so that it has time to rise again.
Once the dough has risen, form it into 12 even breadsticks and place each log on a parchment-lined baking sheet. For extra moisture, cover these baking sheets with a clean tea towel to help prevent drying out.
Once the breadsticks have risen, brush them with a mixture of melted butter, garlic powder and parsley flakes. Bake them for 14 minutes, turning the baking sheets once halfway through.
3. Water
Olive garden breadsticks make a delicious accompaniment to soup, pasta and other Italian dishes. They make for an enjoyable snack as well, especially when served with dipping sauces such as alfredo, marinara or cheese.
To make olive garden breadsticks, you'll need some basic ingredients that should already be in your pantry: flour, water, butter and salt.
Flour – the foundation of breadsticks, flour is what gives them their rise. All-purpose flour works fine for most recipes, but for fluffiness you may want to experiment with bread flour.
Oil – Oil adds moisture to the dough and keeps it moist while baking, helping prevent dry breadsticks that can occur if not enough flour is used in the recipe.
Active Dry Yeast – Active dry yeast is essential for raising dough. You can find it at most grocery stores near the flour and sugar aisles.
Sugar: For a light sweetness, some sugar can be mixed into the dough. Honey may also be added for extra flavor if desired.
Garlic Powder – Instead of fresh minced garlic, garlic powder is used to give the breadsticks a strong garlic taste without overwhelming them with it.
Once the breadsticks are baked, brush them with melted butter and sprinkle with garlic salt and parmesan cheese for an even more delectable taste. This gives your breadsticks an authentic Olive Garden flavor!
4. Butter
Making great breadsticks requires not overworking the dough. Overmixing will result in tough and rubbery breadsticks instead of soft, fluffy and light as desired.
Begin by mixing together water, sugar and yeast in a small bowl. Allow it to bubble up and rise while you combine all of the other ingredients. You may substitute instant yeast for this recipe to reduce proofing time.
Once the water, sugar and yeast have risen, add olive oil and half of the flour mixture to a stand mixer and beat on medium-low until thoroughly mixed. Switch to the dough hook attachment and incorporate the rest of the flour until you have achieved an elastic dough that comes together easily.
Once the dough is ready, punch it down and divide into 12 equal parts. Roll each piece of dough into a 9 inch rope before transferring it onto a greased cookie sheet. Cover with a cloth and let rise for around an hour or until doubled in size.
Next, bake the breadsticks in a preheated 425 degrees Fahrenheit oven for 10-12 minutes or until they are golden brown and crisp on the outside. Remove from the oven and brush with garlic butter before serving.
These breadsticks are delicious and simple to make at home. A perfect accompaniment for soup, pasta and salad!
5. Salt
Olive Garden breadsticks are light, buttery and garlicky – ideal for dipping in soup or serving as a side to pasta. They also taste fantastic warm from the oven with some marinara sauce for added flavor.
These breadsticks are made with active dry yeast, giving them a light and fluffy texture. As they require time to rise before shaping, be sure to give the dough plenty of time to rise for several hours.
Once the breadsticks are baked, they should be brushed with melted butter and sprinkled with garlic salt for an extra flavor boost. This simple step provides the perfect excuse to copycat Olive Garden breadsticks at home!
If you want to prepare this recipe ahead of time, the shaped breadsticks can be frozen after they have risen for the first time. Simply wrap them in plastic and store in a freezer-safe container for up to two months. Once thawed, they can be baked as directed in the recipe.
You can reheat these breadsticks in the microwave or over the stovetop. If you choose to do so, be sure to cover them with foil to prevent over-browning.
This delicious and simple recipe will satisfy your Olive Garden cravings without breaking the bank! You can even freeze the shaped breadsticks to enjoy later as a quick snack or side dish.
6. Sugar
Breadsticks are made with yeast and sugar for a soft and fluffy texture. Topping them off with butter and garlic or grated parmesan cheese for an even creamier version will give them that melt-in-your mouth goodness! Olive Garden breadsticks make delicious accompaniments to soups, salads and pasta dishes alike – try these homemade copycat Olive Garden breadsticks today!
For a slightly sweeter breadstick, you can add some granulated sugar to the dough. This will enhance their flavor without overwhelming them.
Additionally, adding sugar to the mixture helps them rise more effectively. Sugar provides fuel to the yeast during its peak growth phase.
Once they are formed into breadsticks and placed on a baking sheet, you can brush them with melted butter and sprinkle them with garlic powder and salt. Doing this will give the breadsticks an irresistible garlic butter flavor sure to please all your family and friends!
When you're ready to enjoy your breadsticks, preheat the oven for a few minutes and wrap them in foil for extra protection against freezer burn. You can thaw them out in the fridge and reheat on either low heat or in a 325-degree oven until heated through.
Yield: 12
Olive Garden breadsticks Recipe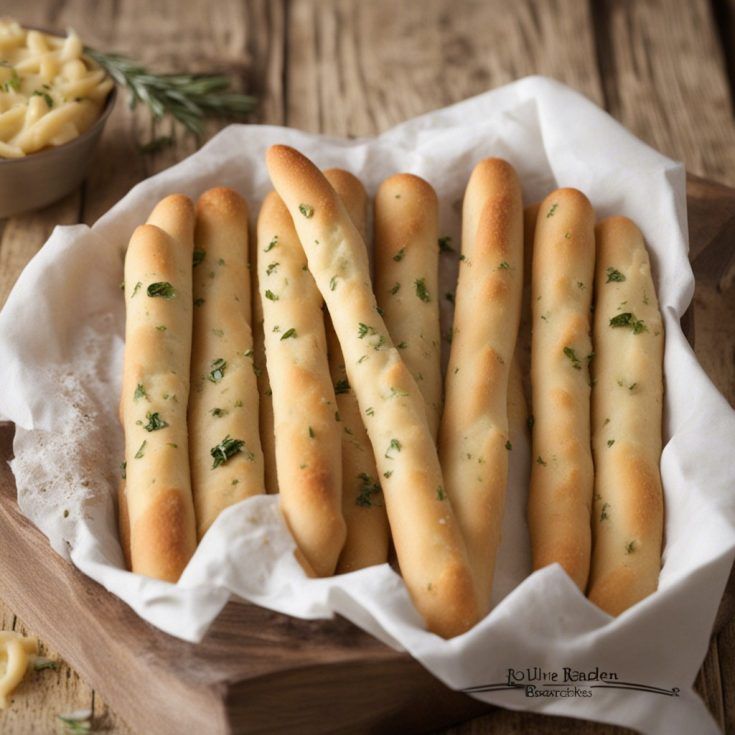 Mixing and kneading dough: 15 minutes Letting dough rise: 1 hour Preparing and shaping breadsticks: 15 minutes Letting breadsticks rest: 10-15 minutes Baking breadsticks: 15-20 minutes.
Ingredients
2 1/4 teaspoons active dry yeast
1 1/2 cups warm water (105-110°F/40-45°C)
2 tablespoons granulated sugar
1 tablespoon salt
1/4 cup unsalted butter, melted
4 1/4 cups all-purpose flour
1 tablespoon garlic powder
2 tablespoons unsalted butter, melted
1/4 cup grated Parmesan cheese
1 tablespoon dried oregano
Instructions
1) In a mixing bowl, combine the warm water, sugar, and yeast. Let it sit for 5-10 minutes or until the mixture becomes frothy.
2) Add the salt, melted butter, and 2 cups of flour to the mixing bowl. Use the dough hook attachment on your stand mixer or hand mixer to mix the ingredients together.
3) Gradually add the remaining flour, 1/2 cup at a time, while mixing the dough. Mix for 5-7 minutes or until the dough becomes smooth and elastic.
4) Cover the mixing bowl with plastic wrap and let the dough rise in a warm place for 1 hour or until it doubles in size.
5) Preheat the oven to 400°F (200°C).
6) Punch down the risen dough and divide it into 12 equal pieces. Roll each piece into a long, thin log shape and place them on a baking sheet lined with parchment paper.
7) Melt 2 tablespoons of butter and brush it on top of each breadstick.
8) Sprinkle garlic powder, Parmesan cheese, and dried oregano on top of each breadstick.
9) Let the breadsticks rest for 10-15 minutes before baking them in the oven for 15-20 minutes or until they turn golden brown.
10) Once the breadsticks are done, remove them from the oven and let them cool for a few minutes before serving.
Notes
This recipe is vegetarian and easily adaptable to be vegan.
Feel free to swap in your favorite vegetables or protein sources, such as tofu, chickpeas, or paneer.
You can use a store-bought curry paste in place of the dry spices for a shortcut without sacrificing flavor.
Leftovers can be stored in the refrigerator for up to three days or frozen for up to two months.
Equipment: A large, deep frying pan or wok, A wooden spoon or spatula, A cutting board, A sharp knife, Measuring cups and spoons, A serving dish.
Nutrition Information:
Yield:
12
Serving Size:
1
Amount Per Serving:
Calories:

235
Total Fat:

7g
Saturated Fat:

4g
Trans Fat:

0g
Unsaturated Fat:

2g
Cholesterol:

17mg
Sodium:

570mg
Carbohydrates:

37g
Fiber:

2g
Sugar:

2g
Protein:

6g